The need to carefully keep track of all data and not lose anything is essential to many. In case of problems like hardware damage, factory resetting, virus, driver breakdown, etc., one can lose their files. Even accidentally deleting important things is possible. For these reasons, most users focus on backup solutions to protect their data on their Windows PCs.
On that note, there are multiple Windows 10 backup options one can try. Here, we present some of the best solutions- know them for future use.
What Are Available Backup Options in Windows 10?
In every version of Windows, backup options are available for safe photo and file management. In Windows 10, these are the main versions available.
Cloud backup- This incorporates cloud services for higher storage limits of Windows 10 files. The backup solution runs via the internet and allows account syncing into multiple devices- so you can use it from anywhere. Instant data recovery is possible, and no extra hardware is needed.
Network drive or external hard drive backup- Users can opt to use a network drive or external space to save their data backup securely. This is one of the Windows 10 backup options which is accessible offline. Users can also store huge types of files in this manner for quick loading.
Legacy backup- This is a solution to back up and restore Windows OS in modern systems. It is simpler to handle, and users can transfer Windows 7 backup to cloud-centric backup here.
1. What's Cloud-based Backup?
Speaking of cloud-based backup, this refers to cloud backup software or cloud service providers offering users backup storage benefits. People who have cloud platform accounts can save their Windows 10 files into the cloud backup. This is accessible across the internet and assures bigger storage space, a speedy usage guarantee, and robust data protection.
Plus, users can authorize other people to access the files through cloud servers. Also, they can share them directly across different platforms/devices. It is possible to back up personal files like spreadsheets, documents, images, presentations, music, contacts, and videos this way. However, all cloud-based backup solutions do not allow app data or system file storage.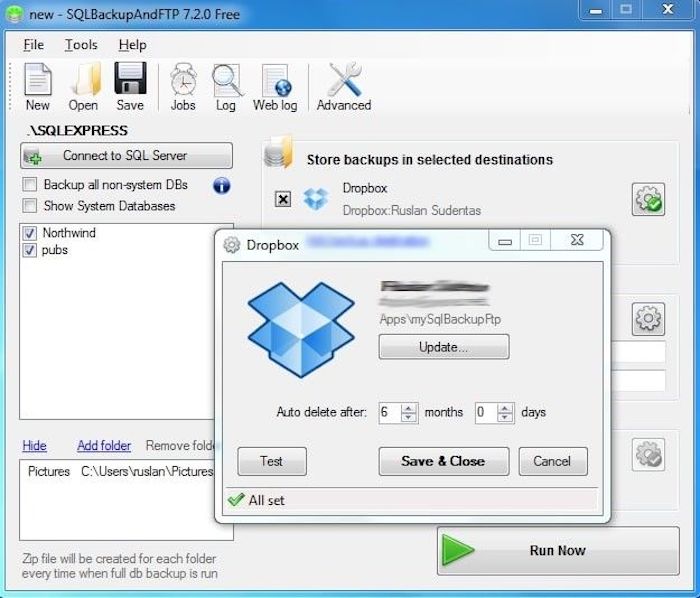 Examples of cloud-based backup solutions/apps:
There are specific types of cloud backup apps and software tools that allow substantial cloud-based backup benefits. This is available in two main types.
1. Standalone cloud storage providers
These include the service providers that cloud storage to users. People who use these platforms get a specified amount of free cloud storage and other features like content creation, editing, collaboration, etc. You can easily access your computer data with the account and back up all files instantly.
Examples include:
Dropbox- 2 GB of free storage, and paid users can expand to 2 TB or unlimited storage, depending on their tier plan.
OneDrive- begins at 5 GB of free cloud storage. Users have to upgrade to get up to 100 GB free cloud storage.
Google Drive- starting at 15 GB of storage for free. Paid plans offer more.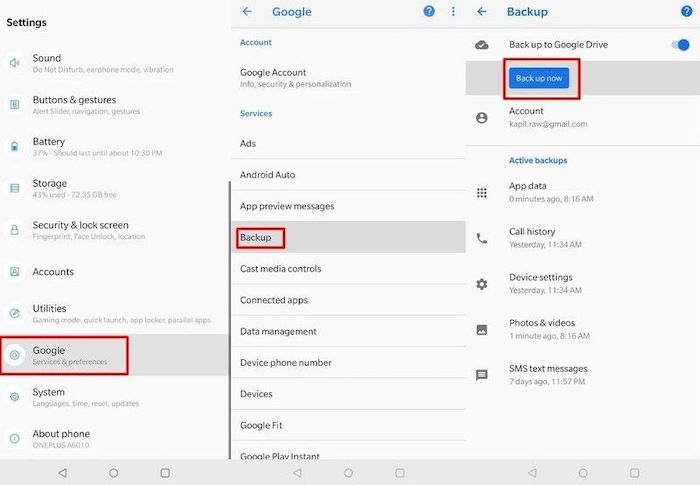 Suitable for: Business teams, families, and individuals can use these solutions for online professional/personal data storage. Those with cloud platform accounts can use their in-built cloud storage.
2. Backup software with a cloud storage solution
Another of the best Windows 10 backup options are using third-party backup software on their PC. These types require installation but come with various modern and user-friendly functions. You can store diverse data types as backup and restore them later with some steps.
One good example of this is EaseUS Todo Backup.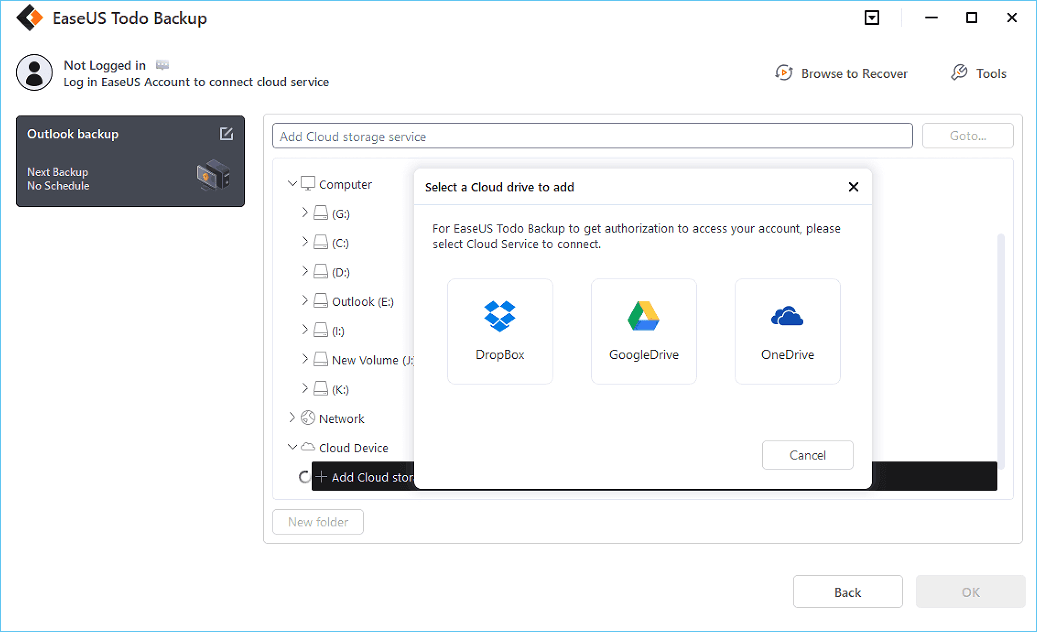 Suitable for: The comprehensive backup software includes rich backup and restore features and allows many users per plan. Also, beginner-level individuals will appreciate the easy interface and features here.
2. What's External Hard Drive or Network Drive Backup?
In a sudden computer or internal system failure, the computer may delete or corrupt the files. You can transfer your files to another hard drive externally, including NAS or USB drives. For bigger teams working on the same projects, accessing these backup files via network drives is easier.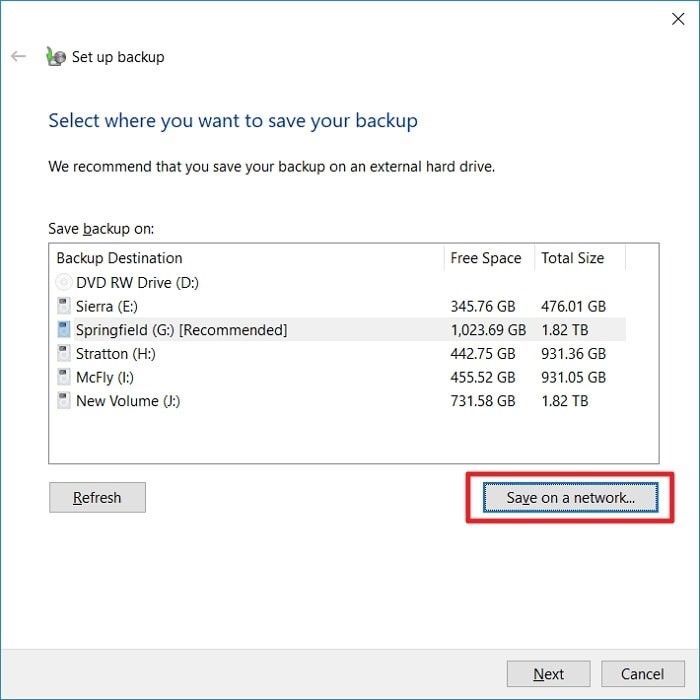 Examples of External Hard Drive Backup
Users can access a network drive and external hard drives for storing their bigger-sized data copies for future access in the case of sudden loss. Multiple types of systems come with this functionality, like Seagate One Touch products. Users can choose and backup Windows images and other file types to network or external hard drives, like NAS and SSDs.
Suitable for: Individual laptop or PC users can access external hard drives. Additionally, teams in companies can use a network drive to save files in the unified platform via one network path.
Legacy Backup includes system data files that users can save from their computer system versions. The legacy backup function is available in Windows 7, and users can try the Backup & Restore legacy utility. However, this does not work with MS in newer versions.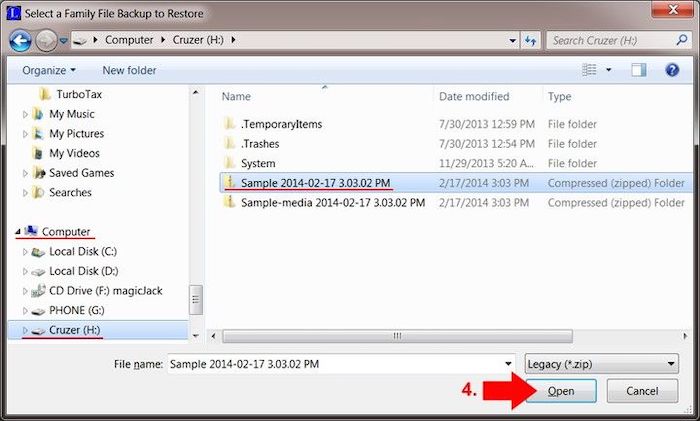 Examples of legacy backup
The legacy file backup involves two variations in Windows OS. These include system data or family file elements, and even media which cover documents, videos, pictures, and attached file types.
Suitable for: Windows 7 users with their PC devices can use this for full-scale file cloud storage. The Windows 10 backup options allow users to transfer their legacy Windows 7 data into the system with the built-in backup/restore tools.
How to Create Windows 10 Backup to Cloud, External Hard Drive or Network Drive?
Now that you know the different Windows 10 backup options, you might wonder how to use each version. Instead of focusing on each separately, you can use top-notch software to handle the backup process for all versions, like cloud, network, and external hard drive. Case in point- EaseUS Todo Backup.
This backup software is available to Windows users to securely back up their entire computer and local drive-centric data. You can save different components, like the operating system, folders/files, emails, and disks/partitions. There are advanced features available for paid plan users, although the free version does include many high-quality functions.
Types of backup options via My Backup section in EaseUS Todo Backup Home
EaseUS Cloud backup (only for files)
NAS
Local Drive
Security Zone (mainly for Advanced plan users)

Top Features of EaseUS Todo Backup:
Straightforward interface, best for both beginners and professionals
Choose the type of backup between NAS, local drives, network, and cloud-based.
Set the schedule for data backup for automated syncing.
Image reserve-related strategies with Advanced backup options.
Free cloud storage of 250 GB is available.
Disaster and bootable recovery options are present.
You can follow the steps below to use this perfect software:
Step 1. Launch EaseUS Todo Backup on your computer, and click Create Backup on the home screen and then hit the big question mark to select backup contents.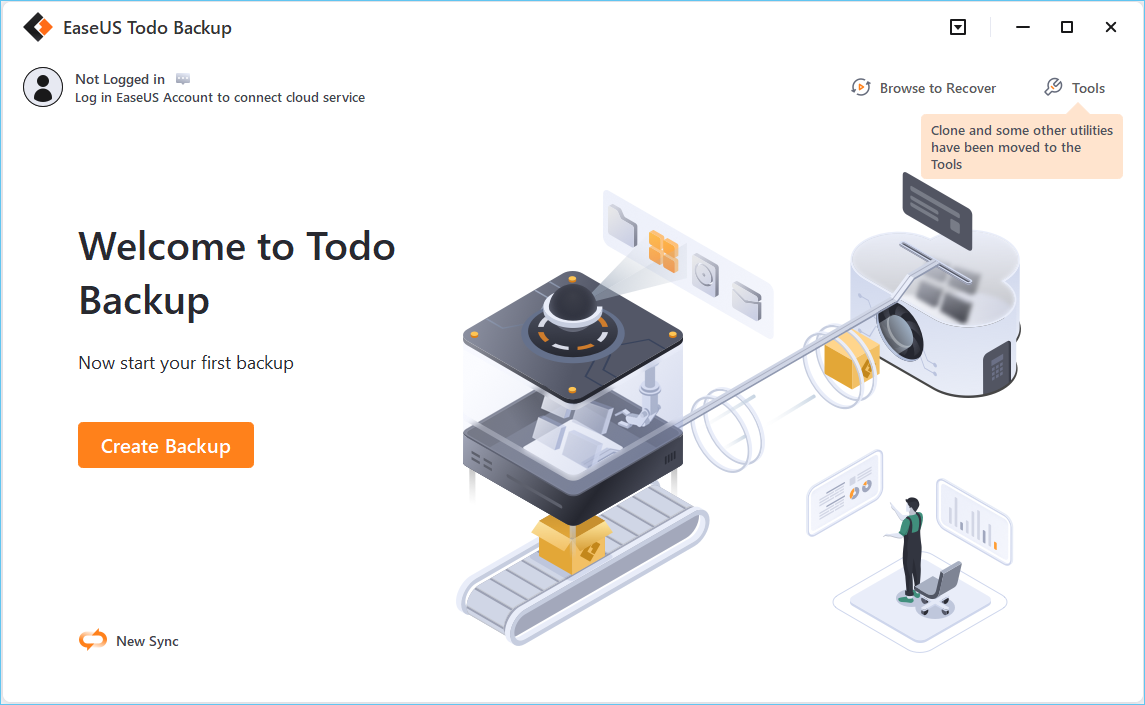 Step 2. To back up your Windows operating system, click "OS" to begin the backup task.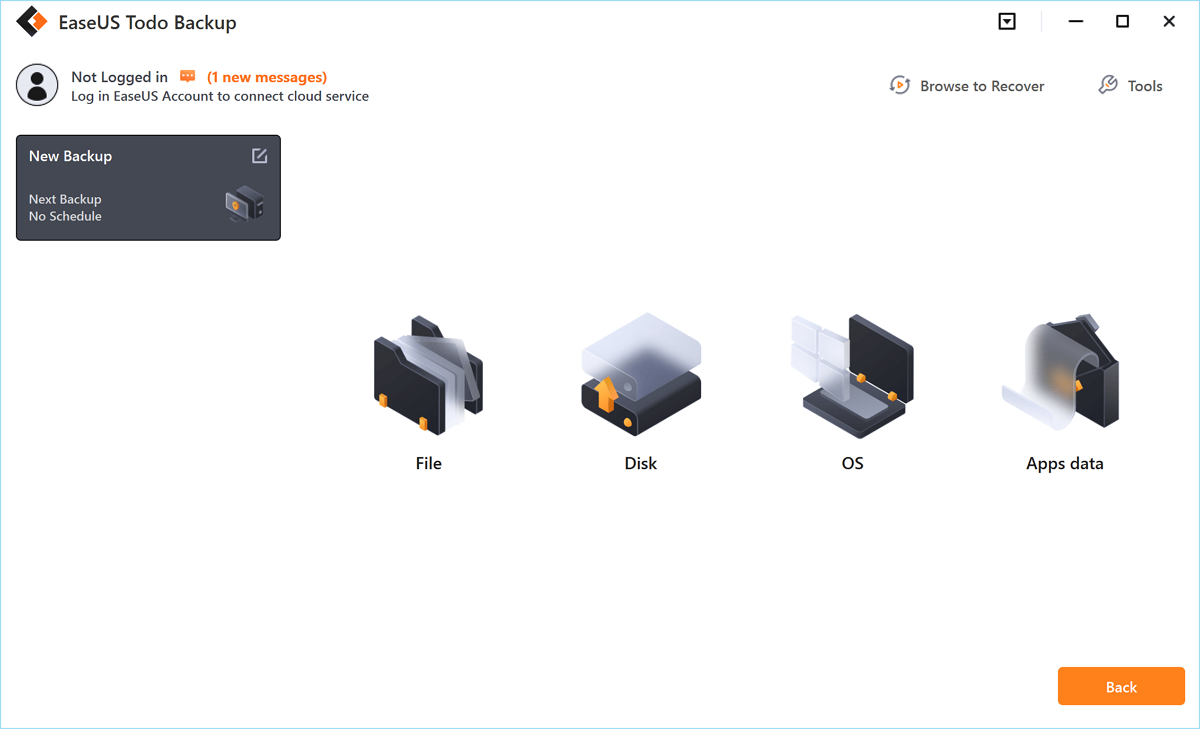 Step 3. Your Windows operating system information and all system related files and partitions will be automatically selected so you don't need to do any manual selection at this step. Next, you'll need to choose a location to save the system image backup by clicking the illustrated area.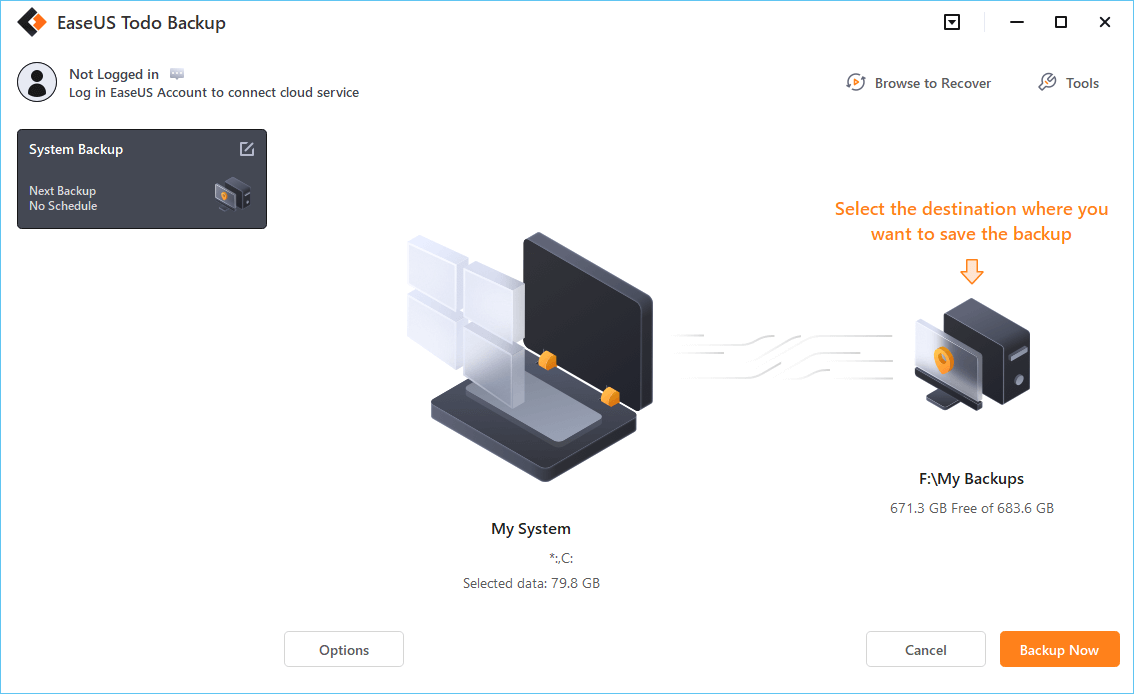 Step 4. The backup location can be another local drive on your computer, an external hard drive, network, cloud or NAS. Generally, we recommend you use an external physical drive or cloud to preserve the system backup files.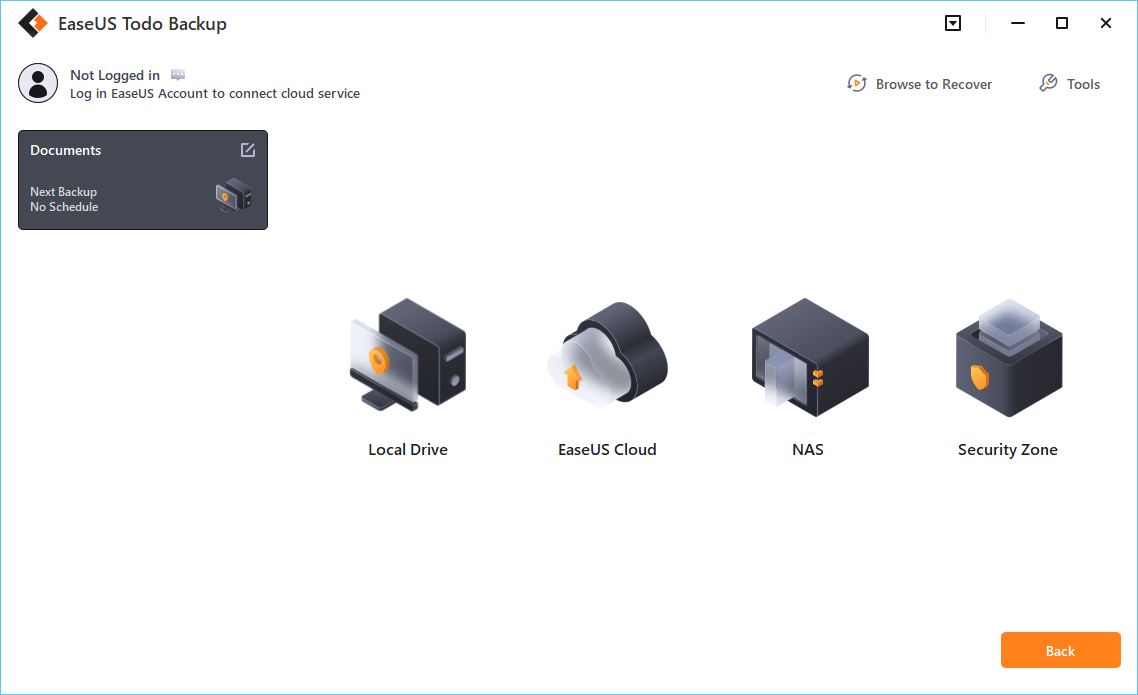 Step 5. Customiztion settings like enabling an automatic backup schedule in daily, weekly, monthly, or upon an event, and making a differential and incremental backup are available in the Options button if you're interested. Click "Backup Now", and the Windows system backup process will begin. The completed backup task will display on the left side in a card style.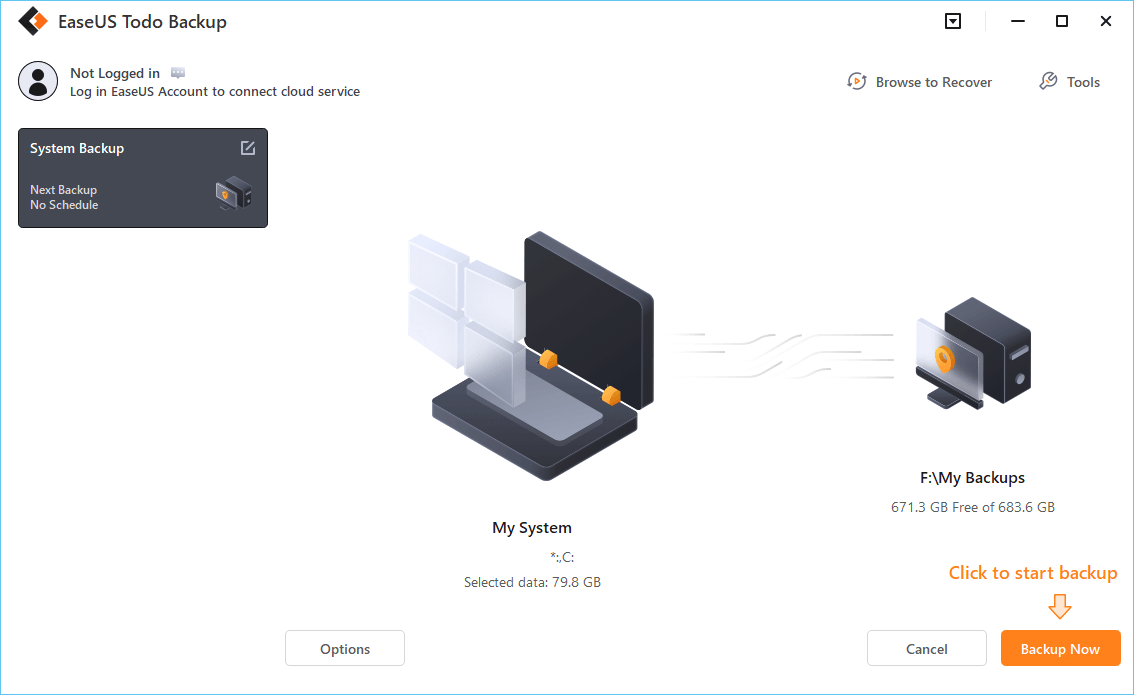 FAQs
1. Are Windows 11 backup options missing?
The Windows 11 version does have backup options for users through the Settings section. You should click on this menu and choose System, Storage, and then Advanced Storage Settings. Out of the list here, click on Backup Options. The choices you can use on your devices, like File History or cloud service like Google Drive account will get listed here.
2. What does "Keep my backups" in Backup Options mean?
The "Keep my backups" choice in Backup Options on Windows determines the time for storing the files in backups. The software will continue to keep file copies and update them in sync for the specific period. After that, the files will expire. The default setting is "Forever", which means that the files will save and update automatically as long as the device space permits.
Updated by Tracy King 
Tracy joined in EaseUS in 2013 and has been working with EaseUS content team for over 7 years. Being enthusiastic in computing and technology, she writes tech how-to articles and share technical solutions about Windows & Mac data recovery, file/system backup and recovery, partition management and iOS/Android data recovery.
Taking everything into consideration, we can say that EaseUS Todo Backup Home can offer you a little extra sense of security with a set of advanced tools. The interface provides quick adaptation, every process guiding you all the way through so you don't get stuck or further damage your system rather than keeping it safe.

 Read More

EaseUS Todo Backup Free lets you create backups of your important files or your entire computer through its streamlined interface. Just choose the backup type you'd like to get started, and let the program do the reset.

 Read More

EaseUS includes all the features I expect from backup software like versioning, incremental backups, and scheduling. For more advanced users, EaseUS allows you to install a pre-boot environment onto your hard drive so you can use it to restore files without burning a CD or putting it on an external USB drive.

 Read More

EaseUS Todo Backup
Smart backup tool for your files and entire computer in Windows 10/8/7.
Install Windows on Multiple Computers at Once? No Problem!
Learn how to install Windows 11/10/7 and special programs/software on a batch of computers. Use 10 minutes to do the 10 hours work without making a single mistake!
Get Free Solution!