Updated by
Larissa
on Jan 05, 2023
Microsoft Outlook, as one of the most popular email clients, provides its users with a convenient and secure way to handle emails and other important data. However, backup of Outlook data is still essential for protecting email files and additional important information. If you don't back up Outlook emails regularly, you'd miss out on all your contacts, emails, messages, and more if anything goes wrong or something unexpected happens in the near future. 
The Necessity of Backing Up Outlook
Managing your important emails on Outlook is a convenient way to stay connected and an easy way to store vital data. However, in the ever-evolving digital landscape where scenarios such as computer crashes and computer virus attacks can cause permanent data loss, it is essential that you take steps towards securely backing up your Outlook emails, so you never have to worry about losing precious conversations and attachments. 
If you're looking for ways how to back up Outlook emails onto a USB flash drive, look no further! Our step-by-step guide will show you how with EaseUS Todo Backup - one of the best programs for safeguarding your email correspondence. Besides, two other effective methods will also be provided to create a copy of your Outlook to a USB flash. 
[3 Effective Tip] How to Backup Outlook to USB
To backup Outlook emails, you can copy them to a backup location, such as an external USB drive. This way, you'll be able to restore these files in case of any emergency. Here are three effective tips on how to backup Outlook emails to USB:
1. Use Outlook Backup Software to Backup Outlook to USB
Tag: free and easy-to-use solution, supports automatic scheduled backup, incremental and differential backup
EaseUS Todo Backup is a powerful backup and restore program that provides reliable backup solutions for Outlook users. It allows you to back up your Outlook contacts, emails, tasks, and other important data for free with a few clicks. Besides these, EaseUS Todo Backup has the following features to make it the best choice:
Free to backup and restore files/folders/disks/partitions/systems.
Supports APP data backup, including Outlook, Thunderbird, game saves, etc.
Scheduled backup to free your hands
Owns assorted types of backup, including full backup, incremental and differential backup, to save your space
Provides multi-path storage, including internal & external hard drive, USB, NAS, Cloud, etc.
Provides 250 GB of free Cloud storage space
Disk/system cloning to ensure a smooth system transfer between different computers
To backup Outlook emails to a USB drive with EaseUS Todo Backup, please connect USB to your Windows computer first, and ensure your PC recognizes it.
Step 1. Launch EaseUS Todo Backup on your computer, and click Create Backup on the home screen and then hit the big question mark to select backup contents.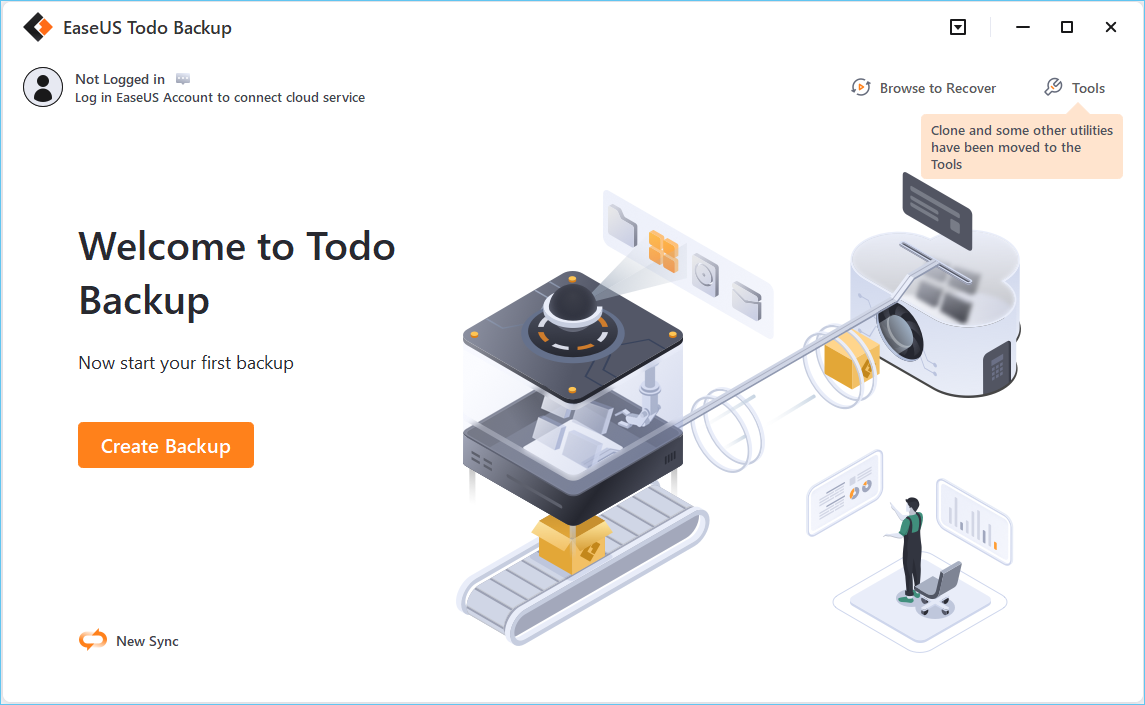 Step 2. Among the four backup options, click "Apps data".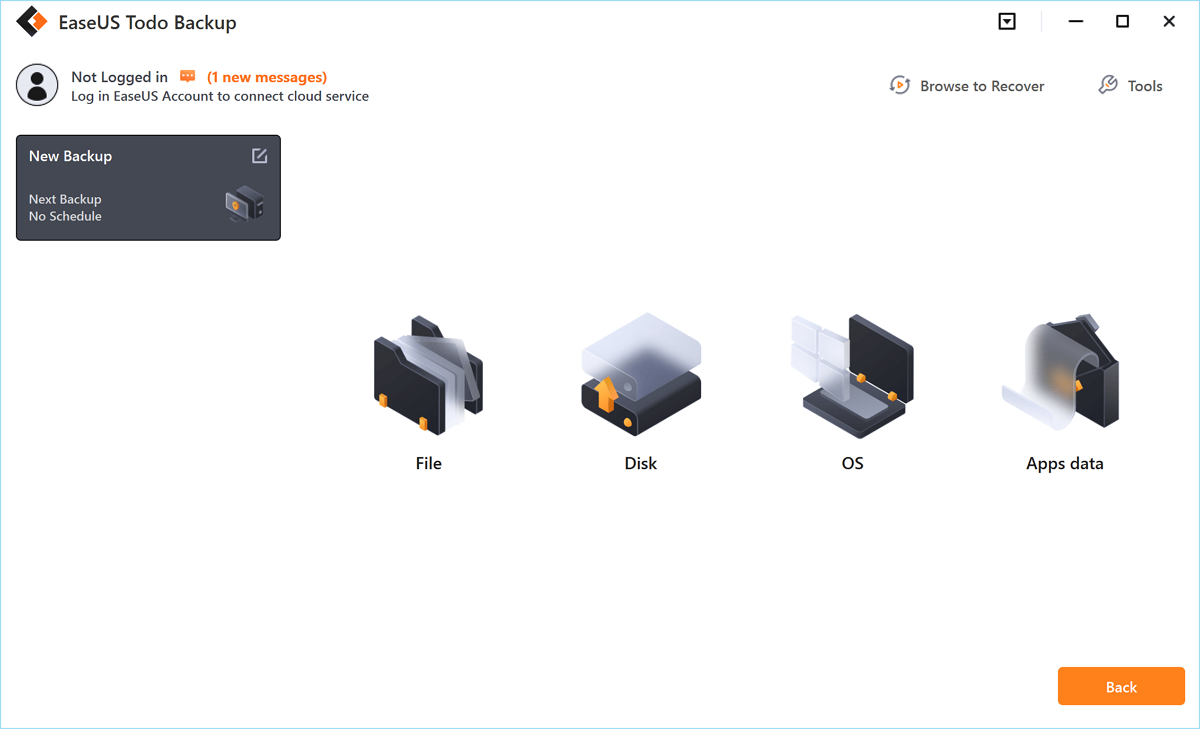 Step 3. Then you can see all the apps that can be backed up. Find and chekc the "Microsoft Outlook" option. Select the mailbox addresses you want to make a backup of the mails, contacts or calendars and click "OK".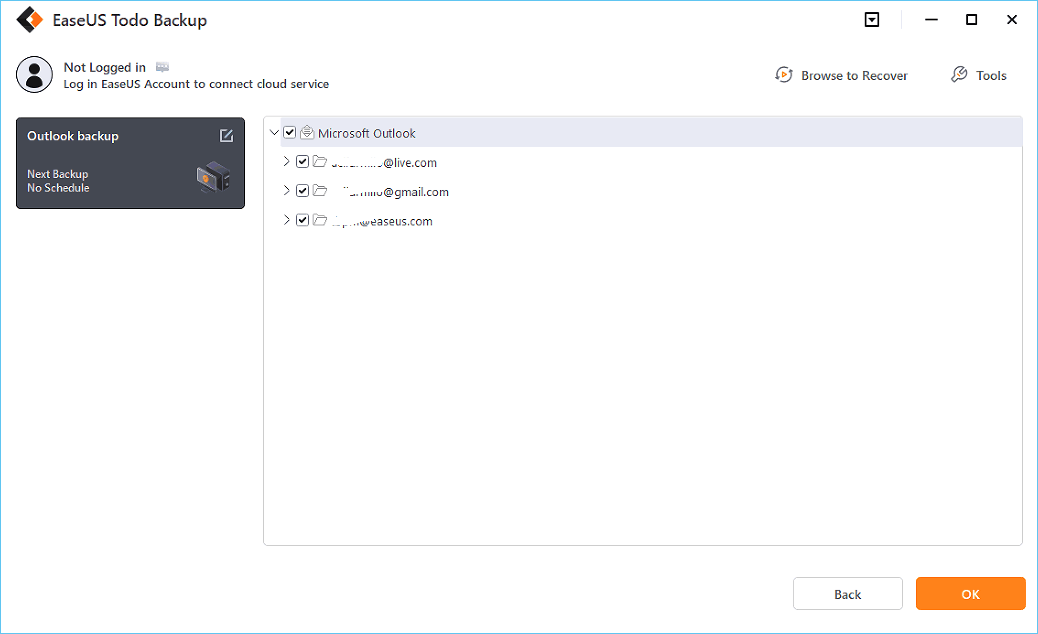 Step 4. Next, you'll need to choose a location to save the Outlook backup by clicking the illustrated area.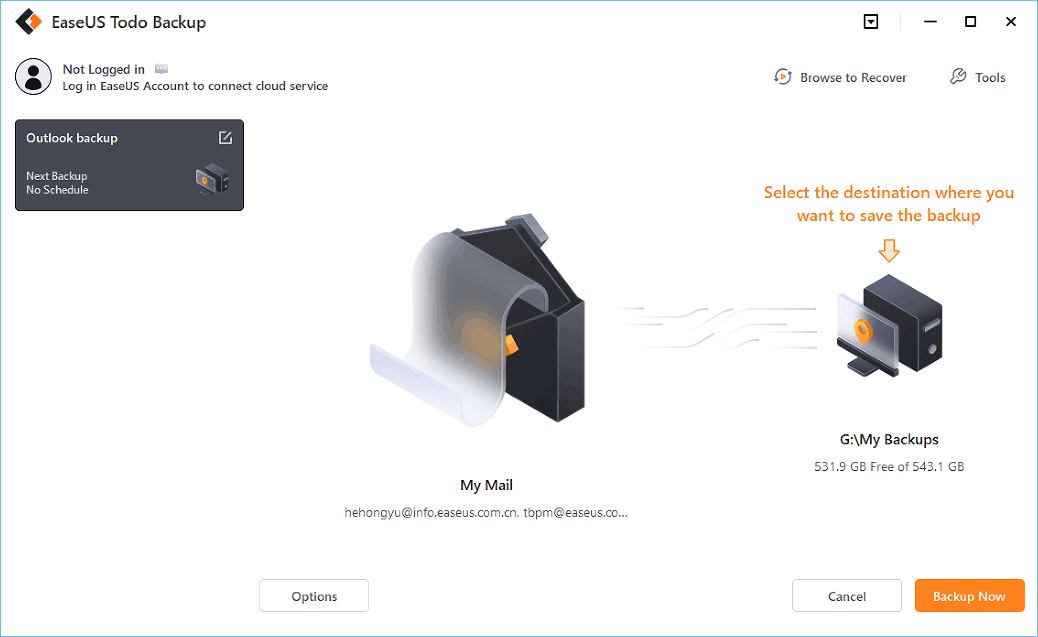 Step 5. The backup location can be another local drive on your computer, an external hard drive, network, cloud or NAS. Generally, we recommend you use an external physical drive or cloud to preserve the backup files.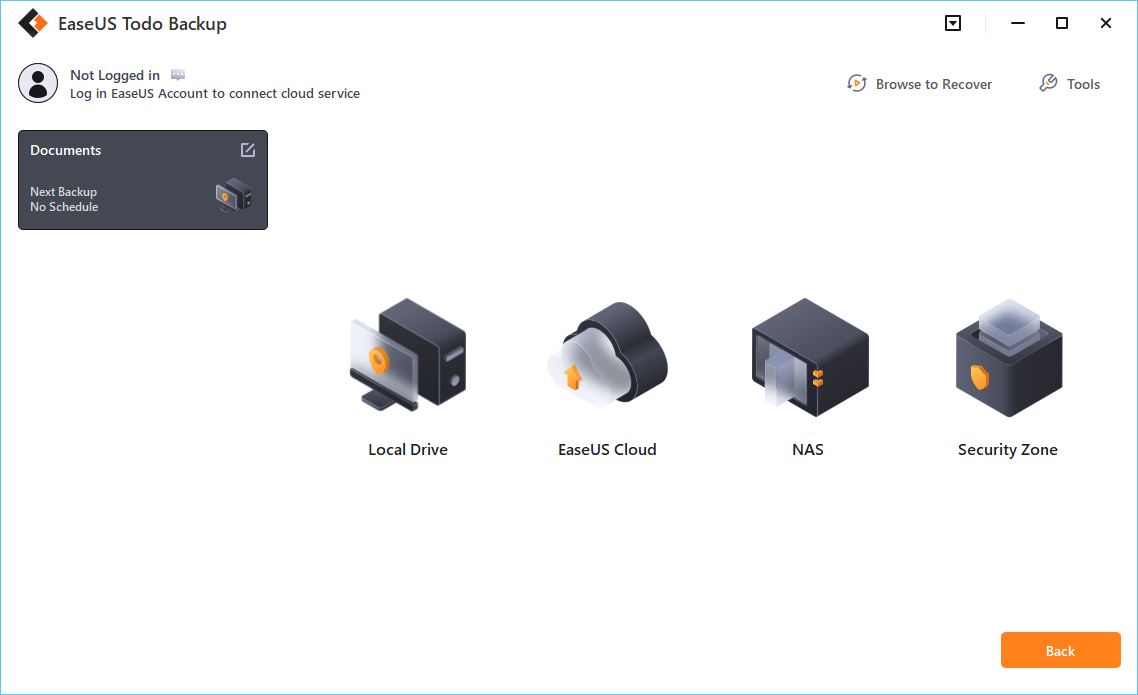 Step 6. Cusomiztion settings like setting an automatic backup schedule in daily, weekly, monthly, or upon an event, and making a differential and incremental backup are available in the Options button if you're interested. Click "Backup Now", and the Outlook backup process will begin. The completed backup task will display on the left side in a card style.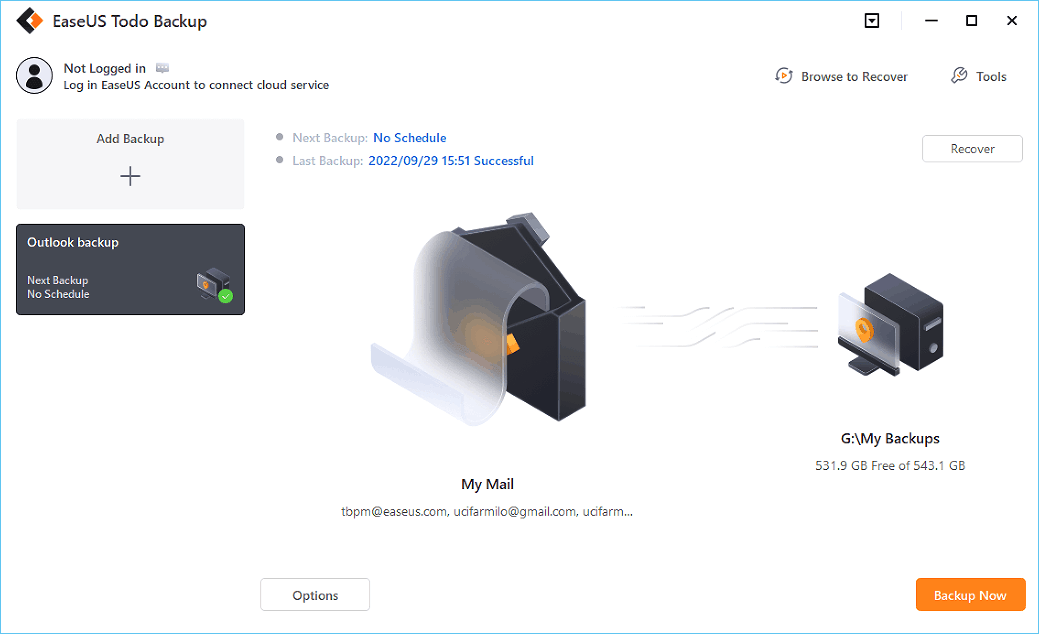 2. Manually Copy and Paste Outlook PST Files to USB
Tag: suitable for saving only a small quantity of files, manually copying and pasting
If you don't want to back up the whole Outlook but just some specific files, you can directly copy and paste them to a USB drive. To do this, first, locate your ".pst" file in the Outlook folder. You can find it by typing "*.pst" into the search box of File Explorer. Then select the file and copy it to USB. 
3. Export Outlook to USB with Import/Export Wizard
Tag: Outlook built-in feature, manually, PST format
Outlook has a built-in Import/Export Wizard that lets you back up emails and other data from Outlook to a USB drive. It will export your Outlook data in PST format, and you can restore it in PST when needed. 
Follow the steps below to back up Outlook emails with it:
Step 1. Open your Outlook, go to the File tab > Open & Export> Import/Export.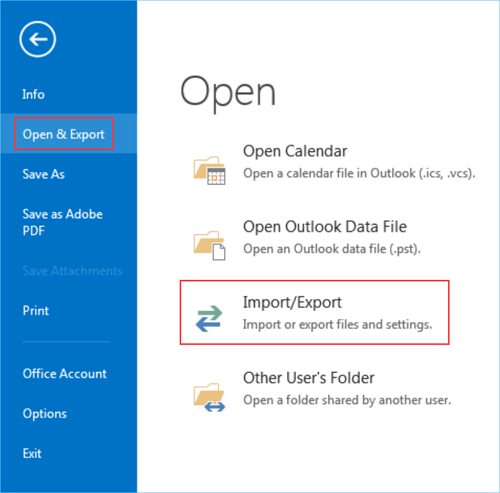 Step 2. In the Import/Export wizard, choose "Export to a file"> "Next" > "Outlook Data File (.pst)" and click Next.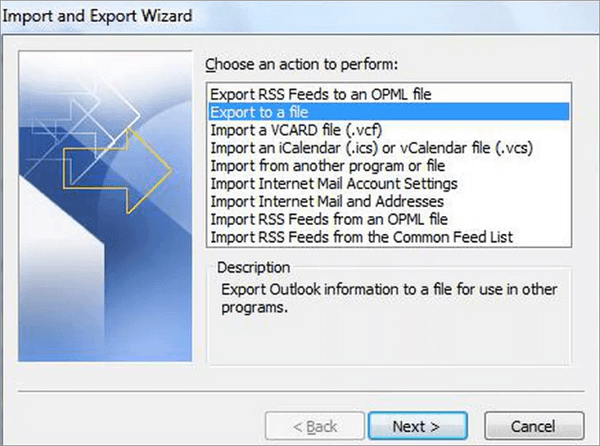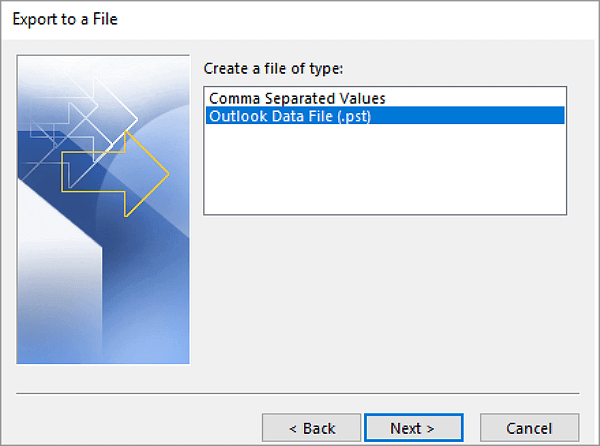 Step 3. Select the emails or folders you want to backup, and then click "Browse" in the window's higher right corner. Choose a backup location on your USB drive, and then click OK.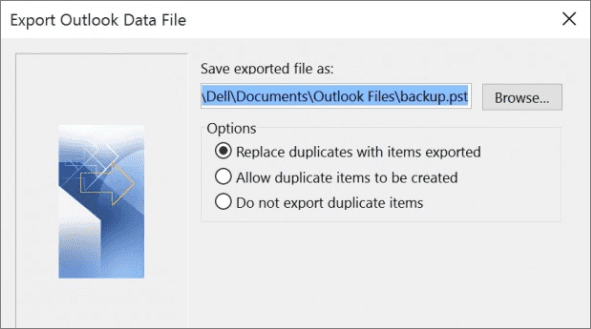 Step 4. Click "Finish" to start backing up your Outlook emails to a USB drive. 
Sum Up
Once you back up your Outlook emails to USB, you can access them at any time without worrying about data loss. It is highly recommended that you back up your important Outlook files regularly in order to avoid any data loss in case of a disaster. By following the three effective tips mentioned above, you'll know how to back up outlook emails to USB easily. 
EaseUS Todo Backup is highly recommended if you want to back up Outlook emails and other essential APP data safely and quickly. 
FAQ on How to Backup Outlook to USB
Can I Export my entire outlook emails?
Yes, you can back up the entire Outlook email data by using Outlook backup software or Import/Export Wizard. Both of them support backup Outlook emails and other data to external storage devices.
Can you copy an email folder to a flash drive?
Copying an email folder to a flash drive is possible and it can be done by using the backup feature of Outlook. You can manually back up outlook emails to a USB drive with Import/Export Wizard, or you can use backup software like EaseUS Todo Backup to back up Outlook emails automatically. 
Where are my Outlook emails stored?
Outlook will create a local folder to store all of your emails, contacts, and calendar items in PST format. The default location is C:\Users\user\AppData\Local\Microsoft\Outlook. You can find any Outlook-related data here.

Updated by Larissa
Larissa has rich experience in writing technical articles. After joining EaseUS, she frantically learned about data recovery, disk partitioning, data backup, and other related knowledge. Now she is able to master the relevant content proficiently and write effective step-by-step guides on computer issues.
Taking everything into consideration, we can say that EaseUS Todo Backup Home can offer you a little extra sense of security with a set of advanced tools. The interface provides quick adaptation, every process guiding you all the way through so you don't get stuck or further damage your system rather than keeping it safe.

 Read More

EaseUS Todo Backup Free lets you create backups of your important files or your entire computer through its streamlined interface. Just choose the backup type you'd like to get started, and let the program do the reset.

 Read More

EaseUS includes all the features I expect from backup software like versioning, incremental backups, and scheduling. For more advanced users, EaseUS allows you to install a pre-boot environment onto your hard drive so you can use it to restore files without burning a CD or putting it on an external USB drive.

 Read More

EaseUS Todo Backup
Smart backup tool for your files and entire computer in Windows 10/8/7.
Install Windows on Multiple Computers at Once? No Problem!
Learn how to install Windows 11/10/7 and special programs/software on a batch of computers. Use 10 minutes to do the 10 hours work without making a single mistake!
Get Free Solution!