Scenario of Windows Backup Did Not Complete Successfully
Being a Windows user, you undoubtedly understand how vital creating a backup is. With the help of the Backup and Restore (Windows 7) tool, you can back up the system files and establish a system restore point. These backup files can be helpful in the event of data loss, disk failure, or virus infection. Unfortunately, Windows computer occasionally fails to create a backup, and a problem like "Windows backup did not complete successfully" may appear. In that case, you can click on "Option" to view more specific error information.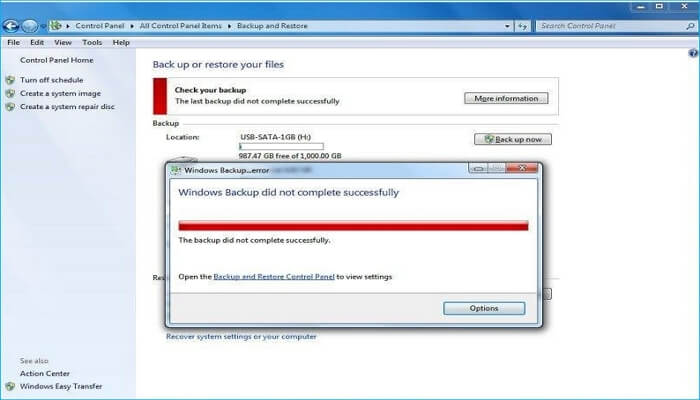 Causes of Windows Backup Did Not Complete Successfully
The Windows backup did not complete successfully issue has a specific cause. Technical issues with storage media intended to save backup data, data itself, or the file system may be to blame for this. Here are a few potential causes of this error.
Data corruption. Windows backup may not successfully back up the data you want to back up if it has been corrupted or inaccessible.
Malware or virus attacks. Due to malware or virus, Windows backup may fail.
Failure of source or target drive. Problems with your devices, internal disk, or backup drive can cause the failure of a Windows backup. For instance, Windows won't be able to back up if your backup hard drive is corrupt.
Insufficient drive space. Windows may not complete the backup due to the backup drive's lack of available storage space.
Except for the above reasons, timeout issues when moving data to an external drive and I/O device errors may also be to blame.
Solutions to Windows Backup Did Not Complete Successfully
To fix the Windows backup failure, you can select one or more of the procedures below to resolve the issue, depending on the details you find out. Here are 4 methods you can use to solve the problem.
Fix 1. Check the Disk
Run the check disk and fix command for both the backup source and destination disk. You can run the command chckdsk C: /f in the command prompt to check your C drive. In C drive, right-click on the partition and then go to Properties > Tools > Error checking.
Fix 2. Check the Connection
Make sure your computer and backup disk are securely linked. Any loose connection between your computer and the backup drive will hinder the data transfer process and lead to a timeout. You can launch Disk Management to verify your backup drive's online status.
Fix 3. Scan Computer with Antivirus Software
Thoroughly scan your computer with antivirus software, then remove any suspicious files. To avoid any possibility of a computer virus or malware assault corrupting the files or file systems intended for backup, you can utilize powerful antivirus software.
Fix 4. Delete Old Backups
Try the backup again after deleting old backups or volume shadow copies. Doing so can release the space for new backups.
The Best Way to Backup Windows 11/10/8/7 PC
After encountering Windows backup issues, such as Windows 10 backup taking so long, and Windows backup stuck, have you ever stuck on a question like, "Is Windows backup any good?" In general, Windows backup can meet your basic backup needs and is less fully featured than expected. If you want more advanced backup options and to avoid the Windows backup issues mentioned above, the best way to back up your Windows computer is to try professional backup software, such as EaseUS Todo Backup.
EaseUS Todo Backup Home is an excellent utility in the backup and recovery field. This backup software can run smoothly on Windows 11/10/8/7 and has much to offer regarding the backup. It allows you to automatically create a file backup, system backup, disk backup, partition backup, etc. It lets you back up Minecraft Worlds so that you can restore your favorite game when something goes wrong. The following are some other features of this backup tool:
250G of free cloud storage.
Create full, incremental, and differential backups.
Save the backups to different locations.
Security Zone to protect essential data from ransomware.
You can perform the steps below to back up your Windows computer.
Step 1. Launch EaseUS Todo Backup on your computer, and click Create Backup on the home screen and then hit the big question mark to select backup contents.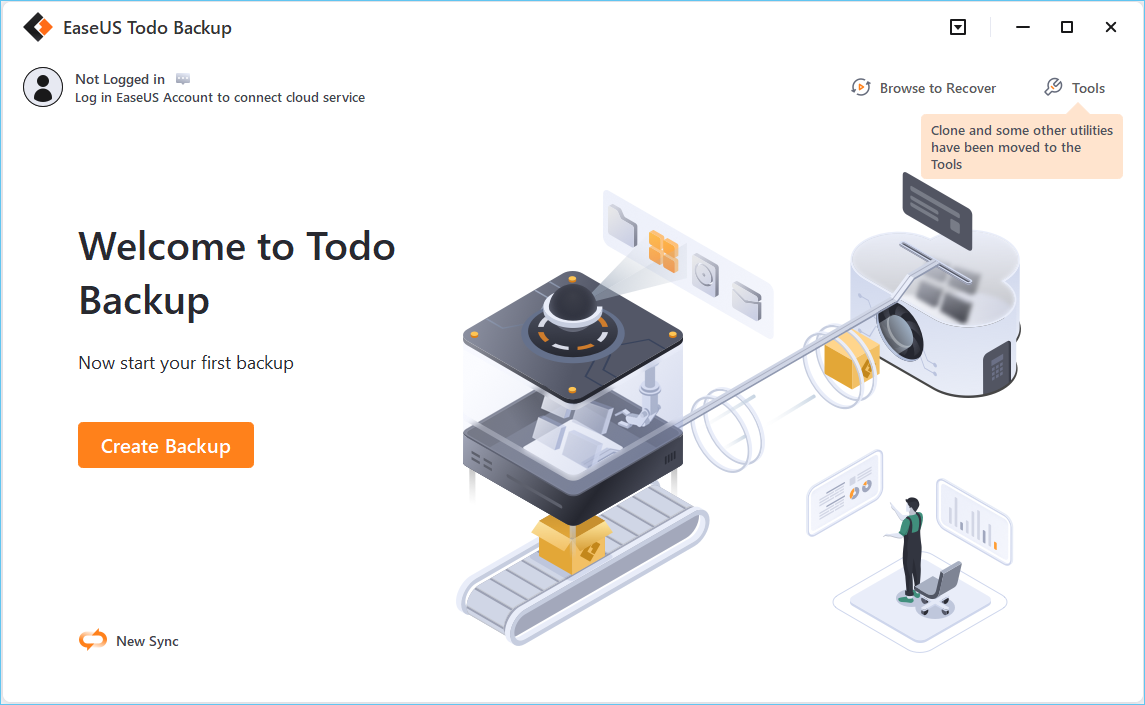 Step 2. To back up your Windows operating system, click "OS" to begin the backup task.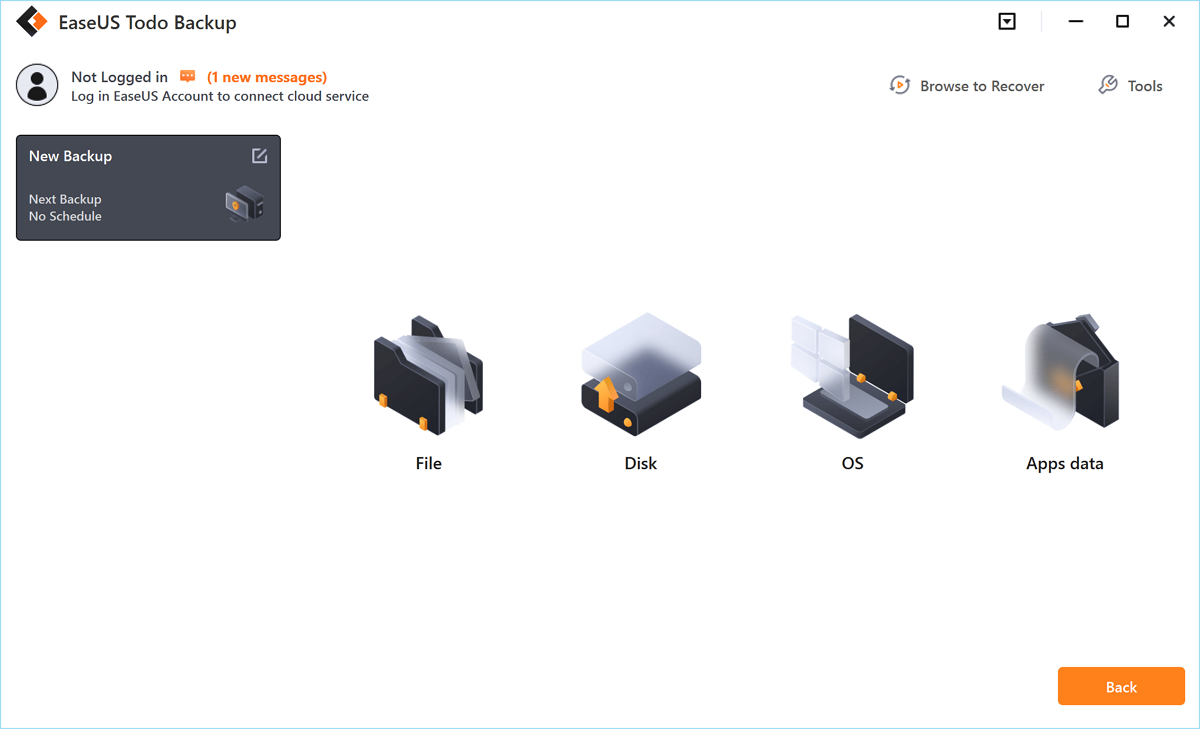 Step 3. Your Windows operating system information and all system related files and partitions will be automatically selected so you don't need to do any manual selection at this step. Next, you'll need to choose a location to save the system image backup by clicking the illustrated area.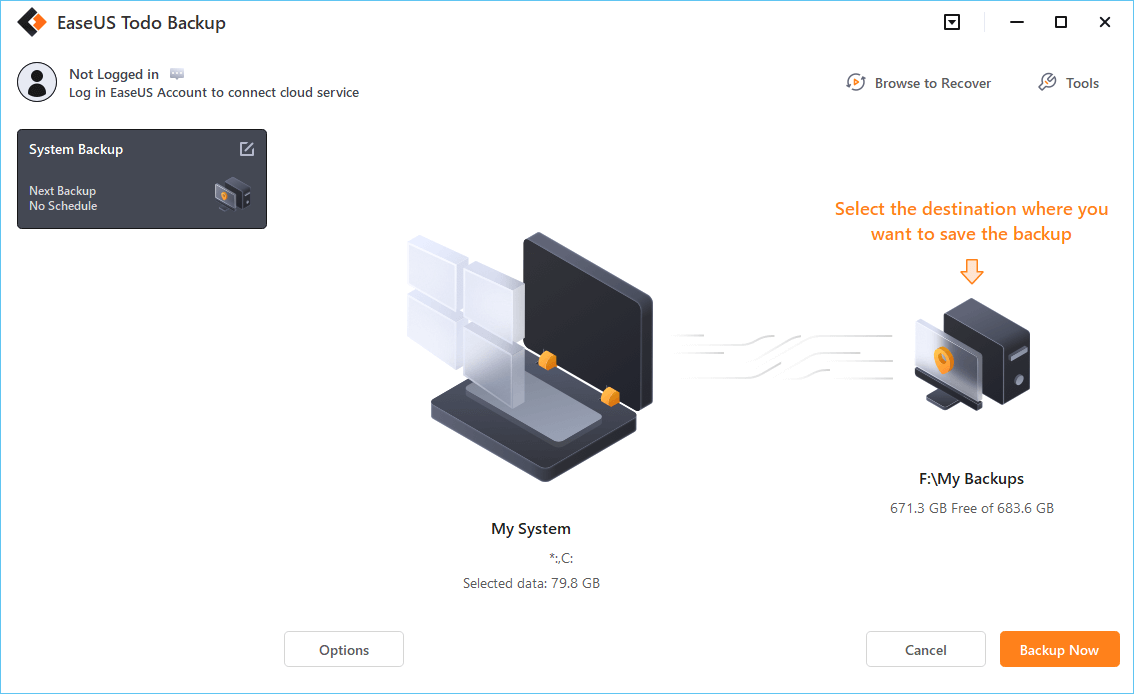 Step 4. The backup location can be another local drive on your computer, an external hard drive, network, cloud or NAS. Generally, we recommend you use an external physical drive or cloud to preserve the system backup files.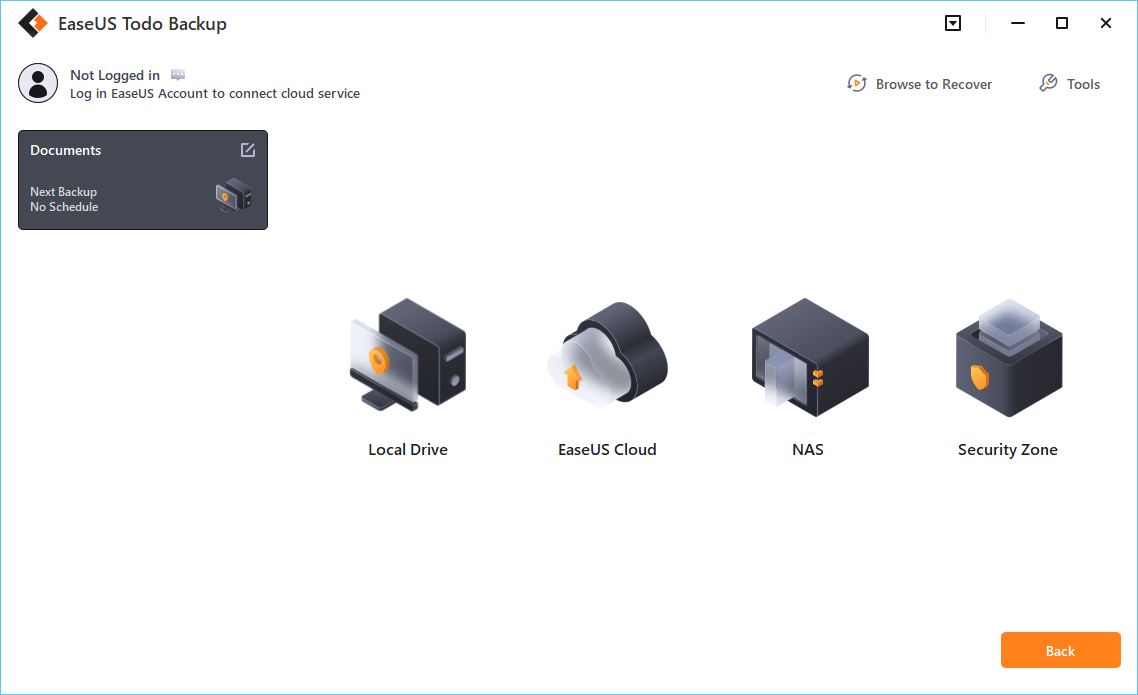 Step 5. Customiztion settings like enabling an automatic backup schedule in daily, weekly, monthly, or upon an event, and making a differential and incremental backup are available in the Options button if you're interested. Click "Backup Now", and the Windows system backup process will begin. The completed backup task will display on the left side in a card style.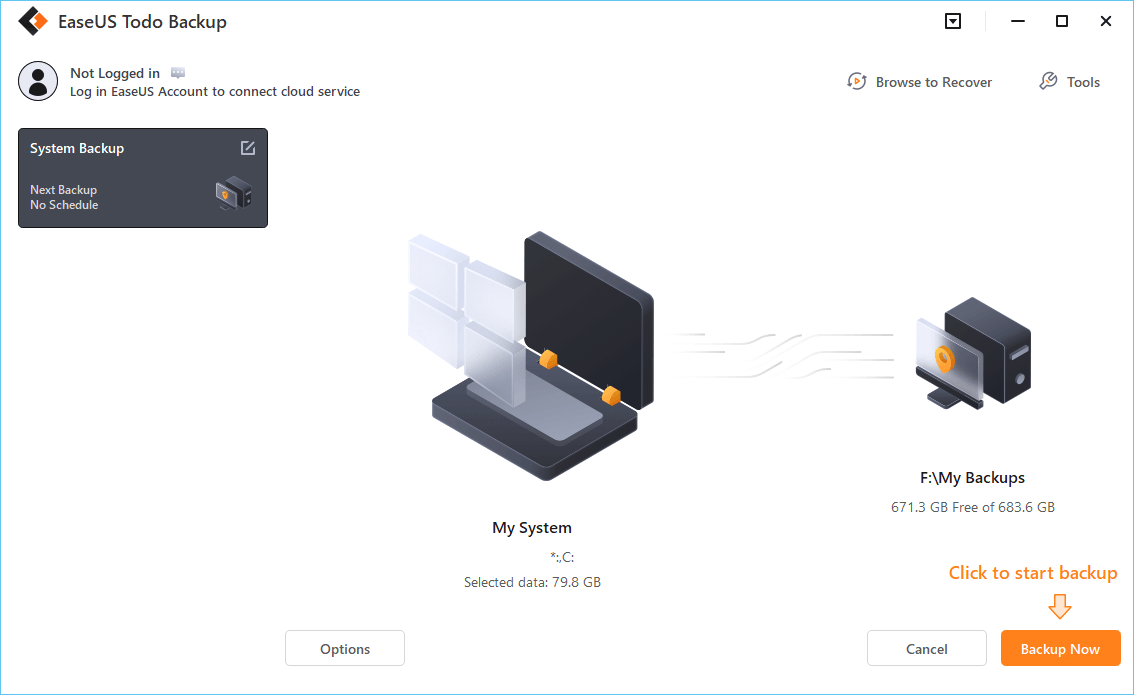 Final Words
When you encounter the Windows backup did not complete successfully issue, do not worry. You can try any method in this article to help you solve the problem. As far as I am concerned, Windows backup can only meet your basic backup needs, and it would be best if you try to use a professional backup tool, such as EaseUS Todo Backup, to help back up your Windows computer. 
EaseUS Todo Backup Home is a second-to-none backup choice for you. It can address the limitations of Windows built-in backup programs and offer more backup options. Do not hesitate to use this powerful backup and recovery software!
FAQs
1. Why does it say Windows 11 backup not complete successfully?
If you experience problems, such as Windows backup not completing, the storage device or the file intended for backup may be to blame. Attacks from malware or viruses and corrupted or unavailable files prevent the computer from continuing the backup process.
2. Why is my Windows Backup not working?
Ensure the automatic backup of files utility in backup and restore is turned on to fix the windows backup not working error. The new files will automatically be backed up. You can see the windows backup error if it is off.
3. How long should a Windows backup take?
Depending on the amount of data or the size of the machine, the Windows backup or restoration process typically takes 30 to 40 minutes to finish.
4. How do I check Windows backup progress?
Right-click on a File History folder to access properties. A progress indicator and details about the file size will be available on the screen if the backup procedure is ongoing.
Was this page helpful? Your supoport is truly important to us!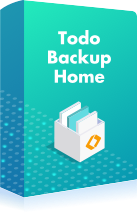 EaseUS Todo Backup
EaseUS Todo Backup is a dependable and professional data backup solution capable of backing up files, folders, drives, APP data and creating a system image. It also makes it easy to clone HDD/SSD, transfer the system to different hardware, and create bootable WinPE bootable disks.
Updated by

Daisy is the Senior editor of the writing team for EaseUS. She has been working in EaseUS for over ten years, starting from a technical writer to a team leader of the content group. As a professional author for over 10 years, she writes a lot to help people overcome their tech troubles.…

Read full bio

Written by

"I hope my articles can help solve your technical problems. If you are interested in other articles, you can check the articles at the bottom of this page, and you can also check my Facebook to get additional help."…

Read full bio