Quick navigation:
Workable Solutions
Step-by-step Troubleshooting
Create a backup in Windows 11 

1. With file history

2. Backup with windows...Full steps

Create a backup in Windows 10 

1. With file history

2. Backup and Restore (Windows 7)...Full steps

Create Backups in EaseUS Todo

1. Click on various backup options

2. Customize backup plan...Full steps
There is no doubt that Windows 11 inherits from its predecessor Windows 10 in more than one respect. The two operating systems have some differences in backup options. This blog is a simple guide for beginners on how to create backups in Windows 11 Backup, Windows 10 Backup, and EaseUS Todo Backup.
What has changed in Windows 11 backup options?
When Windows 11 was officially released, we saw many changes to the interface, ease of use, and performance of this new OS version. A notable change in Windows 11 is how users can create backups using its built-in functionality. There are two ways to back up in Windows 11, by backing up your file history to an external hard drive and by syncing your files and folders with OneDrive.
However, in Windows 11, users can't find File History in Settings and have to search in Control Panel. In the backup section, users only see three options: OneDrive Folder Sync, Remember My Apps and Remember My Preferences. Perhaps the tweak means Windows is learning from its rival macOS, which wants users to use cloud drives to back up their files.
How to create a backup in Windows 11? 
Nonetheless, most users still rely on their PC to obtain files. However, to avoid any data deletion situation, it is important to create a backup beforehand. It doesn't matter whether you have Windows 11 Backup, Windows 10 Backup, and EaseUS Todo Backup. You don't have to worry about your files at all.
Also, with Windows 11, you can easily create backups. Creating a backup with Windows 11 is divided into two parts - I) Creating a backup with File History, II) Creating a backup with Windows Backup. Here are full instructions on how to use both methods:
1. Create a backup with file history
As the name suggests, File History is used to save different versions of the selected file. In Windows 11, users can no longer add folders other than the default folders. If you still prefer to use File History, follow the steps below to learn how to use it.
Step 1. Search File History in the taskbar and click the best match.
Step 2. Connect an external hard drive as a backup drive.
Step 3. Open File History will copy files from Desktop, Library, Contacts, and Favorites.

Step 4 . You can also choose in the advanced settings how often File History is backed up and how long previous backup versions should be kept.

Note: You can always turn off File History backup from settings.
2. Sync files and settings in Windows Backup
Windows Backup is a new feature you'll find in Windows 11, and when turned on, your Windows backs up all the settings you've selected on your PC signed in with your Microsoft account. So how do you turn on Windows Backup and start syncing?
Here's how to turn on Windows Backup:
step 1. Go to Settings > Accounts > Windows Backup, here you will see the new Windows Backup feature.
Step 2. Choose what you want to sync. If you want to use OneDrive to sync your folders, click Manage sync settings and content from Desktop, Documents, and Pictures will be available on all your devices.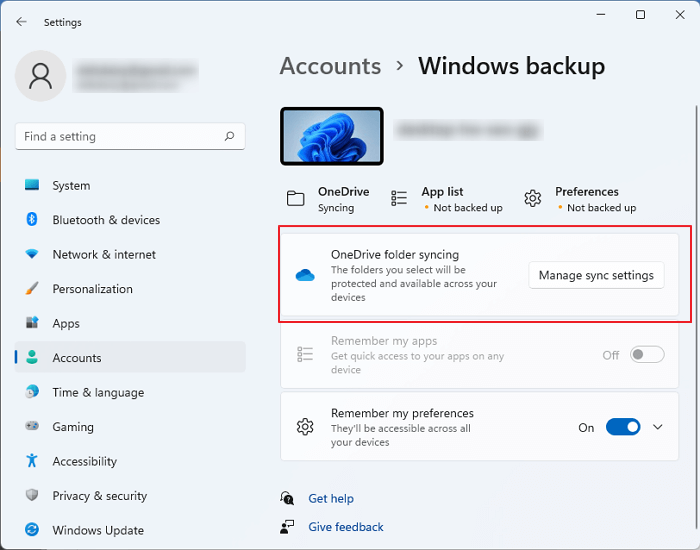 Two other items can be backed up:
remember my app
Windows 11 can remember the apps you installed. These can be restored to a new device.
remember my preferences
You can also restore preferences such as passwords, languages, and other Windows settings.
Note: If you don't have your Microsoft account or One Drive associated with your PC, you must log in with your Microsoft account.
Windows 10 Backup Utility: File History and Backup and Restore (Windows 7)
Like Windows 11, Windows 10 also has a built-in backup utility: File History and Backup and Restore (Windows 7). These two backup features are the main backup options for Windows 10 users. While none of them can create a full backup of your entire PC, they can safely back up all your personal data and files.
The main features of File History in Windows 10 are the same as in Windows 11. It can back up your important files from your PC folders, including Desktop, Documents, Downloads, Music, Pictures, Videos, and parts of the AppData folder. You can also customize which folders to back up and when.
Backup and Restore (Windows 7) is a feature that was first released in Windows 7. With Backup and Restore (Windows 7), users can create a system image on an external hard drive.
Best Windows Backup Alternative - EaseUS Todo Backup
While Windows backup tools do come with your PC and you can use them whenever you want, they don't provide users with many permissions and customization options. However, you can always use third-party software like EaseUS Todo Backup to back up your files and folders or even your entire PC. EaseUS Todo Backup gives users more power to customize backup plans, and more options are available to create backups. Let's take a look at some of the features of using EaseUS Todo Backup.
Various options: When you make a backup, you can get many different options such as a backup file, disk/partition, system, and Outlook email backup.
Backup schedule: You can also customize when backups are created, as you get options for incremental backups, differential backups, scheduled backups, specific event backups, and more.
All-in-one software: EaseUS Todo Backup is an all-in-one software that packs all the usual backup features into one and runs smoothly on Windows 11 and Windows 10.
Step 1. To initiate a backup, click the Select backup contents option.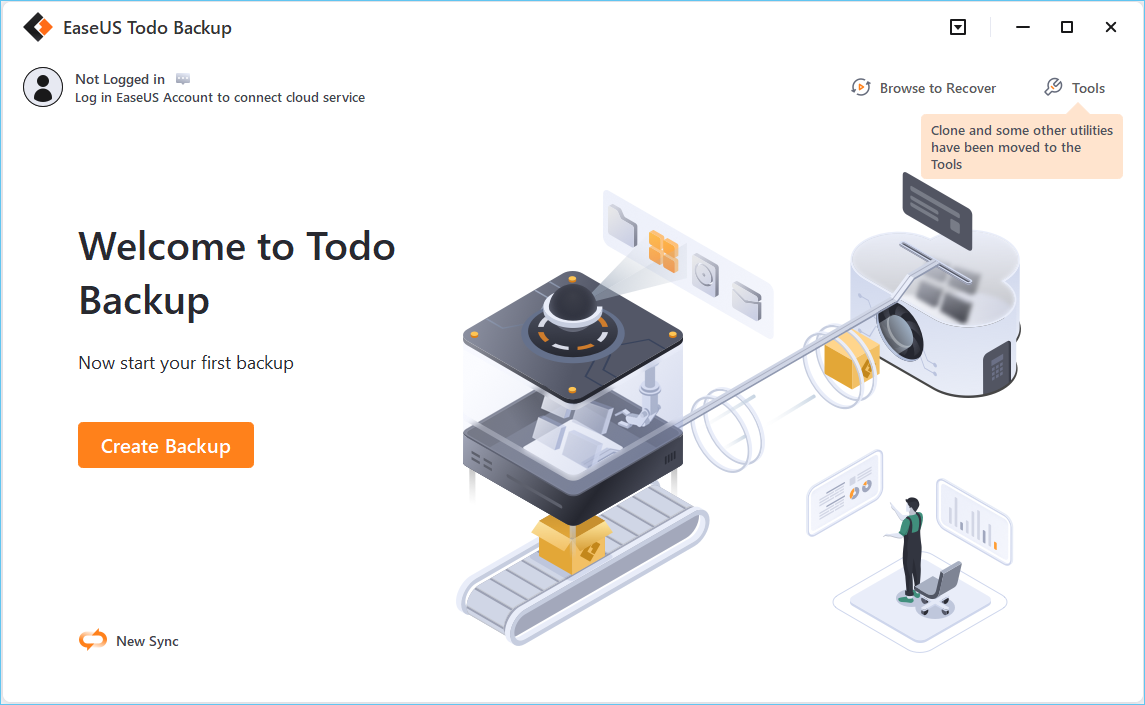 Step 2. There are four data backup categories, File, Disk, OS, and Mail, click File.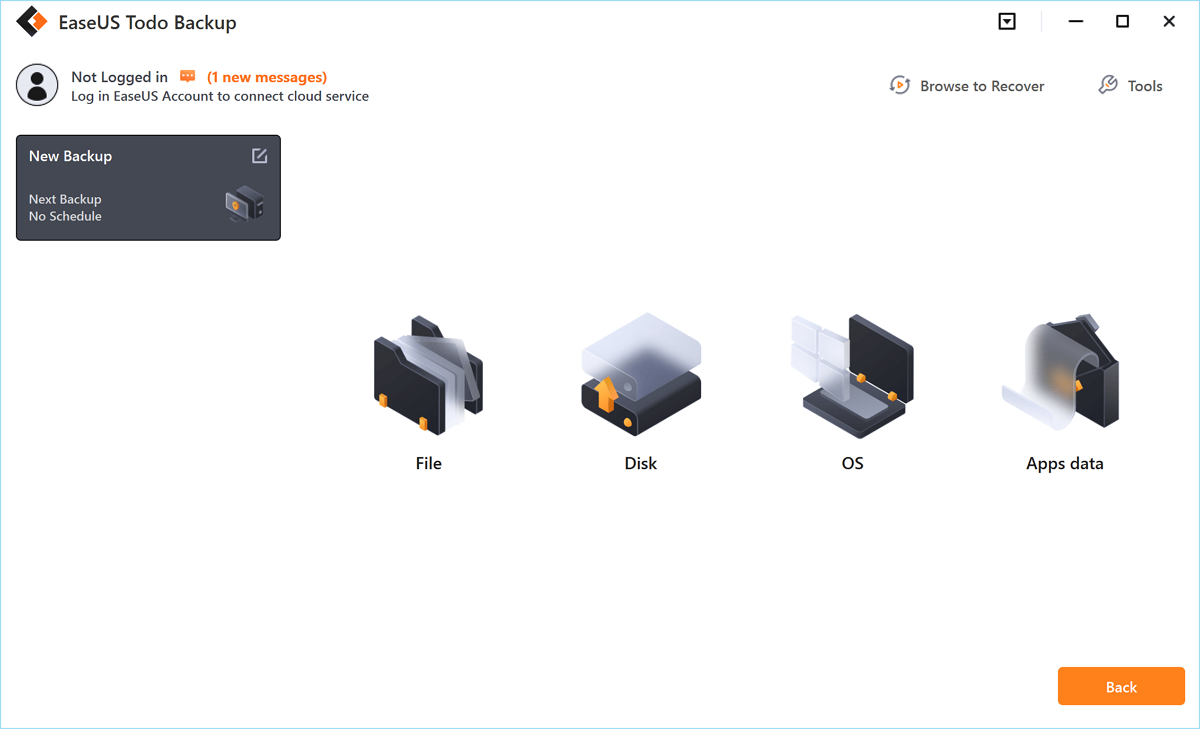 Step 3. On the left, both local and network files will be shown. You may extend the directory to pick the backup files.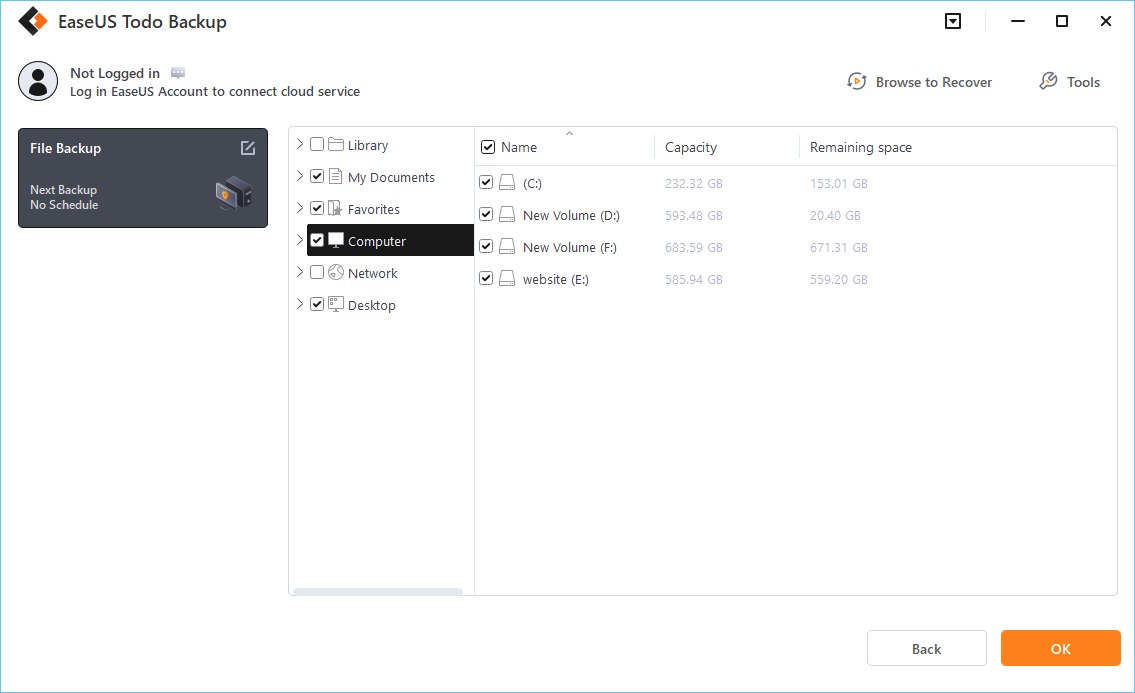 Step 4. Follow the on-screen instructions and choose a location to store the backup.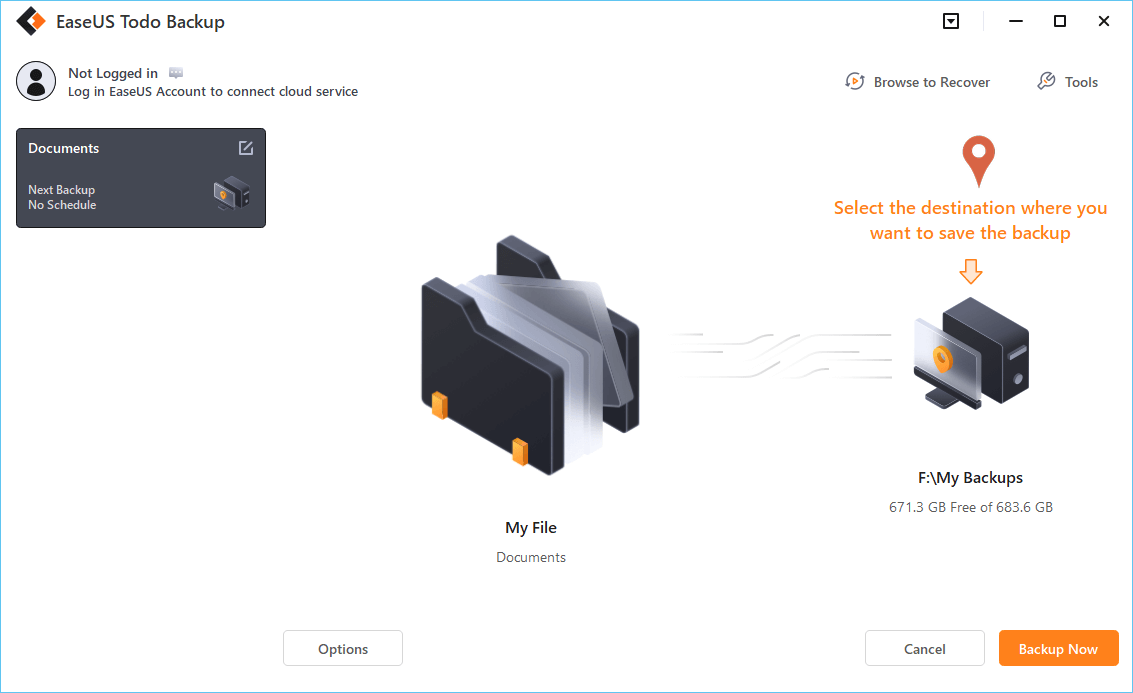 Click Options to encrypt the backup with a password in Backup Options, then click Backup Scheme to specify the backup schedule and start the backup at a certain event. There are also other additional choices you may choose to tailor the backup process to your requirements.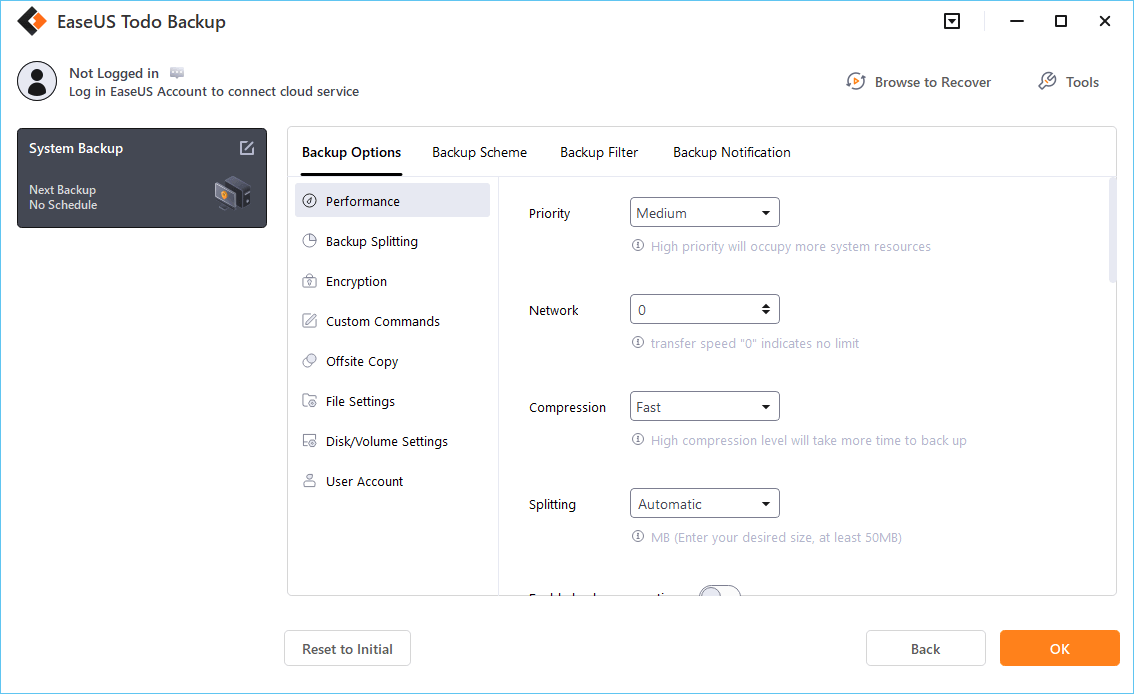 Step 5. The backup may be stored on a local disk, EaseUS' online service, or NAS.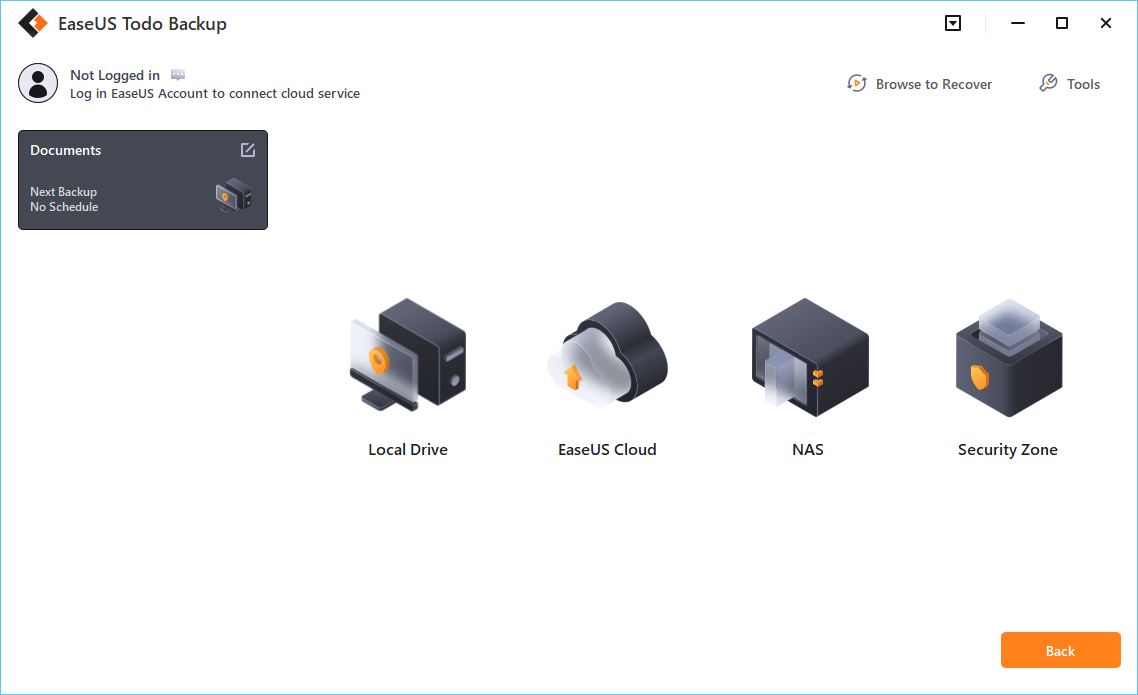 Step 6. EaseUS Todo Backup enables customers to back up data to a third-party cloud drive as well as its own cloud drive.
If you want to back up data to a cloud drive provided by a third party, choose Local Drive, scroll down to add Cloud Device, and then add and log in to your account.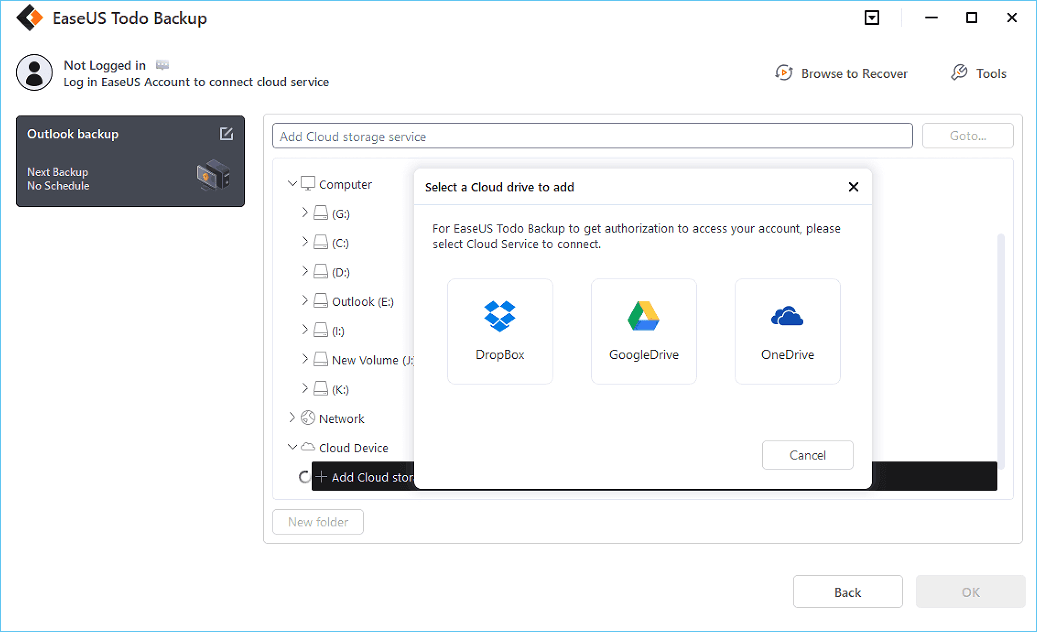 You can also choose the EaseUS cloud drive. Sign up for an EaseUS Account, then click EaseUS Cloud and log in.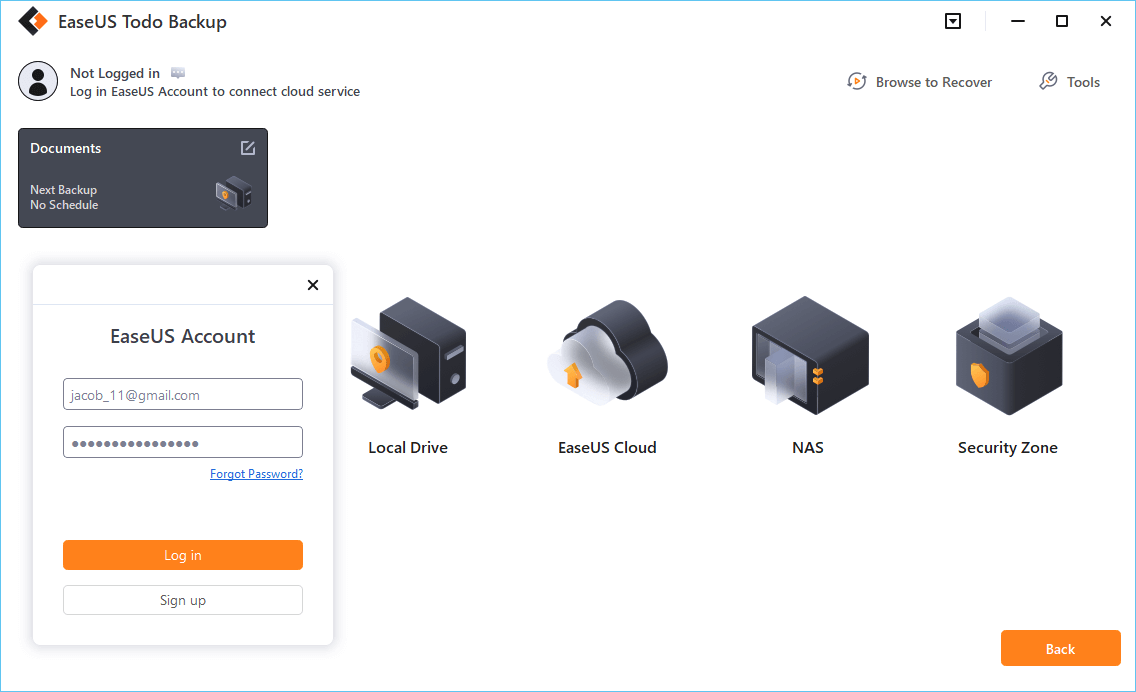 Step 7. Click Backup Now to begin the backup process. The backup job will be presented as a card on the left side of the panel after it has been finished. Right-click the backup job to handle it further.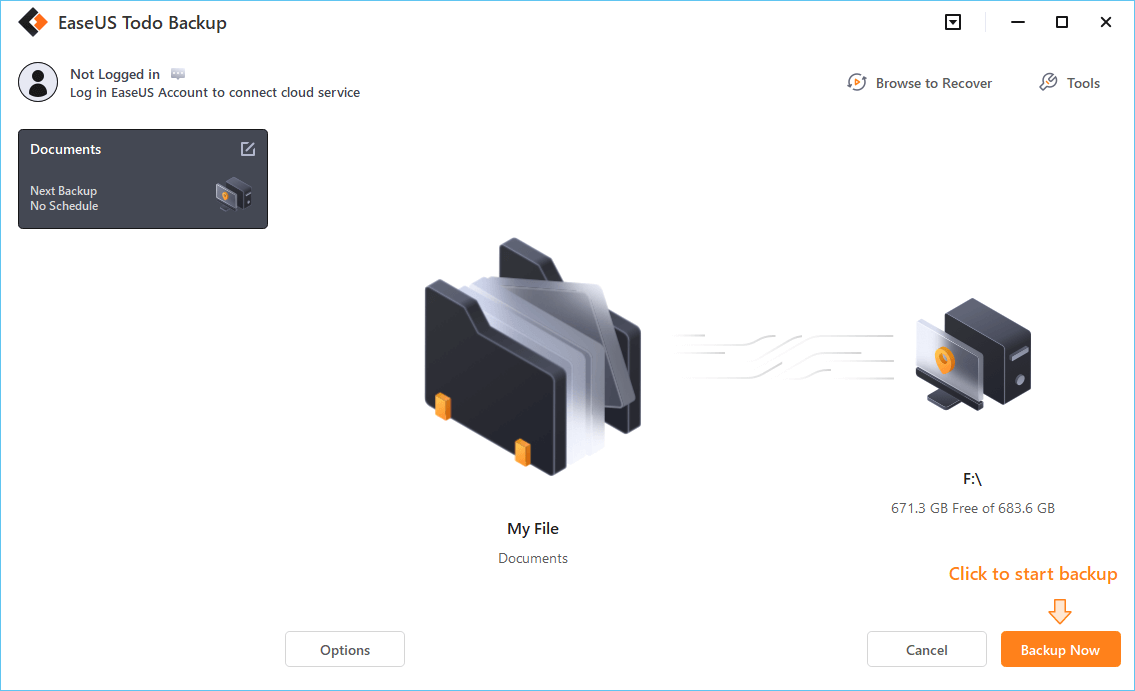 Windows 11 Backup vs. Windows 10 Backup vs. EaseUS Todo Backup
All in all, all the built-in tools in Windows 10 and 11 come in handy when trying to make small backups of your personal data and files. However, neither File History Backup nor Windows Backup can back up your entire PC. Therefore, if you plan to create a full backup of your PC, it's best to use third-party software such as EaseUS Todo Backup to ensure that all your files are safely backed up on your drive. To learn more about EaseUS Todo Backup, please visit our website.

Jean has been writing tech articles since she was graduated from university. She has been part of the EaseUS team for over 5 years. Her special focuses are data recovery, disk partitioning, data space optimization, data backup and Mac OS. By the way, she's an aviation fan!
Written by Gemma
Gemma is member of EaseUS team and has been committed to creating valuable content in fields about file recovery, partition management, and data backup etc for many years. She loves to help users solve various types of computer related issues.
Taking everything into consideration, we can say that EaseUS Todo Backup Home can offer you a little extra sense of security with a set of advanced tools. The interface provides quick adaptation, every process guiding you all the way through so you don't get stuck or further damage your system rather than keeping it safe.

 Read More

EaseUS Todo Backup Free lets you create backups of your important files or your entire computer through its streamlined interface. Just choose the backup type you'd like to get started, and let the program do the reset.

 Read More

EaseUS includes all the features I expect from backup software like versioning, incremental backups, and scheduling. For more advanced users, EaseUS allows you to install a pre-boot environment onto your hard drive so you can use it to restore files without burning a CD or putting it on an external USB drive.

 Read More

EaseUS Todo Backup
Smart backup tool for your files and entire computer in Windows 10/8/7.
Install Windows on Multiple Computers at Once? No Problem!
Learn how to install Windows 11/10/7 and special programs/software on a batch of computers. Use 10 minutes to do the 10 hours work without making a single mistake!
Get Free Solution!