| Workable Solutions | Step-by-step Troubleshooting |
| --- | --- |
| 1. What to Do if Halo Infinite Crashes | Halo Infinite crashing on a PC is a frustrating and unexpected problem many people face...Full steps |
| 2. 10 Effective Fixes | |
Halo Infinite is a 2021 first-person shooter game developed by 343 Industries and published by Xbox Game Studios. It is the sixth mainline entry in the Halo series and the third in the "Reclaimer Saga" following Halo 5: Guardians (2015). The campaign follows the human super-soldier Master Chief and his fight against the enemy Banished on the Forerunner ringworld Zeta Halo, Pin 07. Unlike previous installments in the series, the game's multiplayer portion is free-to-play. 
What to Do if Halo Infinite Is Crashing a Lot
Halo Infinite crashing on a PC is a frustrating and unexpected problem many people face. Occasionally, you'll see Halo Infinite crashing at the start of the game or between games out of nowhere.
Some Windows PC users see this when loading screens or playing games if there is a strong resource demand. Due to the heavy use of graphics in this game, various factors can cause this issue. Therefore, it is necessary to find out the main reasons. Here are ten ways with which you can resolve this issue.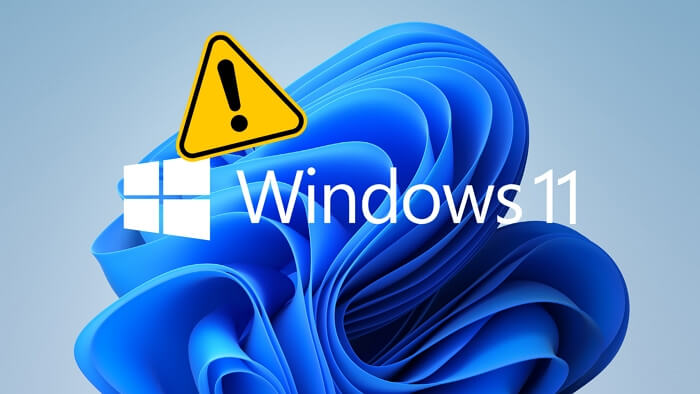 How to Effectively Fix Halo Infinite Keeps Crashing Problem
When you have encountered the Halo Infinite keeps crashing problem, you can follow the detailed steps bellow to fix it.
Fix 1. Check for Conflicting Programs
If the Halo Infinite game gives you problems, switch it off from your PC's Background Apps option.  
Step 1. Press Windows + I to open settings > After clicking on 'Privacy,' click on 'Background apps' from the left pane.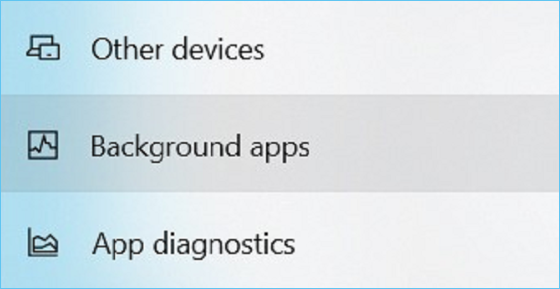 Step 2. Now, search the Halo Infinite game title while scrolling through. 
Step 3. Next to the game's title, disable the toggle > Close the window and restart your PC after you are done.
Step 4. Now, check if your issue has been resolved. 
Fix 2. Disable Full-Screen Optimizations
Full-screen optimization is a feature built into Windows 10 that should improve the performance of full-screen programs. However, some players complained that this could cause the game to crash. So, try turning it off and see if that's the reason for Halo Infinite crashing.
Step 1. Go to LIBRARY on the Steam client. Select Properties from the right-click menu of Halo Infinite > Select the local file on the left > Choose Browse > Select Properties from the context menu of the Halo Infinite launcher.
Step 2. Check the checkbox next to Disable full-screen optimization in the pop-up window. Then you need to click on a high DPI setting to change it.
Step 3. Select the Override high DPI scaling behavior check box. Then click OK to save your changes > Now check if the "Halo Infinite crashes" issue is resolved.
Fix 3. Disable In-Game Overlay
Steam overlays and 3rd party overlay apps may cause Halo Infinite crash issues and should be disabled like discord overlays.
For Discord
Step 1. Double-click the Discord icon in the system tray to launch the Discord client > To access the Preferences menu, click the gear icon in the upper left corner of Windows > In the application settings section, go to the Overlay tab.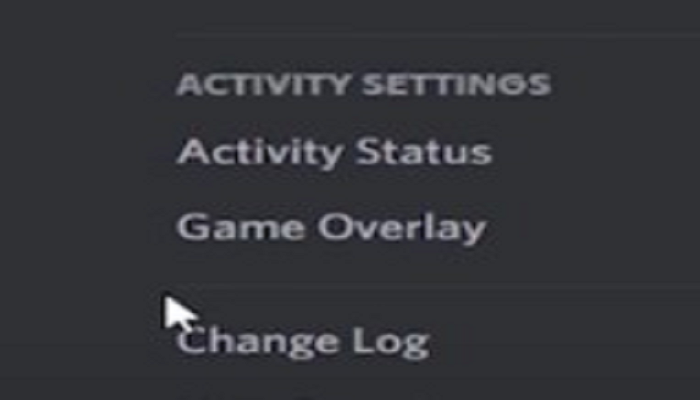 Step 2. Disable the toggle "Enable in-game overlay" in the right pane.

Step 3. You can now play any game and test if the Discord has been disabled > Now check if the "Halo Infinite crashes" issue is resolved.
For Steam
Step 1. Go to the Library section of the Steam app. Right-click on Halo Infinite and select Properties from the menu > To disable it, go to the General page, scroll down and uncheck the option to enable Steam overlays in your game.

Step 2. Disabling overlays will help fix Halo Infinite crashes on Windows 11/10.
Step 3. Now check if the "Halo Infinite crashes" issue is resolved.
Fix 4. Verify the Integrity of Game Files
Some halo data may be corrupted, causing the "Infinite Halo crash" issue. In this case, you can use the built-in Steam utility to check the Halo installation package and repair corrupt game files.
Step 1. Launch Steam on your computer and log in to your account > Then go to your game library and select Halo Infinite from the dropdown menu.
Step 2. Go to the properties window and select the Local File tab > Finally, select Game File Integrity Check and wait for the scan to complete.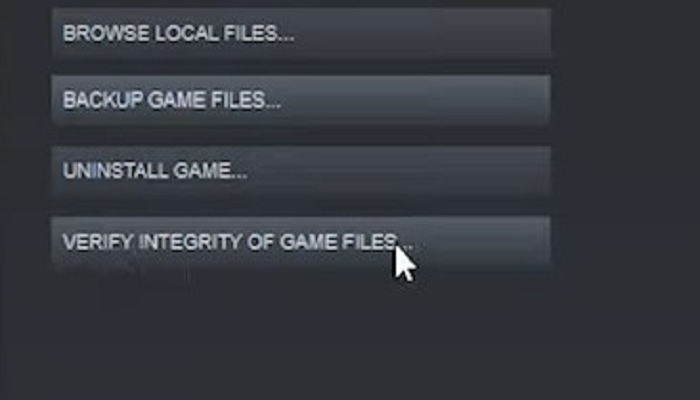 Step 3. After analyzing your game files, relaunch Halo Infinite to see if it's still crashing or not.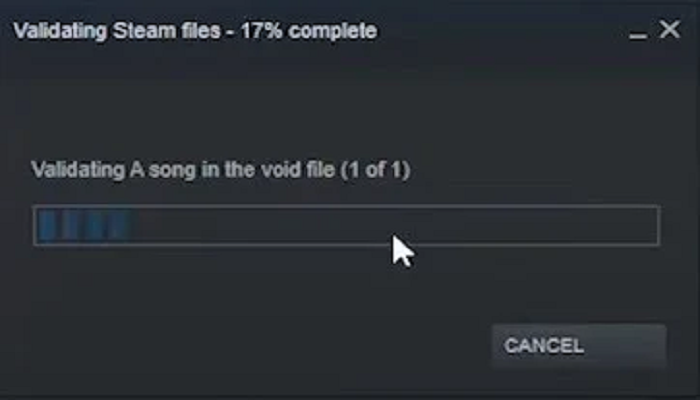 Fix 5. Check Your DLC
Halo fans have identified potential solutions to the glitch. i.e., Disable the DLC called Multiplayer High-Res Textures.
Step 1. Go to LIBRARY on the Steam client. Select Properties from the right-click menu of Halo Infinite.
Step 2. Select DLC from the right pane. Deselect this option before using HD multiplayer textures. Then restart the game.
Fix 6. Check for System Updates
Upgrade to Windows 11 or Windows 10 improves system stability and, in some cases, game performance.
Step 1. To open the Windows settings app, click Win + I (Windows logo and I) on your keyboard. Select Update & Security from the dropdown menu.
Step 2. Click Check for updates to check for updates. Then Windows installs the patch. It can take some time.
Step 3. Repeat these steps until you click Check for updates. The message "Latest" appears, indicating that all system updates have been installed.
Step 4. After all system updates are installed, restart your computer and test the game.
Fix 7. Scan and Repair Windows
Before reinstalling Windows, you may need to perform a system scan using a Windows repair app.
Step 1. Insert the Windows 10 bootable USB flash drive you created into your computer > To boot the computer into BIOS, turn on the computer and press and hold a specific key.
Step 2. F2, F8, and F10 are the most commonly used keys to enter BIOS. The computer manufacturer has been identified > The BIOS setup menu is displayed. Press the right arrow key to enter the startup pane.
Step 3. Press the up-arrow key to select the USB drive. Then hold down the + key and drag the USB drive to the top of the boot menu > Press F10 to save the settings and exit the BIOS.
Step 4. Set the language, time, and keyboard on the Windows Settings page and click Next > In the lower-left corner, select Repair your computer.
Step 5. Select Troubleshoot > Advanced options > Startup repair > Windows 10 from the drop-down menu. After that, the Startup Repair application will scan your PC and fix any loading issues it finds.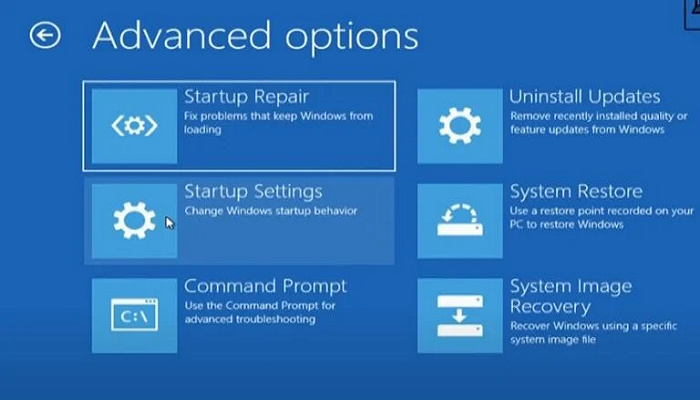 Fix 8. Upgrade Your Graphics Driver
If your graphics card drivers are not up to date, you will need to update them.
Step 1. From the Start menu, find and select Device Manager > When Device Manager opens, expand the Display Adapters list.
Step 2. Right-click on the graphics driver and select the Uninstall device option from the dropdown menu.
Step 3. Next, visit the card manufacturer's website to get the latest drivers for your card. After installing the driver, restart the computer and see if it is resolved.
Fix 9. Extend Gaming Partition Size
Increasing the partition size will keep the game running smoothly and prevent crashes.
Step 1. Search for computer management in the windows search bar and then select "Run as administrator."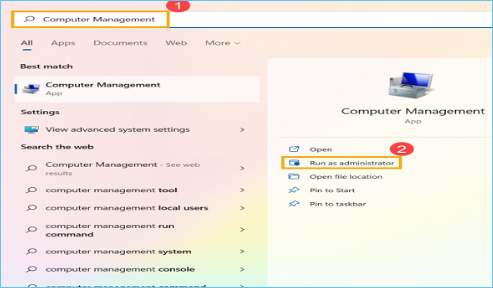 Step 2. Select "Disk Management" in computer management.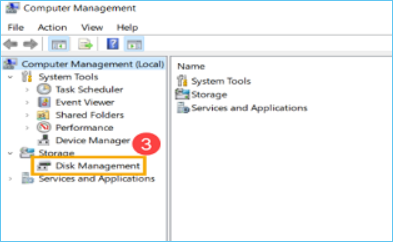 Step 3. In Disk Management, right-click an unallocated region on your hard disk, then select "New Simple Volume".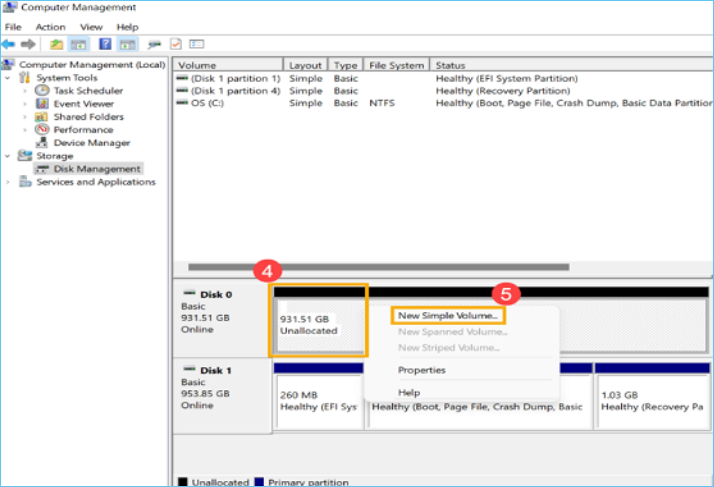 Step 4. Select "Next" in New Simple Volume Wizard.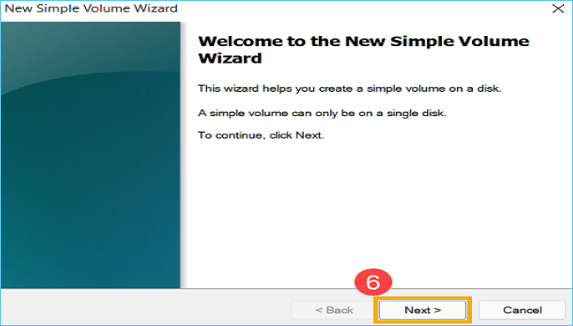 Step 5. Enter the size or gigabyte of the volume you want to create, or accept the default maximum size and select Next. If you make a book that does not reach the default full size, the remaining space remains unallocated.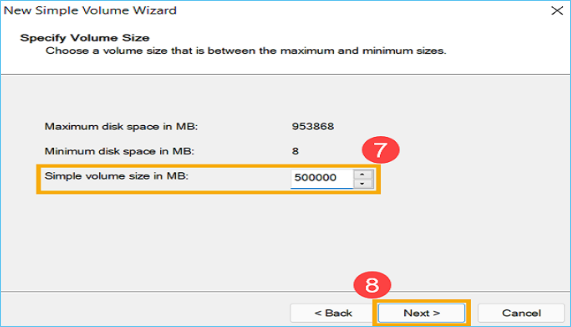 Step 6. Select a drive letter or accept the default drive letter to define the new partition and select Next  > To format the volume with the default settings, you can customize the volume label and select Next.
Step 7. It will create a new simple volume; review the following settings you have set, then select Finish. You can find the newly created volume in Disk Management. Even if space is left, it is unallocated, and unallocated space can be created as another partition.
Fix 10. Upgrade to a Larger SSD
If you have tried the methods mentioned above, but the halo infinite still keeps crashing on your PC, then it may the time to upgrade the drives. You can try to upgrade your SSD to a larger one to fix the Halo Infinite crashing problems. However, such a process can be pretty damaging to your data if you are not very familiar with the computer hardware. But there is no need to worry since things will get easier if you have downloaded an efficient backup tool.
Among all of the backup software, EaseUS Todo Backup is highly recomended. This backup program supports all backup kinds. Disk or partition backup, System backup, File backup, Email backup, Smart backup, Clone multiple partitions to HDD/SSD, and generate System clone are some of the features included.
You can follow the steps below to create a backup of your SSDs:
Step 1. Click the "Select backup contents" button to start backup.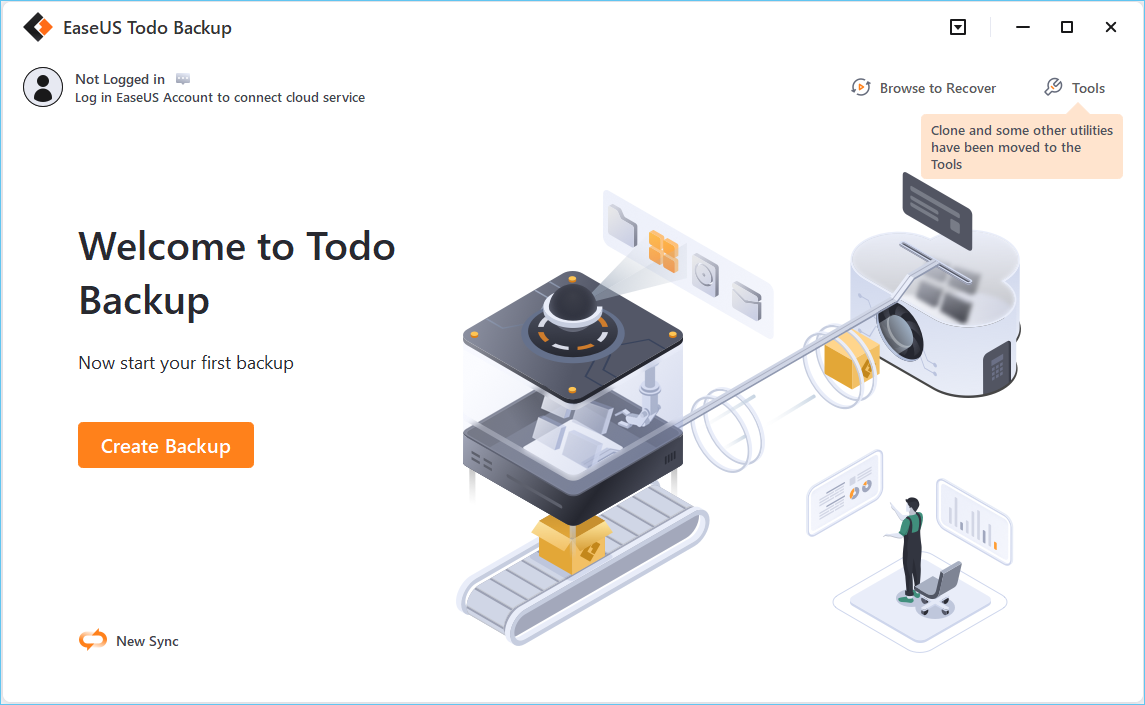 Step 2. There are four data backup categories, File, Disk, OS, and Mail, click File.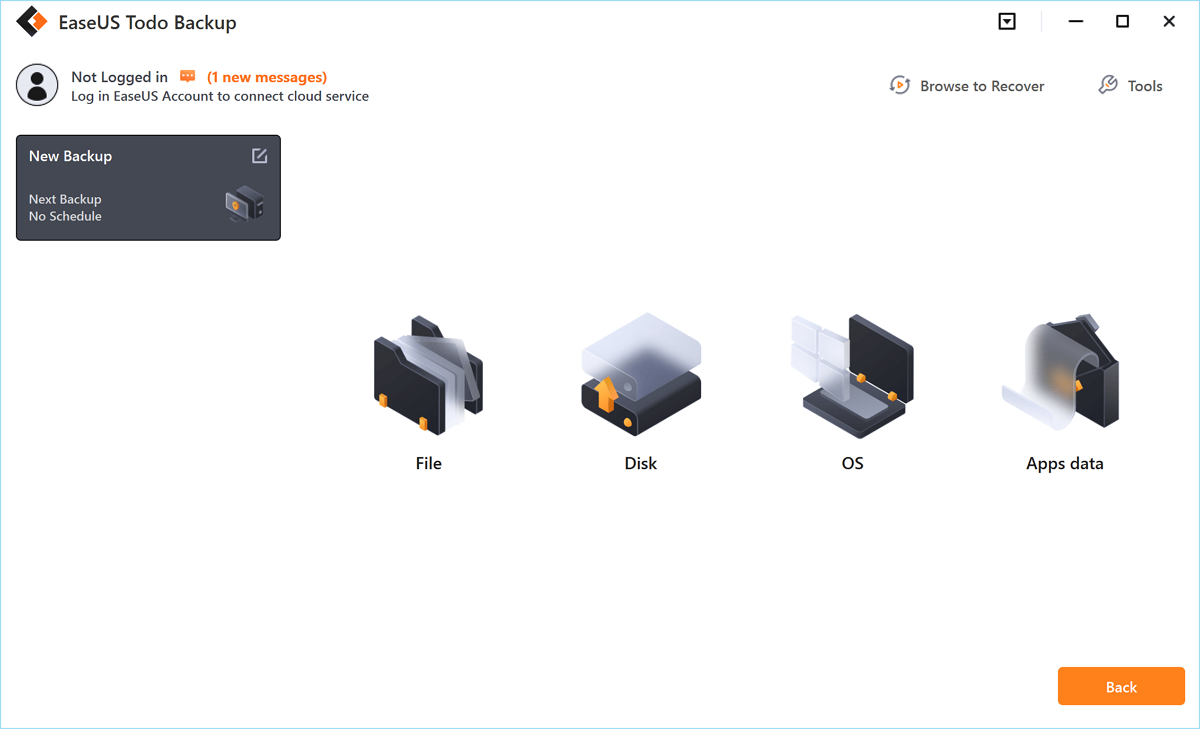 Step 3. Both local and network files will be listed on the left. You can expand the directory to select the files to be backed up.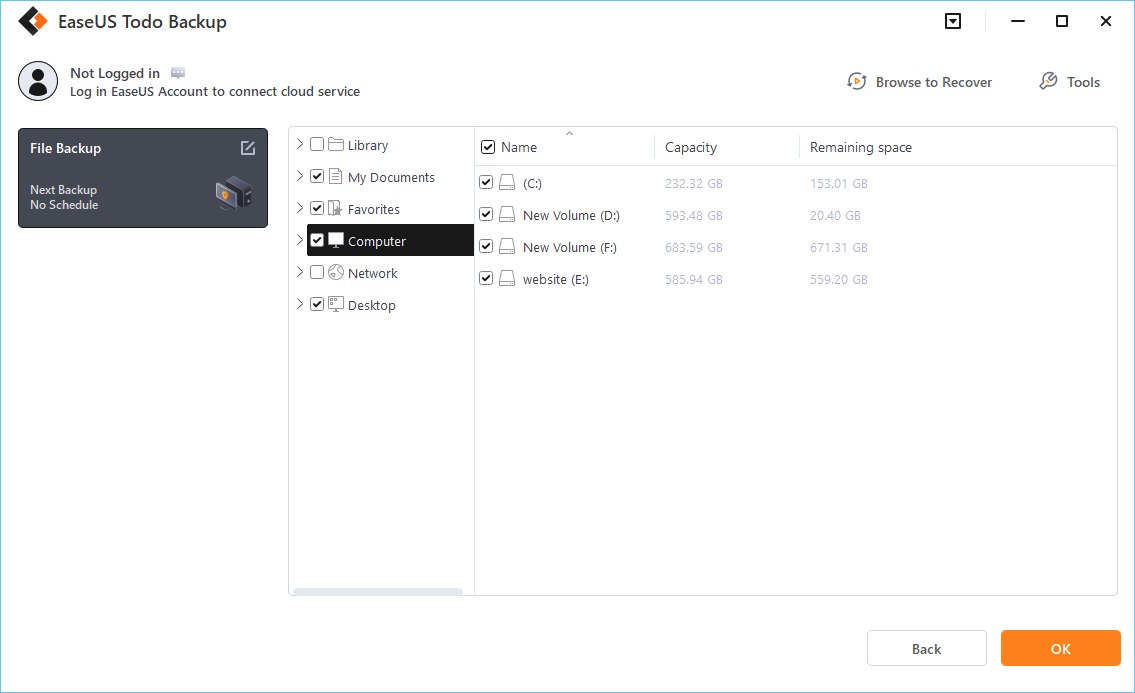 Step 4. Follow the on-screen guide, select the destination where you want to save the backup.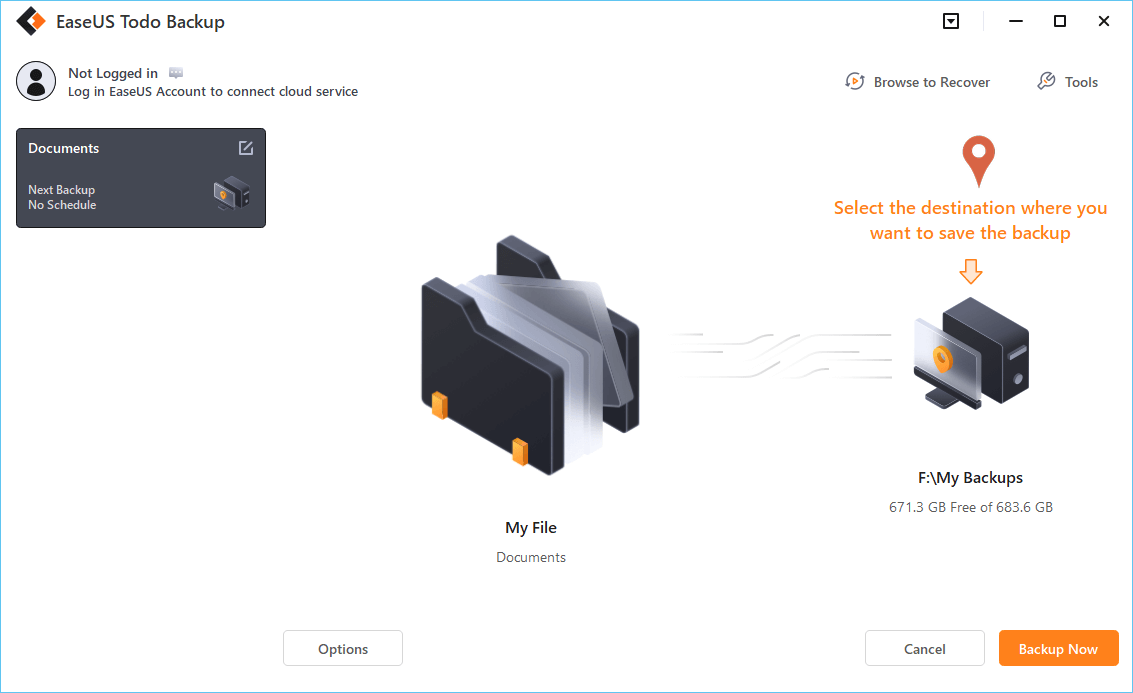 Click "Options" to encrypt the backup with password in "Backup Options", set the backup schedule and choose to start back up at certain event in "Backup Scheme". There are also many other options you can explore, customize the backup task according to your need.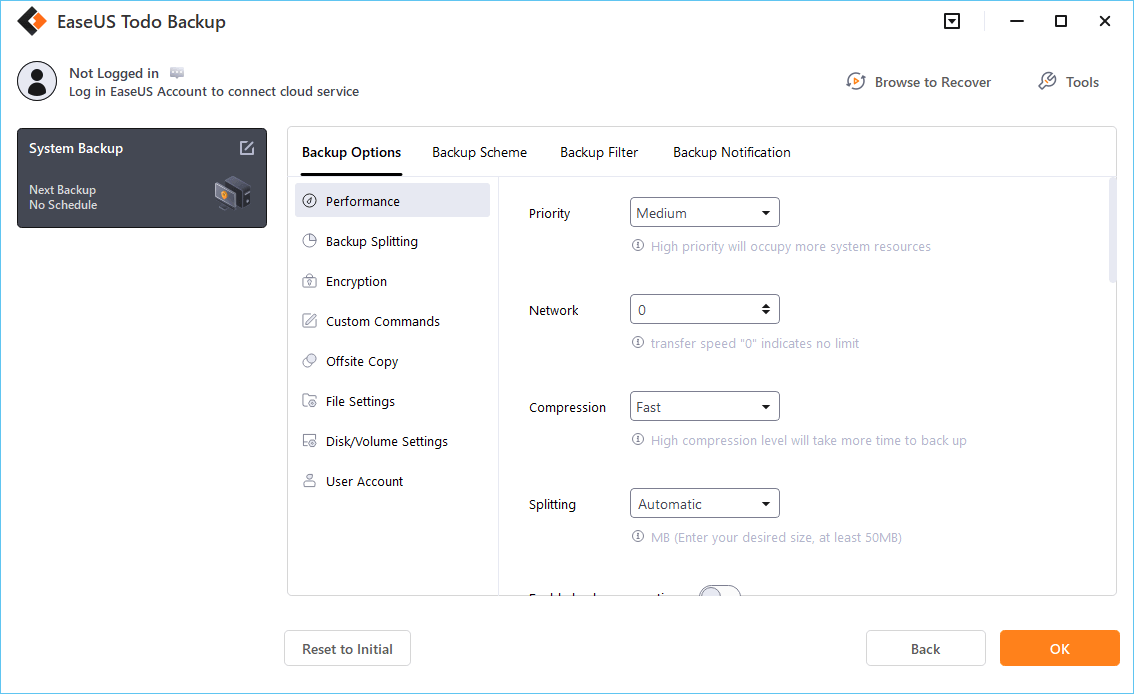 Step 5. You can store the backup to local drive, EaseUS's cloud service, and NAS.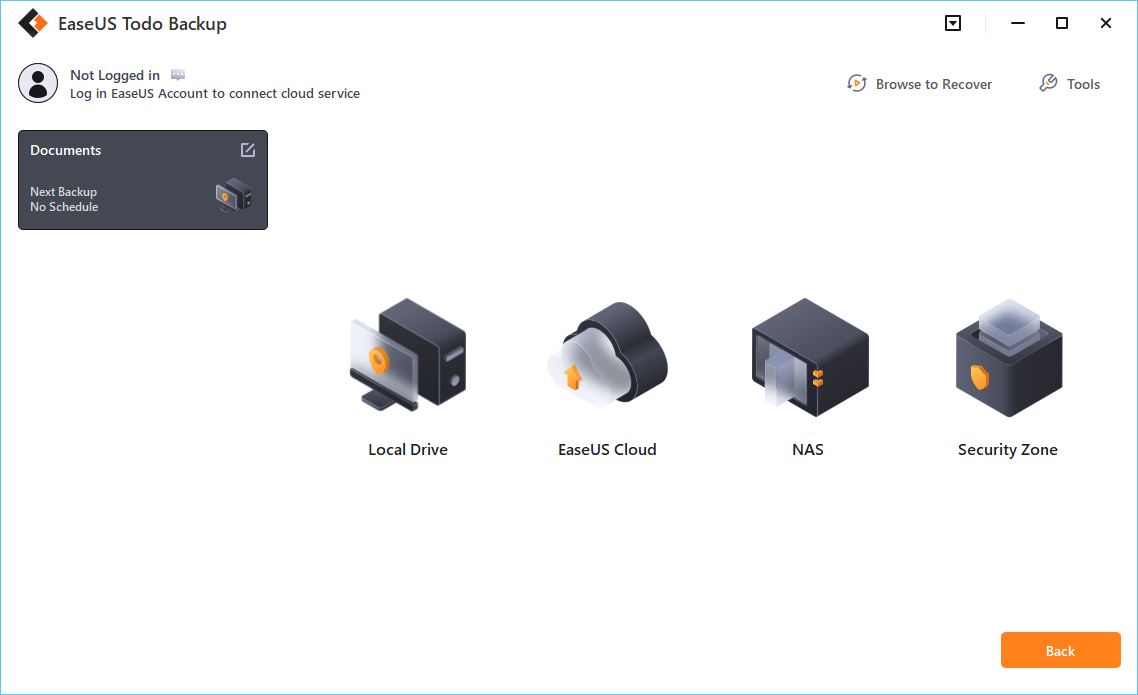 Step 6. EaseUS Todo Backup enables users to back up data to both third-party cloud drive and its own cloud drive.
If you want to back up data to third-party cloud drive, choose Local Drive, scroll down to add Cloud Device, add and login your account.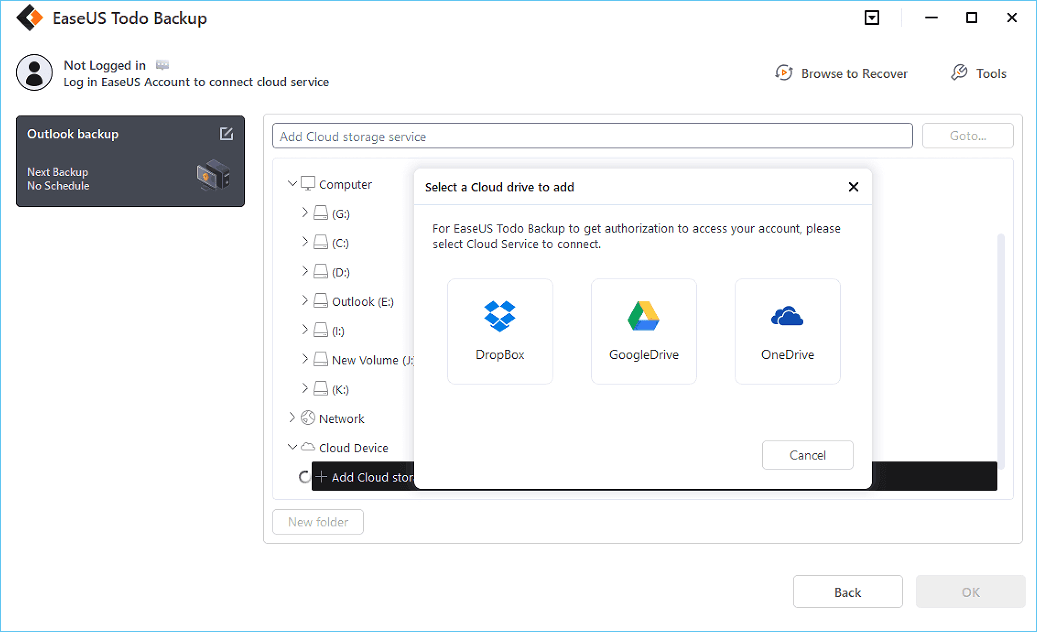 You can also choose EaseUS's own cloud drive. Click EaseUS Cloud, sign up with your EaseUS Account and log in.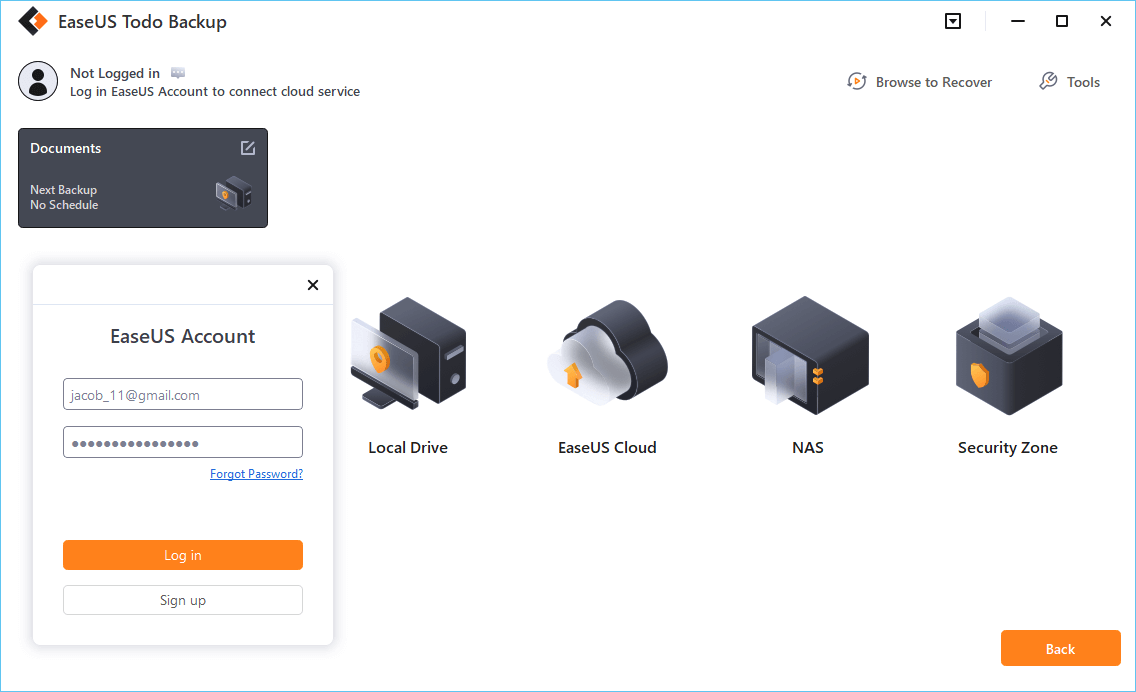 Step 7. Click "Backup Now" to start backup. After the backup task is completed, it will be displayed in the form of a card on the left side of the panel. Right-click the backup task to further manage it.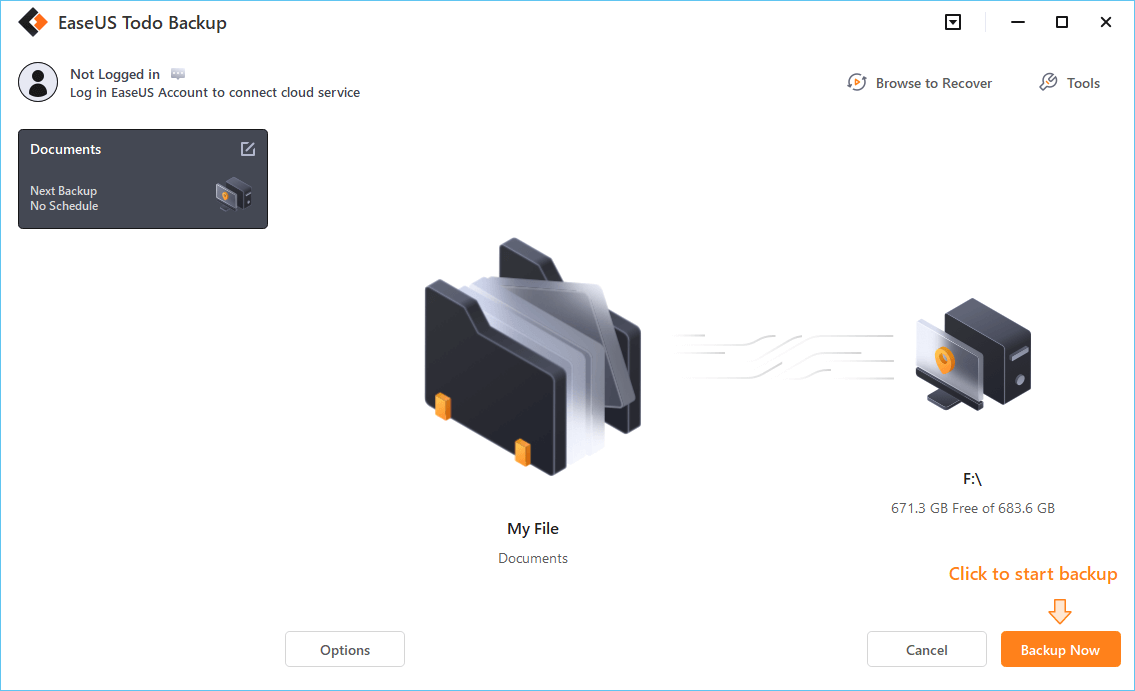 Conclusion
Nobody likes their app to crash midgame. To prevent Halo infinite from crashing, you can follow the ten thorough and easy-to-follow solutions discussed in this article for a faster and untroubled game experience.
FAQ on Halo Inifinite Keeps Crashing
Why is Halo Infinite keep crashing?
Due to the heavy use of graphics in this game, various factors can cause this issue. It may be caused by conflicting programs, full-screen optimizations, system and graphics driver haven't been updated, etc. 
How do I stop Halo Infinite from crashing mid-game?
You can try the following fixes:  
Restart your computer and relaunch the game.
Update your graphics driver. If you don't have the time, patience, or skills to update the driver manually, you can do it automatically with Driver Easy.
Verify the integrity of your game files.
Disable full-screen optimizations for Halo Infinite.
Was this page helpful? Your supoport is truly important to us!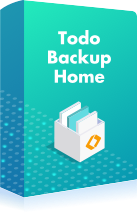 EaseUS Todo Backup
EaseUS Todo Backup is a dependable and professional data backup solution capable of backing up files, folders, drives, APP data and creating a system image. It also makes it easy to clone HDD/SSD, transfer the system to different hardware, and create bootable WinPE bootable disks.
Updated by

Daisy is the Senior editor of the writing team for EaseUS. She has been working in EaseUS for over ten years, starting from a technical writer to a team leader of the content group. As a professional author for over 10 years, she writes a lot to help people overcome their tech troubles.…

Read full bio

Written by

Jean is recognized as one of the most professional writers in EaseUS. She has kept improving her writing skills over the past 10 years and helped millions of her readers solve their tech problems on PC, Mac, and iOS devices. …

Read full bio