Windows could not search for new update.
For most Windows user, it is really common to be faced with this kind of situation: "An error occurred while checking for new updates for your computer. Error(s) found: Code 80070002 Windows Update encountered an unknown problem".
You might get this issue when you're trying to install some Windows 10 updates, such as KB3200970, as well as other numbers. You will notice that the update starts to download, but as soon as it gets to the screen where it should be installed, it will either fail immediately, and uninstall itself, or reboot your computer, and then fail and uninstall.
Solutions to Fix Error Code 0x80070002
When you got this kind of error, do not worry! Here are a couple of solutions for this issue, which is fairly easy, even for a person that doesn't have a lot of technical experience. Just follow the instructions in the methods below to simply resolve Windows Update errors 0x80070002 or 0x80070003.
Solution 1. Quick Fix: Check Time Settings
Details are the key to success, the time settings have a great influence on the Windows update. Simply check the date and time settings may solve your problem:
Click "Control Panel"
Open "Date and Time"
Press on "Change date and time" and make corrections if necessary
Configure your time zone before pressing OK
Press on "Internet Time" tab before selecting "Change Settings"
Check "Synchronize with an Internet time server" before choosing the Time Server from the list presented
Press "Update Now"
Press "OK" twice to complete the configuration and close all open windows
After this, restart your computer before accessing Windows Update. if You had Incorrect time set on your system then doing the above steps should fix the 0x80070002 error for you.
Solution 2. Check and Remove the Corrupted System Files
If the quick fix does not work, it is therefore advised to scan and see if you have any corrupted files on your system.
First, Scan and Check the Corrupted System Files
Click Windows icon and type CMD, then right-click command prompt and choose Run as Administrator
Type "SFC /scannow" and hit enter
Wait for this process to complete
If you get a message that everything succeeded then try to run Windows Update again, if you get an error message which contains that corrupted files were found but cannot be repaired then please try to remove the corrupted files
Second, Remove the Corrupted Windows Update Files
1. Click "Start" button and select "Control Panel". Type "Administrative Tools" in the search box and press Enter.
2. On the pop-up windows find and double-click "Service". If you are asked to provide administrator password or confirmation, type password and give confirmation.
3. Click the tab "Name" to sort items alphabetically, after which you can find out Windows Update service easily. Right-click it and select Stop.
If deleting system files does not help you, you can fix the 0x80070002 error by deleting the software distribution folder to help you solve this case. Follow Solution 3 to get it fixed now.
Solution 3. Delete Software Distribution Folder to Fix 0x80070002
The Software distribution folder is found on the C drive of your system. It is in the folder where all downloaded Windows updates are stored.
It may turn out that some files in the folder are corrupt and therefore unable to or prevent the installation of updates. Deleting it can help in resolving error code 0x80070002. Here are the simple steps:
Click "This PC" or "My computer"
Navigate to "C:\Windows" folder.
Search for and delete the folder named "SoftwareDistribution". You may also choose to rename the folder as "SoftwareDistributionOld" in case you do not wish to delete it.
Restart your computer before accessing the Windows Update Store. You should be able to notice updates being downloaded and installed. This will make sure that this method works to fix error 0x80070002 code for you.
Solution 4. Try Windows Update Troubleshooter
The Windows Update Troubleshooter is always a method to consider when you have any problems running Windows Update. Go to the Microsoft official website, search for "Troubleshooter" and download it, and this tool is able to automatically diagnose and fix common problems with Windows Update.
Important Note: Backup Data When Error 0x80070002 Occurs
Data loss happens every day, any of the above solutions may cause data loss. So it is of vital importance to backup files. Some users think that backing up files may be very complicated. In fact, it is really easy if you have the help of a professional tool - EaseUS Todo Backup.
Step 1. Run EaseUS Todo Backup and choose "File Backup".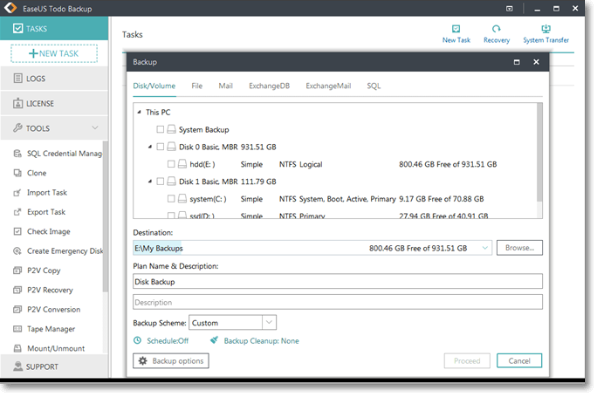 Step 2. On the "File Backup" window, you can choose almost every type of files from many directories via the "User Defined" mode, but it's even faster using the "File Type" mode when you only back up some specific file types such as documents, pictures, videos, music and so on. So, use the proper way to choose the target files you want to backup.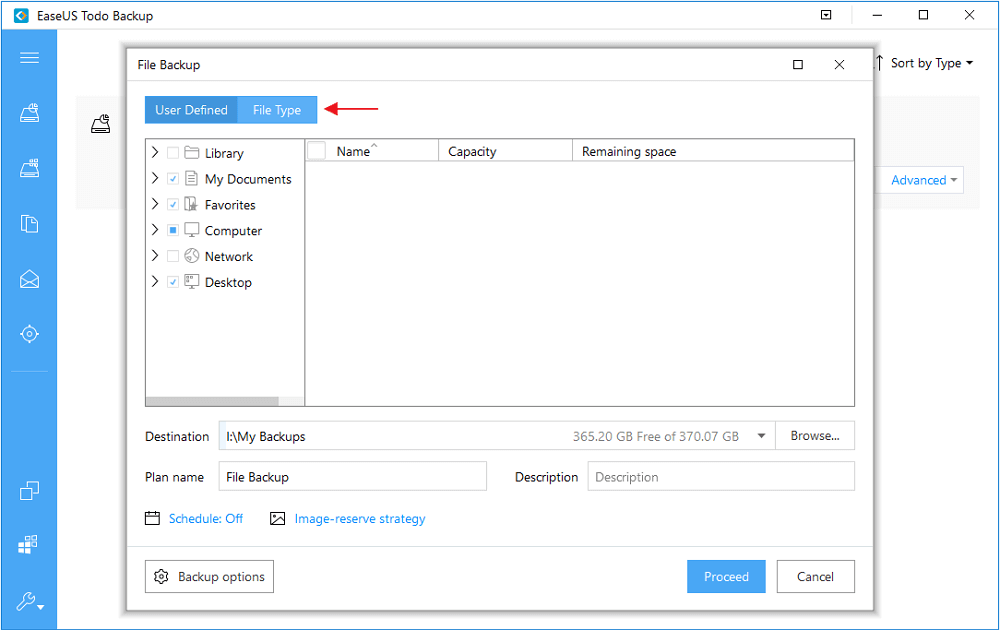 Then add the plan name or text description to the file backup and then choose a backup location.
To backup files to an external hard drive, click "Browse..." in the "Destination" area.
Expand the "Computer" and choose the external hard drive you've correctly connected to the computer. Click "OK".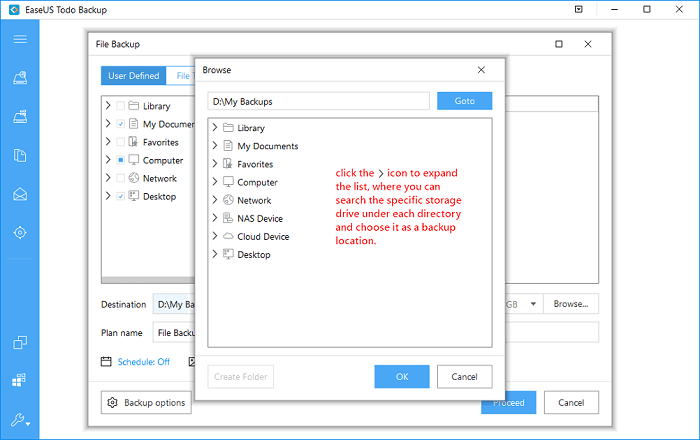 Also, if you're interested in getting more backup features, go and find them by clicking "Schedule", "Image-reserve strategy" and "Backup options".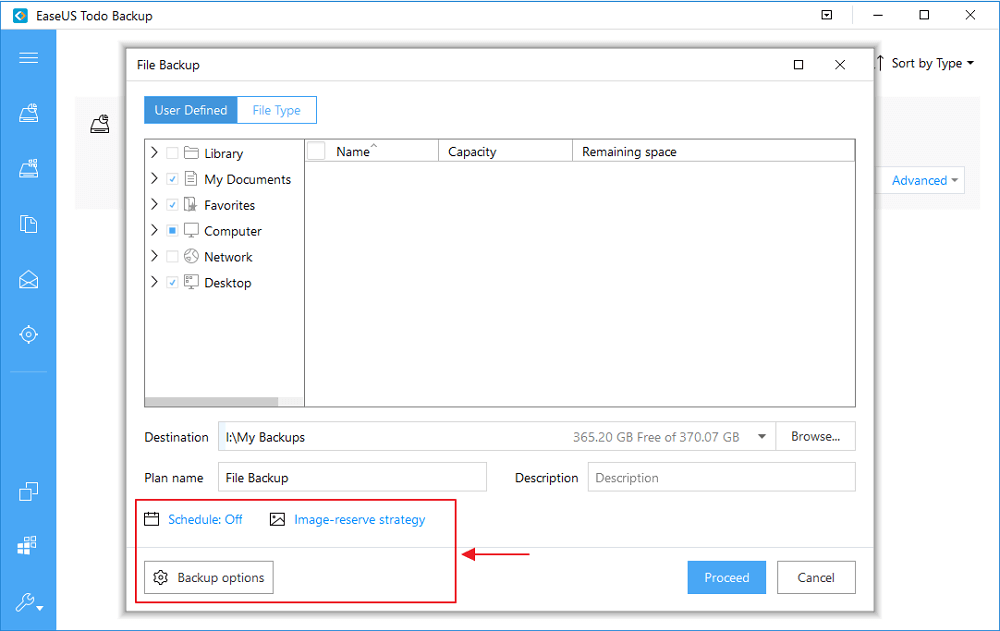 Step 3. After settings were all made, click "Proceed".
100% of people found this article helpful.
Frequently Asked Questions
Why choose EaseUS Todo Backup?

"The easiest way to protect your data and system files." —techradar

"EaseUS Todo Backup Free is one of the most popular free data backup applications available. This software offers a myriad of features and is extremely user-friendly. It provides a full system backup, meaning you can back up your entire operating system." —TopTenReviews

"EaseUS ToDo Backup Home is a great backup program, well suited to the home and SMB space." —PCWorld
What is the difference between Clone and Backup? In what cases should I use Clone?

Clone will copy one disk to another or one partition to another (unallocated space is also supported). Usually, this option is used to upgrade the current disk by creating an identical copy. Backup will generate a .PBD image file containing the selected files or system that can be restored from the .PBD image if needed.
What is the difference between System Backup and Disk Backup?

System Backup will auto-select the system boot related partition(s) as the backup source to make sure the system image can be restored properly. Disk/Partition Backup will allow you to manually select a whole disk or speficy a certain partition as the backup source. You will get the same backup result as System Backup if you manually select the system and boot partitions with the Disk/Partition Backup option.
As a computer newbie, what features should I use to protect my computer?

You can use System Backup to back up the system and boot partitions, use Disk/Partition backup to back up the data partition and add plans to run an automatic backup. If you use the computer frequently or have software that may cause boot failure of the computer, we would suggest you back up the computer every 1 to 2 days. For other situations, you can backup the computer once a week. In addition, you can schedule File Backup to back up the files which are changed frequently.
What kind of storage service should I use to save my backup images?

EaseUS Todo Backup can save backup images to internal disks, external disks, network drives, or free cloud(Google Drive, Dropbox, and OneDrive) and CD/DVD. It is suggested to save the images to the internal/external/network drives to save time as those kinds of disks have a better read-write speed. It is suggested NOT to save the image on the source disk, because once the disk is damaged, all the files on the disk will become unavailable and you will be unable to restore the image.
As a company network administrator, what features should I use to protect our internal computers?

It is recommended that you use the SQL Backup feature to back up your company's SQL server and Exchange Backup feature to back up the Exchange server. In addition, you can execute System Backup to back up the system and boot partitions on every computer and set a plan to execute the backup once a day or twice a week to ensure that the computer can be restored timely when it has boot issues. File Backup feature can be used to back up important user data. If there are a large quantity of computers, you can purchase EaseUS Backup Center to manage the backups on the client computers centrally.
About EaseUS Todo Backup
Be it a file, system, partition, or disk, EaseUS Todo Backup will help you back up or clone the item and provide you with multiple backup plans.