"Can Carbon Copy Cloner clone Windows drives? If no, does anyone know a Windows version of Carbon Copy Cloner to clone hard drive with Windows 10 operating system on it?"
About Carbon Copy Cloner
Carbon Copy Cloner, which is simply called CCC, is a Mac only program. It's so far the most downloaded application on Mac for data backup and restore, hard drive copy and clone.
So, the question in the beginning "can Carbon Copy Cloner clone Windows drives" is going to get a negative answer. No, CCC is only for Mac OS X, you can never install this piece of Mac software on a Windows computer and make it work.
About Carbon Copy Cloner Alternative for Windows
Hence, you need a Carbon Copy Cloner alternative for Windows in order to clone Windows drives, migrate/copy OS to SSD, backup computer system and keep a copy of data files.
There are many extra Windows backup and recovery utilities, but EaseUS Todo Backup stands out and comes to be the prior choice when you're looking for an exact Windows copy of Carbon Copy Cloner.
Some noticeable features that make EaseUS Todo Backup as an ideal CCC alternative:
# 1 - For the basic backup plan, EaseUS Todo Backup free version can compete with CCC.
For example, simply download EaseUS free backup software, you can perform file/disk/partition/system backup and recovery, set up full/incremental/differential/schedule backup, clone disk for disk upgrade, system transfer. Additionally, create bootable disk for disaster recovery.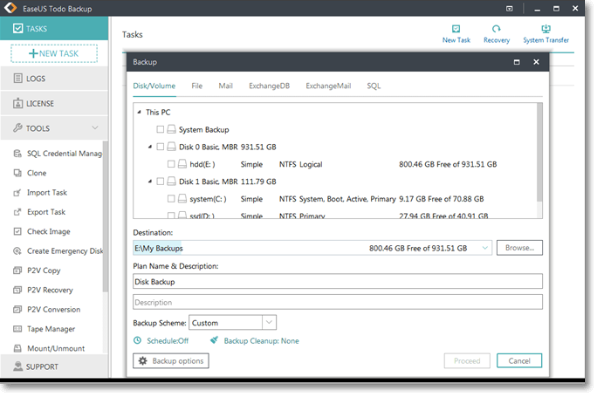 # 2 - For the advanced backup plan, EaseUS Todo Backup premium version offers backup functions which CCC doesn't have.
Windows operating system apparently owns a larger user group than that of Mac OS X, so even a CCC equivalent can hardly meet the increasing demands, such as Exchange or Outlook email backup and recovery, transfer system to different PC/Virtual PC/Vmware, command line backup, centralized backup management and more. If you have these demands and request an even more powerful Carbon Copy Cloner like software, visit EaseUS workstation backup software and give it try.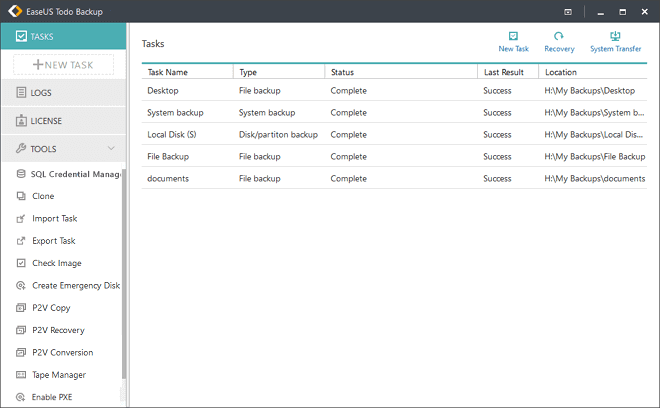 What's more, besides Windows version, EaseUS Todo Backup has now a Mac version that works perfectly on copying files, cloning one hard drive to another and synchronizing files. So, no matter you're looking for a Carbon Copy Cloner alternative for Mac or Windows, EaseUS Todo Backup is your final choice!