his article offers solutions to help fix when your SanDisk Cruzer is not recognized by your PC. When your SanDisk Cruzer flash drive, external hard drive, USB drive, SD card or other storage devices cannot be recognized or deleted by computer, just follow the solutions below to recover your data.
What should I do when my SanDisk Cruzer is not recognized by my computer?
Here are some basic tips to protect your data and get your SanDisk Cruzer recognized by your PC again:
1. Stop writing or inputting new data onto the drive or other storage devices;
2. Make sure your SanDisk Cruzer is connected to your PC properly.
If your computer still cannot read the drive, even if it is now recognizing it, you'll need to take some more steps to fix this issue.
How to fix SanDisk Cruzer not recognized issue and restore your data
Step 1. Use Disk Management to let PC recognize SanDisk Cruzer
Here we'll offer you two methods to let your computer recognize the SanDisk Cruzer again.
Use Disk Management tool to format SanDisk Cruzer
1. Go to Control Panel and click Administrative Tools and then click Computer Management.
2. When the window opens, click on Disk Management and then find the SanDisk Cruzer in the drive viewer.
3. Then you can right-click on the SanDisk Cruzer flash drive and select Format to directly format SanDisk Cruzer to reusable again.
Check SanDisk Cruzer under Device Manager
1. Open the Computer Management Console.
2. Click Device Manager on the left pane.
If there is a yellow exclamation point (!) or question mark (?) beside the device, try to refresh the drivers.
3. Right-click on the entry with the error mark, select Uninstall.
4. On the top menu, click Action then select Scan for hardware changes.
If you have important data inside SanDisk Cruzer, we do not recommend you to format or uninstall SanDisk Cruzer in a hurry. A wiser choice is to restore data from SanDisk Cruzer firstly.
Step 2. Restore data from SanDisk Cruzer before formatting
We recommend you try EaseUS Data Recovery Wizard which helps restore data from a variety of storage devices including the SanDisk Cruzer, Toshiba USB drive, Seagate external hard drive or Samsung SD card etc. It allows you to scan and find your most important data first. Then, when you've found all your data, you can purchase a serial key and activate EaseUS data recovery software (Pro version) and to restore your data.
Follow these steps to restore your SanDisk Cruzer data now:
Connect SanDisk Cruzer to your computer > Launch EaseUS Data Recovery Wizard > Choose location and scan device - SanDisk Cruzer > Preview and recover found SanDisk Cruzer data.
Note: Please save found data into a safe spot on your PC to protect it.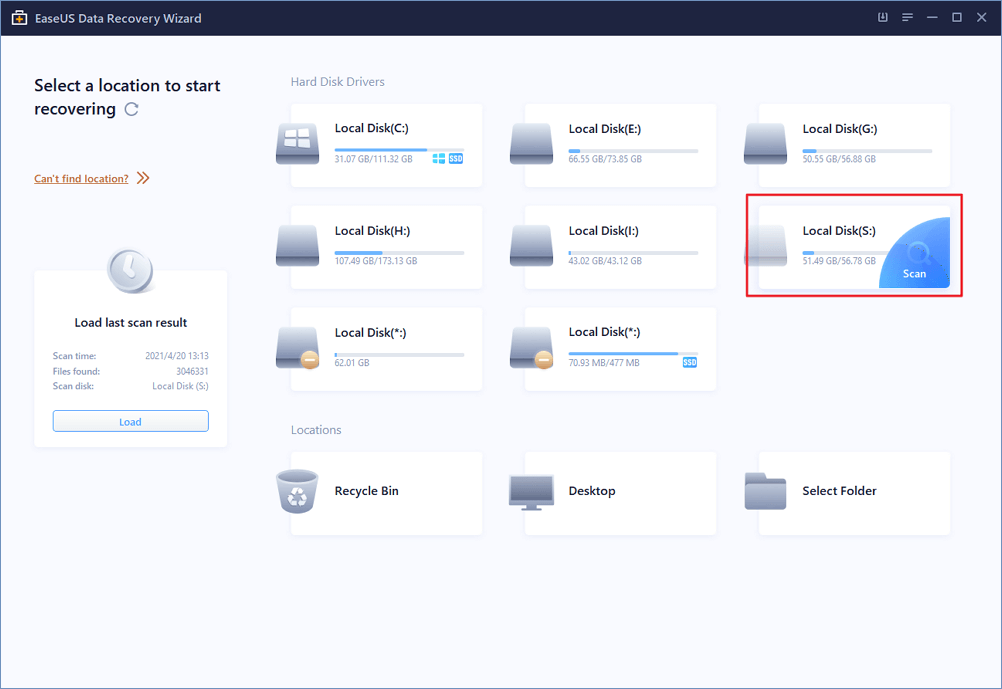 Step 3. Format SanDisk Cruzer
After restoring the data on your SanDisk Cruzer and making it recognizable by your computer, format the SanDisk Cruzer again
Connect SandDisk Cruzer with PC > Go to Disk Management > Right click SanDisk Cruzer and choose "Format" > Start > OK.