Summary
This article shows you how to repair memory SD card not showing up or not detected in Mobile/PC error by updating driver, checking and repairing bad sectors and disk formatting. Whenever your not showing memory card is detected by Windows Disk Management, you are able to recover data from the memory card even it is not opening, with the help of EaseUS Data Recovery Software.
"Hey there, have you ever met this issue that the memory card suddenly disappeared from the mobile phone? The memory card suddenly becomes invisible and cannot be detected by mobile and PC. I'm now having this issue on my phone that my memory card fails to show up and it cannot be detected by my computer either. This is why I post my question here. If you know how to fix my problem, help me. Thank you."
Does your mobile memory card suddenly disappear from your phone? Does your phone fail to read the card and the computer cannot detect it either? Don't just let all your valuable data disappear from your corrupted memory card. You can fix and repair your corrupted memory card which fails to show up or cannot be detected in mobile/PC without losing any data by ease now. How? Follow the instructions here below to find fixes.
How to Repair the memory SD card not showing up/not detected error
Whenever your memory card, like SD card, fails to show up or cannot be detected by mobile/PC, don't rush to format it. Your very first step should always be to stop using the device immediately. Then, your next move is to find a solution or method to repair or fix the undetectable or failed memory card or other storage devices. How? Here you'll find several methods offered by professional administrators and reliable websites to repair corrupted, not detected/recognized or failed memory cards.
Method 1. Update memory card driver to make memory card show up
When a memory card driver is outdated, it may not be able to function or work normally. Then the mobile phone or computer cannot detect or recognize it. You can follow the steps below to update your memory card driver and fix "memory card fails to show up" in mobile or PC error.
Step 1. Insert your memory SD card to a card reader and connect it to your PC.
Step 2. Open "Computer" and choose "System Properties".
Step 3. In the taskbar on the left, click "device manager" and next to "Universal Serial Bus controller" click "+ (plus)". Then you'll see a yellow exclamation mark.
Step 4. Right-click and choose "update driver software".

Step 5. Click "Search automatically for driver software online"...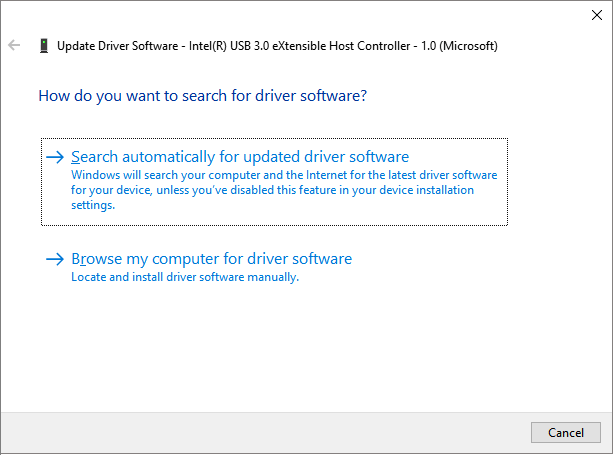 Wait patiently and let the driver to be installed and reboot your computer. Now you can reconnect your memory card to your PC to check out whether it can be recognized or not.
Method 2. Run CHKDSK to fix the memory card error
When the memory card fails to show up and cannot be detected by your mobile phone or PC, go to Disk Management to check if it is detected. If it shows up there but cannot open, run CHKDSK command to fix internal errors so to make memory card readable again.
Let's see the detail steps:
Step 1. Click Start and go to Control Panel.
Step 2. Click Administrative Tools and then click Computer Management.
Step 3. When the window opens, click on Disk Management and then find the device in the drive viewer.
Step 4. Press Win+R > Type: cmd and hit Enter.
Step 5. Type chkdsk D: / f and hit Enter. (D is the drive letter of your memory card)
By doing this, you'll be able to access your memory card and read data on it again. If not, try the second time with the different command: chkdsk D:/f /offlinescanandfix and hit Enter.
Memory card damaged or corrupted issue is responsible for most of the not detection problem, and you might need more solutions to repair corrupted sd card.
How to restore data from inaccessible SD card before formatting
After making an undetectable memory card show up on your PC, don't rush to insert it into your mobile phone. In order to make sure everything will work fine in the memory card, it's highly recommended that you format it. But before formatting, we'd like to suggest that you restore all valuable data from the memory card in advance, with the help of professional data recovery software.
If you have found that some important data was lost on the memory card which was undetectable or you still cannot access to important data on the memory card, don't worry and your best shot is to let professional data recovery software help. If you prefer a free method, EaseUS Data Recovery Wizard Free Edition will help you restore up to 2GB of data with ease.
If your files and data are more than 2GB, you may choose EaseUS Data Recovery Wizard with 24*7 online support service to get all your data back.
Usually, deleted or formatted data is not permanently removed. Stop using the memory card once you lost data on it. With powerful memory card recovery software, you can hopefully get lost data back.
Step 1. Run memory card recovery software
Connect the memory card on which you lost your files to your computer and launch EaseUS card recovery software - Data Recovery Wizard on your PC.
Select your memory card under External Devices and click "Scan" to start finding your lost files.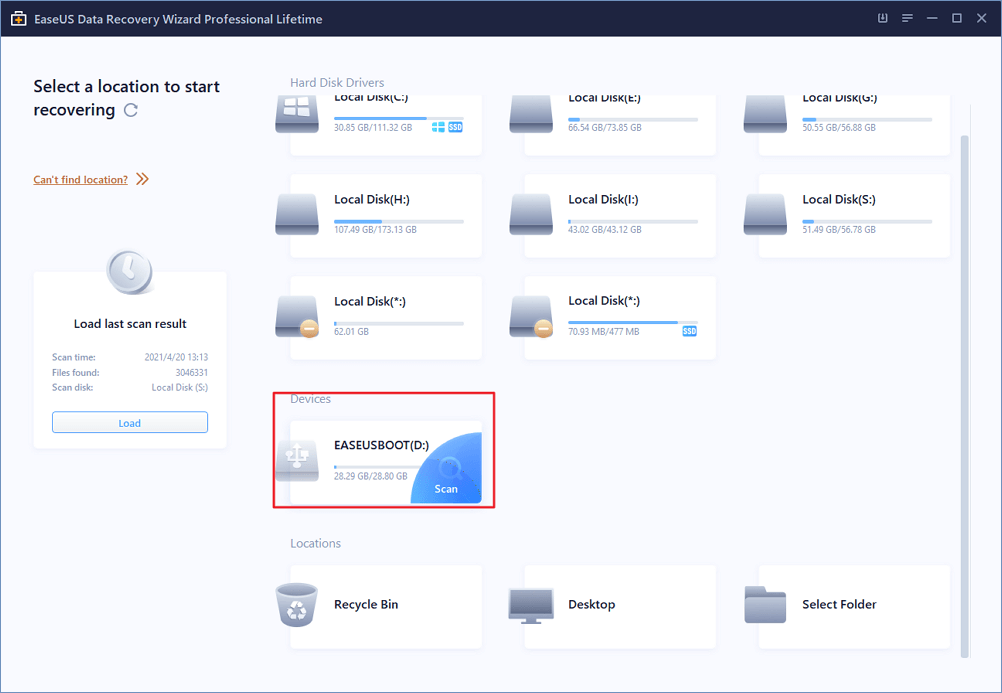 Step 2. Scan to find all lost files from memory card
EaseUS Data Recovery Wizard will fully scan your memory card and find all your lost data on it.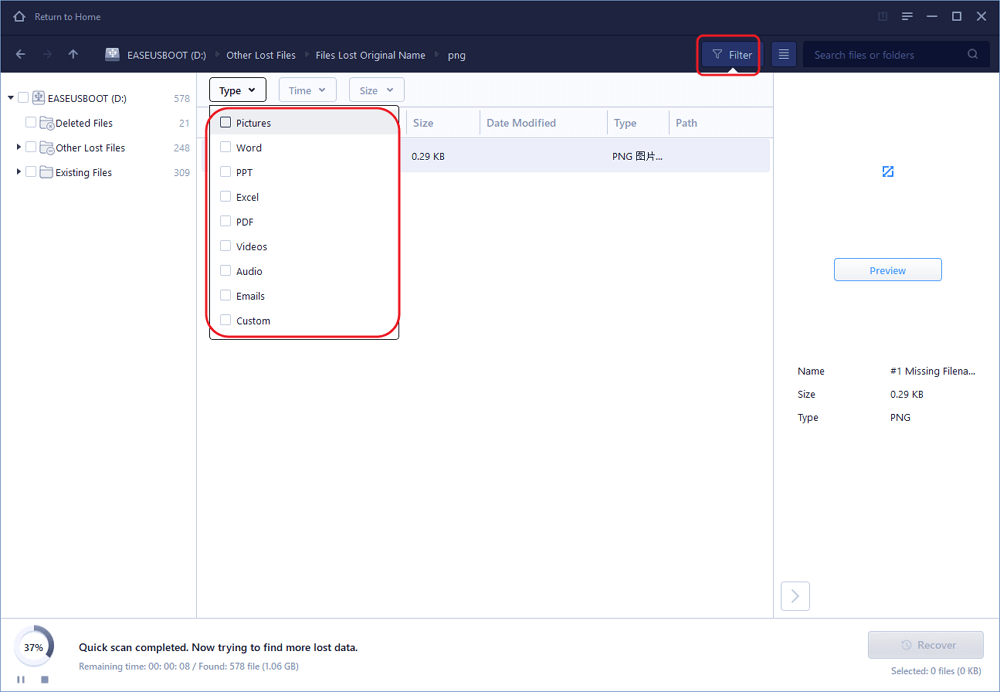 Step 3. Scan to find all lost files from your memory card.
After the scanning process, you can check and preview found files in this program.
Underneath Deleted Files, you can find your deleted memory card files there.
And if you formatted the memory card, you can check those files under Lost Partition Files.
And Filter will help you quickly find your lost files from Graphics, Documents, Videos, Audio, and Email, etc.
You can directly double-click the files to preview and see if found files are all right. After this, you can choose those files and click "Recover" to restore them to a secure location on your PC or other external storage devices.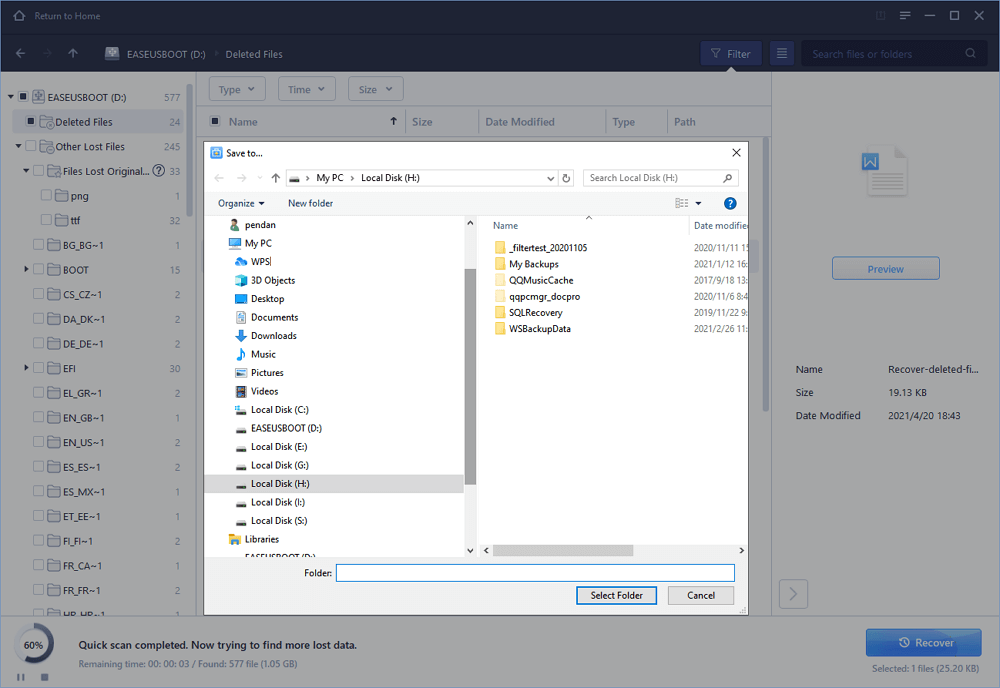 How to format a corrupted SD card
After following the previous two steps, if you still cannot use the memory card properly, don't worry. You can format the memory card to the NTFS file system or FAT32 file system to reuse it again.
Step 1. Click My Computer/This PC > Manage > Disk Management
Step 2. Right-click on the memory card with the issue, and choose Format.
Step 3. Select a file system and perform a quick format.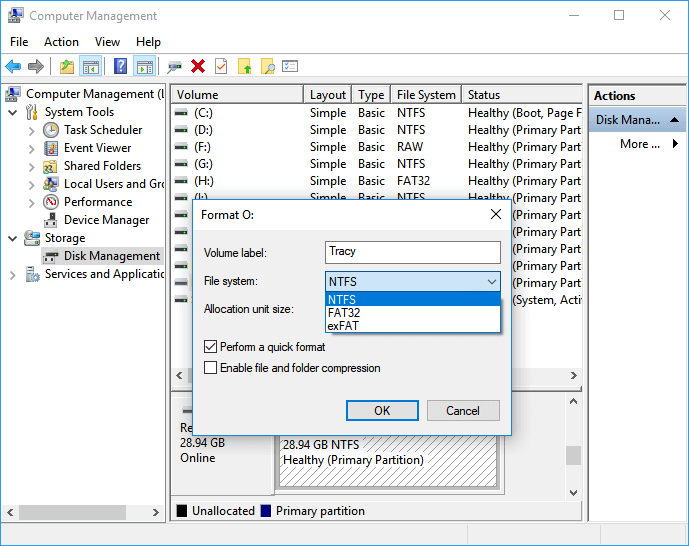 Now you can move and store the found data onto the memory card to continue using those data and insert it into your mobile phone to expand storage space again.
100% of people found this article helful.
Frequently Asked Qusetions
1. Why cannot I recover 2GB data for free?

It is recommended to check the version installed is Free or Trial because they are different versions.

Trial has data preview function but cannot save any files, while the Free version enables to recover 2 GB files. The default free space is 500 MB and you may share the product on social media to get another 1.5 GB.
2. Why cannot the recovered files be opened?

A file is saved as 2 parts on the storage device: directory info (which is comprised by file name, time stamp and size info, etc.) and data content.

If the files with original file names and folder structures cannot be opened, one possible reason is the corrupted directory info. There is still a chance to recover the data content with the RAW Recovery method in our software.
3. Why isn't it suggested to recover the files back to the original drive?

The storage structure of the lost files would be altered or damaged by any changes on the drive. If you save the recovered files back to the same drive, the original data structures and data content would be corrupted or overwritten, which causes permanent data loss. So you should prepare another disk to save the files.
4. How can I check whether my data is recoverable or not before purchase?

The Free version helps you save 2GB files to better verify the recovery quality of our product before purchase.
5. How long does it take to scan the drive?

It strongly depends on the capacity of your hard drive and the performance of your computer. As reference,most drive recoveries can be completed in around 10 to 12 hours for a 1-TB healthy hard drive in general conditions.
About Data Recovery Wizard
It's super easy to recover 250+ types of files after deletion, disk formatting and virus infection. Click the links and compare the difference of each version.