PAGE CONTENT:
External Hard Drive Recovery Overview

Your Safe & Reliable Recovery Software

How to Use the Free Data Recovery Software

Tips for Data Protection
"Last time when I was in Rio, I took part in the famous Carnival there with my boyfriend and we took a lot of interesting photos there. About one week ago, one of my friends asked me to show her the photos. However, it turned out to be inaccessible and the PC cannot read the data on the drive. And the PC suggested me to format the external hard drive for reusing it again. I need help and if anyone of you know how to recover deleted files from an inaccessible drive, please let me know. Thank you!"
External Hard Drive Recovery Overview
The convenience of external hard drives is undeniable. They are the perfect way to ensure that all of your data is well stored and you will not lose any of your files should your computer crash. They allow us to carry terabytes of data everywhere we go, and they can be easily shared among many devices.
However, a survey shows that data loss on the external hard drive takes the largest portion. There are several reasons for external hard drive data loss. The most common is that some people accidentally delete all of their files. You may also format or wipe the drive mistakenly. No matter what happens, you can recover files from an external hard drive if it wasn't completely overwritten or corrupted.
Your Safe & Reliable Recovery Software
Your best choice - EaseUS Data Recovery Wizard
It is a reliable and professional external hard drive recovery program which enables you to recover deleted, formatted or corrupted files with pretty simple steps.
The free data recovery software helps to recover deleted, formatted, inaccessible data from different data loss situations.
Recover all types of lost files, including photos recovery, documents, videos, audio, emails, compressed files recovery, etc.
Recover lost data from digital devices, PCs, laptops, hard drive(HDD, SSD, USB, etc), storage media, server, RAID, etc.
How to Use the Free Data Recovery Software
Free download and install the free data recovery program on your computer, launch it and follow the instructions below to recover data, also you should connect your external hard drive to the computer.
1. Watch the video tutorial to make a quick external hard drive recovery.
2. A detailed guide to recover data from your external hard drive
Step 1. Choose the external hard drive
Since you're going to recover data from the external hard drive, run EaseUS Data Recovery Wizard and under the External Devices tab, choose the exact drive where you lost data. Click Scan.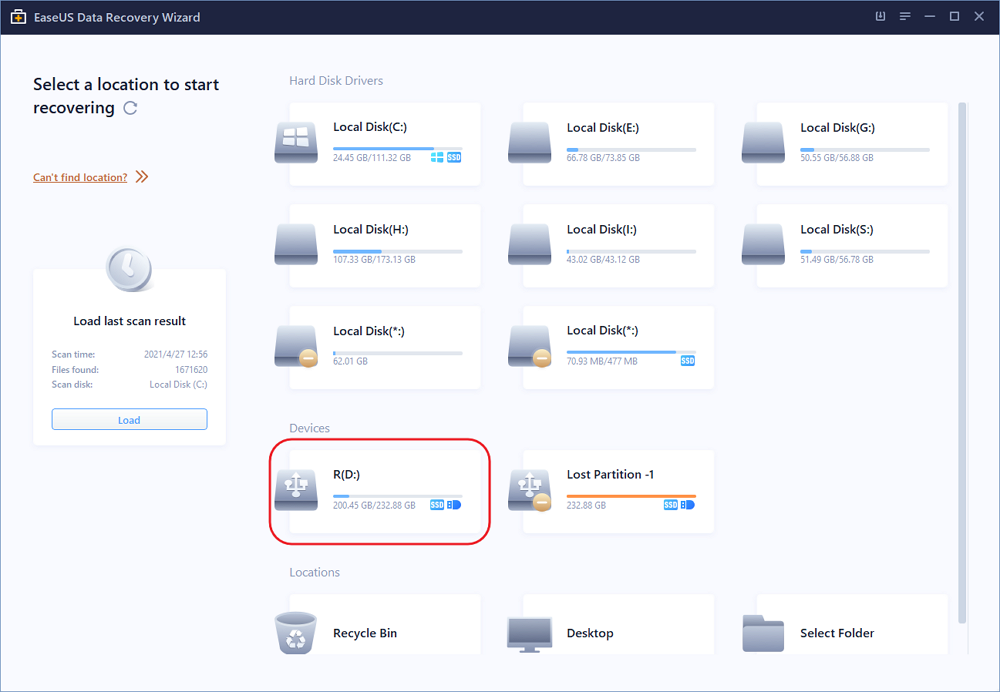 Step 2. Scan for lost data
The software will start immediately to scan all over the selected drive for all lost data. During the scan, you could see more and more data showing up in the results.
Step 3. Preview and recover data
After the scan is over, check the scan results for the desired data. You can preview the file by double-clicking on it. Click Recover and choose another location to save the recovered data.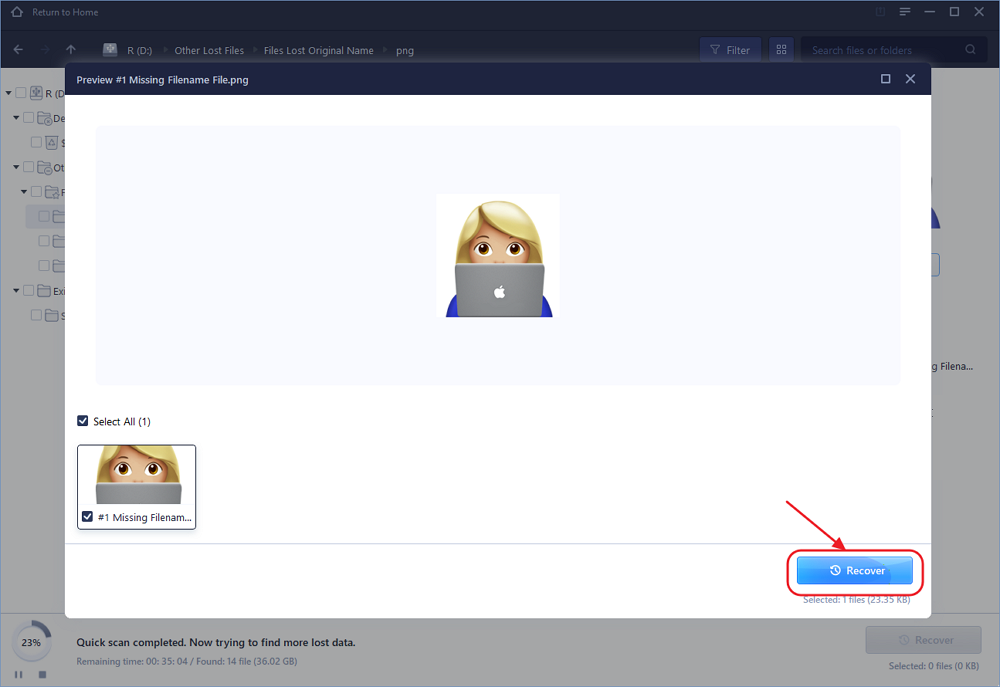 Tips for Data Protection
Data protection is always a better choice than a cure. If you can try your best to avoid data loss, you can also avoid frustration. You don't have to try every way to fix your problem. Here are some tips to avoid external data loss:
Buy a good external hard drive. Make sure that the hard drive you buy is made by a legitimate manufacturer and that you buy it at a legitimate computer shop.
Back up your data. Back up your data to the cloud drive, NAS device or other places in advance. This will help you to reduce instances if you accidentally format or erase your external hard drive.