What Causes A Corrupt File?
As we have observed, the corruption error happens most frequently to specific file types including jpeg/jpg photos, gif images, Excel & Word documents, Zip compressed files, and browser downloaded files. Did you get the chance to open a file on your PC, USB drive or camera memory card, but the files are not open? This is a common sign of a file getting corrupted. Hence, knowing the causes might help you understand how a corrupt file produces, and prevent future file corruption nightmares.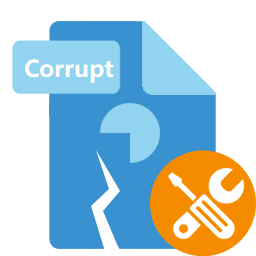 Office app suffers an error when saving or creating a file
Compression app experiences problems while creating an archive
The browser has problems in writing a downloaded file to a disk
Computer shut down/crashes/power outage before closing files
Problems with your hard disk, like bad sectors
Malware and viruses damage
Can You Recover A Corrupted File?
To fix various files that are corrupted, broken, damaged, half greyed out, and not opening after recovery, we recommend EaseUS Data Recovery Wizard - the comprehensive deleted file recovery & corrupt file repair software free download for PC and Mac.
The EaseUS corrupt file repair software is a downloaded version and it's cross-platform compatible. You can download it for free on your Windows 10/8/7 desktop and laptop, and install the macOS version as well to perform a full corrupted file recovery. If you prefer a none downloadable version, don't forget to check the best corrupt file repair software online free we carefully selected for you.
Corrupt File Repair Software Download Free
Originally known as a reputable, specialized, and highly efficient EaseUS Data Recovery Wizard, EaseUS Data Recovery Wizard can find all the files that were deleted, formatted, hidden, inaccessible, plus the incomplete ones! It's developed with advanced hard disk analyzing and data scanning algorithms that make it possible to scour a disk location, display all the lost and existing data files, and automatically repair the corrupted files it has found.
Now it's your turn to mend the files that are unable to view or open due to a corruption problem.
Step 1. Launch EaseUS Data Recovery Wizard. Select a disk location where the corrupted files are saved. Click "Scan" to start finding the broken files. EaseUS file repair tool allows you to fix damaged documents, videos, and pictures in differnet formats.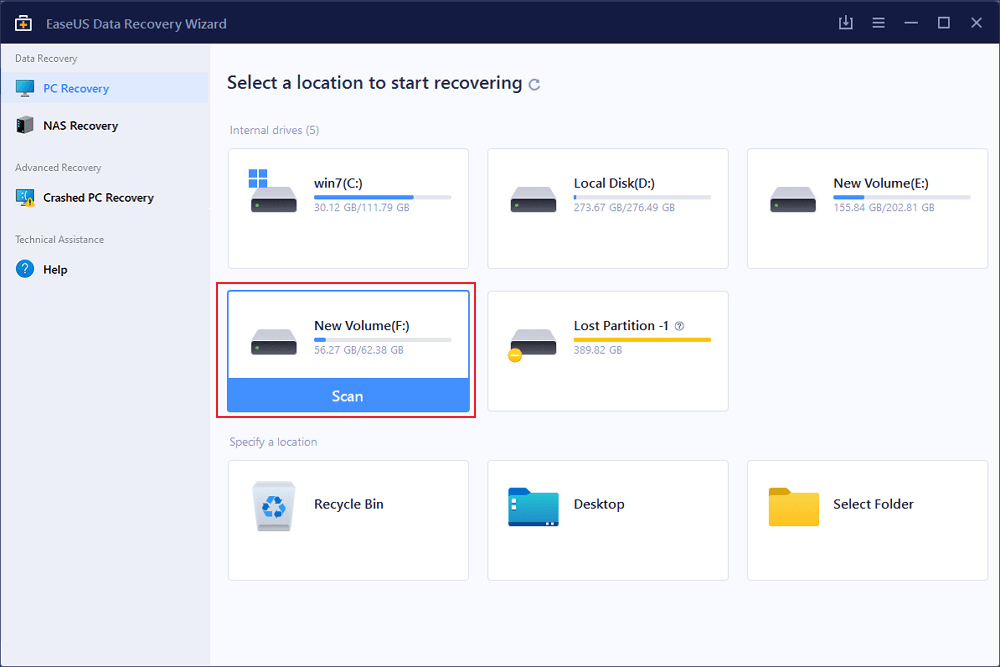 Step 2. After scanning, you can quickly find corrupt data by file type. If you want to repair damaged Word, Excel, or PDF, select Documents and filter a specific category. For pictures and videos repair, all the common types are suppored, including JPEG, PNG, BMP, MOV, MP4, GIF, and more.
Step 3. EaseUS file repair software will automatically fix broken files. You can preview the repaired files before recovery. Last, click "Recover" and save the recovered files to a different location to avoid data overwriting.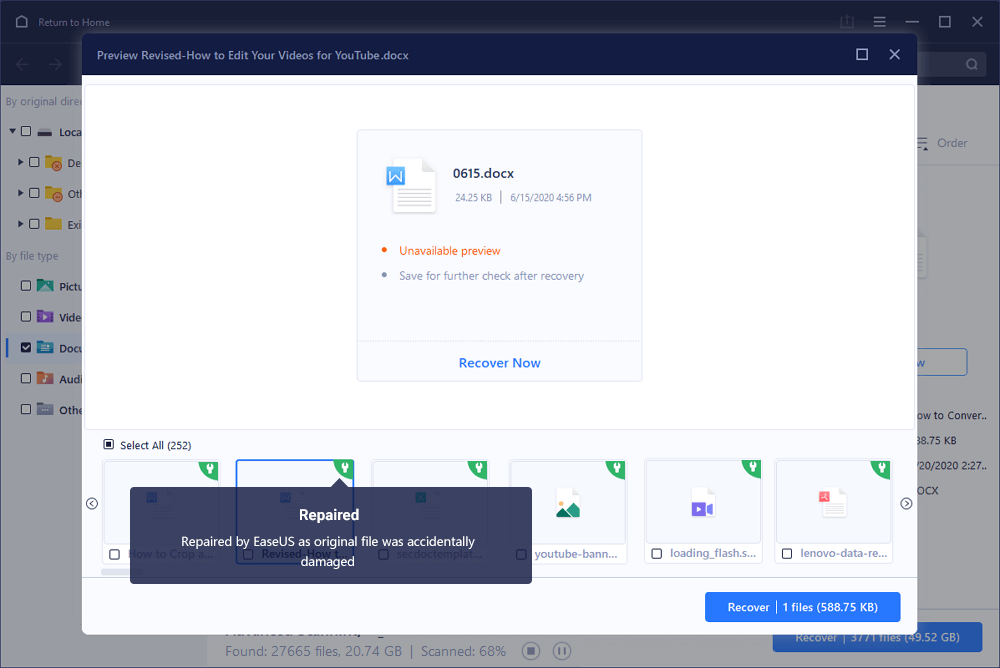 Corrupt File Repair Software Online Free
Compared with the corrupt file repair software free download, the online repair tools are free from downloading and installing, thus saving some free disk space. Meanwhile, online tools are browser-based, it doesn't matter what operating system you're running, the OS compatibility is usually great.
What's the repair result? We've tested around 10 pieces of online recommendations, and tried to upload several file types as EaseUS Data Recovery Wizard supports, the results vary. Some are capable enough to fix the corruption while some send you the successful sign but the file is actually still useless. One thing in common we find in the 10 online programs is that they allow you to download the repaired file, however, with both free and paid options.
The free option is for download only, with a huge watermark on the file you saved. To use the file it repaired, you need to remove the watermark by yourself.
Otherwise, to happily get a none-watermark file, you need to pay. The price usually ranges from $9.9 ~ $99.9. 
Regarding the repairing file ability and cost-free demand, we think the following online tools are competent in repairing different types of files.
No.1 OnlineFile.Repair for MS Office, Access, Outlook, Adobe
OnlienFile.Repair is an online service for recovering mainly corrupted documents and files of the Microsoft and Adobe types. It's free to try but the full recovery download requires $10.
Three steps will help you repair a corrupted file, document, or database: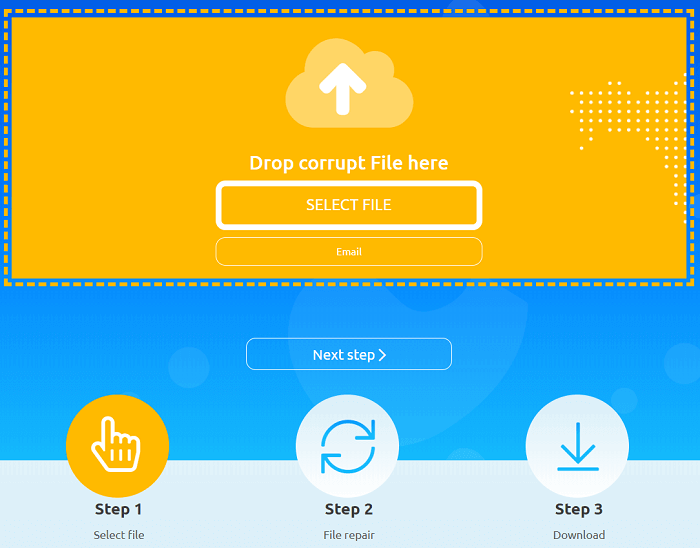 No.2 ILOVEPDF for Repairing PDF
Is your PDF file corrupted and needs repair for free? ILOVEPDF is really a praised online PDF file repair software, totally free to use. Upload a corrupt PDF and it will try to fix it. Depending on how much the PDF is damaged, the online tool will be able to recover it partially or completely.
I tried uploading a PDF file and clicking the Repair button from the beginning to the end. It didn't ask me to register an email nor download the repaired PDF file with money. Yes, I love PDF!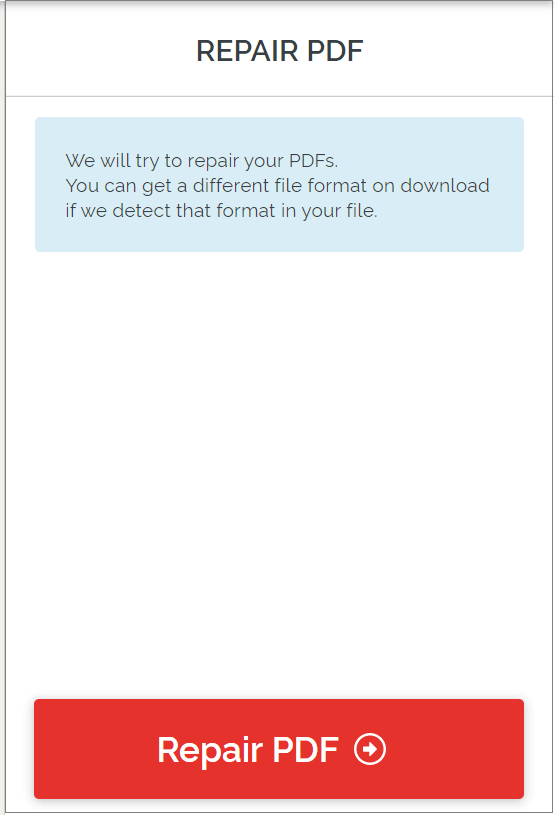 How Do You Recover A Corrupted File?
Corrupt file repair software free download and corrupt file repair online tools are both designed to recover a corrupt file, returning its integrality.
When it comes to saying which way is better to get a corrupt file back, you can make a decision based on the two facts.
1. The downloaded software offers a free demo version and supports recovery of 2GB size, which is totally enough to restore single or several files for free. While most online tools are not allowed to download the full recovery file, except ILOVEPDF, but it's exclusively for PDF file repair.
2. Most online websites are making money by ads. Sometimes your personal information is also the target. What's more, you can only start the repair process by uploading the corrupt file to its server, so it's not 100% guaranteed for the website to protect the file content, which might be confidential for you.
In comparison, if you care the data security and personal privacy, the EaseUS corrupt file repair software free download must come to the top position of your options. Otherwise, online file repair software can be a backup plan as there are some good ones that might work for your case.

Brithny is a technology enthusiast, aiming to make readers' tech life easy and enjoyable. She loves exploring new technologies and writing technical how-to tips. On her spare time, she loves sharing things about her favorite singer - Taylor Swift on her Facebook or Twitter.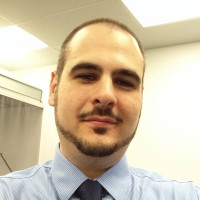 Approved by Evan Galasso 
Evan Galasso is a digital forensics and data recovery engineer with over 10 years of experience in the field. He presents opinions on the current state of storage media, reverse engineering of storage systems and firmware, and electro-mechanical systems of SSDs and HDDs.