This page straightforwardly presents you with the 3 best Windows 11 data transfer software and tools. You can simply download anyone and follow the respective tutorial here to transfer everything from the old computer to the new Windows 11 desktop or laptop computers successfully. 
These methods also work on Windows 10/8.1/8/7, etc., old operating systems. Let's get started.
Will Windows 11 Transfer Files? 
"Does Windows 11 have a feature to transfer files to another computer? How?"
"How do I transfer everything from my old computer on to my new computer with Windows 11?"
Yes. Basically, Windows 11 has its own features for transferring and sharing files between Windows 11 computers and another nearby or remote PC. According to some Windows beginners, these tools are a bit tricky for beginners to run.
Is there an even easier Windows 11 data transfer software or tool for migrating data from PC to PC? Sure. 
Check the list below, you'll get the 3 top best Windows 11 data transfers, including Windows 11 nearby sharing, OneDrive, and a third-party data transfer software for help. 
3 Top Best Windows 11 Data transfer:
| Workable Solutions | Step-by-step Troubleshooting |
| --- | --- |
| #1. EaseUS Todo PCTrans Free | The easiest Windows 11 data transfer software for Windows 11 beginners...Learn more |
| #2. Windows Nearby Sharing | Designed for experienced Windows users to transfer data between two neighbored PCs...Learn more |
| #3. OneDrive | Designed for sophisticated administrators to share data via cloud between PCs...Learn more |
If you follow the table above carefully, you can easily figure out which tool suits you the best for file transferring between Windows 11 and old PCs. Let's follow the favored method and start transferring your files to the new Windows 11 computer or transfer Windows 11 files to another machine now.
#1. EaseUS Todo PCTrans Free
Easiest Windows 11 Data Transfer Software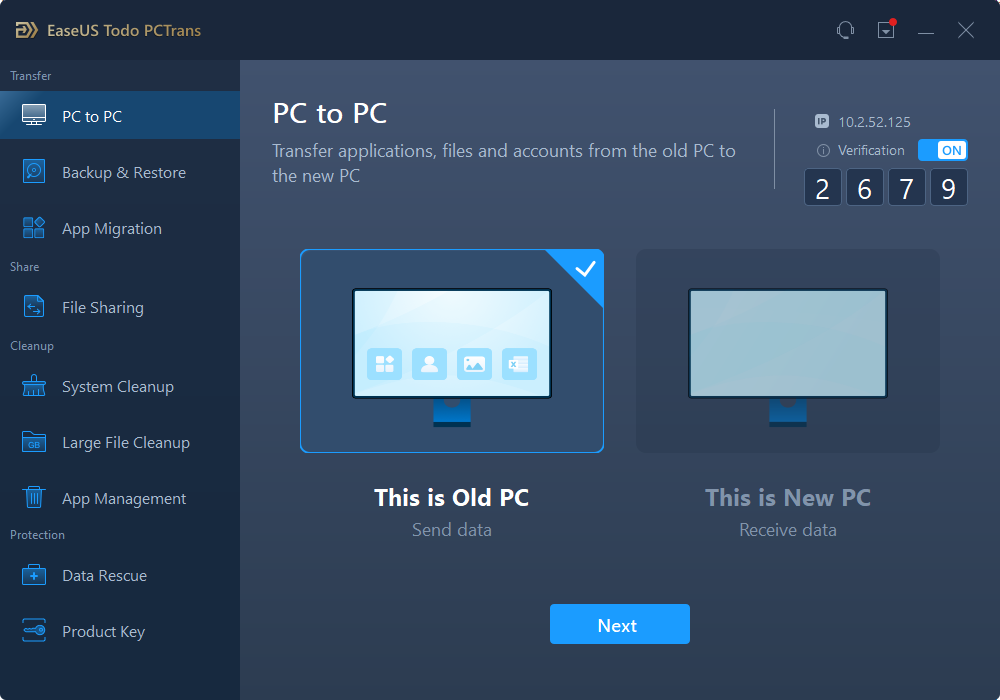 Tool: EaseUS Todo PCTrans Free
Supported: Windows 11/10/8.1/8/7, Windows Vista, and XP.
EaseUS Todo PCTrans Free is a robust data transfer software mainly designed for Windows users to apply for file transfer, app migration, data rescue, and even large file cleanup on Windows computers. It simplifies the traditional data transfer mode into two types via network or image. 
How to Download: 
Besides data transfer, it also allows you to move C drive installed apps to another drive on the computer, freeing up space on your system drive. It's efficient to optimize the slow computer performance, making the transferred apps and programs run without any issues.
How to Use Widows 11 Data Transfer Software:
Step 1. Open EaseUS Todo PCTrans on both of your computers. Choose "PC to PC" to go to the next step.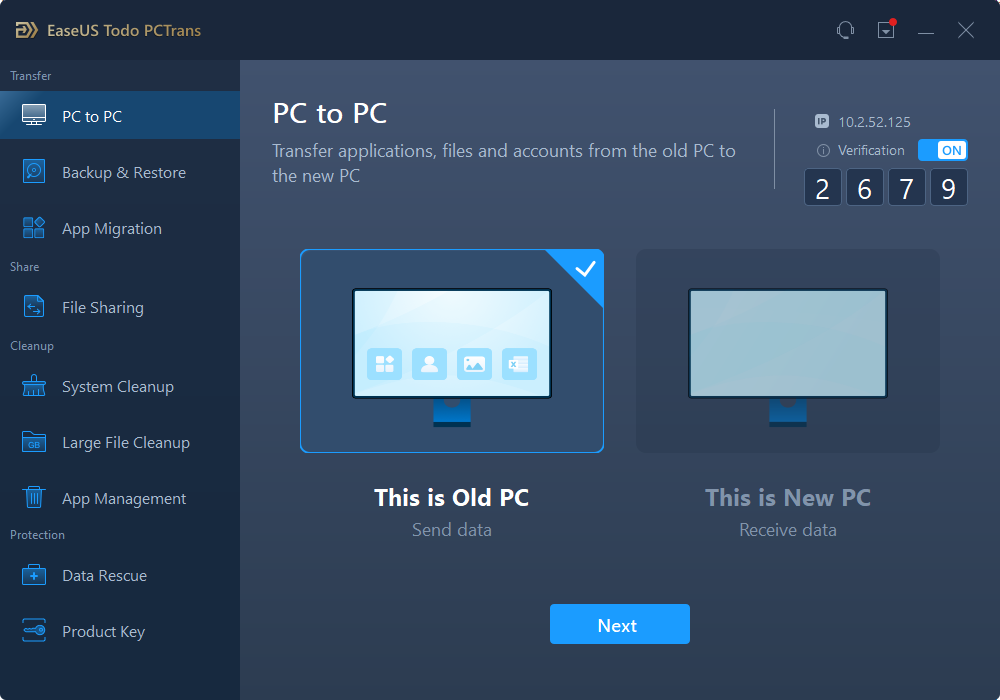 Step 2. Make sure you have chosen the right transfer direction.
"New" - Move data from old computer to current new computer.
"Old" - Move data from current old n computer to remote new computer.
Step 3. Connect two PCs via the network by entering the password or verification code of the target PC. Besides, make sure you have chosen the right transfer direction and click "Connect" to continue.
The verification code is on the right top of the "PC to PC" main screen on the target computer.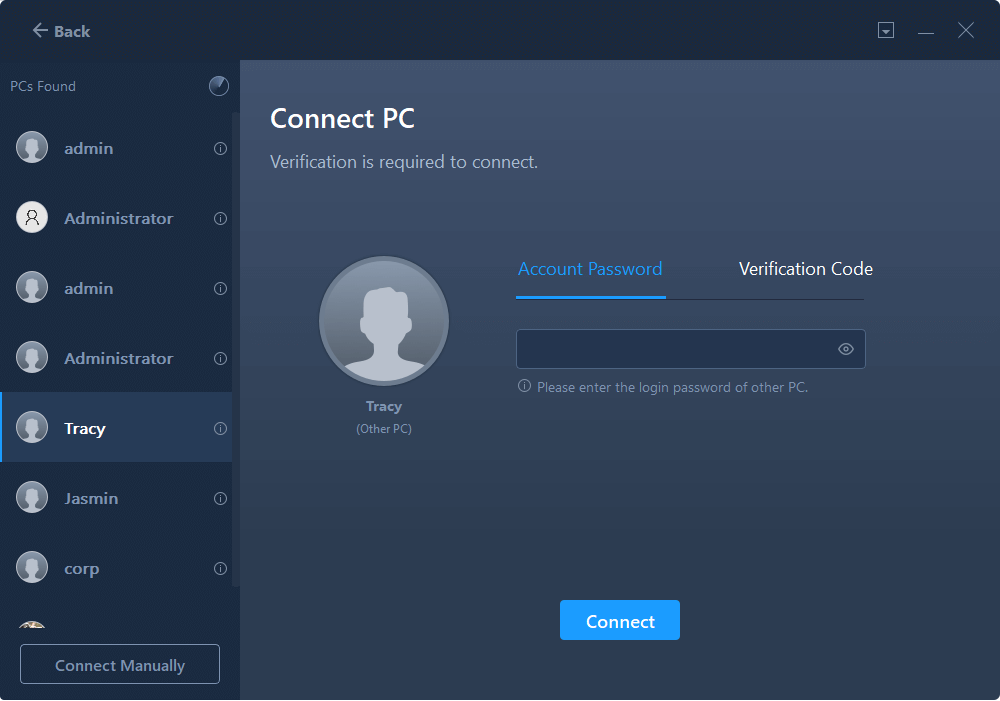 Step 4. Then, choose "Files" to select files to transfer. Select the specific files as you want. What's more, you can click the Edit icon to customize the storage path for transferred data.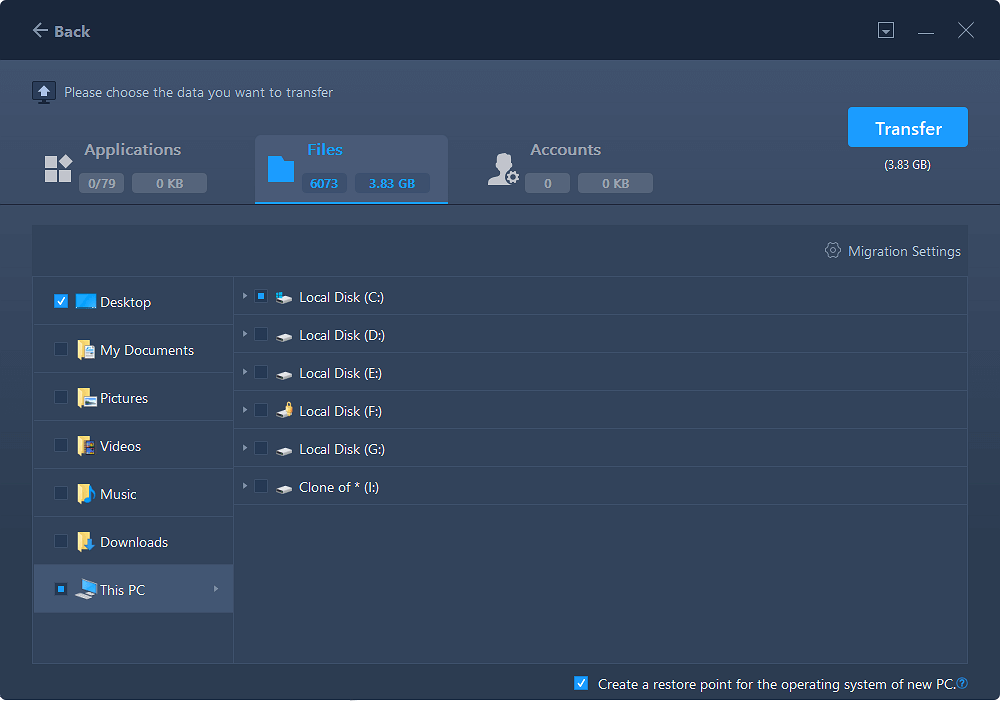 Step 5. Now, click "Transfer" to begin to transfer files from PC to PC. The size of the file determines the transfer time. Wait patiently.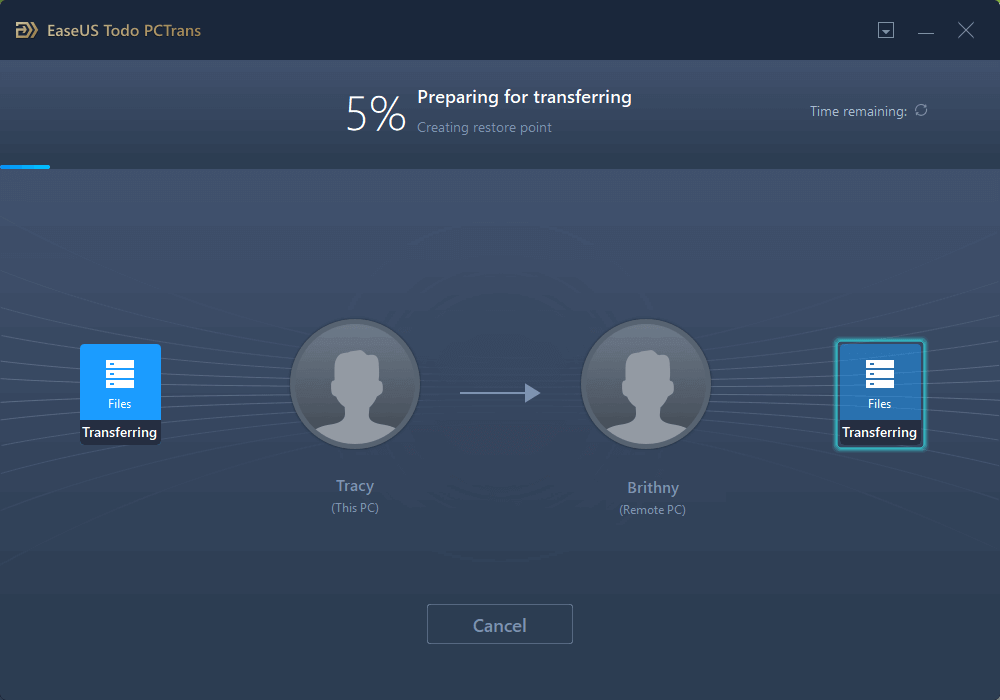 #2. Windows Nearby Sharing
Windows 11 Built-in Data Transfer Tool & Nearby File Transfer
Tool: Windows Nearby Share
Supported: Windows 11/10.
Nearby sharing is currently only available on Windows 11 and Windows 10 computers. Note that if you are looking for an efficient way to share files between old computers like from Windows 7 to Windows 11, or Windows 8 to Windows 11, this method may fail you. On the contrary, EaseUS Todo PCTrans recommended in Method 1 is more suitable for you.
How to Download: This software is currently a Windows built-in tool in Windows 11 and 10. Downloading is not necessary.
How to Use Nearby Sharing to Transfer Files on Windows 11/10:
Step 1. Enable Nearby Sharing on Both PCs:
Click the Start icon, select Settings > System > Nearby sharing.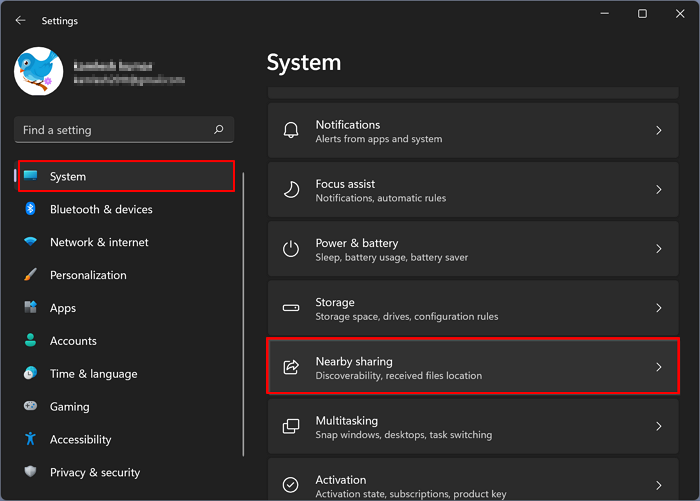 Tick Everyone nearby from the Nearby sharing permission panel.
Step 2. Transfer Files Between Windows 11 and 10 Computers:
Press the "Windows + E" keys to open File Explorer.
Right-click on files that you need to share and select "Show more options". Then click "Share".
Select "Everyone nearby" from the pop-up window.
#3. OneDrive
Windows 11 Cloud Data Transfer Tool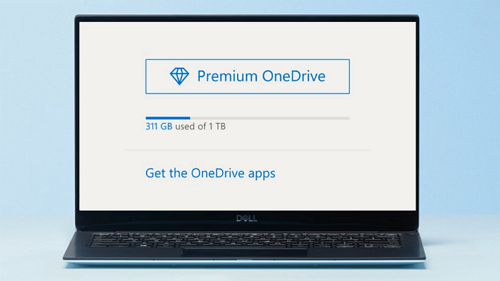 Image source: Microsoft.
Tool: Windows Nearby Share
Supported: Windows 11/10/8.1/8/7.
OneDrive is basically a cloud storage drive that makes it simple for Windows users to sync local computer data to the cloud, then share and download onto another new computer. Also, you can access the old computer files via OneDrive on a new computer or even a mobile phone. So how to transfer files from PC to PC using OneDrive in Windows 11? Let's see the details. 
Note that OneDrive can only share local computer files on desktop like Downloads, Music, Pictures, Videos, etc., to a new device. If you prefer to share or transfer apps, or Windows settings, EaseUS Todo PCTrans shall be the best option for you.
How to Download:  Go to the OneDrive webpage and download the correct version for your Windows OS.
OneDrive page link: https://www.microsoft.com/en-us/microsoft-365/onedrive/download
How to Use OneDrive for Windows 11 File Transferring:
Step 1. Download and install OneDrive on both computers.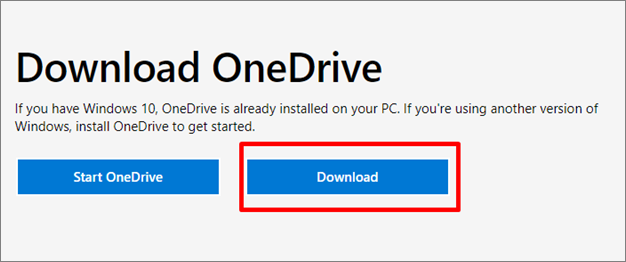 Step 2. Anc click "Yes" to allow OneDrive access and make changes to your computer.
Step 3. Go to Settings, click "System", then click "Back up files to OneDrive".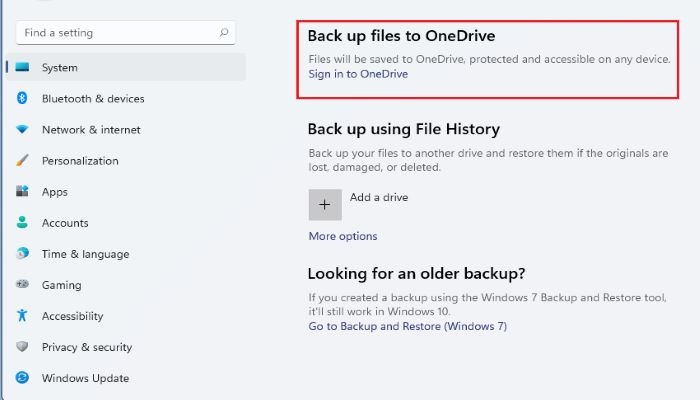 Step 4. Log in with your OneDrive account.
Basically, OneDrive is your Microsoft account.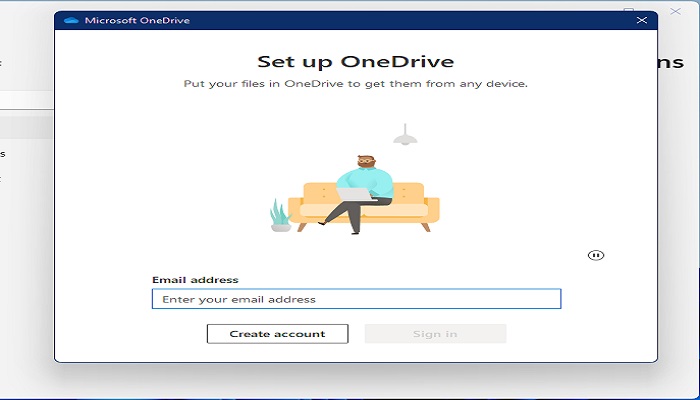 Step 5. Brose to select your OneDrive folder and click "Next".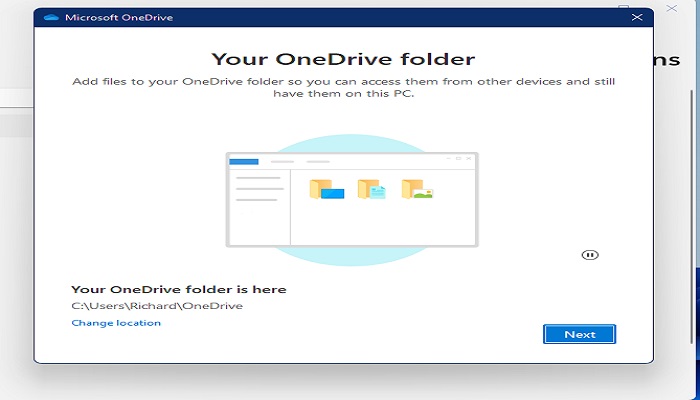 Step 6. After this, click "Open my OneDrive folder" to select desired files that you want to back up to OneDrive and share with another computer.
Step 4. On the new computer, you can use the same way to download files from OneDrive to your local drive.
Transfer Data Between Windows 11 and Other PCs Is Easy, Take Action Now
On this page, we shared with 3 reliable Windows 11 data transfer tools that you can pick a suitable one and follow the respective tips for help.
By following the above solutions, it's easy to share and transfer data between Windows 11 and other computers on your own.
Turn to the most reliable and efficient Windows 11 file migration software - EaseUS Todo PCTrans to transfer everything you want to a new computer now.
About the Author
Daisy is the Senior editor of the writing team for EaseUS. She has been working in EaseUS for over ten years, starting from a technical writer to a team leader of the content group. As a professional author for over 10 years, she writes a lot to help people overcome their tech troubles.
Written by Tracy King 
Tracy joined in EaseUS in 2013 and has been working with EaseUS content team for over 7 years. Being enthusiastic in computing and technology, she writes tech how-to articles and share technical solutions about Windows & Mac data recovery, file/system backup and recovery, partition management and iOS/Android data recovery.
Reviews and Awards
EaseUS Todo PCTrans Free is a useful and and reliable software solution created to serve in computer migration operations, be it from one machine to another or from an earlier version of your OS to a newer one.

 Read More

EaseUS Todo PCTrans is by the folks at EaseUS who make incredible tools that let you manage your backups and recover your dead hard disks. While it is not an official tool, EaseUS has a reputation for being very good with their software and code.

Read More

It offers the ability to move your entire user account from your old computer, meaning everything is quickly migrated. You still get to keep your Windows installation (and the relevant drivers for your new PC), but you also get all your apps, settings, preferences, images, documents and other important data.

 Read More