According to Microsoft, the Internet Explorer browser will expire on June 15, 2022. What does this mean? Can you continue using the browser on your computer? Or what can you do with this issue?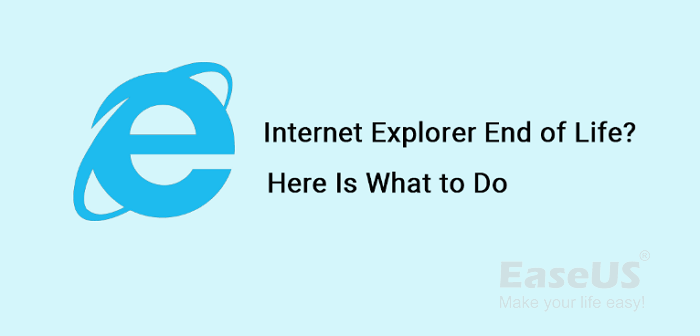 On this page, we'll cover some top concerned questions that most IE users want to know, such as what you should do and how to deal with the IE browser end of life issue here. 
If you are one of them, follow and find out the answers here. Let's go.
In this article, you'll learn:
Is IE (Internet Explorer) Dead Yet
What Happens If Internet Explorer End of Life
Can I Still Use IE after June 2022
Is Internet Explorer Going to Be Removed 
What Do I Do When Internet Explorer End of Life
Is IE (Internet Explorer) Dead Yet
For now, Internet Explorer hasn't died yet. Before June 15, 2022, Microsoft will continue serving worldwide IE users to browse information and search queries online. 
Microsoft has confirmed that the Internet Explorer 11 desktop application will be retired and go out of support on June 15, 2022. A range of users will be affected, including:
Windows 10 (version 20H2 and later)
Windows 8.1 Update
Windows 7 with Service Pack 1 (SP1)
Windows Server 2012 R2
Windows Server 2008 R2 with Service Pack 1 (SP1)
If you are installing one of the operating systems on your computer, you may have got a notice sent by Microsoft reminding you to switch IE to Edge or other internet browsers.
What Happens If Internet Explorer End of Life
Some of you may wonder what happens if the Internet Explorer end of life. And here is the list of possible results that will or perhaps already occur to you:
Microsoft will no longer support the IE (Internet Explorer) browser.
No new updates or security patches will push to IE.
Microsoft may or perhaps push the last security update to the IE browser end of its life.
Microsoft or Windows will remind business and IT departments to migrate their environment, systems, and websites over to Edge or other browsers.
The network environment will be complex, and IE users may easily get virus infections if they continue using this browser.
Ads blocking function may also become weak after the browser ends support.
Can I Still Use IE after June 2022
Some of you may have the same concerns here. And the answer here is yes. 
Though IE has reached its end of life, it will continue to serve worldwide users due to its heavy enterprise dependence. In addition, Windows operating systems that are still getting new updates from Microsoft can continue to get security patches for the Internet Explorer until Windows reaches the end of service. 
You should notice that Microsoft won't add any new features to IE browsers that are still serving some Windows users.
Is Internet Explorer Going to Be Removed 
For now, the Internet Explorer is still available for free download and installation on the Microsoft support page: 
https://support.microsoft.com/en-us/windows/internet-explorer-downloads-d49e1f0d-571c-9a7b-d97e-be248806ca70#ID0EBBD=Windows_7
If you want to use the latest version of this browser, you can still visit this page and download the latest version of IE to install on your PC. 
Therefore, the answer to "Is Internet Explorer Going to Be Removed" is no. Though Microsoft won't continue pushing security patches or new features, it doesn't mean this great browser will permanently be removed and disappear from our world. Positively, it will continue serving some old Windows users in the near ten years or even longer. 
What Do I Do When Internet Explorer End of Life
Here, it comes to the most important question, what do you do or how will you do if the day comes and IE gets the end of its life on your PC or laptop. 
Experienced Windows users may know some tips to grab their essentials like bookmarks, downloads, accounts and passwords in the Internet Explorer browser. If you are not clear about this, it doesn't matter. 
Here is a checklist that you can follow one by one to see what you should save or export from the IE browser:
Saved accounts and passwords in IE.
Export bookmarks from IE and transfer them to other browsers.
Backup downloads.
How do you export and transfer these essentials from the IE browser to other browsers? For example, transfer IE content Edge, migrate Internet Browser data to Chrome or switch IE essentials to Firefox.
Here we have two ways to help:
#1. Manually Export Internet Browser Essentials to Other Browsers
You can choose to export Bookmarks, Accounts and Passwords, and items in the Downloads from the IE browser and import them to a new browser manually.
#2. Use App and Data Migration Tool for Help
EaseUS Todo PCTrans can directly access your files, folders, apps and even browser content on your PC and help you migrate them all to a new location on your PC or transfer them to a new PC with ease.
You can directly apply this tool to migrate everything from PC to PC, including your IE browser data like the Downloads folder.
The other tool you can try is EaseUS Key Finder, a reliable Windows product key finder tool. Its Internet & Network Password feature can seamlessly assist you quickly viewing and finding all your IE Accounts and Passwords within one click. 
You can also export and save all the essential data to a local file as a backup or transfer them into a new internet browser without complex operations. 
Internet Explorer Will End of Life, Your Digital Life Continues with New Browsers
Internet Explorer will end its life, but your digital life shall continue. So, to better serve these users, Microsoft published Edge browser as an Internet Explorer alternative for Windows users to use and switch IE essentials, including accounts & passwords, bookmarks, and even Downloads, etc., to this new browser or other browsers.
To keep your personal and business data secure, we suggest that you take action as soon as possible. First, download and install a favored internet browser on your PC. Next, switch or transfer your IE data into the new browser manually or an automated file transfer tool like EaseUS Todo PCTrans. 
About the Author
Updated by Tracy King 
Tracy joined in EaseUS in 2013 and has been working with EaseUS content team for over 7 years. Being enthusiastic in computing and technology, she writes tech how-to articles and share technical solutions about Windows & Mac data recovery, file/system backup and recovery, partition management and iOS/Android data recovery.
Reviews and Awards
EaseUS Todo PCTrans Free is a useful and and reliable software solution created to serve in computer migration operations, be it from one machine to another or from an earlier version of your OS to a newer one.

 Read More

EaseUS Todo PCTrans is by the folks at EaseUS who make incredible tools that let you manage your backups and recover your dead hard disks. While it is not an official tool, EaseUS has a reputation for being very good with their software and code.

Read More

It offers the ability to move your entire user account from your old computer, meaning everything is quickly migrated. You still get to keep your Windows installation (and the relevant drivers for your new PC), but you also get all your apps, settings, preferences, images, documents and other important data.

 Read More