Hi, latest news to concern about:
Internet Explorer End of Life! It will be retired and end of support on June 15, 2022.
Microsoft Edge, another still-functioning website, will address your needs.
Can I use Internet Explorer after 2022? Indeed, you can't. Microsoft no longer supports IE, and they recommend using Microsoft Edge as a replacement. Can I trust it? What is the difference between Microsoft Edge and Internet Explorer? Check to learn Microsoft Edge VS Internet Explorer 11.
Page Content:
What Is Microsoft Edge, and Why Do I Need It?
Microsoft Edge VS Internet Explorer 11: Which is Better?
Microsoft Edge Download
Troubleshooting: Microsoft Edge Won't Open in Windows 10/11
Extra Tip: How to Transfer Microsoft Edge to Another Computer
What Is Microsoft Edge, and Why Do I Need It?
The future of Internet Explorer on Windows 10 is in Microsoft Edge. - Microsoft
Microsoft Edge is a web browser developed by Microsoft. It was first released in 2015, and it is the successor to Internet Explorer. Edge is included with Windows 10, and Microsoft encourages users to use it as their default web browser. 
Microsoft Edge has some advantages over other browsers, including better security, faster performance, and support for newer web standards. Microsoft also claims that Edge is more energy-efficient than other browsers, which can help prolong battery life on laptop computers. Microsoft Edge is not without its faults, but overall it is a decent browser that is worth trying if you are using Windows 10 or macOS.
The Microsoft Edge browser has many features to help users be more productive. 
New Features - Edit Help, Travel Recommendation, Result Preview
The new features allow users to write on web pages confidently from the browser. This is ideal for taking notes or filling out forms online. Additionally, users can preview search results before clicking on a link. This saves time by allowing users to scan results and quickly find what they are looking for. 
Access Editor Settings: Go to edge://settings/languages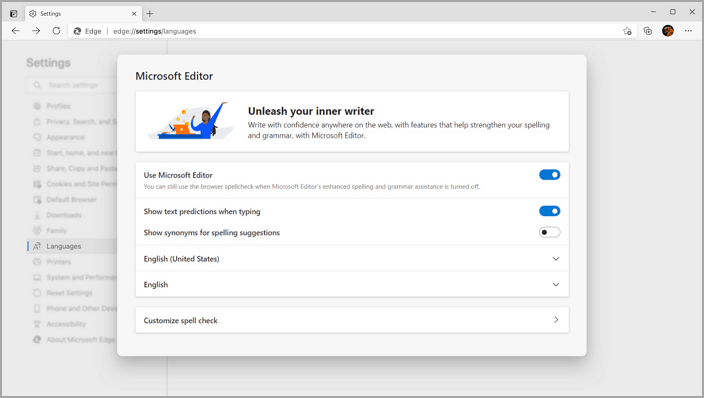 Get Inspiration on Travel: Head to the bing website and search the idle destination.

Click the icon to review the result:

Other Useful Functions
The Edge browser also has features to save money while shopping and protect privacy and security online. Overall, the Microsoft Edge browser is packed with features that can improve productivity and safety while browsing the web.
Microsoft Edge VS Internet Explorer 11: Which is Better?
Microsoft Edge is Microsoft's newest web browser, designed to replace the aging Internet Explorer. While both browsers can render web pages, there are some critical differences between the two. 
Microsoft Edge is designed to be more HTML5 compliant than Internet Explorer, meaning that it can better handle modern web standards. It also includes a new rendering engine, called EdgeHTML, which is faster and more efficient than the engine used by Internet Explorer. 
In addition, Microsoft Edge includes several features that are not present in Internet Explorer, such as an integrated note-taking tool and support for Microsoft's Cortana digital assistant. 
As a result of these differences, Microsoft Edge has generally considered a better browser than Internet Explorer 11.
Microsoft Edge Download
If you're looking to download Microsoft Edge, the process is pretty simple. 
1. Just head to the Microsoft website and download the Edge installer.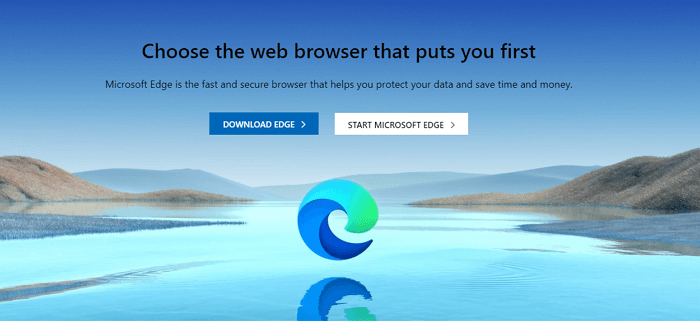 Four options here: Microsoft Edge for Windows, Microsoft Edge for Android, Microsoft Edge for macOS, and Microsoft Edge for iOS.
2. Once the download is finished, just run the installer and follow the prompts. 
Microsoft Edge is installed on your computer, and you'll be able to start using it right away. The whole process should only take a few minutes, so you can be up and browsing in no time.
Troubleshooting: Microsoft Edge Won't Open in Windows 10/11
Microsoft Edge Won't Open? Below are some solutions that may help you fix the problem. 
Solution - Repair or reinstall Microsoft Edge 
If Microsoft Edge won't open, or if it opens briefly and then closes, you might need to repair or reinstall it. To do this: 
1. Type "appwiz.cpl" in the search box on the taskbar, and then select Appwiz.cpl from the results list. 
2. Under Programs, select Uninstall a program. If you're prompted for an administrator password or confirmation, type the password or provide confirmation. 
3. Select Microsoft Edge from the list of programs, and then select Uninstall.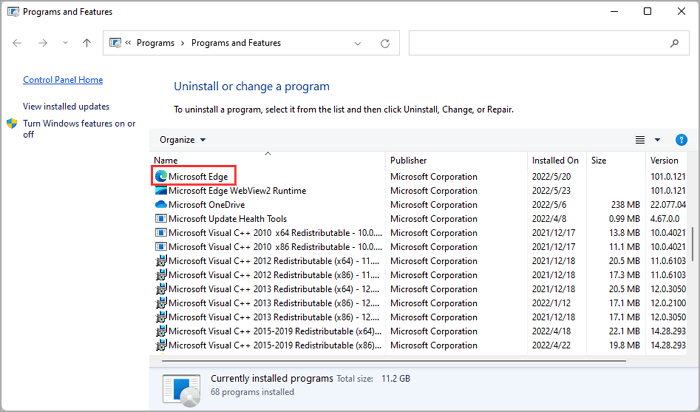 Go back to re-download the browser.
Final Words
With the end of support for Internet Explorer, Microsoft is urging users to switch to Microsoft Edge. Released in 2015, Edge is a modern browser that is designed for speed and security. It supports the latest web standards and offers features not available in Internet Explorer. With Microsoft's commitment to continuing support for Edge, it is clear that Edge is the future of its web browser offerings. For users looking for a new browser, Microsoft Edge is the obvious choice.
Extra Tip: How to Transfer Microsoft Edge to Another Computer
If you are trying to move Microsoft Edge to another PC without reinstallation, EaseUS Todo PCTrans can help you. It works to transfer installed programs from one computer to another. Additional, this file transfer software will help to transfer files and settings between PCs or drives.
About the Author

Roxanne is one of the main contributors to EaseUS and has created multiple posts on digital devices like PCs, Mobile phones, tablets, Mac, etc. She loves to share ideas with people of the same interest.
Reviews and Awards
EaseUS Todo PCTrans Free is a useful and and reliable software solution created to serve in computer migration operations, be it from one machine to another or from an earlier version of your OS to a newer one.

 Read More

EaseUS Todo PCTrans is by the folks at EaseUS who make incredible tools that let you manage your backups and recover your dead hard disks. While it is not an official tool, EaseUS has a reputation for being very good with their software and code.

Read More

It offers the ability to move your entire user account from your old computer, meaning everything is quickly migrated. You still get to keep your Windows installation (and the relevant drivers for your new PC), but you also get all your apps, settings, preferences, images, documents and other important data.

 Read More