Part 1. How to Move Overwatch to Another Drive/SSD
Scenario: "I am out of space on my C: drive, how do I move my Blizzard game Overwatch to a new hard drive, so I have enough room for my system drive?"
The main reason that you might want to do something like said above is your C drive is running out of space, or you've got a new HDD or SSD, and you want to move the game to from one hard drive to another to enhance the computer performance and increase game loading speed.
When you need to change Overwatch location, you have no choice but to uninstall and reinstall. However, this is not what many users want. Because the game files are enormous and the Internet speed is very slow, it will take a long time to redownload. Can you move Overwatch to SSD or to another HDD without reinstalling?
Yes, here comes the simplest way to help you move Overwatch to a different drive without launch problem. Whilst we also cover more guides for transferring Overwatch from one PC to another in Part 2. Click to see details.
1. Move Overwatch to SSD Without Re-installation Quickly
To migrate Blizzard games to a different drive, such as move WOW to another drive, you can use EaseUS Todo PCTrans Free. This easy PC transfer software helps you transfer your data, applications, and account settings from one PC to another for free in simple clicks.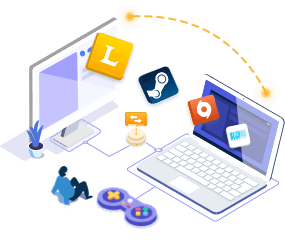 EaseUS Todo PCTrans
Transfer to a new PC: Steam, Origin, LOL, Blizzard.
Transfer to a new drive: DIABLO, WORLD OF WARCRAFT,
OVERWATCH, HEARTHSTONE, HEROES OF THE STORM, etc.
3 steps to migrate games apps to a new pc or a new drive.
The APP Migration feature of this tool enables you to transfer applications locally between two disks and move away from large programs that take up much space on the system drive to speed up PC.  Now, download this application migration program and migrate Overwatch to another HDD or SSD with ease.
Step 1. Launch EaseUS Todo PCTrans and select transfer mode
On the main screen of EaseUS Todo PCTrans, go to "App Migration" section and click "Start" to continue.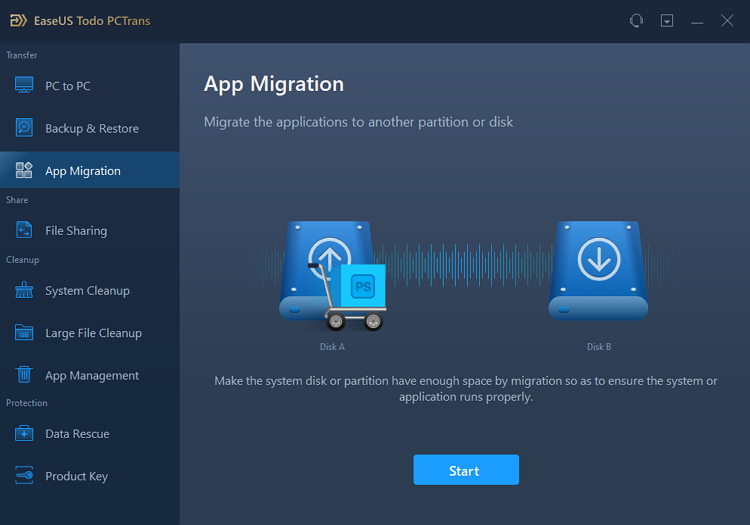 Step 2. Select apps and another drive to transfer
1. Select the source partition and tick applications, programs and software (marked as "Yes") that you'd like to migrate.
2. Click triangle icon to select another drive or disk as your target device and click "Transfer" to start the migration.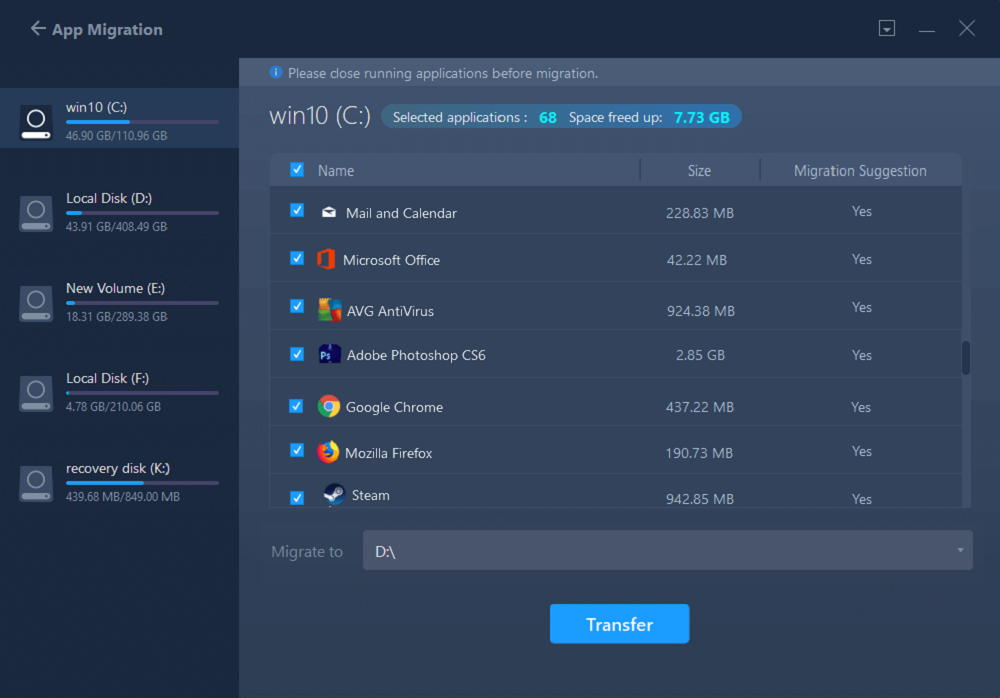 Step 3. Finish the migration process
When the transferring process finishes, click "OK" to complete.
You can restart your PC to keep all the changes, and you should be able to run your migrated apps on the other drive again.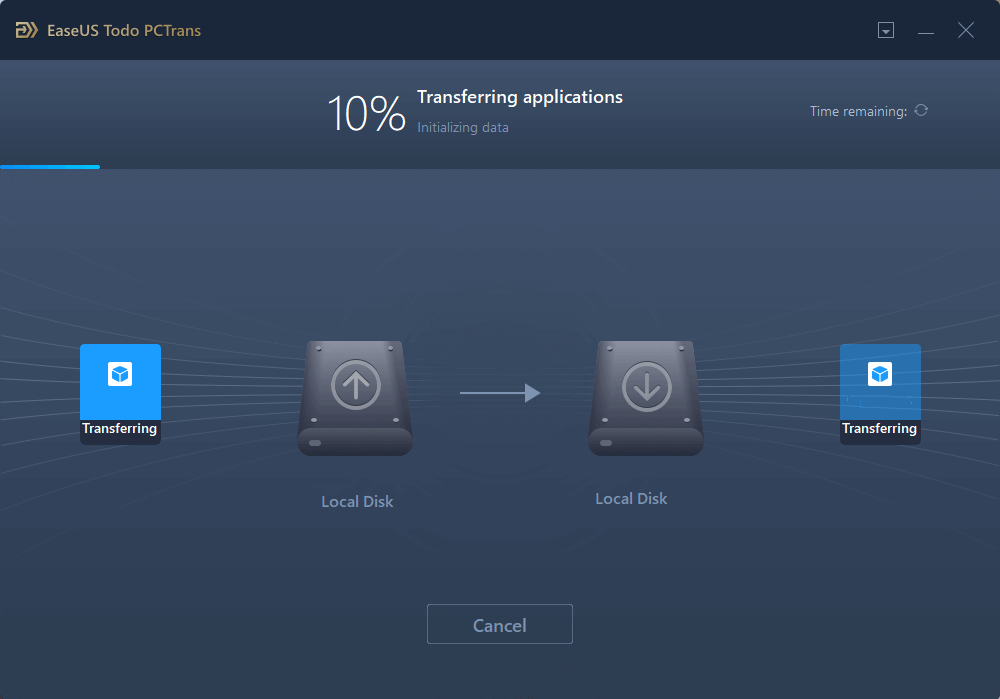 2. Move Overwatch to Another Drive by Re-downloading
If you want to transfer Overwatch to a different drive manually, check the guide below.
Step 1. Start Battle.Net Launcher. Click "Overwatch" > choose "Options", then click "Show in Explorer".
Step 2. Go to the installation location of Overwatch. Move the folder to the target drive through copy-and-paste. After that, you need to correct the location in the launcher.
Step 3. The Battle.Net Launcher will assume the game has been uninstalled. So, you need to click the "Install" button and change the installation location. Wait patiently until the process finishes.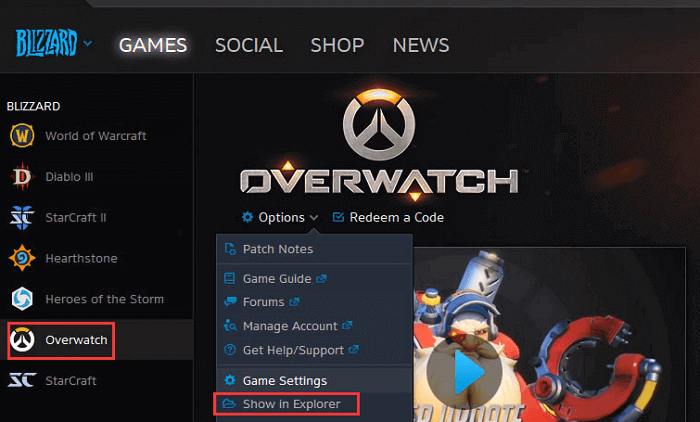 With the help of an external device, this manual way also can be applied to transfer Overwatch from one PC to another. But we all know that when we install an application, a lot of registry related data is written to different locations on the C drive. Moving game folders manually does not guarantee that the copied application can run properly because some registration data is missing. Therefore, we recommend you use the simpler and more secure method by using a PC migration tool.
Part 2. How to Move Overwatch to Another PC
Scenario: "My friend wants to play Overwatch during the free weekend, but his internet is too slow to download it during the weekend. So my question is, how do I copy my files and transfer them to his computer. "
Except for the need of migrating Overwatch from one drive to another, users like the one in the above scene intend to transfer the game from one PC to another. Then, how to do it fast without re-installing? EaseUS Todo PCTrans offers two options for you to transfer files from old PC to new PC in Windows 10/8/7.
PC to PC: Connect two Windows PCs by local area network, and transfer files, apps, and accounts from one PC to another.
Image Transfer: When you don't have a network, you can use the feature to make images of files, folders, and programs on the source PC, and transfer to the target device. See how to file transfer from PC to PC via USB.
The guide below shows you how to transfer Overwatch from one PC to another via the network. If you like migrating games by creating an image and recovering, click to see the file transfer without the internet. 
Step 1. Run EaseUS Todo PCTrans on both PCs
On the source PC, select "PC to PC" on the main screen of EaseUS Todo PCTrans and move on.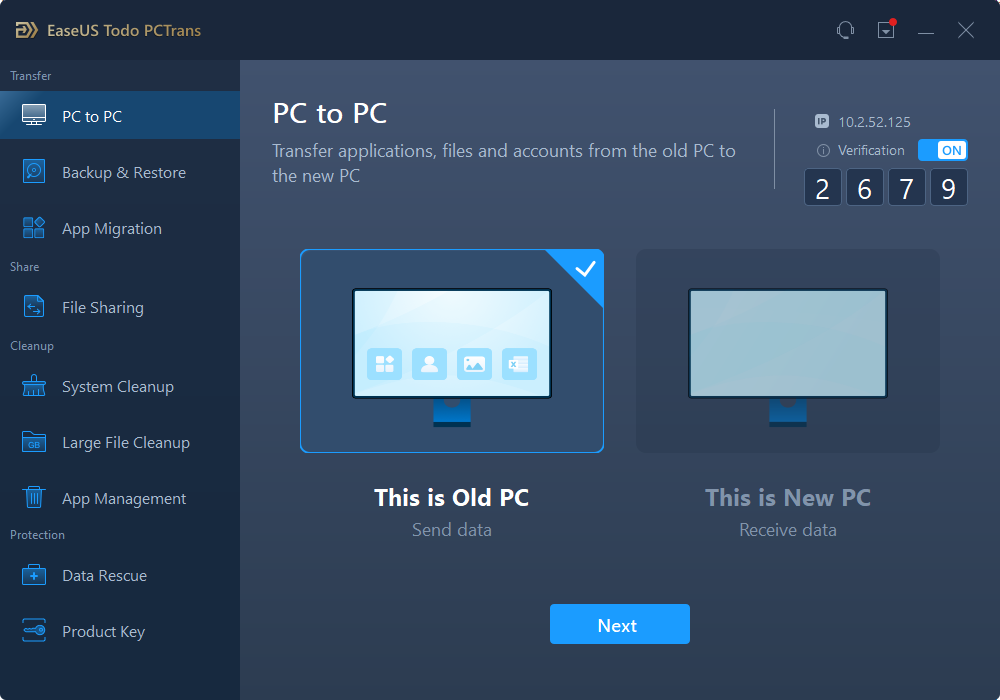 Step 2. Choose transfer direction - Old or New Computer
"New" - Transfer all data from remote old computer to current new computer.
"Old" - Transfer all data from current old device to a new computer.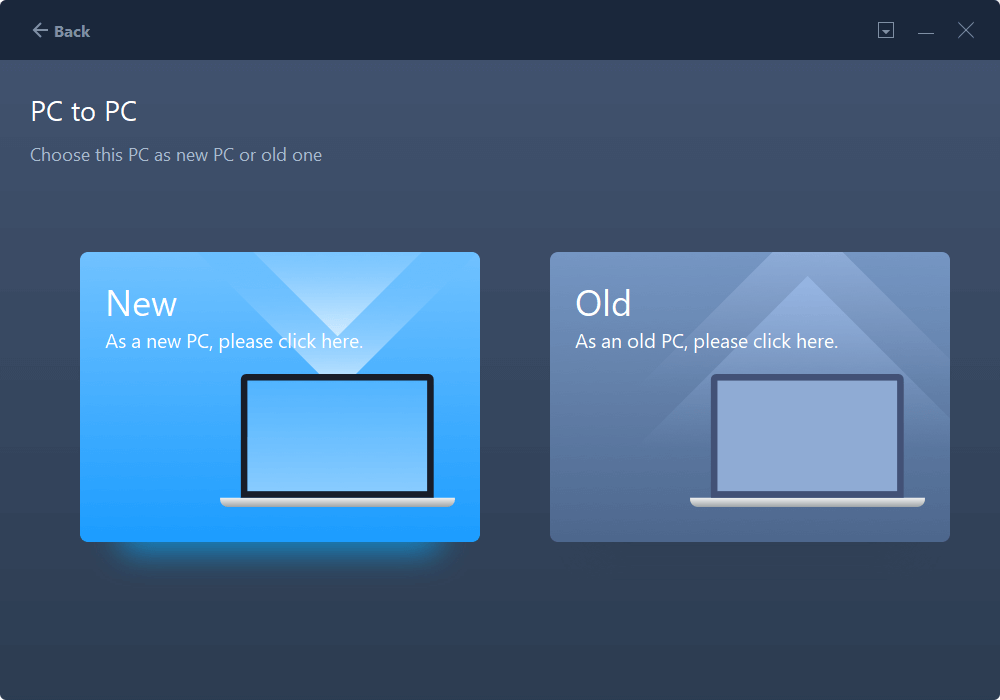 Step 3. Connect two computers
1. Select your target PC to connect via its IP address or device name and click "Connect".
2. Enter the login password of your target PC and click "OK" to confirm.
If you didn't see the target PC in the listed devices, you can also click "Add PC" to manually connect the target PC by inputting its IP address or device name.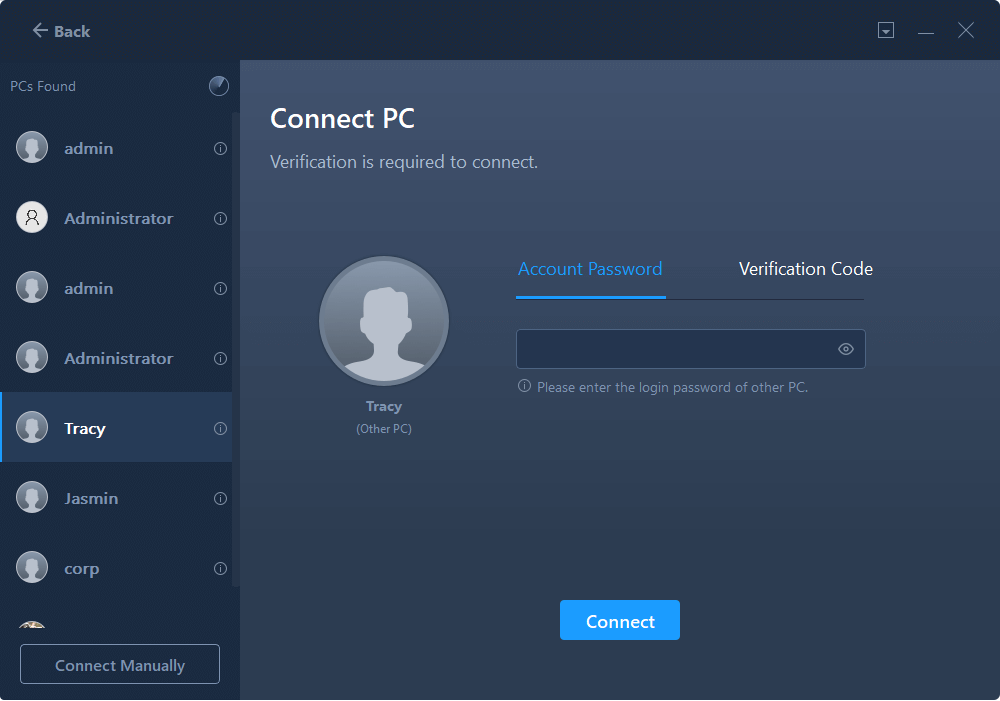 Step 4. Select apps, programs, and software and transfer to the target computer
1. You can select and choose what you want to transfer from the current computer to the target PC.
2. After selecting desired applications and programs, click "Transfer" to start the transferring process.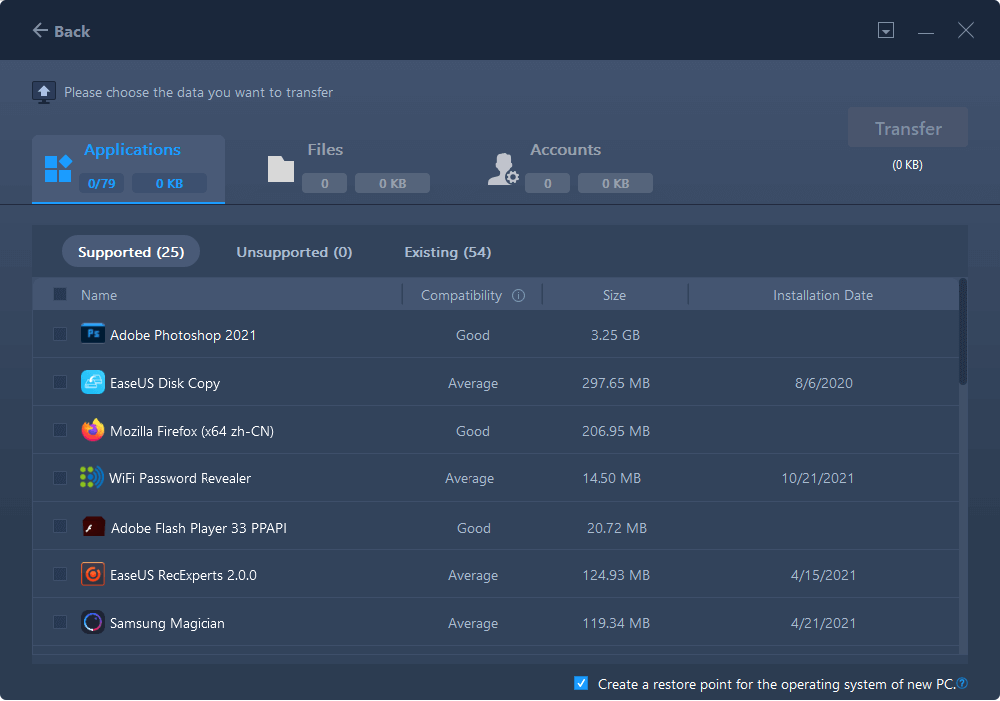 Conclusion
EaseUS Todo PCTrans provides you comprehensive solutions to copy installed programs. You can follow the guide in Part 1 to move Overwatch from one drive to another HDD or SSD without reinstalling again. If you plan to migrate the game from one PC to another, read content in Part 2. If you encounter any problems during the process, you can contact our technical support help via live chat or email. 
About the Author
Updated by Tracy King 
Tracy joined in EaseUS in 2013 and has been working with EaseUS content team for over 7 years. Being enthusiastic in computing and technology, she writes tech how-to articles and share technical solutions about Windows & Mac data recovery, file/system backup and recovery, partition management and iOS/Android data recovery.

Cedric Grantham is one of the senior editors of EaseUS who lives and works in Chengdu, China. He mainly writes articles about data recovery tutorials on PC and Mac and how-to tips for partition management. He always keeps an eye on new releases and likes various electronic products.
Reviews and Awards
EaseUS Todo PCTrans Free is a useful and and reliable software solution created to serve in computer migration operations, be it from one machine to another or from an earlier version of your OS to a newer one.

 Read More

EaseUS Todo PCTrans is by the folks at EaseUS who make incredible tools that let you manage your backups and recover your dead hard disks. While it is not an official tool, EaseUS has a reputation for being very good with their software and code.

Read More

It offers the ability to move your entire user account from your old computer, meaning everything is quickly migrated. You still get to keep your Windows installation (and the relevant drivers for your new PC), but you also get all your apps, settings, preferences, images, documents and other important data.

 Read More