
About the Author
Hot Topics in 2022
How to Speed Up Hard Drive in Windows 11/10/8/7 [100% Working Solutions]
Updated by
Sherly
on Jan 11, 2023
Hard drives are vital to computer systems. However, hard drives can also slow down over time. However, you need not worry as you can easily solve the problem by speeding up your hard drive with proper maintenance. This article provides detailed guides on speeding up hard drives in Windows. First, let's learn why the hard drive runs slowly.
What Cause Hard Drive to Run Slow
The performance of the old hard disk will inevitably become slower and slower because high read and write frequency means the disadvantage of high loss. Once the hard disk is broken, you will face the "computer running slow" issue, and the PC may crash randomly. Here are some issues that can slow down your hard drive.
Bad sectors: The more bad sectors your hard drive has, the slower it will be.
Lots of temporary files: They can accumulate and keep taking up hard drive space.
Viruses and malware on hard drives: Malicious applications can attack your computer with illegal missions or insert viruses to cause damage.
File fragmentation: Fragments of individual files are scattered throughout the hard drive and cannot be accessed quickly.
Sure, there are many other reasons why our hard drives get slow, but no matter what the reason is, knowing how to solve the "HDD slow" issue is very important to improve our daily use. Continue to learn.
By the way, there are some other links related to hard drives. Click them to learn.
How to Speed Up Hard Drive in Windows 11/10/8/7 - 8 Efficient Ways
All the reasons above may slow down your hard drive, but we can still protect our hard drive in daily use. In this section, you can see and learn eight effective ways to speed up your hard drive:
Way 1. Partition Your Hard Drive
Way 8. Remove Unwanted Application
Now, let's start with the first way and partition your hard drive to speed up your hard drive.
Way 1. Partition Your Hard Drive
Partitioning your hard drive properly can greatly speed up your hard drive. The more organized your hard disk is, the faster your hard drive gets. There is a reliable tool for you to partition your hard drive efficiently, EaseUS Partition Master. It supports all Windows versions, and you can use it to manage these partitions, like resizing/merging/splitting/deleting/creating partitions. Now, download this tool and partition your hard drives.
Step 1. Launch EaseUS Partition Master to check for free space at the Partition Manager section.
If your hard drive has unallocated space, jump to Step 3 to create partition.
If the hard drive has no unallocated space, continue with Step 2.
Step 2. Shrink a disk partition to create unallocated space.
Right-click on the target drive partition with a lot free space and select "Resize/Move".
Drag either end of the partition rightwards or leftwards to shrink the partition size so as to get ample unallocated space. You can visually know how much space you've decreased in the "Partition size" area. Click "OK".
Click "Execute xx Task" and then "Apply" to save all the changes.
Go back to Partition Manager, there should be unallocated space appearing on the same disk and you can continue with Step 3 tocreate new partition on your.
Step 3. Create a new partition with unallocated space on the target hard drive.
 Right-click on the unallocated space and choose "Create".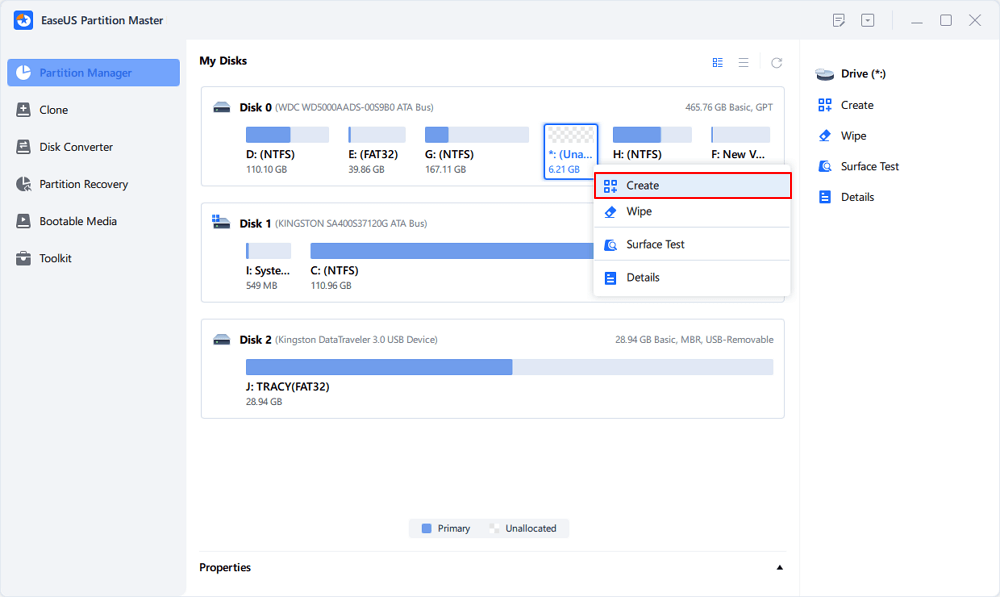 Customize the partiton size, partition drive letter, partition label, file system (NTFS, FAT32, EXT2/3/4, exFAT) and more in the Advanced Settings. Click "OK".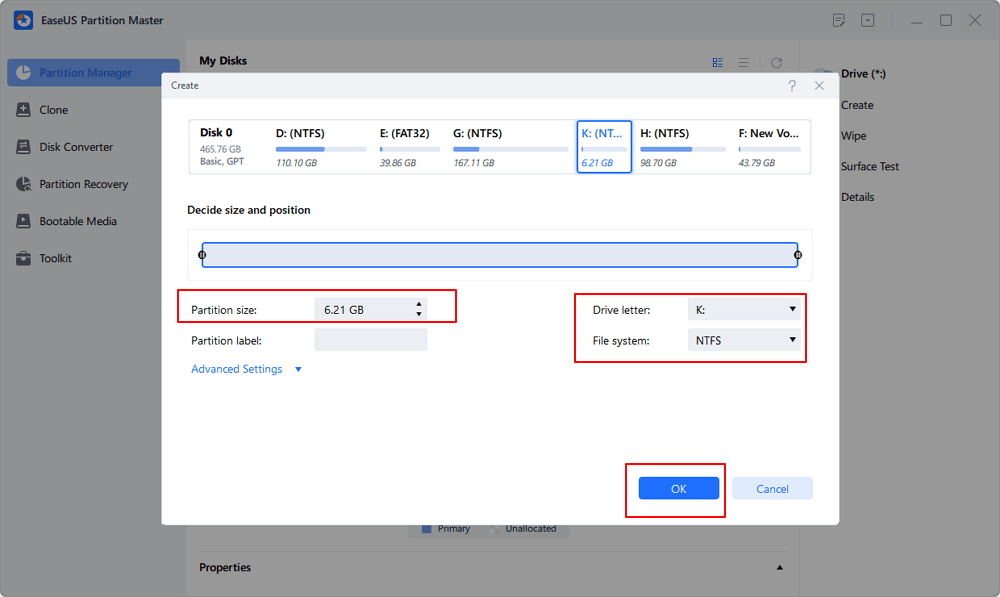 Finally, click "Execute * Task" and "Apply" to complete creating partition with the unallocated space on your disk. Repeat the steps to partition a hard drive and get many more partitions.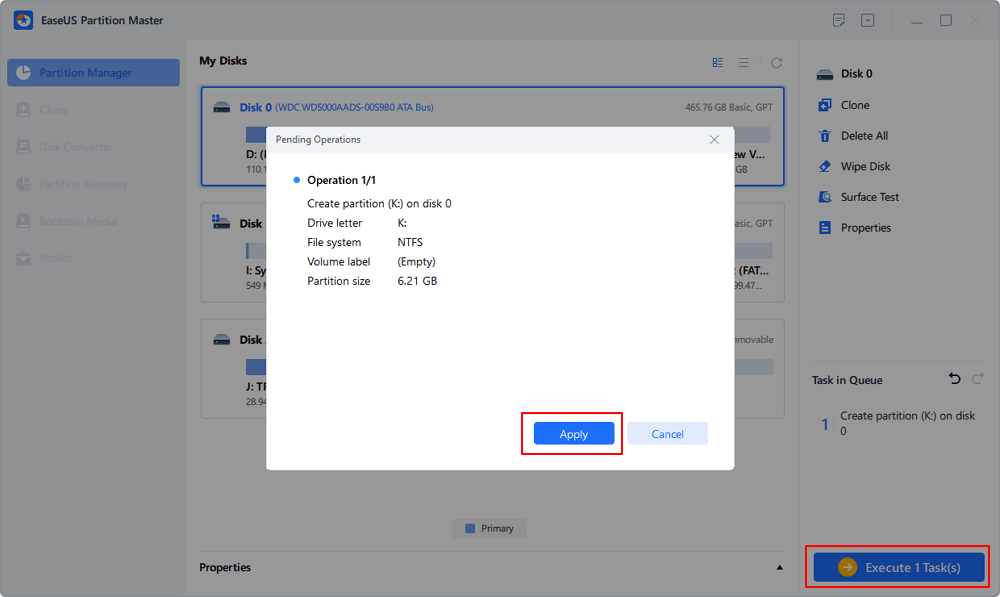 Way 2. Check Bad Sectors
The more bad sectors your hard drive gets, the slower it will be. EaseUS Partition Master can help do a disk surface test and scan your hard drive for bad sectors. Here are the steps for how to use EaseUS Partition Master to scan bad sectors:
Step 1. Open EaseUS Partition Master. Right-click the disk that you want to check, and then click "Surface Test".
Step 2. The operation will be immediately performed and all bad sectors will be marked as red.
After the disk surface test, you can locate all the bad sectors on your hard drive.
Way 3. Delete Temporary Files
Should you delete temp files? Yes, the browsers like Chrome, and Firefox, will store lots of temporary files, which take up space and slow down your hard drive. Follow the guide below to free up hard drive space. Here are the steps:
Step 1. Click on the Windows icon and choose "Settings."
Step 2. Click Storage > This PC > Temporary files. Windows will list all the temp files on this PC.
Step 3. Choose what you want to delete and click "Remove."
Way 4. Enable Write Caching
Enable write caching can also improve the hard drive speed since it's stored in a NAND chip on the hard drive before it's recorded. Here are the steps:
Step 1. Hit the "Windows" + "R" keys to open the "Run" window. Then type devmgmt.msc to open "Device Manager."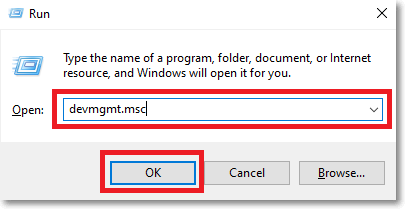 Step 2. Choose the target hard drive under the "Disk Drives" section.
Step 3. Right-click on it and choose "Properties."
Step 4. Click the "Policies" in the "Properties" window.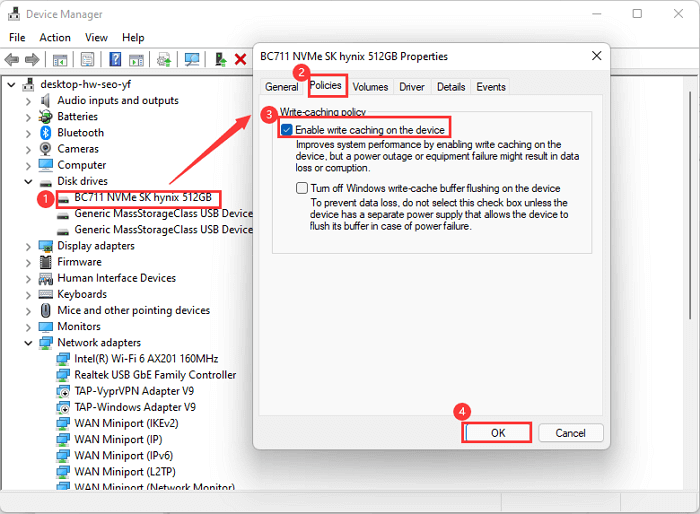 Step 5. Click "Better performance (default)" and tap OK.
Way 5. Defrag Your Hard Drive
Fragments develop with time, causing hard drives to run slowly. After you delete or access files, they may be divided into multiple parts, which will be scattered all over. Hence, we need to defrag the hard drive.
Step 1. Type optimize in the search box on Windows and click the Defragment and Optimize Drives icon to launch it.
Step 2. Choose the target hard drive and optimize it.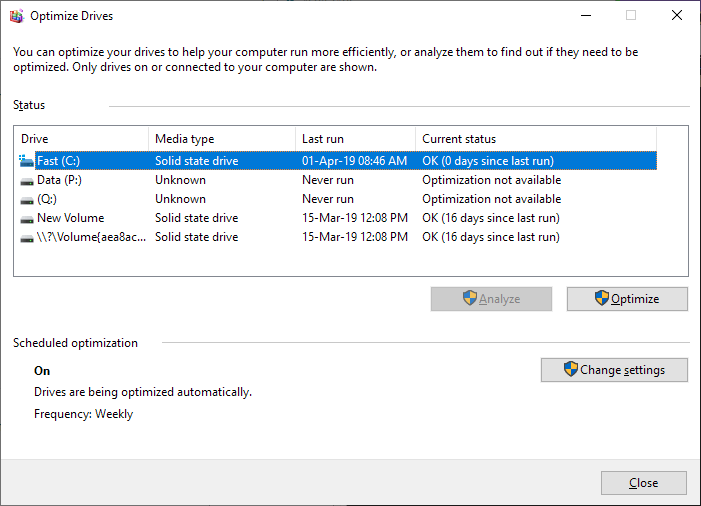 Way 6. Run CHKDSD Command
You can run the chkdsk command, which checks your storage device for any bad sectors and attempts to repair them. Here is the guide:
Step 1. Hit Windows + R to open a Run window. Type cmd to open Command Prompt.
Step 2. Type chkdsk e: /f /r/x in the new window. (Replace letter e with the correct drive letter)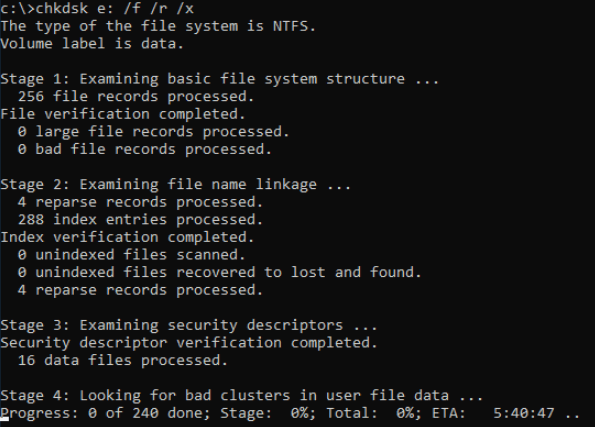 But when typing commands, be careful. Wrong commands can easily cause data loss, so if you don't have a lot of computer experience, EaseUS Partition Master is a better choice.
By the way, there are some other links related to CHKDSD commands. Click them if you want to learn more about it:
Way 7. Run Disk Cleanup
Disk Cleanup scans your storage devices for any unwanted temporary files and deletes them, which will improve hard drive performance. Here are the steps:
Step 1. Click "This PC," right-click the target drive, and choose "Disk Cleanup."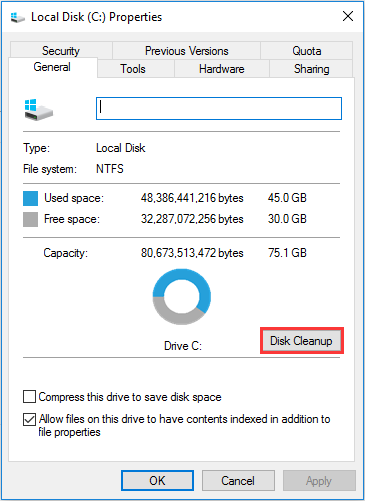 Step 2. It will list a lot of files and file sizes taken. Then choose the files you want to delete. Then, click "OK."
Way 8. Remove Unwanted Application
For programs that you no longer need now, you can uninstall them to free up disk space and speed up your disk. Here is how:
Step 1. Right-click on the Windows Start Menu and click the "Apps and Features" option.
Step 2. Then locate the programs you no longer need and right-click on them. Select "Uninstall."
Step 3. You can repeat this process to remove all unwanted apps.
Conclusion
This article covers eight ways how to speed up a hard drive, and we hope they can help. EaseUS Partition Master is a trustworthy disk partition tool. It can extend the C drive to fix the "low disk space" error and allocate space to the target drive. Besides, it can convert MBR to GPT without any data loss. Don't hesitate to download it to help with your disk partition issue.
Speed Up Hard Drive FAQs
We've learned eight ways to speed up hard drives. This part list three other popular questions related to our topic. Check the answers below if you need them.
1. How do I fix a slow hard drive?
Slow hard drives can be repaired. You can try the following solutions:
Run disk cleanup
Check bad sectors
Partition hard drives
Enable write caching
Run CHKDSD commands
Remove unwanted application and temp files
2. Why are HDDs so slow?
There are several reasons why HDD gets slow, such as:
Virus
Bad sectors
File fragmentation
Too many temp files
3. Why is HDD slower than SSD?
Because SSDs use circuits and have no physical moving parts. This reduces wait times when you start up and reduces delays when opening applications or performing heavy computing tasks.
About the Author

Updated by Sherly
Sherly joined EaseUS in 2022 and she has always loved writing articles and enjoys the fun they bring. She receives professional training here, focusing on product performance and other relative knowledge.
Product Reviews
I love that the changes you make with EaseUS Partition Master Free aren't immediately applied to the disks. It makes it way easier to play out what will happen after you've made all the changes. I also think the overall look and feel of EaseUS Partition Master Free makes whatever you're doing with your computer's partitions easy.

 Read More

Partition Master Free can Resize, Move, Merge, Migrate, and Copy disks or partitions; convert to local, change label, defragment, check and explore partition; and much more. A premium upgrade adds free tech support and the ability to resize dynamic volumes.

 Read More

It won't hot image your drives or align them, but since it's coupled with a partition manager, it allows you do perform many tasks at once, instead of just cloning drives. You can move partitions around, resize them, defragment, and more, along with the other tools you'd expect from a cloning tool.

 Read More