
About the Author
Hot Topics in 2022
Full Guide to Format 4K Sector Hard Drive Partitions in Windows 11/10
Can I Format 4K hard drive?
Yes, you can format your 4K hard drive. Although the task to format a 4K hard drive might seem ambiguous or tidy to you, it is not difficult. Following our tutorial guide, you will learn three methods to format 4K hard drives with ease successfully.
What Is 4K Sector Hard Drive?
4K Sector Hard Drive
On your hard disk, there are multiple sectors. A sector is an allocated space on your hard drive where the data resides. The 4K sector hard drive comes with 4K or 4096 bytes physical sector space. High sector space has the edge over traditional 512 bytes hard drives.
4K Sector Hard Drive vs. 512 Bytes Hard Drive
Error Correcting Code (ECC): A 4K sector hard drive has 100 bytes of ECC. But, the 512 bytes hard drive supports 50 bytes of ECC. You can have more reliability with a 4K sector hard drive with higher ECC space.
Higher Density: 4K hard drive has higher sector space than a 512-byte hard drive. Therefore, the high sector space enhances the storage density of the 4K hard drive.
Sector Gap Sizes: When the hard drive disk storage size is more significant, it has many gaps between the sectors. The traditional 512 bytes sector format did not become efficient for this. However, the 4K sector hard drives decreased the gaps among sectors and made storage more efficient.
What Is The Best Format for 4K HDDs?
There are many options in Windows when dealing with file formats, such as NTFS, FAT32, etc. But the best format for 4K HDDs is NTFS in Windows.
Why NTFS format for 4K Hard Drives
It allows you to deal with huge files quickly.
NTFS uses file permissions and encryption techniques to keep your data safe.
It also uses log files to maintain consistency among your data.
When your disk is low on space, it automatically performs file compression.
These are just some of the advantages of using an NTFS format. Therefore, the experts highly recommend using NTFS for 4K hard drives.
How to Format 4K Sector Hard Drive Partitions?
You can format 4K sector hard drive partitions using three simple methods. The methods include:
Method 1: 4K Hard Drive Formatter
Method 2: Disk Management Approach
Method 3: CMD Commands or PowerShell
Note: It is highly recommended to back up all the files in your 4K hard drive before continuing with the below methods. Doing so can help you save your data from any loss.
Method 1. Use 4K Hard Drive Formatter
EaseUS Partition Master is an easy-to-use software that helps you format your 4K hard drives easily. You can freely create, format, or even do much more with your 4K hard drive using this software.
Once you have the software, follow the steps below to format your 4K hard drives in NTFS format in Windows 11/10/8/7.
Step 1. Right-click the hard drive partition and choose the "Format" option.
Step 2. In the new window, set the Partition label, File system, and Cluster size for the partition, then click "OK".
Step 3. You can see a warning window, click "Yes" to continue.
Step 4. Click the "Execute 1 Task(s)" button, then click "Apply" to start formatting the hard drive partition.
EaseUS Partition Master Advanced Features
Some of its characteristics set it apart from other partition management applications. This software can be downloaded and installed from the official website. Here is a list of advanced features that you may like to manage and optimize performance on your 4Kn hard drives:
4K Hard Drive Cloning: Using this software, you can easily clone and upgrade your 4K hard drives without losing any data.
Windows Migration: You can also migrate your Windows from any hard drive to your 4K hard drive with a simple one-click.
Easy Partition Management: All of your partition management concerns are solved with EaseUS Partition Master. It allows you to easily maintain and extend partitions on your 4K hard disc. In addition, it will enable you to create, format, convert, merge, and split 4K hard disc volumes.
Hard Drive Extensions: Without converting to GPT, you can create or extend a 4K MBR hard drive partition to 3TB, 4TB, 6TB, 8TB, or even more using EaseUS Partition Master.
Method 2. Use Disk Management
Disk management utility in Windows can also help you to format your 4K hard drive. For example, you can format your 4K hard drive in Windows 11/10/8/7 by following the below steps:
Step 1: Open Disk Management utility.
Right-click "This PC" or "My Computer" from your desktop or file explorer. Once done, go through the following Manage > Storage > Disk Management.
Step 2: Expand the Storage section and right-click on the 4K hard drive partition you want to format.
Click on "Format…" in the drop-down menu that appears after right-clicking the 4K hard drive under the Storage section.
Step 3: From the File System, choose NTFS, and tick the Perform a quick format option.
Once done, click on the OK button, and this will format your 4K hard drive partition in the NTFS format.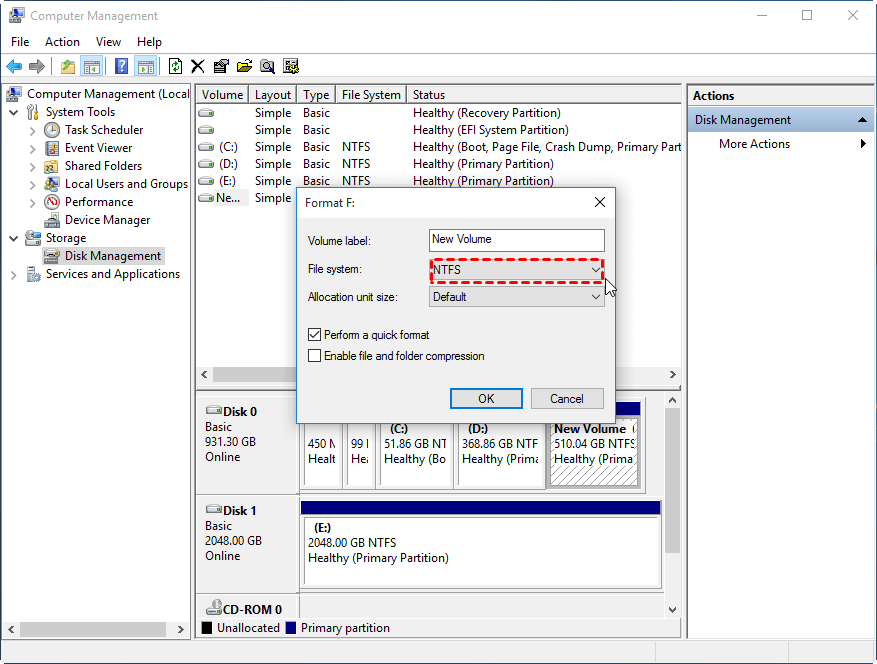 Method 3. Use CMD or PowerShell
If the above two methods seem unsuitable for you, don't worry. You can use the diskpart command on CMD to format your 4K hard drive.
Step 1: Open the CMD from your Windows computer.
Step 2: Type the diskpart in CMD and hit enter.
Step 3: Enter the list disk and hit enter again. It will show you all your hard disks.
Step 4: Enter select disk 0. You can replace the disk number with the 4K disk you wish to format.
Step 5: Enter the list partition and hit enter to see all the partitions of your 4K hard drive.
Step 6: Select the partition you wish to format by entering the select partition 1 command. Replace the number with your desired partition.
Step 7: Enter format fs=ntfs quick, and it will format your 4K hard drive partition to the NTFS file system.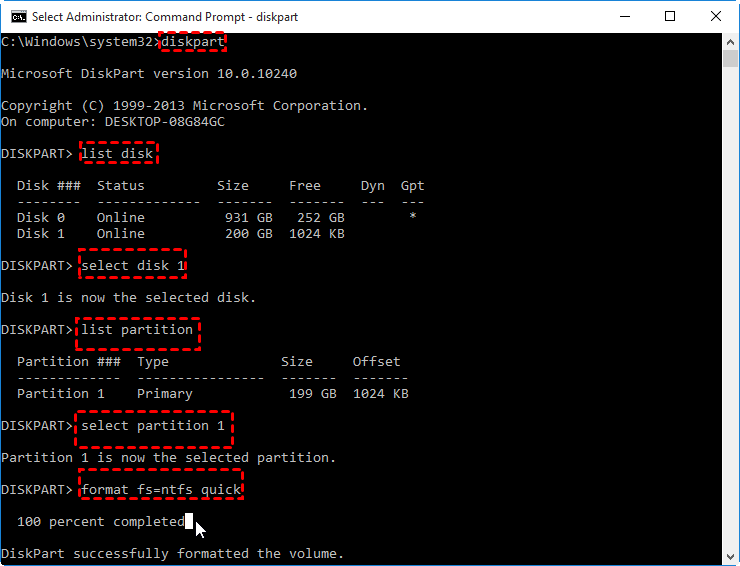 Formatting 4K Hard Drive is Easy with the Proper Method
The three methods shown on this page to format 4Kn hard drives in NTFS format can help you quickly do this task. However, not all the methods can be easy for you. You may feel confused about which way suits you, but don't worry about the simple choice.
The easiest method is by using a disk formatting tool to format and set the correct file system format for your 4K sector hard drive. Luckily EaseUS Partition Master is here that makes the whole procedure of formatting your 4K hard drive easy and smooth and under a few clicks.
The other methods might be brutal to apply and may require some expertise at your end. However, contrary to them, EaseUS Partition Master is simple, and you can perform it efficiently by following the basic steps.
FAQs About Formatting 4Kn Hard Drive Partition
4K hard drive is now widely used on many new computers and if you have further questions on formatting the 4K hard drives or need to know more further information about it, follow and find answers here.
1. What is 4K sector?
4K sector is also known as the 4KB sectors, which is an advanced technology to set 8 sectors with 521-bye as one single sector (4096 bytes) in length. The 4K sector allows the operating system to store surface media and data more efficiently on the hard drive or storage devices with a faster reading and writing speed.
2. How do I format my 4K hard drive?
Launch EaseUS Partition Master, right-click on the 4K hard drive partition and select 'Format'.
Set a new file system to the 4K hard drive, and click 'OK'.
Execute the task.
3. How do I know if my hard drive is 4K?
Open CMD and, type diskpart, hit Enter.
Type list disk in Diskpart and hit Enter.
Type select disk 0 and hit Enter. (Replace 0 with the disk number that you want to check if it's 4K or not.)
Then, you can check the Offset section and find if the drive is 4K or not.
About the Author
Updated by Tracy King 
Tracy joined in EaseUS in 2013 and has been working with EaseUS content team for over 9 years. Being enthusiastic in computing and technology, she writes tech how-to articles and share technical solutions about Windows & Mac data recovery, file/system backup and recovery, partition management, data transfer, Windows update issues, etc.
Daisy is the Senior editor of the writing team for EaseUS. She has been working in EaseUS for over ten years, starting from a technical writer to a team leader of the content group. As a professional author for over 10 years, she writes a lot to help people overcome their tech troubles.
Product Reviews
I love that the changes you make with EaseUS Partition Master Free aren't immediately applied to the disks. It makes it way easier to play out what will happen after you've made all the changes. I also think the overall look and feel of EaseUS Partition Master Free makes whatever you're doing with your computer's partitions easy.

 Read More

Partition Master Free can Resize, Move, Merge, Migrate, and Copy disks or partitions; convert to local, change label, defragment, check and explore partition; and much more. A premium upgrade adds free tech support and the ability to resize dynamic volumes.

 Read More

It won't hot image your drives or align them, but since it's coupled with a partition manager, it allows you do perform many tasks at once, instead of just cloning drives. You can move partitions around, resize them, defragment, and more, along with the other tools you'd expect from a cloning tool.

 Read More