Fixed: Hard Drive Missing After Windows 10 Update (Without Data Loss)
Issue: Hard Drive Missing After Windows 10 Update
"A friend of mine installed the latest Windows 10 update yesterday. Now, he encounters hard drive missing problem. The hard drive doesn't show up anywhere. What should he do to find the missing drive in Windows 10 without formatting or doing something that will lose the data on it, as he has a lot of important files on that drive."
Why Hard Drive Disappeared Windows 10 
If you've recently upgraded to a new version of Windows 10, and you couldn't find a certain hard drive in File Explorer or This PC, you're not alone. Windows 10 hard drive missing is a completely unexpected problem; it usually occurs after a Windows update. 
In addition to Windows upgrade, many users will encounter hard drive missing in their normal use of Windows 10, and it may manifest as:
Hard drive keeps disappearing in Windows 10
C drive missing or D drive missing
Only c drive is showing in Windows 10 
Reasons for hard drive missing after Windows 10 update
There are some possible causes for Windows 10 hard drive missing as listed below.
There is a problem with the USB interface for the hard drive.
The disk driver is out of date or has a problem.
The drive letter of the partition gets lost during Windows updating.
The file system gets corrupted, and the partition turns RAW.
These are the most common factors for missing drive issue. We will provide specific solutions one by one in the following sections. You can try them all to help you out.
Effective Fixes for Hard Drive Missing After Windows 10 Update Without Data Loss
Use the following methods to find the missing drive in Windows 10.
Fix 1. Check the Hard Drive Connection
The connection between the hard drive and the computer is a possibility that causes the hard drive to disappear. Or when you connect a USB drive to your computer when you are performing Windows 10 update, the USB drive may disappear after you finishing updating.
In this case, you can disconnect the hard drive or USB drive and connect it to another computer with another cable or another USB port.
For more solutions to USB flash drive not showing up in Windows 10/8/7, read the post to get help.
Fix 2. Update or Reinstall Disk Driver
Each Windows 10 upgrade comes with some hardware compatibility issues. If the device driver is incompatible with your current Windows version, it is very likely to cause hard drive missing problem. To fix the problem, you need to update your disk driver to the latest version or reinstall it in Device Manager.
Update Disk Driver
Step 1. Right-click This PC > click "Manage". On the left side, click "Device Manager".
Step 2. Double-click to expand Disk driver. Right-click your disk driver and choose "Update Driver Software".
Step 3. In the pop-up window, choose "Search automatically for updated driver software". Then, wait for the computer to search and install the latest driver software.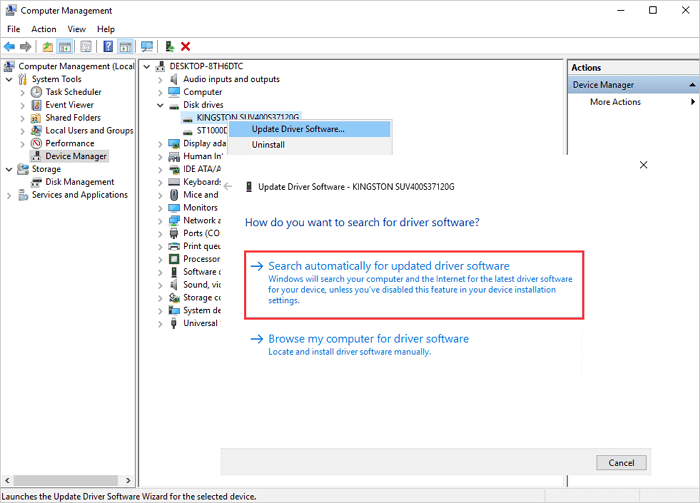 Re-install Disk Driver
If updating the diver doesn't work, you can still try to reinstall the driver to solve the missing drive issue.
Step 1. Right-click the disk driver, click "Uninstall". Click "OK". Restart your PC, and Windows will attempt to reinstall the driver.
Step 2. Or you can go to the company's website and find the latest updates you need to download and install on your computer.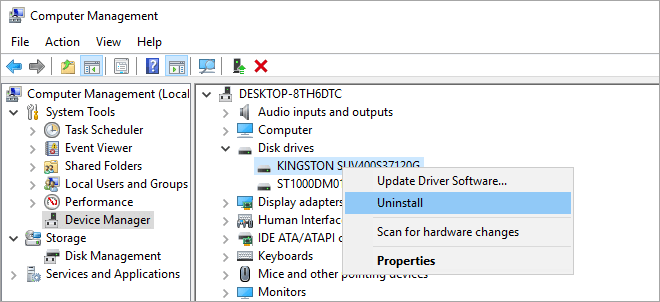 Fix 3. Re-assign the Drive Letter
If your hard drive disappeared in File Explorer, but you can find it in the Disk Management, shown as unallocated space and hidden, the reason may be that the disk drive letter is missing. In this case, you can solve the problem by resetting the drive letter.
Step 1. Right-click This PC, choose "Manage", then select "Disk Management".
Step 2. Now you should see the list of hard drives that are connected to your PC/laptop. Pick out the one that is not being detected by the system. It should be indicated as the unallocated partition.
Step 3. Right-click on it and select "Change drive letter and paths".
Step 4. Click on "Add" to open the "Add Drive Letter or Path" window. Choose "Assign the following drive letter" and click the letter to name your drive. Reboot your PC and navigate to This PC to check the hard drive missing issue is resolved or not.
Fix 4. Run Hardware and Device Troubleshooter
Another potential fix for hard drive missing in Windows 10 is using the built-in hardware and device troubleshooter. This tool can help you fix the Windows 10 missing hard drive effortlessly.
Step 1. Open Control Panel. Find "Troubleshooting".
Step 2. Click "View all" on the left pane. Click "Hardware and Devices" and run the troubleshooter. Follow the on-screen instructions to fix the problem.
Fix 5. Format the Hard Drive
If none of the above approaches is useful, the final way you can try is to format the hard drive for reuse. However, as we know, a hard drive format will delete all the data on the device. To avoid data loss, you need to restore the data on your hard drive in advance before formatting.
But how can you recover data from a hard drive that is not showing up in the File Explorer? Don't fret. You can use EaseUS Data Recovery Wizard to do it easily. This competent data recovery utility is good at deleted files recovery, formatted recovery, RAW recovery, virus attack recovery, OS crash recovery, and more.
1. Recover Data from Missing Hard Drive Windows 10
Although EaseUS data recovery software allows you to recover data after the hard drive format, it is strongly recommended that you recover data before formatting to ensure complete data recovery. Follow the steps below to recover data from RAW partition.
Step 1. Select and scan the RAW partition.
Launch EaseUS Data Recovery Wizard, select the RAW partition where you lost your data and click "Scan".
If the RAW partition contains a partition label, you can directly select it to scan for the lost files. 
If the RAW partition lost its label, it will be recognized as "Lost Partition" in the program and you need to select the "Lost Partition" to find the lost data.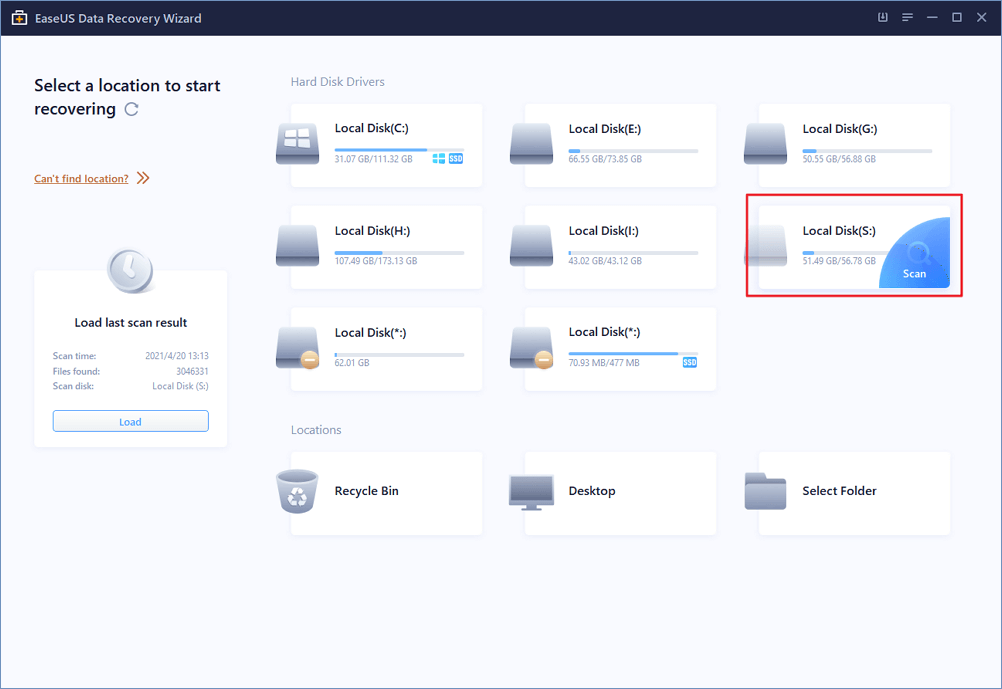 Step 2. Preview found data from the scan result.
When the scanning completes, check and double-click to preview found files from "Lost Files".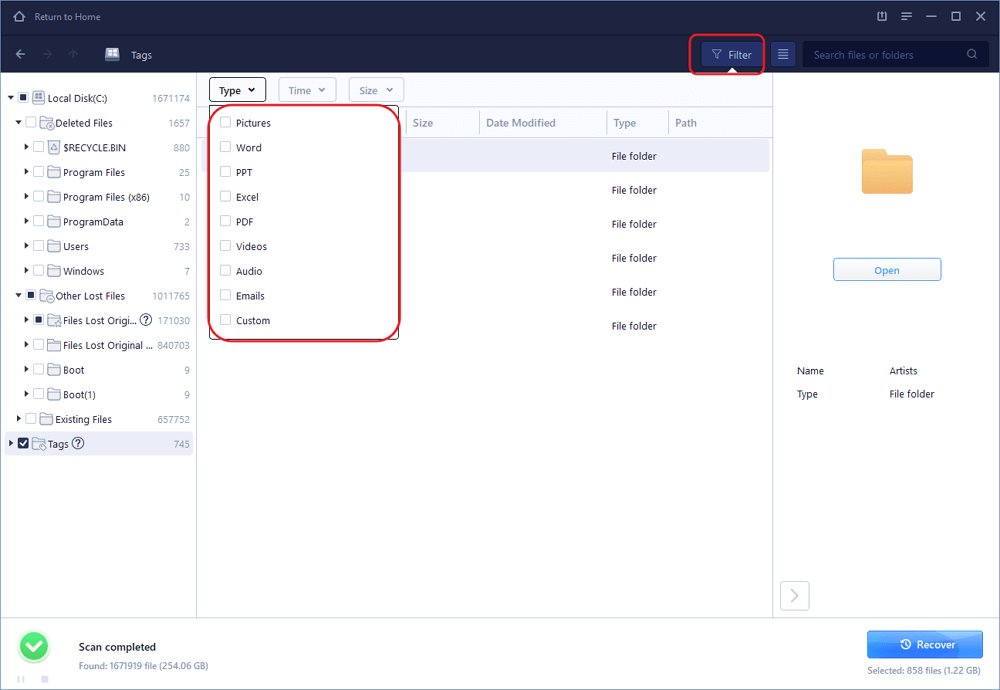 Step 3. Recover found data from RAW partition.
Select all found files and click "Recover" to get all the data back. Save the found data to another secure location.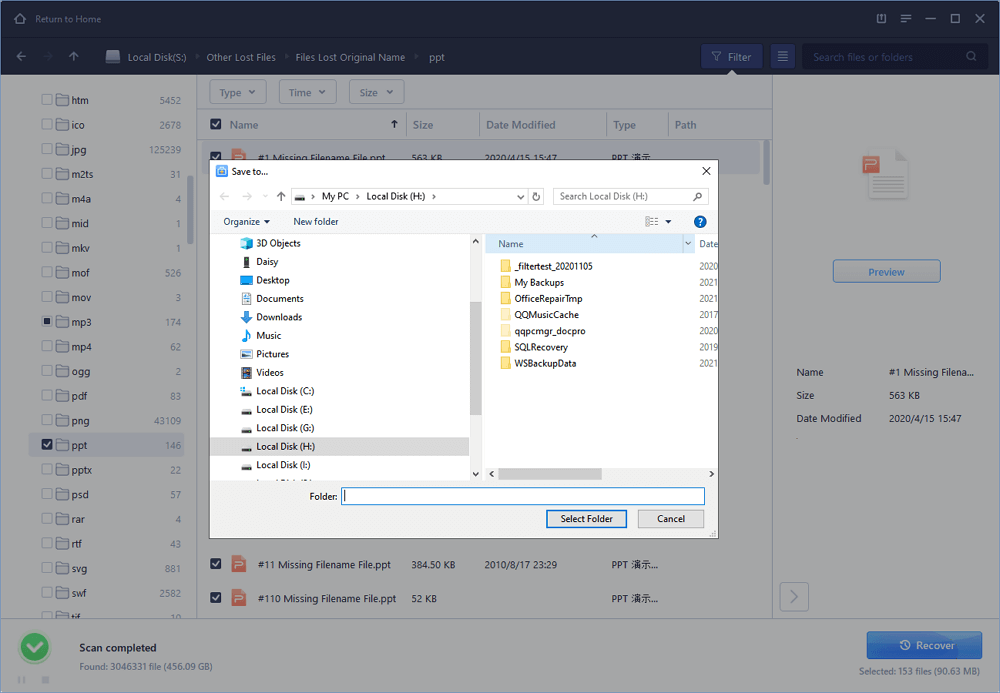 2. Format Missing Hard Drive Effortlessly
Now that you have restored all the data on the missing hard drive, you can safely format the drive to resolve the hard drive missing problem after Windows 10 update.
Format hard drive with a free partition management software
EaseUS Partition Master Free helps you to create, resize, clone, move, merge, and format partitions in the most intuitive way. This smart partition management tool provides you with all-in-one solutions to organize disk or partitions to improve computer performance. You can use it for disk/partition conversions, including converting a logical partition to primary or primary partition to logical, FAT32 to NTFS partition, MBR disk to GPT, or GPT disk to MBR.
Step 1. Right-click the hard drive partition and choose the "Format" option.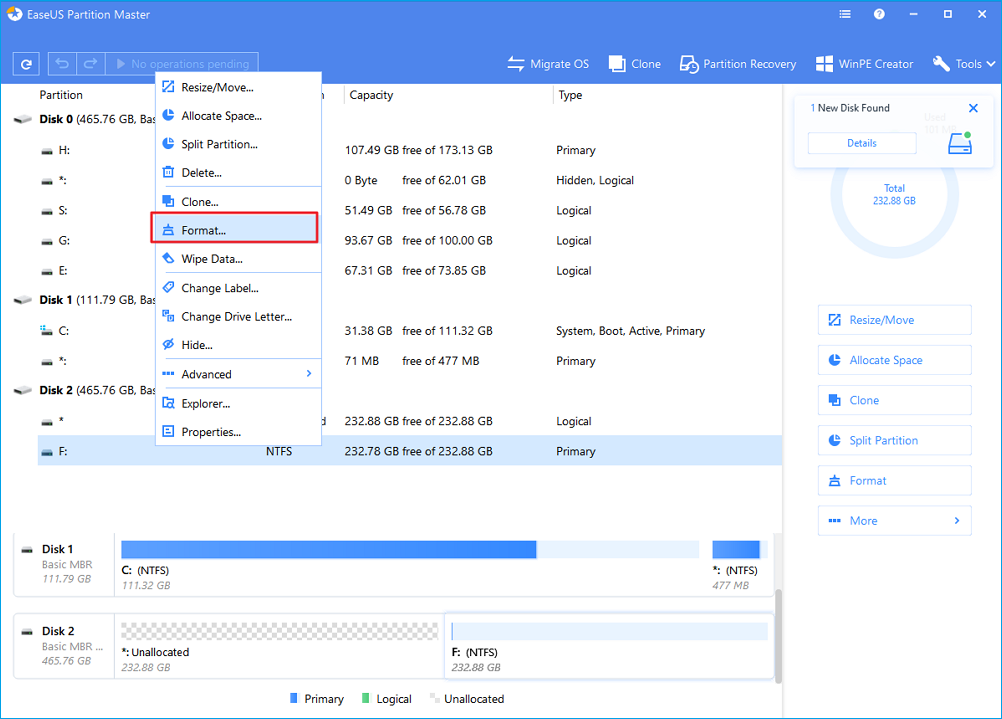 Step 2. In the new window, set the Partition label, File system, and Cluster size for the partition, then click "OK".
Step 3. You can see a warning window, click "OK" to continue.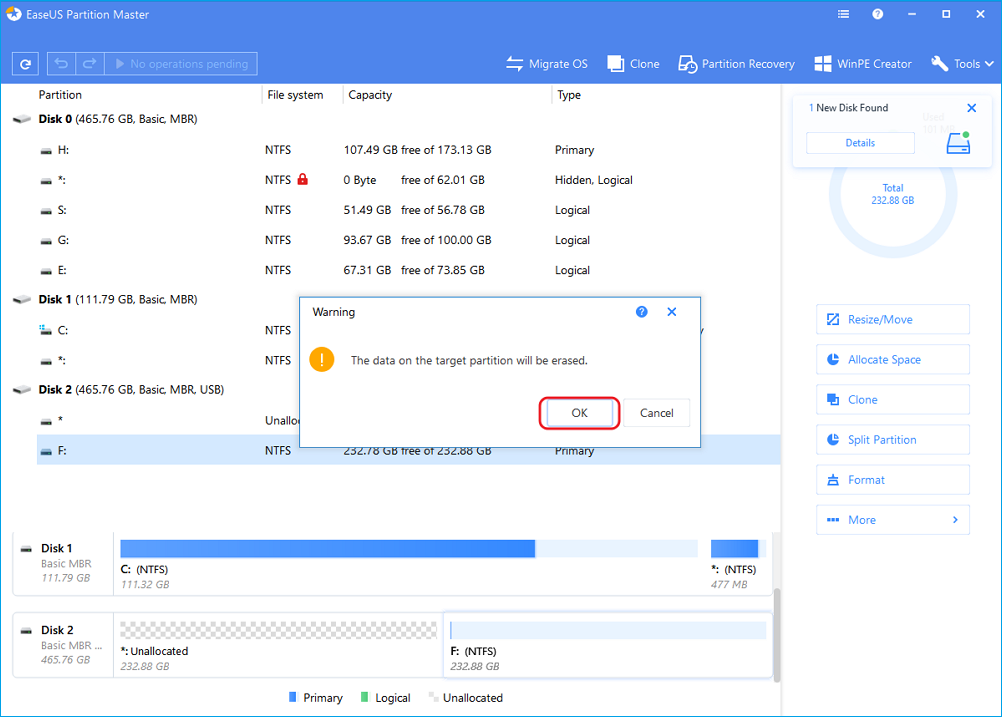 Step 4. Click the "Execute Operation" button in the top-left corner, then click "Apply" to start formatting the hard drive partition.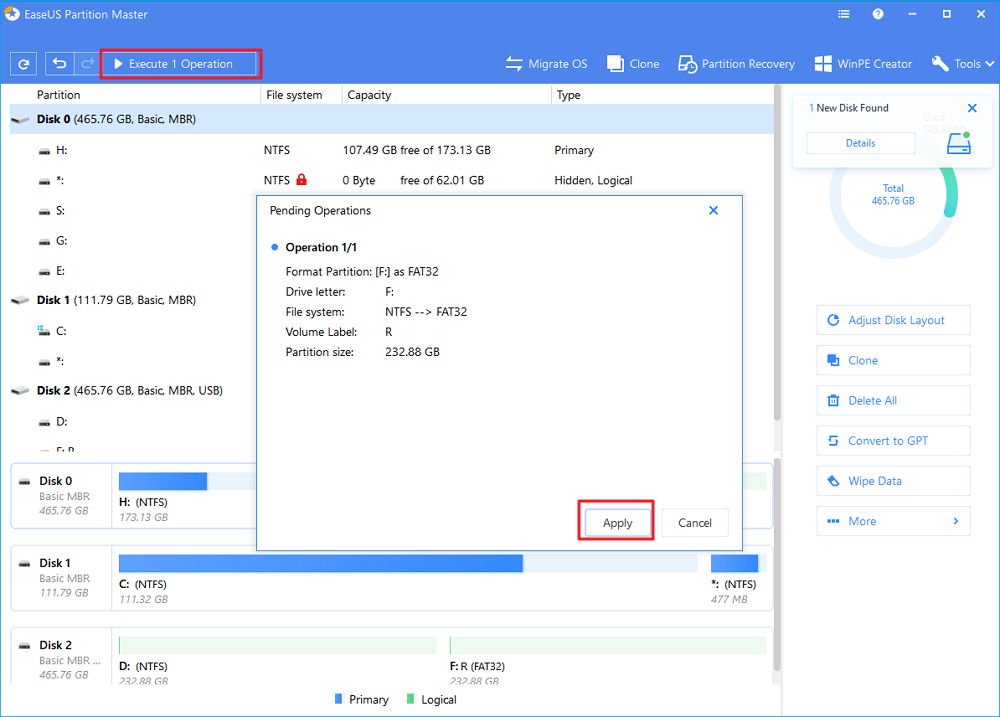 Format hard drive with Disk Management
Step 1. Right-click This PC > click "Manage". On the left side, click "Disk Management".
Step 2. Right-click on the target drive or partition and click on "Format".
Step 3. Select the file system and set the cluster size.
Step 4. Click "OK" to format the drive.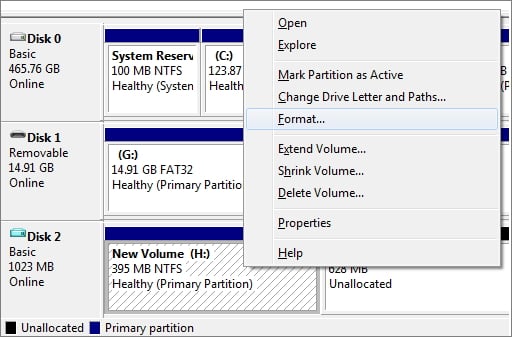 To Sum Up
Hard drive missing after Windows 10 update or hard drive disappeared in Windows 10, 8, or 7 happens from time to time. How to find missing D drive or C drive without any data loss? This post covers the five most practical solutions to this trouble.   
If you plan to format your hard drive anyway, remember to use the professional data recovery program to restore data first before performing the formatting. And then, use EaseUS free partition manager software to help you format the missing hard drive with ease.
FAQs About Missing Drive Windows 10
Here are a few questions related to hard drive missing after Windows 10 update. If you also have any of these problems, you can find solutions here.
How do I find a missing drive on my computer?
Fix 1.Connect hard drive to another USB port or change another USB cable
Fix 2.Update or reinstall disk driver
Fix 3.Re-assign the drive letter 
Fix 4.Run hardware and devices troubleshooter 
Fix 5.Format the hard drive
How do I find my lost hard drive in Windows 10?
You can find the lost hard drive in Windows 10 by resetting the drive letter in Disk Management.
Step 1. Right-click This PC > click "Manage". On the left side, click to open "Disk Management".
Step 2. Right-click the missing drive and choose Change Drive Letter and Paths from the menu.
Step 3. In the pop-up window, click the "Add" button. Check "Assign the following drive letter" and choose a letter from the drop-down menu. Then, click the "OK" button to save the change.
How do I see all drives in Windows 10?
For Windows 10, 8, and 7 users, you can view all drives available in File Explorer. Press Win+E to open File Explorer. In the left pane, select This PC, and all drives are shown on the right.
Why did my hard drive disappear?
There are some possible reasons for Windows 10 hard drive missing. They can be:
The USB cable or USB port can stop working.
The disk driver needs to be upgraded.
The drive letter of the partition is missing.
The File system of the hard drive is corrupted.
The disk partition became RAW

Brithny is a technology enthusiast, aiming to make readers' tech life easy and enjoyable. She loves exploring new technologies and writing technical how-to tips. On her spare time, she loves sharing things about her favorite singer - Taylor Swift on her Facebook or Twitter.
I love that the changes you make with EaseUS Partition Master Free aren't immediately applied to the disks. It makes it way easier to play out what will happen after you've made all the changes. I also think the overall look and feel of EaseUS Partition Master Free makes whatever you're doing with your computer's partitions easy.

 Read More

Partition Master Free can Resize, Move, Merge, Migrate, and Copy disks or partitions; convert to local, change label, defragment, check and explore partition; and much more. A premium upgrade adds free tech support and the ability to resize dynamic volumes.

 Read More

It won't hot image your drives or align them, but since it's coupled with a partition manager, it allows you do perform many tasks at once, instead of just cloning drives. You can move partitions around, resize them, defragment, and more, along with the other tools you'd expect from a cloning tool.

 Read More
About EaseUS Partition Master
All-round disk & partition management software for personal and commercial use. Let it manage your storage drive: resize, format, delete, clone, convert, etc.
Video Tutorial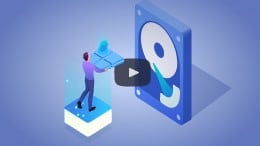 How to Partititon a Hard Drive on Windows 10/8/7
Was This Page Helpful
How Can We Help You
Find answers to common questions below.