Can't See My Hard Drives After Windows 10 Update
"A friend of mine installed Windows 10 yesterday. Now one of his hard drives doesn't show up. What should he do to get the drive to show up without having to format it or doing something that will lose the data on it as he has a lot of important files on that drive before installing Windows 10 on his primary HDD."
If you've recently upgraded to Windows 10, and you couldn't find the hard drive option on This PC (Windows 10 OS) window, you're not alone. Some of you might not even see your hard drives in Device Manager. No need to worry too much about it, it's possible to fix.
How to Fix "Partition Disappears in Windows 10 Anniversary Update" Issue?
Here are two methods for you to try. You may not have to try them all; just work your way down until you find the one works for you.
Method 1. Reset Drive Letter to Re-enable the Missing HDD
After upgrading Windows 10 you may find that either a primary or the secondary hard disk is not being detected. Luckily, it doesn't mean that the missing drive on the Windows 10 has been lost permanently along with the data stored on it. To put it simply, it is hidden and needs to be re-enabled.
Right-Click Windows key at the bottom left corner and select Disk Management.
Now you should see the list of hard drives that are connected to your PC/laptop. Pick out the one that is not being detected by the system. It should be indicated as the Unallocated partition.
Right-click on it and select Change drive letter and paths.
Click on Add to open Add Drive Letter or Path window.
Choose Assign the following drive letter and click the letter that to name your drive.
Finally, click OK and close all windows.
Reboot your PC and navigate to This PC. Check if the drive has been added to the list.
If you think manually fixing this take too much time, you could refer to get partition letter back with a tool.
Although assigning a drive letter can help us to access the lost partition in File Explorer, this method cannot solve the problem "partition disappeared after installing the Anniversary Update" perfectly. If we restart our computer, we will find the drive is missing in File Explorer again, and we have to repeat the process again to access it. To solve this, we need to restore lost partition after Windows 10 Update.
Method 2. Restore Lost Partition After Windows 10 Update
No matter how you get your hard drive lost, please don't worry! EaseUS Partition Recovery Wizard, a powerful partition recovery software built in EaseUS's free partition software, can do you a favor to restore lost or deleted partitions with simple clicks.
Step 1. Run EaseUS Partition Master, click "Wizard">"Partition recovery wizard", click "Next", choose Automatic recovery mode or Manual recovery mode, and click "Next" to continue.
Note: Unlike automatic recovery mode, in manual recovery mode, you do not have to wait until the whole search is finished. It allows you to perform an immediate partition recovery once a located volume or multiple volumes are added to the recoverable list.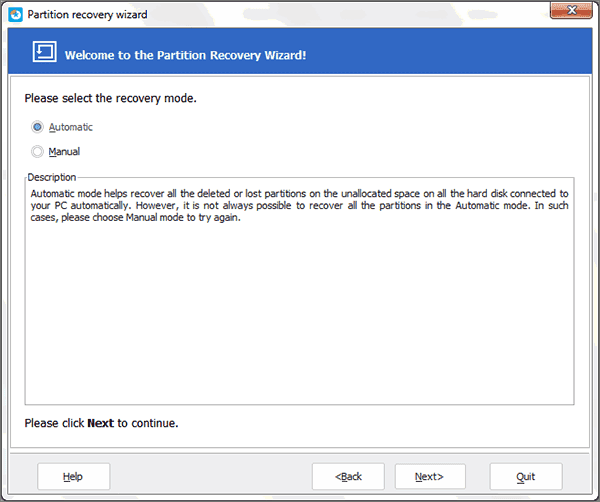 Step 2. Partition Recovery Wizard will search deleted or lost partitions on the unallocated space of all hard disks. After searching, all the recoverable partitions will be listed, select the partitions which you want to recover and click "Next" to continue (You can double-click the partition to explore the content to see whether it is the one you want to recover).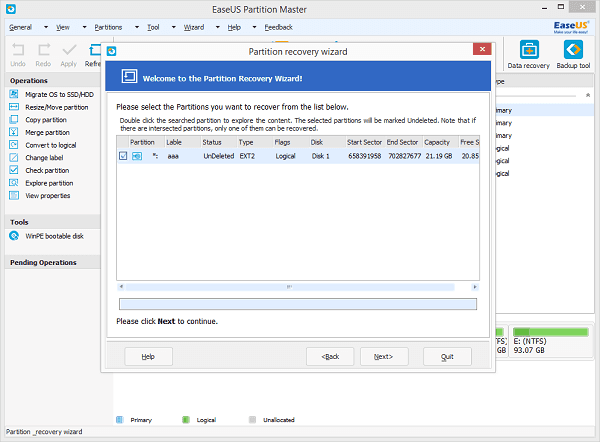 If Partition Recovery Wizard failed to find deleted or lost partitions, you can choose "Complete search mode" to try again or check "Finish searching" option to exit.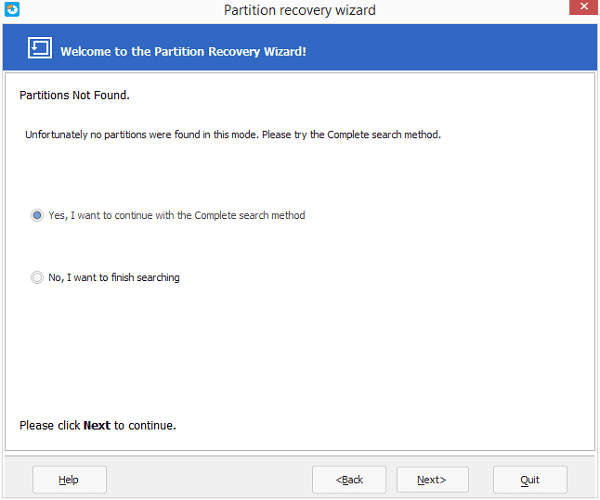 Step 3. Here you can see the selected partition is marked with a green dot on the disk map. Just click "Proceed" and then you can get the lost or deleted partition back in one click.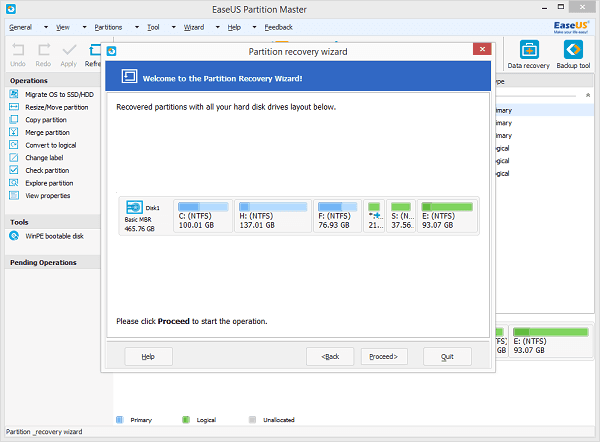 If Complete search mode also cannot find your lost partition, please try EaseUS free data recovery software to recover your files from the lost partition.