
About the Author
Hot Topics in 2022
NTFS or exFAT for External Hard Drive: Which Format is Better for External Hard Drive
"ExFAT or NTFS? I'm curious about this, and i can't seem to find a straight-forward answer: Which is better, ExFAT or NTFS? I understand that ExFAT is relatively new. I believe it is geared more towards external devices like flash drive and USB hard drive? What are the advantages and disadvantages for using ExFAT format on such a device?"
Run out of disk space again? Due to the limited space on the internal hard drives, many users choose to store large files on external hard drives or transfer important data via external devices. But there's more to it than just buying an external drive to store data. If you have checked the post-purchase items, you can see some formats like exFAT, NTFS, and more. Disk format is an organizing principle we use to store data for specific operating systems.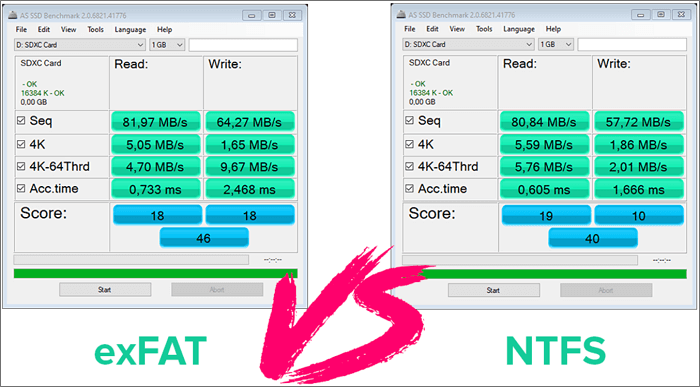 Which format is better? Depending on your needs, you will need to format the external hard drive into NTFS or exFAT. Check for more details in the main part.
Quick Navigation:
NTFS for Windows Only
exFAT for Windows and Mac
NTFS or exFAT for External Hard Drive
How to Format External Hard Drive to NTFS or exFAT
NTFS for Windows Only
NTFS (New Technology File System) is the default file system of the Windows NT environment. The new technology file system is compatible with Windows 2000, Windows XPM, Windows Vista, Windows 7 and Windows 8.1, and Windows NT operating systems. Praised by its improvements, NTFS replaces the old FAT file system. NTFS supports metadata, advanced data structures, reliability, disk space utilization. And more additional functions like encrypting file system, hard links, sparse files, and reparse points.
If you only use a Windows computer, it is recommended to use NTFS format. In general, a Mac computer can only read NTFS. Some devices, such as Xbox One, Xbox 360, and other media players and printers.
exFAT for Windows and Mac
exFAT (Extended File Allocation Table File System) is a file suitable for flash memory introduced by Microsoft in Windows Embedded 5.0 and above (including Windows CE 5.0, 6.0, Windows Mobile 5, 6, 6.1)
The system was launched in order to solve the problem that FAT32 and other files do not support 4GB and larger files. For flash drives, memory cards, and flash drives, the NTFS file system is not suitable for use, exFAT is better.
If you are using Windows and Mac computers, exFAT is a good choice. It also works with Xbox One and PS4 but for Xbox 360 and PS3. The downside of exFAT exists on the journal function.
Read also:
NTFS or exFAT for External Hard Drive
After clearing the basic information of NTFS and exFAT, let's see which format is better for the external hard drive.
Compatibility
As we said above, NTFS is only used for Windows users. If you only want to use an external hard drive on Windows, regardless of other devices, choose this format. If you have purchased a hard drive that is set to NTFS by default, you do not need to reformat it. On the contrary, exFAT is applied to Windows, macOS, Android, smart-TVs, cameras, and other devices. Pick one based on your existing OS.
Data Security
As we mentioned above, the only drawback to exFAT is the lack of logging, which means data corruption is more likely to occur, such as file loss due to a sudden power outage. While the NTFS has a logging function, which prevents file corruption due to power problems.
NTFS can encrypt files by default while exFAT needs to encrypt them manually.
Storage Limit
In theory, the exFAT format supports unlimited storage and supports storing large files, but it is not as good at managing files as NTFS. Because NTFS is mainly used for Windows, so it should apply to a storage limit - 16TB.
How to Format External Hard Drive to NTFS or exFAT
Have you decided which format to choose? If so, you can pick the two methods here to finish up the format converter.
How to Format HDD Drive to exFAT
You can also open Disk Management to format an external hard drive as NTFS. Follow steps as follows:
Press Windows + X shortcut key and click Disk Management.
Right-click the external hard drive that you want to format.
Select exFAT on the window and click OK.

How to External Hard Drive to NTFS
Now you can download a straightforward format tool, EaseUS Partition Master Free. You can format the partition to NTFS/FAT32/EXT2/EXT3/EXT4. It is an all-in-one format solution for internal/external hard drives, SD cards, memory, and more.
Download software and do the simple steps:
Step 1. Right-click the hard drive partition and choose the "Format" option.
Step 2. In the new window, set the Partition label, File system, and Cluster size for the partition, then click "OK".
Step 3. You can see a warning window, click "Yes" to continue.
Step 4. Click the "Execute 1 Task(s)" button, then click "Apply" to start formatting the hard drive partition.
To Sum Up
In this article, we've figured out which format to choose for external hard disk, exFAT or NTFS. 
Applied to multiple operating systems - Choose exFAT.
Protect data from unexpected corruption - Choose NTFS (Journal function serves as a checkpoint to get unsaved data back.)
Storage capacity - Choose exFAT (But NTFS also performs well.)
About the Author

Roxanne is one of the main contributors to EaseUS and has created multiple posts on digital devices like PCs, Mobile phones, tablets, Mac, etc. She loves to share ideas with people of the same interest.
Product Reviews
I love that the changes you make with EaseUS Partition Master Free aren't immediately applied to the disks. It makes it way easier to play out what will happen after you've made all the changes. I also think the overall look and feel of EaseUS Partition Master Free makes whatever you're doing with your computer's partitions easy.

 Read More

Partition Master Free can Resize, Move, Merge, Migrate, and Copy disks or partitions; convert to local, change label, defragment, check and explore partition; and much more. A premium upgrade adds free tech support and the ability to resize dynamic volumes.

 Read More

It won't hot image your drives or align them, but since it's coupled with a partition manager, it allows you do perform many tasks at once, instead of just cloning drives. You can move partitions around, resize them, defragment, and more, along with the other tools you'd expect from a cloning tool.

 Read More