
About the Author
Hot Topics in 2022
How to Fix USB Drive Incorrect Size Problem
USB flash drives, previously known as pen drives, are generally the most commonly adopted portable storage. Nearly every one of us carries one along in our pockets or bags. The tiny but capacious flash drive helps us save documents, photos, movies, and any file for secure and smooth transfer across digital devices. But recently, many users find their flash drive showing the wrong capacity, of which the size is becoming either more or less than actual. This is a strange USB drive size issue that they never met before. How to fix the USB drive size seems to develop into a heated discussion on forums like Tom's Hardware and Reddit.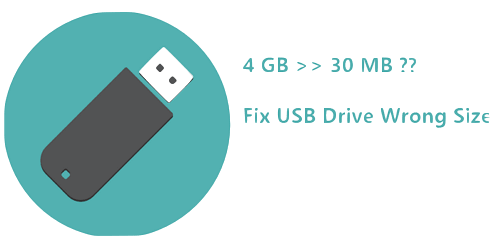 Why Flash Drive Showing Wrong Capacity
As investigated, people's USB flash drive of whatever brand or whatever capacity experiences a frequent loss of capacity like this: instead of seeing an actual 8GB, 16GB, 32GB or 64GB, you'll see something like several hundred MBs available on it. In simple words, your flash drive size is largely reduced, the free space has gone nowhere. Can you restore the original size back? Is the lost space recoverable? Don't panic, when your USB drive size is showing incorrect, your drive still has the initial amount of memory space until you come up with an idea to restore USB stick to full capacity.
First of all, you must figure out when and why you'll see an incorrect USB drive size. The behind reasons vary from case to case, but the typical ones are as follows:
Your computer was infected with a virus
There are one more partitions on the flash drive but Windows will only recognize the first one
You formatted 64GB USB flash drive to FAT32 but the FAT32 file system's max size is 32GB.
Your flash drive was created to be a bootable disk with a portable Windows operating system on it.
Unnoticeable space occupies the disk space, such as substantial unallocated space, a hidden recovery partition, invisible shadow files, etc.
Next, what is the best way to fix the USB drive incorrect size problem? Regardless of what leads to the consequence, you got two universally applied ways to restore the flash drive to its original state: [1] Reformatting your USB flash drive; [2] Formatting and recreating USB drive partitions.
How to Fix USB Drive Incorrect Size Problem
Carefully follow the coming two solutions and learn how to fix USB drive incorrect size problem by reformatting via third-party USB formatting tool and Diskpart command. Try reformatting, you can reset incorrect USB drive size and restore the wrong capacity to actual capacity with ease.
#1. Format USB Drive Wrong Capacity Issue with EaseUS Partition Master
Windows provides users with Explorer format and Disk Management format ability to format both the internal hard drive and the removable drive. However, the native tools are too elementary to be able to fix a USB drive size problem. If you've tried Windows formatting once, you should probably fail due to the error messages like "Windows was unable to complete the format" or "The format did not complete successfully".
In this case, you have to turn to an in-depth third-party USB formatting tool promptly. EaseUS Partition Master, the reputable partition magic software, is your second-to-none choice. It's easy-to-use but powerful enough to correct the wrong USB drive size in three simple steps.
To fix USB drive incorrect size problem, follow these steps:
Step 1. Select the USB drive to format.
Connect the USB drive or pen drive to your computer. Download and launch EaseUS partition software. Right-click the USB drive you intend to format and choose "Format".
Step 2. Set the drive letter and file system on USB.
Assign a new partition label, file system (NTFS/FAT32/EXT2/EXT3/EXT4/exFAT), and cluster size to the selected partition, then click "OK".
Step 3. Check "Yes" to confirm formatting USB.
Click "Yes" if you see the Warning window. If you have important data on it, back up the data in advance.
Step 4. Apply the changes.
Click the "Execute 1 Task(s)" button first, and then click "Apply" to format the USB drive.
#2. Fix the Incorrect Size USB Drive Using DiskPart Command
When your flash drive has many partitions on it, you need to remove all partitions, format the drive and then recreate partitions on it. EaseUS Partition Master can delete all partitions and create new partitions, but here we plan to introduce the Command Prompt, which is also an essential tool for Windows users to troubleshoot most computer problems, including your flash drive showing incorrect size.
To fix USB drive incorrect size problem using CMD, follow these steps:
Step 1. In Windows 10/8/7, search command prompt and run as administrator.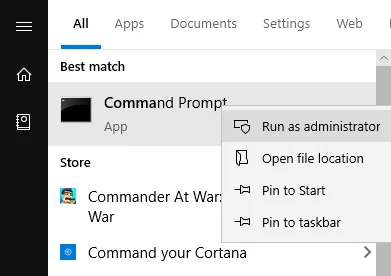 Step 2. On the Command Prompt window, type diskpart and hit Enter.
Step 3. Continue typing list disk and then select disk N followed by the Enter. Here N represents the disk number of your flash drive. If your flash drive is disk 2, then type select disk 2.
Step 4. Now type the following commands one by one and hit Enter after each:
clean
create partition primary
format fs=ntfs (To format the flash drive to FAT32, type format fs=fat32 quick instead)
assign
​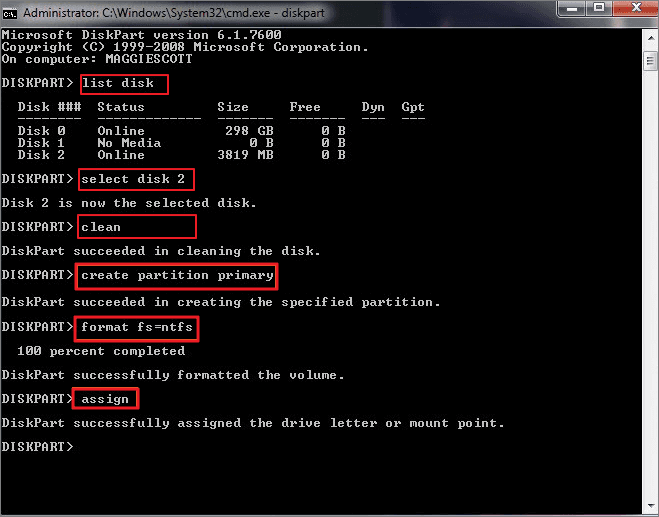 Step 5. Type exit to close the command prompt.
To Sum up
Regarding the topic "how to fix USB drive size" and "how to fix flash drive showing wrong capacity", we composed the tutorial article from possible causes to solutions. EaseUS Partition Master is a third-party partition manager featured with a ton of disk & partition management plans, while the CMD is an advanced Windows program that solves many complex computer problems. The former method is relatively simple-to-use, so it is friendly to both average computer users as well as experienced consumers. Whereas, the command is particularly for professionals who have a good command of computer skills.
According to your own preference, you can try either of the tools to restore your flash drive to its original state, without capacity loss any more.
About the Author
Daisy is the Senior editor of the writing team for EaseUS. She has been working in EaseUS for over ten years, starting from a technical writer to a team leader of the content group. As a professional author for over 10 years, she writes a lot to help people overcome their tech troubles.

Brithny is a technology enthusiast, aiming to make readers' tech life easy and enjoyable. She loves exploring new technologies and writing technical how-to tips. On her spare time, she loves sharing things about her favorite singer - Taylor Swift on her Facebook or Twitter.
Product Reviews
I love that the changes you make with EaseUS Partition Master Free aren't immediately applied to the disks. It makes it way easier to play out what will happen after you've made all the changes. I also think the overall look and feel of EaseUS Partition Master Free makes whatever you're doing with your computer's partitions easy.

 Read More

Partition Master Free can Resize, Move, Merge, Migrate, and Copy disks or partitions; convert to local, change label, defragment, check and explore partition; and much more. A premium upgrade adds free tech support and the ability to resize dynamic volumes.

 Read More

It won't hot image your drives or align them, but since it's coupled with a partition manager, it allows you do perform many tasks at once, instead of just cloning drives. You can move partitions around, resize them, defragment, and more, along with the other tools you'd expect from a cloning tool.

 Read More