How to Clone Hard Drive to Samsung SSD | Get Your Answer
Want to clone hard drive to Samsung SSD? Many users try to clone source disk to target disk by the following culprit:
Improve Drive Performance - upgrade HDD to popular SSD.
Get more storage space - Upgrade smaller SSD to larger SSD.
Old hard drive failure - replace the failing hard drive.
If you have the same needs in disk cloning, fortunately, we already found 2 solutions for you - using EaseUS Partition Master and Samsung Magician. Pick one of the methods based on your situation.
Preparations before Samsung SSD Cloning
Before executing the cloning process, there are some preparations. Check it first.
1. Clone data on the target Samsung SSD.
Clone the source disk to the target disk will erase all data and you can not get it back. So if you keep some important files on the target hard drive, please back it up first by using backup software or manually migrate data to another safe place.
2. Prepare a larger Samsung SSD for data cloning.
To ensure your cloning process goes correctly, we recommend you buy a Samsung SSD larger than or equal to the source hard drive. If you bought a smaller target SSD, you may need to move some larger files from the old hard disk to another place. Sounds inconvenient. So it's better to prepare a larger SSD.
3. Connect Samsung SSD to the Computer and Initialize it.
If your SSD is a new drive, then you need to initialize the hard disk to access it - Connect the SSD to the computer by USB port and open Disk Management > Right-click the hard disk you want to initialize and click "Initialize Disk".
Are you ready to clone the hard drive to your Samsung hard disk? Select one of the following three ways.
1 - Using EaseUS Partition Master to Clone Hard Drive to Samsung SSD
2 - How to Clone Hard Drive to SSD Using Samsung Magician
3 - Clone Hard Disk to Samsung SSD via Samsung Data Migration?
Using EaseUS Partition Master to Clone Hard Drive to Samsung SSD
To get a smooth data cloning process, we would like to recommend you a reliable disk cloning software - EaseUS Partition Master. More than a hard drive cloning software, you can download and use it to partition your hard drive, adjust the volume by extending, shrink, merge, and split partition. It is also good to migrate OS to HDD or SSD, allocate space, partition recovery, and etc.
Apply 4 steps to clone hard drive:
Step 1. Select the source disk.
Right-click the disk that you want to copy or clone. Then, select "Clone".
Step 2. Select the target disk.
Choose the wanted HDD/SSD as your destination and click "Next" to continue.
Step 3. View the disk layout and edit the target disk partition size. 
Then click "Continue" when the program warns it will wipe out all data on the target disk. (If you have valuable data on the target disk, back up it in advance.)
You can select "Autofit the disk", "Clone as the source" or "Edit disk layout" to customize your disk layout. (Select the last one if you want to leave more space for C drive.)
Step 4. Click "Proceed" to start the disk cloning process.
Clone Hard Disk to Samsung SSD via Samsung Data Migration
To transfer data from an old hard drive to a new one, Samsung Data Migration can quickly move your operating system, applications, and user data from the old storage device to the new Samsung SSD.
Note: This software only supports the Samsung SSDs.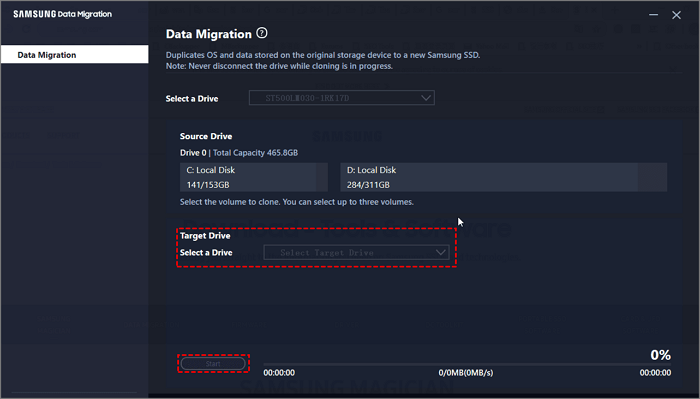 How to Use Samsung Data Migration for Cloning
Step 1. Download Samsung Data Migration from the official website and launch the software.
Step 2. Once the software is running, you can see the existing hard drive and the newly connected Samsung SSD. As you can see, this tool will run only if the OS is installed on the source disk.
Step 3. Select up to three-volume for cloning. (The tool will choose the c drive by default.)
Step 4. After choosing, click the Start button and don't disconnect the drive while cloning is in progress.
Even though this software is easy to use, but sometimes the Samsung Data Migration is stuck at 0%, 99%, 100%, read the article to get solutions.
How to Clone Hard Drive to SSD Using Samsung Magician
Can Samsung Magician clone hard drive? If you search how to clone Samsung SSD  on google, the search result will relate to use Samsung Magician, but unfortunately, it is a fake result. Samsung Magician features in drive details, performance benchmark, diagnostic scan, etc, and no CLONE feature so far. This software is designed into the same UI as the Samsung Data Migration.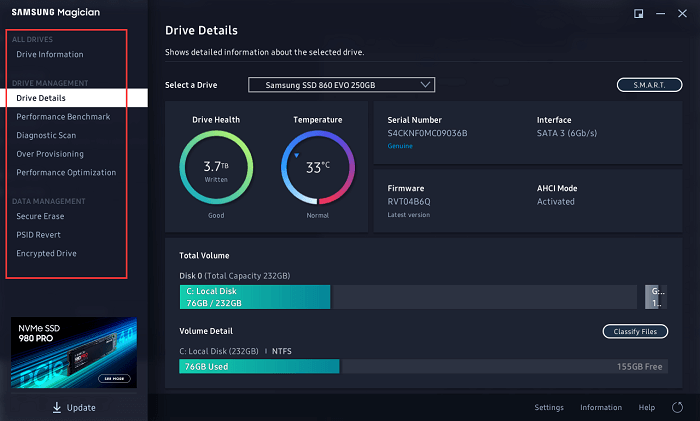 Back to use EaseUS Partition Master or Samsung Data Migration.
Bonus Tip: Make Cloned Samsung SSD Bootable
Step 1. Click the Power button to restart your computer. Press Del/F2/F10 key to access BIOS.
Step 2. Navigate to the Boot menu and change the boot priority. And then choose the cloned SSD as the boot drive.
Press F10 to save & exit and restart your computer. Then your computer will boot from newly SSD.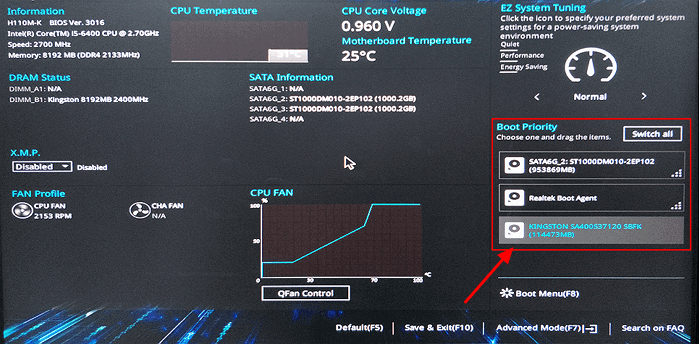 Close Thoughts
Clone hard drive can be fixed by two software - EaseUS Partition Master and Samsung Data Migration. The latter software only works for the Samsung device, so we recommend EaseUS Partition Master for widely use and you can improve drive performance with more useful features.

Roxanne is one of the main contributors to EaseUS and has created multiple posts on digital devices like PCs, Mobile phones, tablets, Mac, etc. She loves to share ideas with people of the same interest.
I love that the changes you make with EaseUS Partition Master Free aren't immediately applied to the disks. It makes it way easier to play out what will happen after you've made all the changes. I also think the overall look and feel of EaseUS Partition Master Free makes whatever you're doing with your computer's partitions easy.

 Read More

Partition Master Free can Resize, Move, Merge, Migrate, and Copy disks or partitions; convert to local, change label, defragment, check and explore partition; and much more. A premium upgrade adds free tech support and the ability to resize dynamic volumes.

 Read More

It won't hot image your drives or align them, but since it's coupled with a partition manager, it allows you do perform many tasks at once, instead of just cloning drives. You can move partitions around, resize them, defragment, and more, along with the other tools you'd expect from a cloning tool.

 Read More
About EaseUS Partition Master
All-round disk & partition management software for personal and commercial use. Let it manage your storage drive: resize, format, delete, clone, convert, etc.
Video Tutorial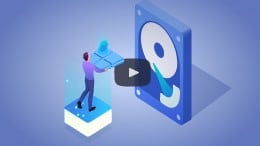 How to Partititon a Hard Drive on Windows 10/8/7
Was This Page Helpful
How Can We Help You
Find answers to common questions below.