
About the Author
Hot Topics in 2022
Partition Wizard Software (Full Version) Free Download for Windows Servers in 2022
Are you looking for a reliable partition wizard software to manage and optimize your Server disk performance? Brand-new & enhanced partition manager software + Windows 11 compatible - EaseUS Partition Master is here to help.
Reliable Server partition manager software to manage Server disk space with minimum effort.
Simple clicks to optimize Server disk performance.
Supports: Windows Server 2022/2019/2016/2012 r2/2012/2011/2008 r2/2008/2003/2003 r2 and old business servers.
In this article, you'll learn:
Partition Wizard Server Software Offers Efficient & Safe Disk Solutions for Business Industry
Who Need Partition Wizard Server Software - EaseUS Partition Master Technician
Pick the Best One for Your Needs
Technical Specification of EaseUS Partition Wizard Server Software
Hot & Top Features You May Like in EaseUS Partition Wizard Server Software
Partition Wizard Server Software Offers Efficient & Safe Disk Solutions for Business Industry
EaseUS partition wizard Server software: Partition Master Technician makes it easy for all levels of Windows Server users to redistribute disk space and ensure system integrity on Server computers. To keep the Server OS with installed apps intact, its Migrate OS to HDD/SSD and clone features enable users to efficiently upgrade the whole OS or data disk to a newer & faster disk. It also allows creating a soft-RAID 5 or extending RAID volumes like RAID 0/RAID 1 to enlarge disk drive space flexibly. 
Its disk conversion features and partition management features seamlessly optimize the disk performance without causing any data loss issue on Servers.
Who Need Partition Wizard Server Software - EaseUS Partition Master Technician
1. Windows Server Administrators or Small Business Owners
EaseUS Partition Master Technician enables both Windows Server administrators and small business owners to enjoy its full features in disk partitioning on Server computers. For instance, you can extend C drive on Windows Server and obtain data security simultaneously. Meanwhile, you can also 1-click to partition a new disk, create an NTFS partition larger than 16TB, and even switch disk type between MBR-GPT, Basic-Dynamic, Primary-Logical without losing any data. In addition, OS Migration and disk upgrade cloning are also easy to operate within a few simple clicks.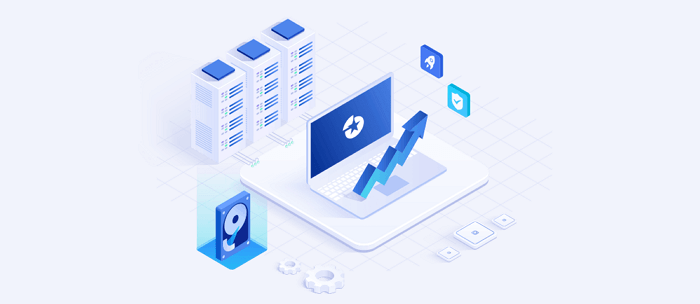 2. WSP - IT Service Providers
IT or Business service providers who have a huge number of computers to manage and optimize can apply this partition wizard Server software to execute these operations effectively. In addition, it enables administrators to install this software on multiple computers to manage, allocate computer disk space, and optimize clients' computers with ease.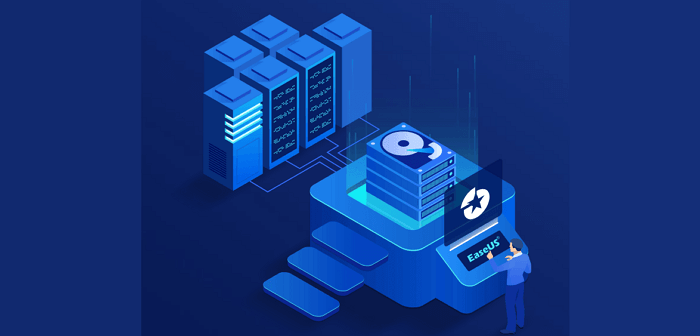 3. Personal & Individual Windows Server Owners
For some advanced Windows Server users or personal owners, you can still trust EaseUS Partition Master Technician. Its beginner's style UI design and powerful features allow any level of users to simply apply and manage disk partitions by resizing, extending, shrinking, merging, splitting, or changing partition style without losing any data.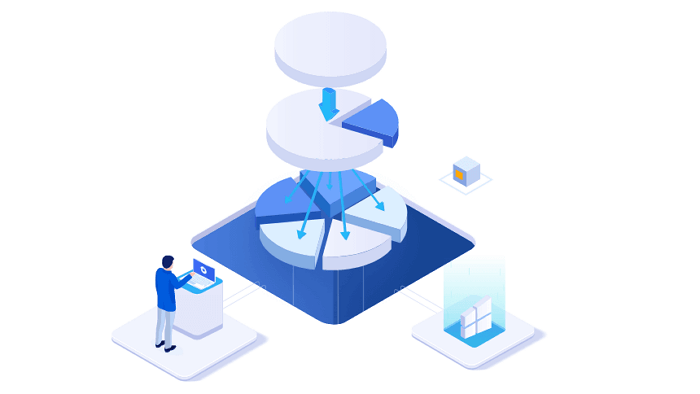 EaseUS Partition Master Enterprise
Your trustworthy Windows Server disk manager.
 Extend System drive, combine/split partitions.
 Clone disk, migrate OS to HDD/SSD.
 Convert MBR to GPT, GPT to MBR, no data loss.
 1-click adjust disk layout, create volumes at one time.
Pick the Best One for Your Needs
Which Version to Select? Here is a comparison of all editions in EaseUS partition wizard server software. Follow to check and get a suitable version for your business right now:
| Comparision | Server | Unlimited | Technician |
| --- | --- | --- | --- |
| One license for multiple systems (Business Owner) | | | |
| One license for multiple systems (Service Provider) | | | |
| Repair RAID 5 Dynamic Volume | | | |
| Manage partitions: resize/move, create, extend, shrink, merge, format, delete, split partitions. | | | |
| Disk optimizations: migrate OS, clone disk/partitions, convert disk to MBR/GPT, basic/dynamic, partition recovery, WinPE bootable disk, rebuild MBR, etc. | | | |
| Purchase Access | Buy Now | Buy Now | Buy Now |
According to this table, you can clearly know which edition of EaseUS Partition Master to own. And here is the EaseUS partition master experts' suggestion:
For personal or individual Windows Server owners, pick the Server edition, which is more cost-effective.
For Business owners or Server administrators, the Unlimited Edition is more preferred.
For IT providers or WSP uses, the Technician edition is a commercial choice.
Technical Specification of EaseUS Partition Wizard Server Software
If you are interested to learn more technical specification information about this software, check the list here:
Supported Operating Systems:
Windows 11/10/8/7
Windows Server 2022
Windows Server 2019
Windows Server 2016
Windows Server 2012 R2
Windows Server 2012
Windows Home Server 2011
Windows Server 2008 R2
Windows Server 2008
Windows Server 2003
Windows Server 2003 R2
Windows Small Business Server 2011
Windows Small Business Server 2008
Windows Small Business Server 2003
Supported File Sytems: 
EXT4
EXT3
EXT2
NTFS
FAT32
FAT16
FAT12
exFAT
ReFS
Supported Storage Devices:
HDD
SSD - SATA SSD, M.2, MVM3
SSHD
External Hard drive
USB Flash drive
SD card
Dynamic disk
Hardware RAID
Virtual Disk - VMware, Hyper-V, etc.
Hot & Top Features You May Like in EaseUS Partition Wizard Server Software
To help you quickly learn how to use this software on Windows Server computers, you'll see 3 hot features in EaseUS Partition Master Technician, and you can apply them to execute operations on all your computers with ease.
Feature 1 - Expand C Drive with 2nd Disk (New Feature)
EaseUS Partition Master recently upgraded with a new feature to extend system C drive with disk space from another drive. So when your Windows or Windows Server computer OS disk has only one system partition, and now it's out of space with a C drive low disk space error, you can expand the C drive with space from another disk without converting the disk to dynamic.
Step 1. Right-click partition C, select Advanced, and click Extend with 2nd Disk...  
Step 2. After the software analyzes the status of the disk and lists the extended results, click Customize Plan to continue.
Step 3. Select the listed data to migrate, or click the location to select more, and then click Next to continue.
Step 4. Select which partition to column the expanded C partition after, for example, D, and click Proceed.   
Feature 2 - Migrate Server OS to HDD/SSD
When the Windows Server computer becomes slow, or the system performance is degraded, you can optimize the system by upgrading the OS drive. In addition, EaseUS Partition Master provides you with an OS migration feature that any Server users and Windows servers can simply migrate and transfer the Windows & Server system to HDD/SSD without any boot issues.
Steps to migrate OS to HDD/SSD:
Run EaseUS Partition Master, select Migrate OS from the top menu.
Select the SSD or HDD as the destination disk and click Next.
Check Warning: the data and partitions on the target disk will be deleted. Make sure that you've backed up important data in advance. If not, do it now.
Then click Continue.
Preview the layout of your target disk. Then click Proceed to start migrating your OS to a new disk
Note: The operation of migrating OS to SSD or HDD will delete and remove existing partitions and data on your target disk when there is not enough unallocated space on the target disk. If you saved important data there, back up them to an external hard drive in advance.
Feature 3 - Convert Disk Between MBR/GPT
Due to different purposes, people may have different needs for the disk type. To protect essential Windows Server data and your database, EaseUS Partition Master simplifies the disk conversion process. You can directly convert a disk from MBR to GPTor GPT to MBR with the disk conversion feature in this software.
What else can EaseUS Partition Master Do for You? Check the list here:
Securely wipe SSD, HDD
Convert NTFS to FAT32, or FAT32 to NTFS without formatting
1-click to partition new disk
Initialzie new disk to GPT or MBR
Check and fix disk file system error, repair soft bad sectors
FAQ About EaseUS Partition Wizard Server Software
We introduced a comprehensive partition wizard server software for all levels of Windows Server users on this page. EaseUS Partition Master Technician, with its basic and advanced features, can effectively improve your disk performance and speed up Server computers.
If some of you still have questions about managing Windows Server disk or this software, check and see if you can get answers here:
1. Can I Extend System Partition on Server 2003
How to extend system partition on Windows Server 2003? To ensure an enduringly stable performance of the involved highly configurable servers/computers, do not let your system partition run out of space. Otherwise, it will lag in boot time, loading large files, running applications, networking, and so forth. Nonetheless, administrators still cannot escape from seeing "low disk space" on the system C partition with regular disk cleanup. 
You can extend the C drive on Windows Server 2003 with EaseUS Partition Master Server Edition and Diskpart command. For more details, follow this page for help. 
2. What is the best disk manager for Windows Server
Accordingly, making full use of hard drive spaces in Windows Server computers has become even more essential. Turning to a reliable disk manager tool or software becomes necessary for Windows Servers users.
So what is the best disk manager for Windows Server? We collected two best disk management tools that you can apply to manage disks on Windows Server machines:
#1. EaseUS Partition Master Enterprise
#2. Disk Management
Check and learn how to use Windows Server disk manager software for more details about these two tools. 
3. How Do I clone Disk in Windows Server
When you are with the listed issues in the Windows Server disk, it's time that you should clone to upgrade the Server disks:
Data or system disk becomes full.
Windows Server computer slows down as the disk is getting full.
System C drive gets full in Windows Server without extending further free space.
Here is a full guide that you can follow to execute the operation on cloning disk in Windows Server computers.
About the Author
Updated by Tracy King 
Tracy joined in EaseUS in 2013 and has been working with EaseUS content team for over 7 years. Being enthusiastic in computing and technology, she writes tech how-to articles and share technical solutions about Windows & Mac data recovery, file/system backup and recovery, partition management and iOS/Android data recovery.
Product Reviews
I love that the changes you make with EaseUS Partition Master Free aren't immediately applied to the disks. It makes it way easier to play out what will happen after you've made all the changes. I also think the overall look and feel of EaseUS Partition Master Free makes whatever you're doing with your computer's partitions easy.

 Read More

Partition Master Free can Resize, Move, Merge, Migrate, and Copy disks or partitions; convert to local, change label, defragment, check and explore partition; and much more. A premium upgrade adds free tech support and the ability to resize dynamic volumes.

 Read More

It won't hot image your drives or align them, but since it's coupled with a partition manager, it allows you do perform many tasks at once, instead of just cloning drives. You can move partitions around, resize them, defragment, and more, along with the other tools you'd expect from a cloning tool.

 Read More