2 Best Disk Manager for Windows Server Free Download [Free & Paid]
EaseUS Partition Master Enterprise
Your trustworthy Windows Server disk manager.
 Extend System drive, combine/split partitions.
 Clone disk, migrate OS to HDD/SSD.
 Convert MBR to GPT, GPT to MBR, no data loss.
 1-click adjust disk layout, create volumes at one time.
Though being different in many aspects, however, Windows Server also shares some similarities with the Windows desktop editions. For example, Windows Servers has a desktop, sharing the same start button, and even the same task view button as the Windows operating systems.
Accordingly, making full use of hard drive spaces in Windows Server computers has become even more essential. Turning to a reliable disk manager tool or software becomes necessary for Windows Servers users. Follow this page, you'll get the two best disk managers for Windows Server 2022/2019/2016 and even older Server editions for help. 
What Is Disk Manager for Windows Server
Disk Manager is normally a tool that could be used to adjust disk layout and space allocation on Windows Server machines. Disk manager is also known as Windows disk utility that you can apply to create, extend, shrink, delete, and even format partitions on an internal or external hard drive in a Windows computer. 
So what is the disk manager for Windows Server? You can take it as a disk partitioning tool or disk utility that supports Windows Server users to manage their hard drives with eases.
So what is the best disk manager for Windows Server? In this part, we'll be showing you two tools for managing hard disks on Windows Server machines with ease. Let's see.
2 Best Disk Manager for Windows Server 2022/2019/2016/2012
Although the desktop of Windows Server is similar to the Windows system, both two operating systems are designed for different target users. Windows OS is designed for desktop users to work and use with, while the Server editions are mainly for providing network access for people. 
When it comes to managing hard drives on Windows Server computers, which tool will you turn to for help? Here, we collected two best disk management tools that you can apply to manage disks on Windows Server machines:
What's the difference? And which is better? Check the comparison and you'll learn which is better:
Comparison
EaseUS Partition Master Enterprise
Disk Management
Basic Features

Create, extend, shrink, delete, format partition.
Merge, split partitions.
Wipe disks or partitions.
Delete all partitions at one time.
Convert basic disk to dynamic, or vice versa.
Convert primary to logical or vice versa.
Convert MBR to GPT or GPT to MBR without deleting volumes.

Create, extend, shrink, delete, format partition.
Convert basic disk to dynamic.
Convert MBR to GPT or GPT to MBR by deleting all volumes.

Advanced Features

Initialize new disks
Clone hard drive and partitions.
Migrate Windows Server OS to HDD/SSD
1-click to adjust the new disk layout.
Merge two disks as one. 
Repair Raid 5 disk error.
Manage hard drives without booting into OS.
Rebuild MBR.
4K alignment SSD.
Access and resize Ext2/3/4, and BitLocker partitions.

Initialize new disk.
Create spanned, stripped dynamic volumes. 
So which tool to choose for disk management in Windows Server computers?
For an easy & secure disk manager, take EaseUS Partition Master Enterprise for help.
For basic disk management, try Disk Management in Server computers.
How to Launch Disk Manager and Manage Disks on Windows Server 
So how to use your desired disk manager to manage hard drives in your Windows Server computers? Follow the guidelines here in this part, let's see how to easily partition hard drives on your own in Windows Server.
#1. Download EaseUS Partition Master Enterprise to Manage Server Disks - Paid
EaseUS Partition Master Enterprise is mainly designed for Windows Server machine disk management. It enables Windows Server users to effortlessly manage hard drives and even upgrade the OS drive to HDD/SSD without reinstallation.
You can free download and install this software on your Server computer for disk management now.
How to Launch EaseUS Partition Master to Partition Server Disks
Step 1. Check for free space
To divide a disk partition into multiple ones, you must ensure that there has adequate free space to be allotted.
Step 2. Shrink a disk partition to create unallocated space
By doing so, start with the "Resize/Mo" feature. Right-click on a partition with a lot free space and select "Resize/Move".
Drag either end of the partition rightwards or leftwards so you can shrink its size as the red arrow does, in order to get ample unallocated space. You can visually know how much space you've decreased in the "Partition size" area. Click "OK".
At last, you need to click the "Execute xx Operation" on the top menu and then "Apply" to save all the changes. Go back on the main window, there should be unallocated space appearing under the same disk of the shrinked one.
Step 3. Create a new partition on unallocated space
The last step is to turn the unallocated space into a usable partition drive with a recognized file system. Right-click on the unallocated space and choose "Create...".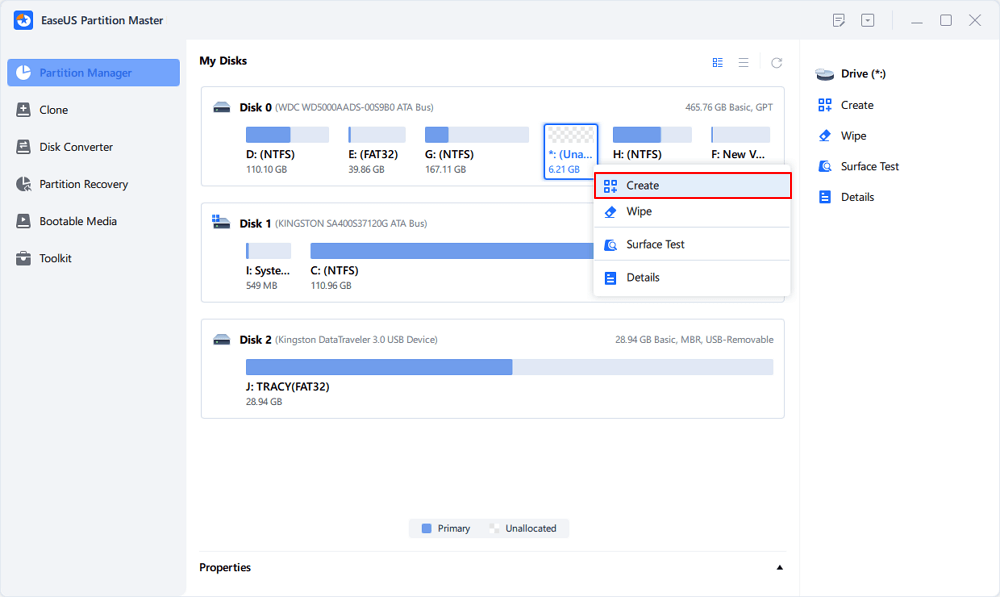 Customize the partition information by choosing a drive letter, partition label, file system (NTFS, FAT32, EXT2/3/4, exFAT) and many more settings in the Advanced Settings. Click "OK".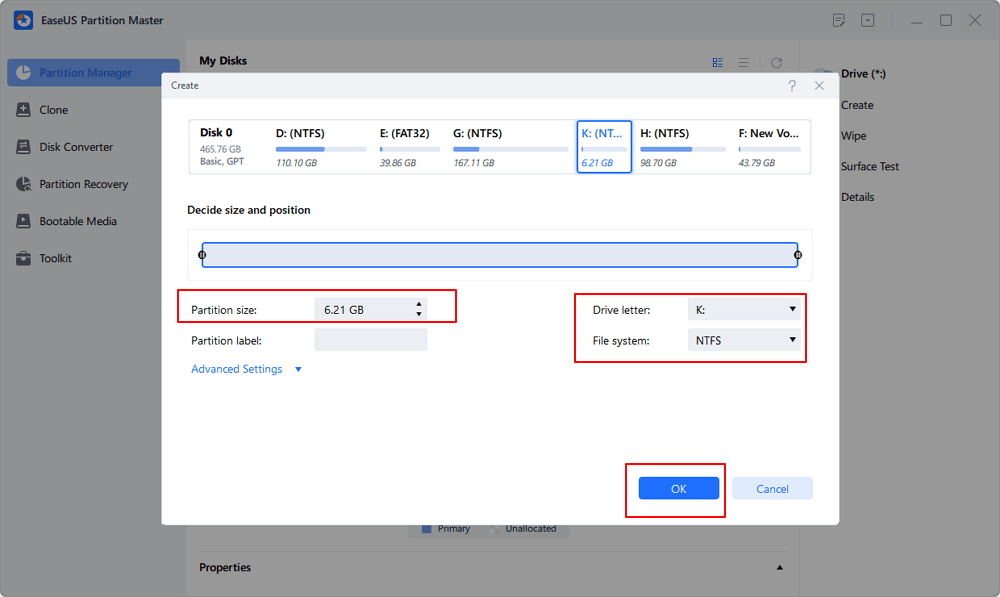 Finally, cick "Apply" to confirm that you want to create a partition on the unallocated space. Repeat the whole steps to partition a hard drive in many more partitions.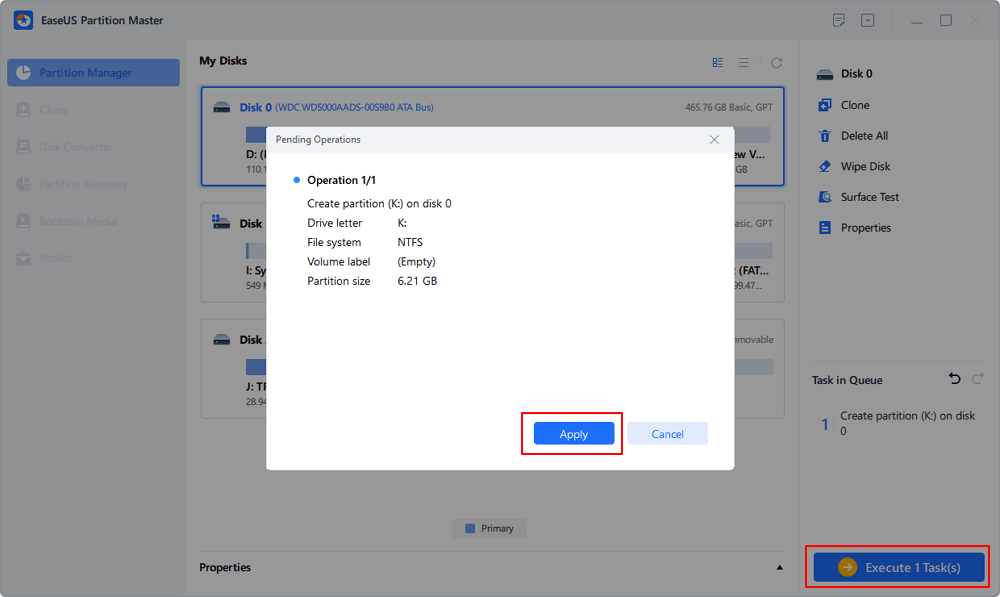 Besides creating partitions one by one on an old hard drive, you can also apply this tool to adjust disk layout in one click:
Step 1. Open EaseUS Partition Master, once it detects the new disk, it will pop up a New Disk Guide window, and select "Partition the drive" next to the "I have a new HDD/SSD, I want to" section. 
Step 2. You can continue customize how many partitions you want to create, and set the partition style you want, MBR or GPT.
Or, you can accept the default setting offered by EaseUS Partiton Maste. Once the customization is done, click "Proceed".
Step 3. Click "Execute 1 Operation" on the top menu and then "Apply" to finalize partitioning the new HDD/SSD or external disk.
When the OS drive is becoming small or slow on your computer, you can also apply EaseUS Partition Master to migrate Windows Server OS to a new HDD or SSD on your own.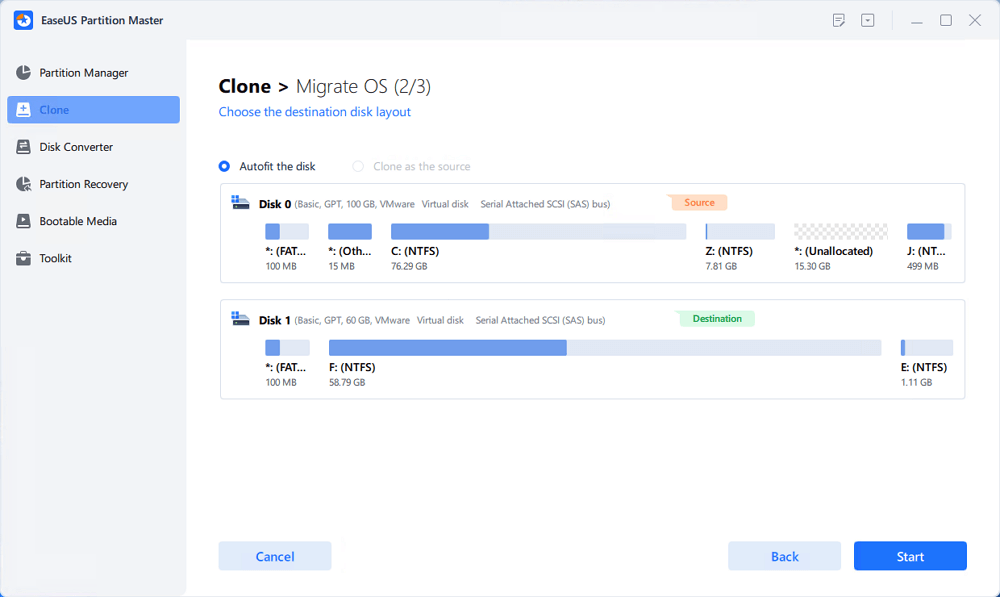 #2. Open Disk Management to Partition Windows Server Hard Drive - Free
The other way that you can apply to partition Windows Server hard drive is turning to Windows Server disk management. 
And here is the guide on how to open disk manager - Disk Management tool and partition hard dive in Windows Server machine:
Step 1. Open disk management in Windows Server.
Right-click the Windows icon from start and select "Disk Management".

Step 2. Locate the hard drive in Disk Management and right-click the unallocated space to select "New Simple Volume...".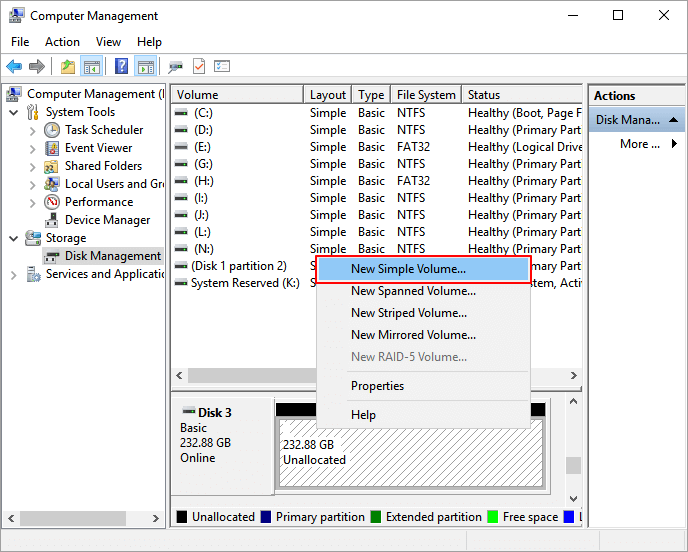 Step 3. Allocate space to the new simple volume and add drive letter, set file system format, etc, to the new volume.
Step 4. Follow the on-screen to complete the procedure, and click "Finish". 
If you need to create more volumes on the hard drive, repeat the above steps to complete the procedure.
Windows Server Disk Management Requires Reliable Disk Manager for Help
Being similar to Windows operating systems, Microsoft also enabled Disk Management in Server OS for partitioning hard drives and SSD.
To creating a new volume, shrinking or extending hard drive partitions in a Windows Server machine, you can turn to disk management for help.
However, if you tend to upgrade the OS disk, or convert disks without deleting or formatting volumes, EaseUS Partition Master Enterprise edition is here to help.
As Windows Server disk management is essential, do remember to back up your files first and turn to a reliable disk manager like EaseUS Partition Master Enterprise to complete this task.
Updated by Tracy King 
Tracy joined in EaseUS in 2013 and has been working with EaseUS content team for over 7 years. Being enthusiastic in computing and technology, she writes tech how-to articles and share technical solutions about Windows & Mac data recovery, file/system backup and recovery, partition management and iOS/Android data recovery.
I love that the changes you make with EaseUS Partition Master Free aren't immediately applied to the disks. It makes it way easier to play out what will happen after you've made all the changes. I also think the overall look and feel of EaseUS Partition Master Free makes whatever you're doing with your computer's partitions easy.

 Read More

Partition Master Free can Resize, Move, Merge, Migrate, and Copy disks or partitions; convert to local, change label, defragment, check and explore partition; and much more. A premium upgrade adds free tech support and the ability to resize dynamic volumes.

 Read More

It won't hot image your drives or align them, but since it's coupled with a partition manager, it allows you do perform many tasks at once, instead of just cloning drives. You can move partitions around, resize them, defragment, and more, along with the other tools you'd expect from a cloning tool.

 Read More
About EaseUS Partition Master
All-round disk & partition management software for personal and commercial use. Let it manage your storage drive: resize, format, delete, clone, convert, etc.
Video Tutorial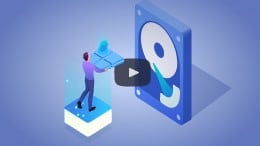 How to Partititon a Hard Drive on Windows 10/8/7
Was This Page Helpful
How Can We Help You
Find answers to common questions below.