
About the Author
Hot Topics in 2022
EaseUS Partition Master 16.0 Crack 2022 | Get EaseUS Partition Master Crack License Key
When we search for a partition manager tool's latest version, yes, a bunch of articles is waiting for you. But is the content of these articles correct? At least 5 articles have provided wrong information and screenshots. Most of them just replace numbers from 15.8 to 16.0. Using crack software based on the information in these articles will cause harm to your machine.
In this article, we will show you the fact about downloading a crack version, the correct features from the Official website, and the detailed steps containing how to install and use partition manager software.
Was it Worth to Get EaseUS Partition Master Crack Full Version?
How to Get EaseUS Partition Master 16.0 License Key
How to Install and Use EaseUS Partition Master 16.0
Check What EaseUS Partition Master 16.0 Can Do for You
Was it Worth to Get EaseUS Partition Master Crack Full Version?
When you click the button "Download Crack Only" or "Download Full Version" from the page, it will lead to an insecure link. Was it helpful to download a cracked version? Take a look at risky things if you let the download process go on:
Unstable software running: The invalid license key will stop working at any time, such as the cloning process may be stuck at 99% for a long time or forever. Failed operations do harm your device.
Personal data leak: Your data is no longer safe by using cracked software.
Virus infection: In general, cracked version contains bundled malware that slows down the computer. Because cracking software itself is not safe, it will induce viruses to invade the software and contaminate computer data at the same time.
Fail to update EaseUS Partition Master: New updates or new features are not available to the cracked program.
No technical support: Only the official version can get the technical support.
Even though the cracked software is partially free, it can bring unrecoverable data damage to your PC. So, by our recommendation, it is not worth downloading EaseUS Partition Master 16.0 cracked version. Better to download the authorized software from easeus.com
Now download EaseUS Partition Master:
By clicking the download button, you can finish the software set up on this page instead of jumping to another unknown page and automatically receive the updated information. Only 44.7MB file size for download. Support the newest Windows 11 system.
How to Get EaseUS Partition Master 16.0 License Key
In this part, you can learn how to get an EaseUS Partition Master license key to activate. Take anyways we listed below:
1. Get a 30% Copyrighted Version
100% safe to download.
All features are available on the discounted version.
Pay to get EaseUS Partition Master Pro version or Server version.
Contact our live chat team for technical support.
For personal users and business groups, check the specified page about "Genuine vs Crack EaseUS Partition Master".
2. Get License Code from Official Page
EaseUS often holds some holiday sales on the product page, like a traditional holiday or EaseUS anniversary. Join in such big events you can get an ideal discount to activate EaseUS Partition Master.
Trustworthy activation rate.
Not free but smoothly enjoy all features of genuine EaseUS partition tool.
No need to worry about fake info.
Now go to the product page to buy software with a click. Remember visiting the page during big events like Christmas, Black Friday, Valentines' Day, Halloween, and more.
3. Get Activation Key from Free Page
If you just want to resize, merge, format, delete, wipe, check partitions, well, EaseUS Partition Master Free Edition is a wise choice for you. The feature we mentioned is free. If any of the basic features is your cup of tea. Go to the EaseUS Partition Master free page.
How to Install and Use EaseUS Partition Master 16.0
Once you get the trustworthy license code, you can use it to activate EaseUS Partition Master now. Remember the license code won't be store on the disk as a file. So you'd better activate it immediately or record the key number in a safe location.
We will teach you how to activate the software and how to use these basic or advanced functions:
How to Activate EaseUS Partition Master 16.0:
Step 1. Open the free or trial version of EaseUS Partition Master.
Step 2. Click the Activate button as follows and type the license code you received from the email.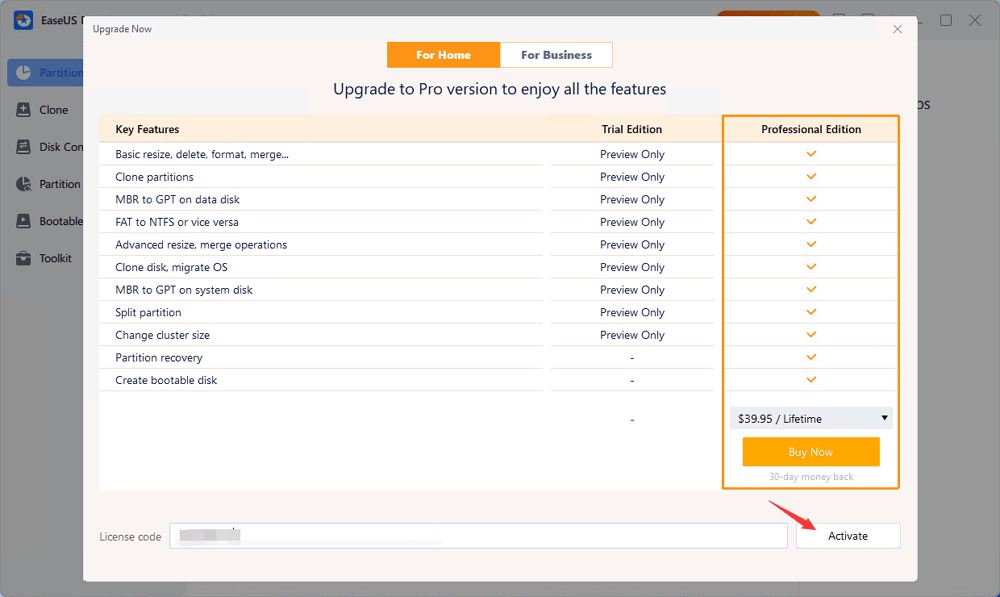 How to Use EaseUS Partition Master to Optimize Disk Performance:
[1] "Resize/Move" enables you to adjust space of a selected disk partition as wish. Right-lick "Resize/Move", you can shrink a volume, extend the other one, or create unallocated space for special use.
[2] "Clone" aims to make two identical hard disks or partitions with the same layout and content. You can use the "Clone" feature to upgrade a hard disk, replace a failing one, backup the drive data and so on.
[3] "Delete" is a common method to remove an unwanted disk partition, turning it into unallocated space.
[4] "Format" is frequently used in many situations. By formatting a drive partition, you can alter the file system, fix some corruption issues, and sometimes remove viruses and malware.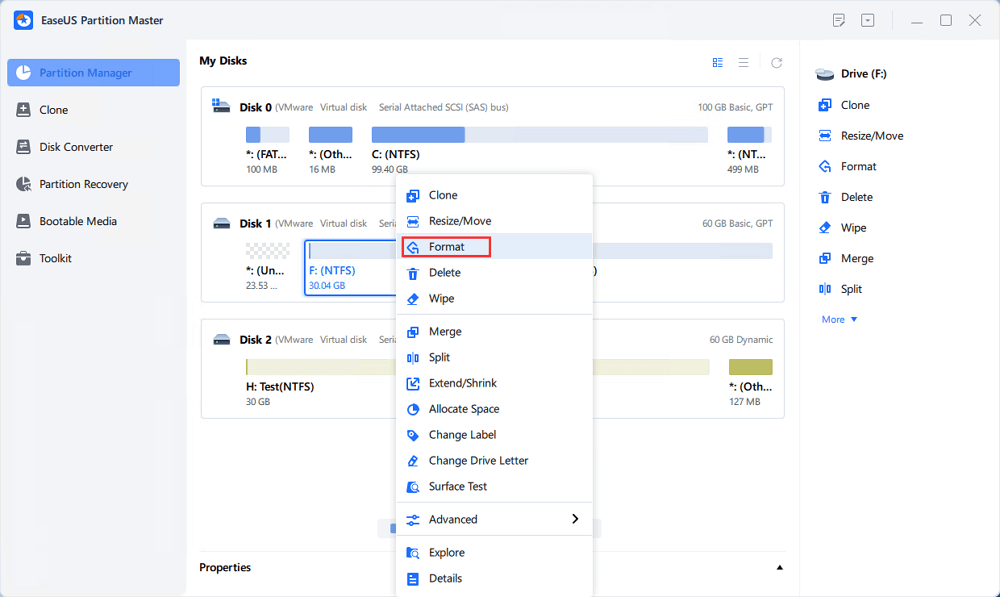 [5] "Allocate space" is very useful when one drive partition space is too much while the other is inadequate. 
[6] "Migrate OS" makes it easy to transfer a Windows installation drive to the other without reinstalling.
[7] Conversion between GPT and MBR, NTFS and FAT32, and Basic to Dynamic is getting more and more popular among EaseUS Partition Master customers. Besides all the listed benefits, there are so many functional yet practical features are waiting you to explore.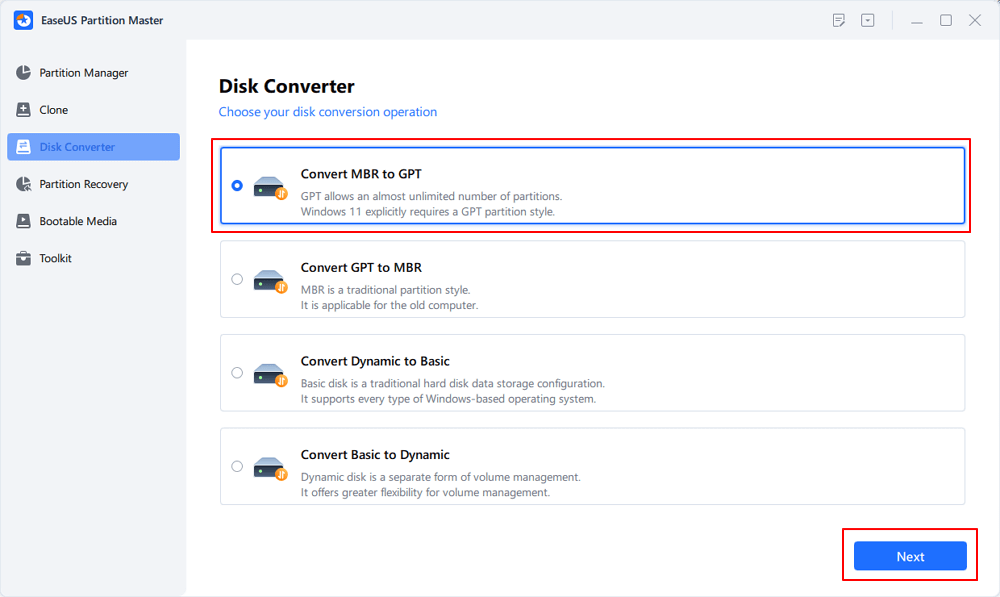 Check What EaseUS Partition Master 16.0 Can Do for You
For 2022, our product team has upgraded into version 16.0 with important new features, which enable us to simply resize the function. See new characteristics:
1. Support to resize NTFS partition.
2. Support to merge non-adjacent partitions.
3. Optimize the interface for better use.
Except for new points, you can smoothly enjoy key features as well.
Convert MBR to GPT or vice versa.
Create/format/delete partitions.
Clone an entire disk or a partition.
......
Concluding Thoughts
In this article, we've introduced a safe way for you to download genuine software. To avoid data loss, trust easeus.com and get the direct way.
About the Author
Updated by Tracy King 
Tracy joined in EaseUS in 2013 and has been working with EaseUS content team for over 7 years. Being enthusiastic in computing and technology, she writes tech how-to articles and share technical solutions about Windows & Mac data recovery, file/system backup and recovery, partition management and iOS/Android data recovery.

Roxanne is one of the main contributors to EaseUS and has created multiple posts on digital devices like PCs, Mobile phones, tablets, Mac, etc. She loves to share ideas with people of the same interest.
Product Reviews
I love that the changes you make with EaseUS Partition Master Free aren't immediately applied to the disks. It makes it way easier to play out what will happen after you've made all the changes. I also think the overall look and feel of EaseUS Partition Master Free makes whatever you're doing with your computer's partitions easy.

 Read More

Partition Master Free can Resize, Move, Merge, Migrate, and Copy disks or partitions; convert to local, change label, defragment, check and explore partition; and much more. A premium upgrade adds free tech support and the ability to resize dynamic volumes.

 Read More

It won't hot image your drives or align them, but since it's coupled with a partition manager, it allows you do perform many tasks at once, instead of just cloning drives. You can move partitions around, resize them, defragment, and more, along with the other tools you'd expect from a cloning tool.

 Read More