1.The main partition is low on disk space but other partitions have more disk space, so you want to merge those partitions and increase the free space on your main partition.
2.You may want to get rid of your partitions altogether and create a single partition.
No matter what your problem, if you want to merge partitions, you can achieve it by using EaseUS Partition Master.
EaseUS Partition Master Free is the first free partition software which offers Windows Home users a free "merge partition function" for up to two partitions. Windows XP/Vista/7/8/10 only.
Merge two partitions with EaseUS Partition Master
This is an example to merge partitions, please follow the steps below:
Step 1: Install and launch EaseUS Partition Master.
Step 2: Select the partition, right click it, and then select Merge partition.
Step 3: In this Merge partition window, you should first choose two neighbour partitions.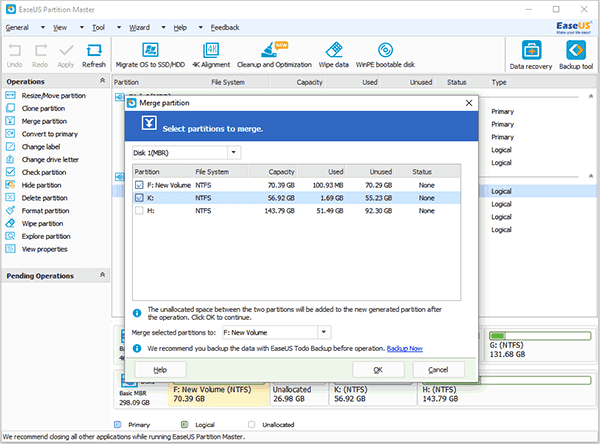 Step 4: Choose the merge destination by selecting a partition label in the drop-down list of "Merge selected partitions to".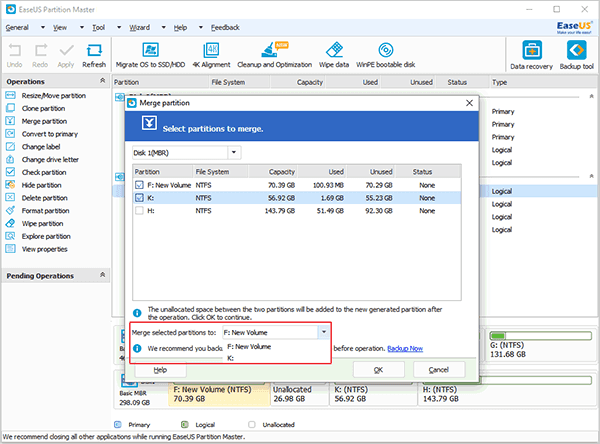 Step 5: Click OK, the program will check file system on the partitions.
Step 6: Click Apply, you have successfully merged two partitions.