
About the Author
Hot Topics in 2022
Convert Unallocated Space to Free Space Windows 11/10
Workable Solutions
Step-by-step Troubleshooting
Method 1. Create a New Partition

Option 1. Disk Management...Full steps

Option 2. EaseUS Partition Master...Full steps

Method 2. Extend an Existing Partition

Option 1. Disk Management...Full steps

Option 2. EaseUS Partition Master...Full steps
Unallocated Space VS Free Space
Both the unallocated space and free space hold a portion of the computer storage. They are identical in some cases while in others not. Read on and you will know all about it.
Unallocated space is the space on a hard drive or external storage device that hasn't been partitioned yet. Thus, it's unusable, which means you can not use it for data storage and no program can write data to this part of disk storage.

You may get unallocated space in the following situations:
After initializing a disk, you will see the whole disk shown as unallocated in Disk Management.
When you create a partition on a storage device, the space left will be marked as unallocated.
If you delete/shrink a partition, Windows will label the unused portion of space as unallocated.
A hard drive, USB, or SD card may become unallocated suddenly due to misoperations or virus attacks.
Free space may refer to the unusable space shown in Disk Management or the usable but unused space on an existing partition. The former is identical to the unallocated space mentioned above and you may get it after shrinking a logical partition on the computer. While the latter is the target to which you want to convert.

2 Ways to Convert Unallocated Space to Free Space
You don't want to waste the storage on a hard drive or external storage device by leaving the space as unallocated. To utilize the unallocated space, you can either create a new partition or add it to an existing partition. By doing so, you convert the unusable unallocated space to the usable free space and make it ready for data storage.
Method 1. Create a New Partition
You can get it done using Disk Management or EaseUS Partition Master.
Step 1. Go to "This PC", right-click it and choose "Manage" > "Disk Management".
Step 2. Right-click the unallocated space and choose "New Simple Volume".
Step 3. Follow the wizard to finish the remaining process.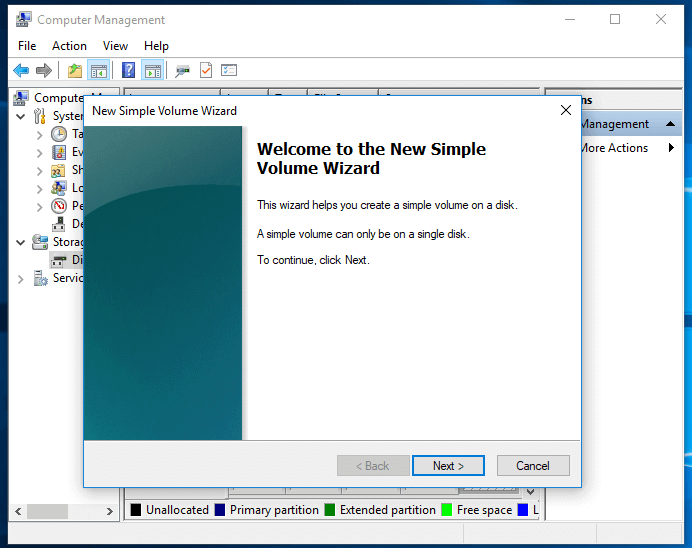 Option 2. Use EaseUS Partition Master
You may think it's needless to use EaseUS Partition Master since Disk Management can complete the task. For your information, this software can do much more than Disk Management. You can apply it whenever you want to create a partition, format a partition/disk, resize/move a partition, migrate OS, or convert a disk from GPT to MBR, basic to dynamic, and vice versa.
In a word, EaseUS Partition Master is not only helpful in this case of converting unallocated space to free space but also in other situations related to disk/partition management.
To create a new volume:
Step 1. Launch EaseUS Partition Master. On the main window, right-click on the unallocated space on your hard drive or external storage device and select "Create".
Step 2. Adjust the partition size, file system (Choose the file system based on your need), label, etc. for the new partition and click "OK" to continue. 
Step 3. Click on the "Execute Operation" button and create a new partition by clicking "Apply".
Watch the following video tutotial and learn how to create a partition in NTFS, FAT, or EXT file system.
Method 2. Extend an Existing Partition
Similarly, both Disk Management and EaseUS Partition Master allow you to extend a partition to get more free space using the unallocated space.
Step 1. Right-click on "This PC" and choose "Manage" > "Disk Management".
Step 2. Right-click the target partition and choose "Delete Volume". In the prompt, click "Yes".
Step 3. Right-click the source partition and choose "Extend Volume".
Step 4. In Extend Volume Wizard, click "Next".
Step 5. Set the amount of space and click "Next". (You may feel confused in the "Select Disks" window. To your information, the maximum available space means the total size of the unallocated space in the current disk.)
Step 6. Click "Next" > "Finish" and wait for the process to complete.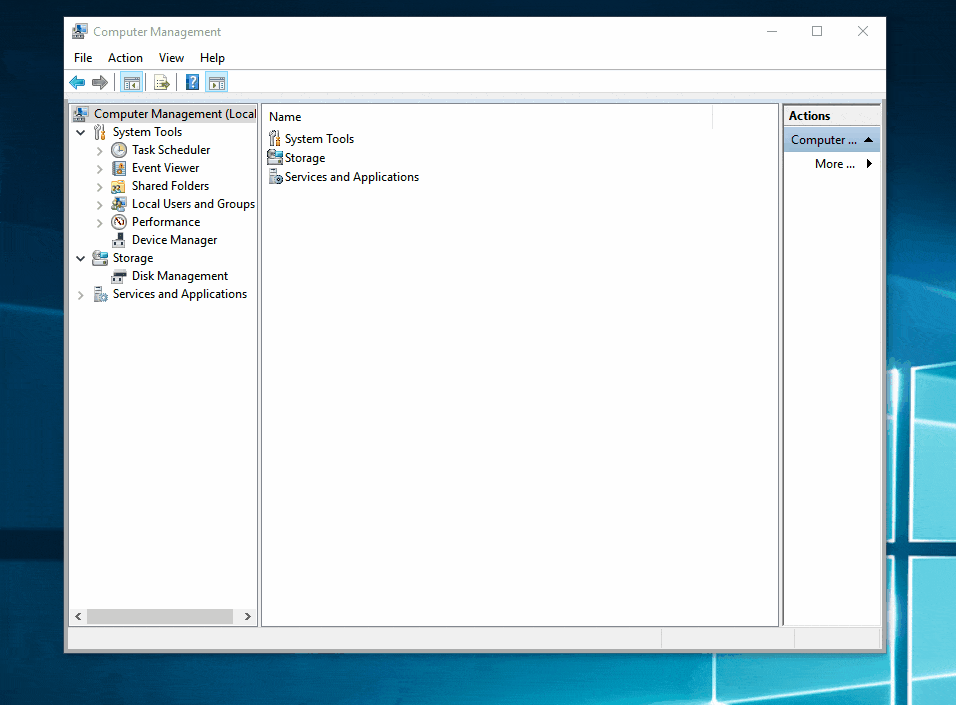 Option 2. Use EaseUS Partition Master
EaseUS disk manager provides you with a more visualized experience while extending a volume.
Step 1. Locate the Target Partition.
To start extending partition, you should first locate the target partition and select "Resize/Move".
Step 2. Extend the Target Partition.
Drag the partition panel rightward or leftward to add unallocated space into your current partition and click "OK" to confirm.
Extra Option: Get Space from Another Drive
If there is not enough unallocated space on your disk, right-click on a big partition with enough free space, select "Allocate space".
Then select the target partition that you want to extend at the allocate space to column.
Step 3. Execute Operations to Extend Partition.
Drag the dots of the target partition into the unallocated space and click "OK".
Then Click the "Execute Operation" button and click "Apply" to keep all the changes. 
There are slight differences between these two options while converting unallocated space to free space. However, when it comes to merging partitions or resizing partitions, the differences are remarkable and you will realize the convenience of using EaseUS Partition Master.
Knowledge Base: Is Unallocated Space Really Useless
Actually, unallocated space is not totally useless. It is required when you attempt to clone a disk/partition/system. For example, If you have experience of using the Windows backup software - EaseUS Todo Backup to clone a system or disk, you are asked to make sure the target disk is shown as unallocated space before the cloning. Besides, if the unallocated space is insufficient, you will receive the prompt saying "not enough unallocated space on the target disk". To deal with it, you can either delete the existing partition on the target disk or switch to a bigger one instead.
The Bottom Line
In conclusion, to make unallocated space usable, converting it to free space is necessary. To change unallocated space to free space, both partition creation and extending are practical solutions. Depending on your needs, you can either use Disk Management or software like EaseUS Partition Master to achieve the goal.
In cases like system clone and disk clone, enough unallocated space on the target disk is one of the requirements for a successful clone.
Hope this guide is useful to you.
About the Author

Roxanne is one of the main contributors to EaseUS and has created multiple posts on digital devices like PCs, Mobile phones, tablets, Mac, etc. She loves to share ideas with people of the same interest.

Author Jean has been writing tech articles since she was graduated from university. She has been part of the EaseUS team for over 5 years. Her special focuses are data recovery, disk partitioning, data space optimization, data backup and Mac OS. By the way, she's an aviation fan!
Product Reviews
I love that the changes you make with EaseUS Partition Master Free aren't immediately applied to the disks. It makes it way easier to play out what will happen after you've made all the changes. I also think the overall look and feel of EaseUS Partition Master Free makes whatever you're doing with your computer's partitions easy.

 Read More

Partition Master Free can Resize, Move, Merge, Migrate, and Copy disks or partitions; convert to local, change label, defragment, check and explore partition; and much more. A premium upgrade adds free tech support and the ability to resize dynamic volumes.

 Read More

It won't hot image your drives or align them, but since it's coupled with a partition manager, it allows you do perform many tasks at once, instead of just cloning drives. You can move partitions around, resize them, defragment, and more, along with the other tools you'd expect from a cloning tool.

 Read More