Unallocated Space VS Free Space
Both the unallocated space and free space hold a portion of the computer storage. They are identical in some cases while in others not. Read on and you will know all about it.
Unallocated space is the space on a hard drive or external storage device that hasn't been partitioned yet. Thus, it's unusable, which means you can not use it for data storage and no program can write data to this part of disk storage.

You may get unallocated space in the following situations:
After initializing a disk, you will see the whole disk shown as unallocated in Disk Management.
When you create a partition on a storage device, the space left will be marked as unallocated.
If you delete/shrink a partition, Windows will label the unused portion of space as unallocated.
A hard drive, USB, or SD card may become unallocated suddenly due to misoperations or virus attacks.
Free space may refer to the unusable space shown in Disk Management or the usable but unused space on an existing partition. The former is identical to the unallocated space mentioned above and you may get it after shrinking a logical partition on the computer. While the latter is the target which you want to convert the unallocated space to.

2 Ways to Convert Unallocated Space to Free Space
You don't want to waste the storage on a hard drive or external storage device by leaving the space as unallocated. To utilize the unallocated space, you can either create a new partition or add it to an existing partition. By doing so, you convert the unusable unallocated space to the usable free space and make it ready for data storage.
Method 1. Create a New Partition
You can get it done using Disk Management or free partition manager like EaseUS Partition Master.
Option 1. Use Disk Management
Step 1. Go to "This PC", right-click it and choose "Manage" > "Disk Management".
Step 2. Right-click the unallocated space and choose "New Simple Volume".
Step 3. Follow the wizard to finish the remaining process.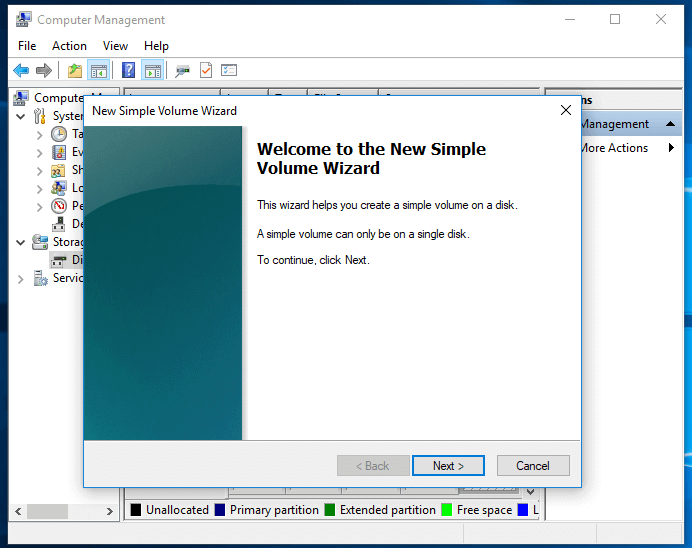 Option 2. Use EaseUS Partition Master
You may think it's needless to use the free partition manager - EaseUS Partition Master since Disk Management can complete the task. For your information, this software can do much more than Disk Management. You can apply it whenever you want to create a partition, format a partition/disk, resize/move a partition, migrate OS, or convert a disk from GPT to MBR, basic to dynamic, and vice versa.
In a word, EaseUS Partition Master is not only helpful in this case of converting unallocated space to free space but also in other situations related to disk/partition management.
To create a new volume:
Step 1: Launch EaseUS Partition Master
On the main window, right-click on the unallocated space on your hard drive or external storage device and select "Create".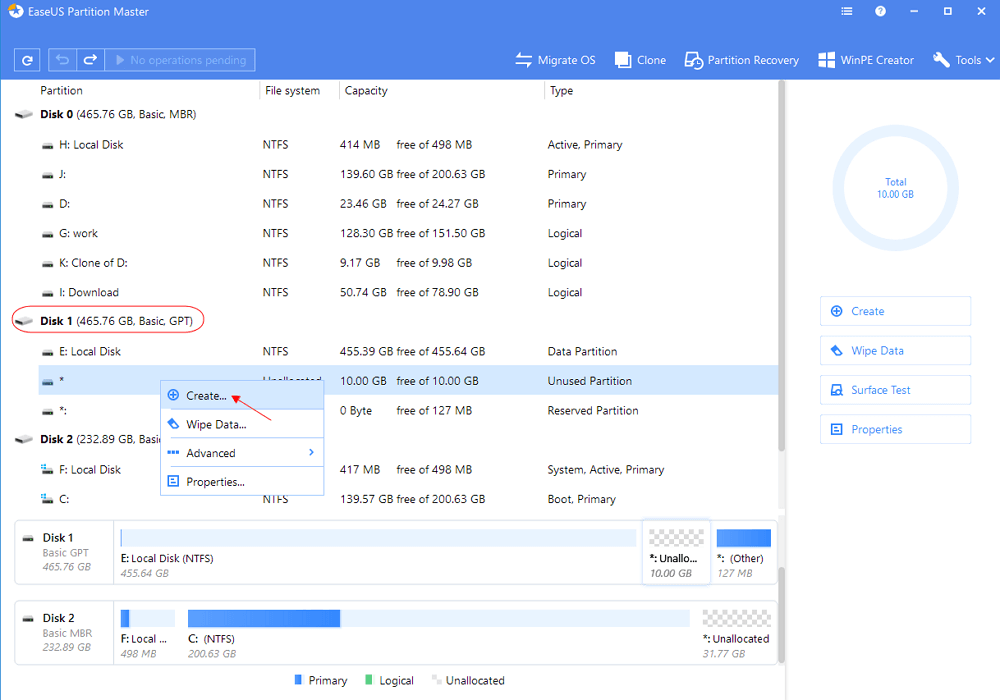 Step 2: Adjust the new partition size, file system, label, etc.
Set the size, partition label, drive letter, file system, etc. for the new partition and click "OK" to continue.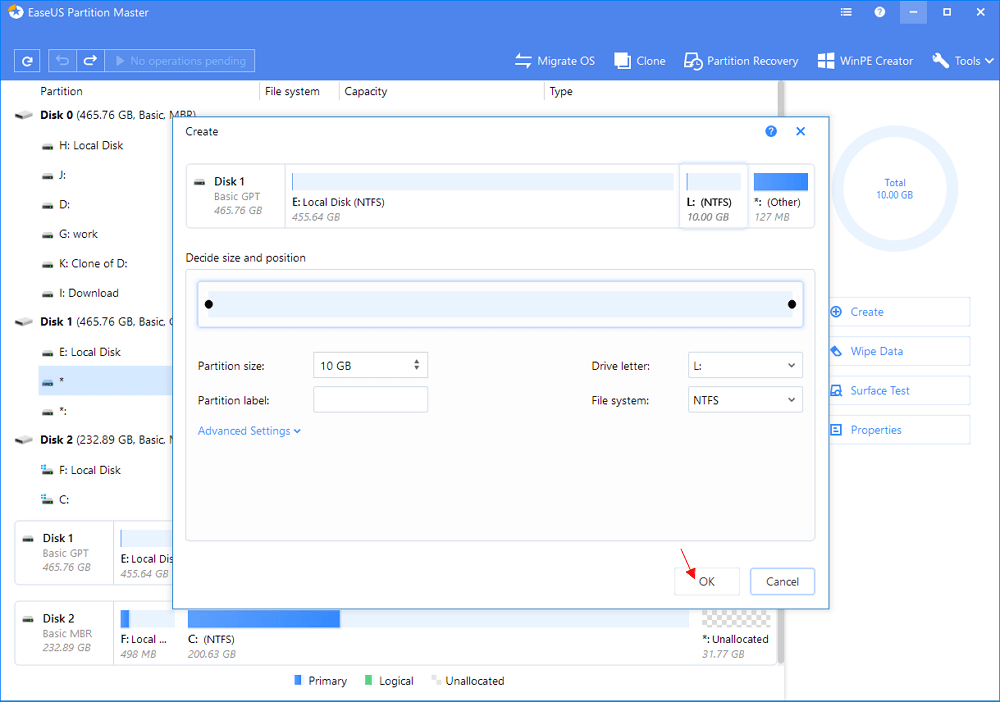 Step 3: Confirm to create a new partition
Method 2. Extend an Existing Partition
Similarly, both Disk Management and EaseUS Partition Master allow you to extend a partition to get more free space using the unallocated space.
Option 1. Use Disk Management
Step 1. Right-click on "This PC" and choose "Manage" > "Disk Management".
Step 2. Right-click the target partition and choose "Delete Volume". In the prompt, click "Yes".
Step 3. Right-click the source partition and choose "Extend Volume".
Step 4. In Extend Volume Wizard, click "Next".
Step 5. Set the amount of space and click "Next". (You may feel confused in the "Select Disks" window. To your information, the maximum available space means the total size of the unallocated space in the current disk.)
Step 6. Click "Next" > "Finish" and wait for the process to complete.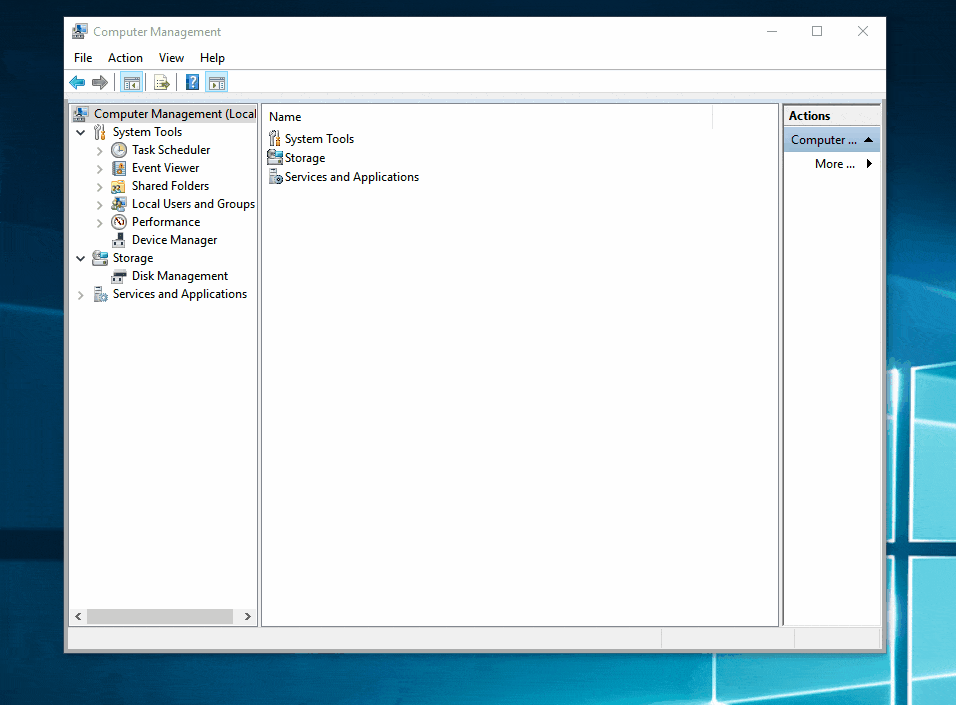 Option 2. Use EaseUS Partition Master
EaseUS disk manager provides you with a more visualized experience while extending a volume.
Step 1: Launch EaseUS Partition Master
Step 2: Free up space to extend partition
Step 3: Extend partition
Step 4: Keep all changes
There are slight differences between these two options while converting unallocated space to free space. However, when it comes to merging partitions or resizing partitions, the differences are remarkable and you will realize the convenience of using EaseUS Partition Master.
Knowledge Base: Is Unallocated Space Really Useless
Actually, unallocated space is not totally useless. It is required when you attempt to clone a disk/partition/system. For example, If you have an experience of using the Windows backup software - EaseUS Todo Backup to clone a system or disk, you are asked to make sure the target disk is shown as unallocated space before the cloning. Besides, if the unallocated space is insufficient, you will receive the prompt saying "not enough unallocated space on the target disk". To deal with it, you can either delete the existing partition on the target disk or switch to a bigger one instead.
The Bottom Line
In conclusion, to make unallocated space usable, converting it to free space is necessary. To change unallocated space to free space, both partition creation and extending are practical solutions. Depending on your needs, you can either use Disk Management or software like EaseUS Partition Master to achieve the goal.
In cases like system clone and disk clone, enough unallocated space on the target disk is one of the requirements for a successful clone.
Hope this guide is useful to you.
100% of people found this article helpful.
Frequently Asked Questions
Why Choose EaseUS Partition Master?

"I've used Partition Master Professional many times to create, delete, format, move, rename, and resize partitions." —PCWorld

"Partitioning tools have come a very long since the days of complicated command line utilities and EASEUS Partition Master is one of the most advanced programs available." —TECH ADVISOR

"I love that the changes you make with EaseUS Partition Master Free aren't immediately applied to the disks. It makes it way easier to play out what will happen after you've made all the changes." —Lifewire
Will the "Migrate OS" feature transfer the Windows system files only or the whole C drive?

To ensure that the migrated system will boot normally, the Migrate OS feature will transfer all the files in the system and the boot partitions. Generally, the boot partition is the C drive so the transfer will include all the files in C.
Does EaseUS Partition Master license apply to multiple computers?

The license of Partition Master Professional and Server editions can be used on 1 computer only, while that for for the Technician and Unlimited editions can be used on multiple machines.
What is the difference between EaseUS Partition Master Trial version and the Free version?

Free is for home users only, with most basic functions available such as partition resize and clone. While trial can help you understand how this product works and test what a full license can do on a business or server OS machine.
Will it cause any data loss after resizing the partition in EaseUS Partition Master?

Generally, it will not cause any data loss or boot issue by resizing a partition. However, in order to protect your data, we suggest that you backup the partition before resizing, in case of any unexpected situations such as power outages, computer hardware failures, etc. You can use EaseUS Todo Backup to backup the partition and its trial version is fully functioned for 30 days.
What should I prepare before resizing the partition?

On the partition that is going to be operated, there might be some files being occupied by other programs. To ensure a successful operation, we suggest that you close all the unnecessary software before resizing that partition. Otherwise, EaseUS Partition Master will detect the partition being locked by the other software and require a reboot to resize the partition under boot mode.
About EaseUS Partition Master
All-round disk & partition management software for personal and commercial use. Let it manage your storage drive: resize, format, delete, clone, convert, etc.