Unallocated Space VS Free Space
Do you figure out the difference between the two items, unallocated space and free space, in Windows 10 computer hard drive? Let's make it clear. Both of the space holds a portion of computer storage. However, the former suggests storage unusable with no file system to read and write data in it, and the latter is a ready-to-use storage that adding a drive letter to it can make it a regular drive.
So, to make full use of the hard drive storage, you have to convert the unallocated space to free space before putting it to real use. In Windows 10 PC, right click "This PC" and go to "Manage" and then "Disk Management" under Storage, you can locate the unallocated space, right-click it, and choose to create a new simple volume.
However, on this page, we don't recommend this way of converting this blank space. Regarding the cases that you might need to recover data from the unallocated space before trying to create a new partition with free space on it.
How to Convert Unallocated Space to Free Space
EaseUS Partition Master, as the best Windows 10 Disk Management alternative, allows basic operations on a hard drive partition, such as resize/move partitions, format partition, create partition, convert unallocated space to free space or convert free space to unallocated space, convert FAT to NTFS without losing data, partition hard drive to many partitions and so on. Most of all, you can apply the free partition manager to recover data before starting to convert the missing or unallocated disk space to drives on Windows 10.
Download and install EaseUS Partition Master Free on your Windows 10 computer. Launch it, and learn the following video guide if you demand data recovery from unallocated disk space.
Next, to gain free space from the unallocated disk, two feasible solutions are provided. Choose either of the methods to make full use of the storage on your Windows 10 computer hard drive.
Method 1: Create a new partition on the unallocated disk space
Step 1: Launch EaseUS Partition Master
On the main window, right-click on the unallocated space on your hard drive or external storage device and select "Create".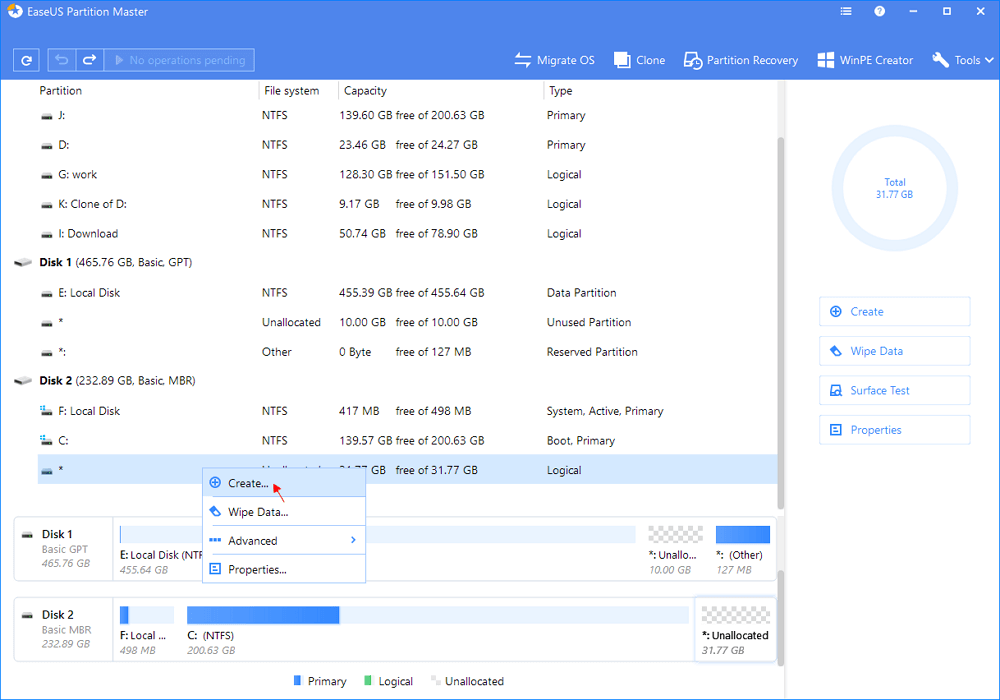 Step 2: Adjust the new partition size, file system, label, etc.
Set the size, partition label, drive letter, file system, etc. for the new partition and click "OK" to continue.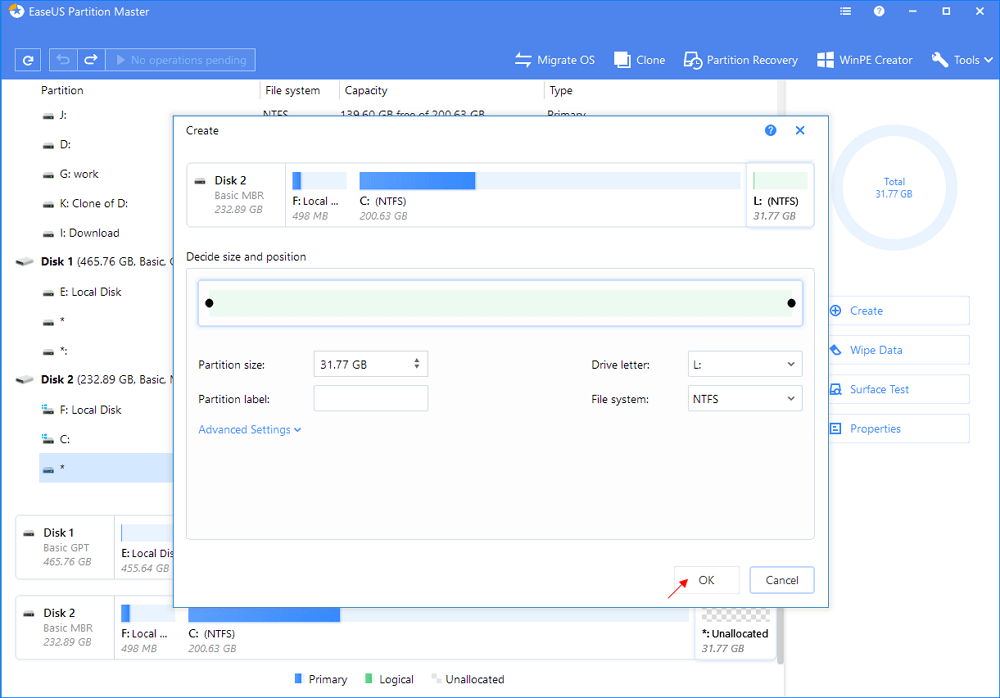 Step 3: Confirm to create a new partition
Method 2: Add the unallocated space to an existing system partition or data partition
Step 1: Launch EaseUS Partition Master
Step 2: Free up space to extend partition
Step 3: Extend partition
Step 4: Keep all changes