This article will introduce a free Toshiba hard drive recovery program to help those who want to recover lost data from deleted, formatted or corrupted Toshiba hard drive. And before we introduce "Toshiba hard drive recovery software", let's go to the following knowledge first.
Overview
A hard drive has been the dominant device for secondary storage of data in general computers since the early 1960s. As of 2010, virtually all of the world's hard drives are manufactured by just five large companies: Seagate, Western Digital, Hitachi, Samsung, and Toshiba.
Toshiba Corporation is a Japanese multinational conglomerate corporation. It is a diversified manufacturer and marketer of electrical products, spanning information & communications equipment and systems, Internet-based solutions and services, electronic components and materials, power systems, industrial and social infrastructure systems, and household appliances. And boasting its reliability, Toshiba hard drive is widely spread around the world.
Free Toshiba hard drive recovery
Although Toshiba hard drive is highly spoken of, you may encounter the following cases when you use it:
1. Accidental file deletion or permanent deletion by shift + delete keys.
2. Hard disk corruption due to virus attack, power failure, etc.
3. Hard Drives that have been formatted accidentally.
4. Unexpected system shutdown or application failure.
5. Hard drive structures are damaged or deleted.
If you meet these problems above or other hard drive and external hard drive recovery problems, please don't be panic. Actually, you still have the possibility to recover files there if you have not overwritten the lost data, that is, you can use a third-party professional hard drive recovery software to get lost files back from most of Toshiba hard drive series, including X-300 Higher Performance Hard Drive, P-300 High-Performance Hard Drive, E-300 Low Energy Hard Drive, etc.. Still, please do not do any change to the problematic Toshiba hard drive from now.
Here's what we recommended - a free recovery software - EaseUS Data Recovery Wizard Free Edition. It is the advanced and best free hard drive data recovery software and enables you to recover lost files from almost all kinds of data loss problems.
Steps to recover data:
Effective tips for a successful HDD data recovery with EaseUS HDD recovery software:
Your Hard Disk Drive (HDD) can be either an internal or external one. If it's an external HDD, you must correctly connect it to your computer using a proper cable, and it's going to appear in the "External Devices" section in EaseUS Data Recovery Wizard.
If the HDD data was lost due to a quick format, partition loss or deletion, switch to the "Lost Partition Files" tab to check the scan results after scanning the HDD.
Here's the standard process to scan and find lost data on an HDD:
Step 1. Choose your HDD partition(according to its drive letter or partition label) as the target disk and click the Scan button.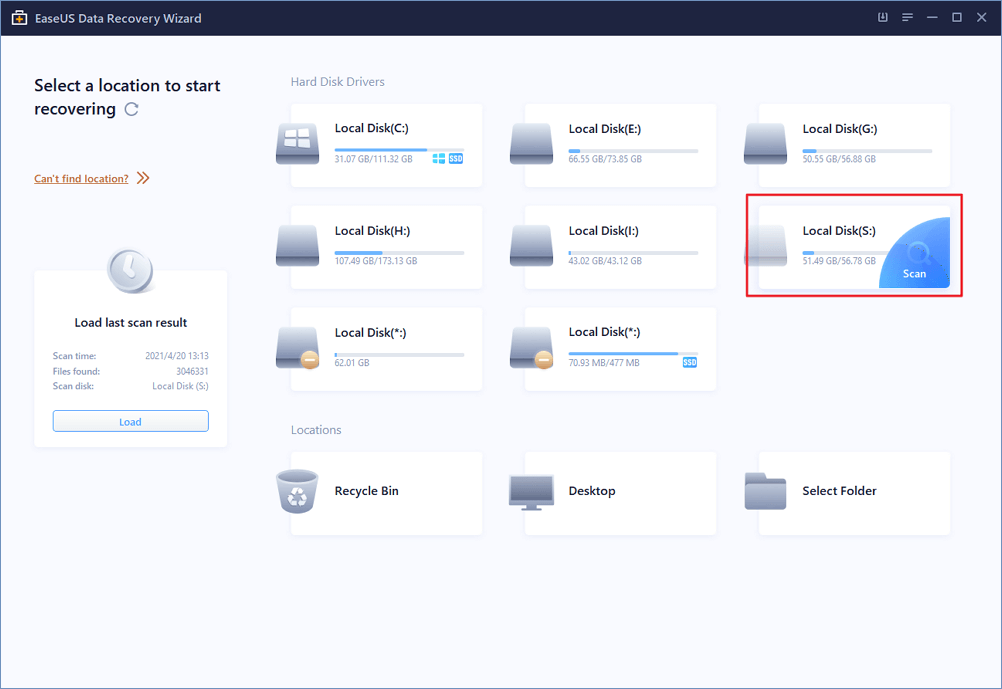 Step 2. Now it comes to the scanning process. Usually, it takes a while to finish this stage, but you can always stop midway as soon as the lost files were found and displayed in the results. That's one of the competitive strengths of EaseUS HDD recovery software. Of cause, it's better to wait until the last second gets over.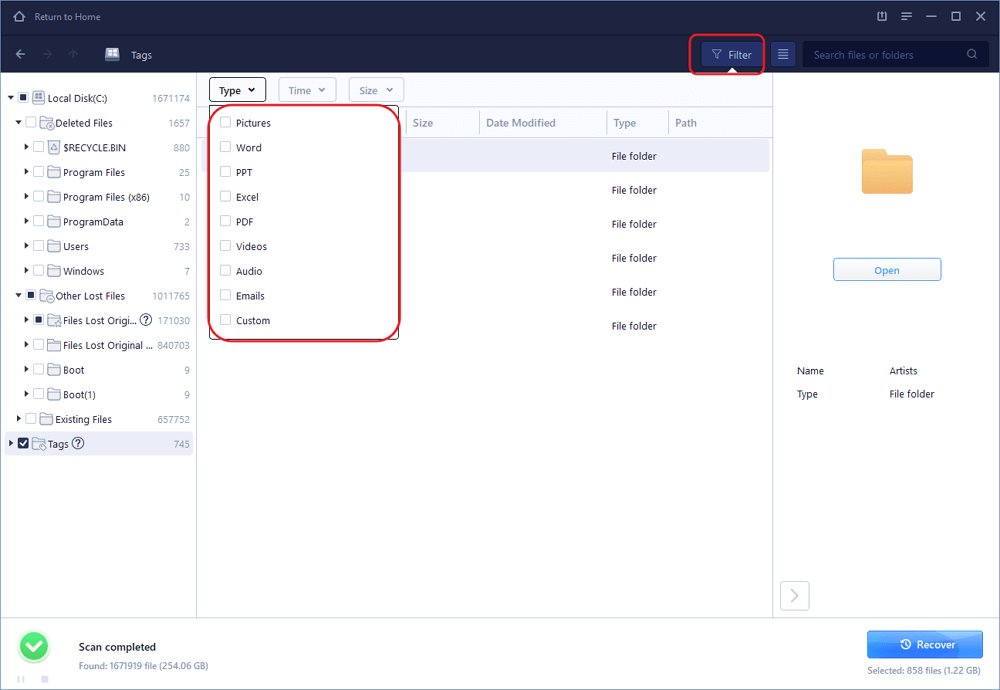 Step 3. When all lost data shows up in front of you again, feel free to check the desired items and click the Recover button. Do not choose the original drive for the recovered data. It's at risk of data overwriting.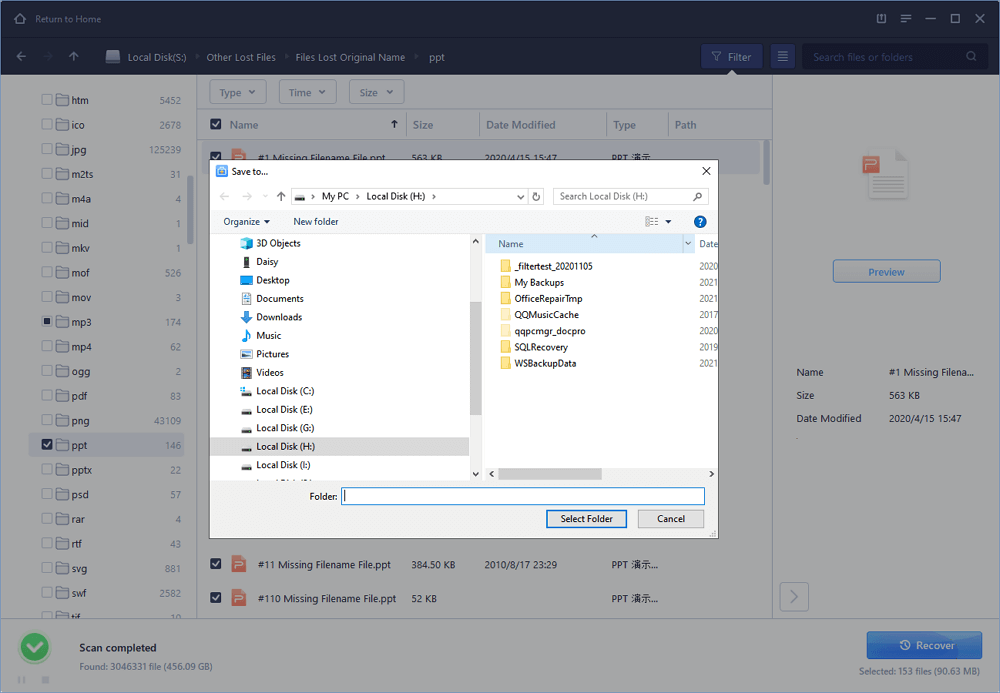 According to different data loss problems, this free hard drive recovery software for Toshiba contains three modules for a quicker guidance: Deleted File Recovery, Complete Recovery, and Partition Recovery.
To recover deleted data even it is emptied from the Recycle Bin can be simply tackled with by applying to this amazing software.
EaseUS Data Recovery Wizard is easy to be used for recovering lost data when hard disk drive was formatted, corrupted or displayed as RAW.
No obstacles will be met to use EaseUS Data Recovery Wizard and recover data from hard disk drive when the partition is deleted, lost or invisible. It will scan the entire hard disk drive to find out all possible partitions and recover data from deleted or lost partition.
Now, choose the right module and download this free Toshiba hard drive recovery software to get all lost files back easily and quickly.