| Quick Navigation | Detailed Guide |
| --- | --- |
| 1. Prepare for installing OS | Setup or gain a Microsoft DHCP...Full steps |
| 2. Create a system image for installing | Download EaseUS Todo Backup, click OS...Full steps |
| 3. Install Windows on multiple PCs | Launch EaseUS Deploy Manager and choose...Full steps |
For ordinary computer users, it's not a big deal to fresh install a Windows operating system, or update the present Windows into a new version. On the contrary, for business owners who have a batch of computers to handle, what's the most efficient way to install Windows 10, for example, to multiple computers at the same time? Taking care of each machine, one by one is never the wise management method.
Besides, every time you install Windows OS on each PC, you'll have to run to the computer's location. It doesn't sound like a time- and effort-saving efficient plan, either. So is there a way to remotely deploy Windows 10/8/7 system image to several nearby computers? Can you update all computers' OS simultaneously? Don't bother. To save time, energy, and money, you can rely on some professional system deployment tools.
Here in the following, you will learn how to set up, install, and configure Windows 10 operating system on new PCs, workstations, and servers with EaseUS system backup software and system deployment tool.
Chat with Our Experts!
Click here to contact our experts for a free evaluation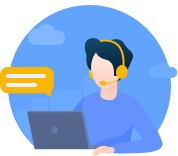 Start a live chat with an EaseUS Expert to tailor an enterprise backup solution specific to your requirements. We are here to assist you with the following as well:
Commence a free trial
Obtain a quotation
Arrange a free demonstration
Part 1. Prepare for installing OS on several PCs at the same time
Before you start planting Windows 10/8/7 on side-by-side computers all at once, you must do three preparation jobs as below.
Step 1. Setup or gain a Microsoft DHCP (Dynamic Host Configuration Protocol) server on your network;
Step 2. Ensure that all computers which need to install or upgrade to new Windows OS are under the same LAN.
Step 3. Create a full system backup image with EaseUS Todo Backup and put the image on a network where you can access it from the master PC. (Detailed in Part 2)
Part 2. Create a system image for installing or upgrading OS on multiple PCs simultaneously
In order to deploy the system on several different computers at the same time, a highly recommended method and must-be access to solving such a problem are to create a system backup image. EaseUS Windows backup and recovery software allows you to create a backup system image with simple clicks. Remember to put the system image on a network place where other PCs and your master computer can access it.
Step 1. Launch EaseUS Todo Backup on your computer, and click Create Backup on the home screen and then hit the big question mark to select backup contents.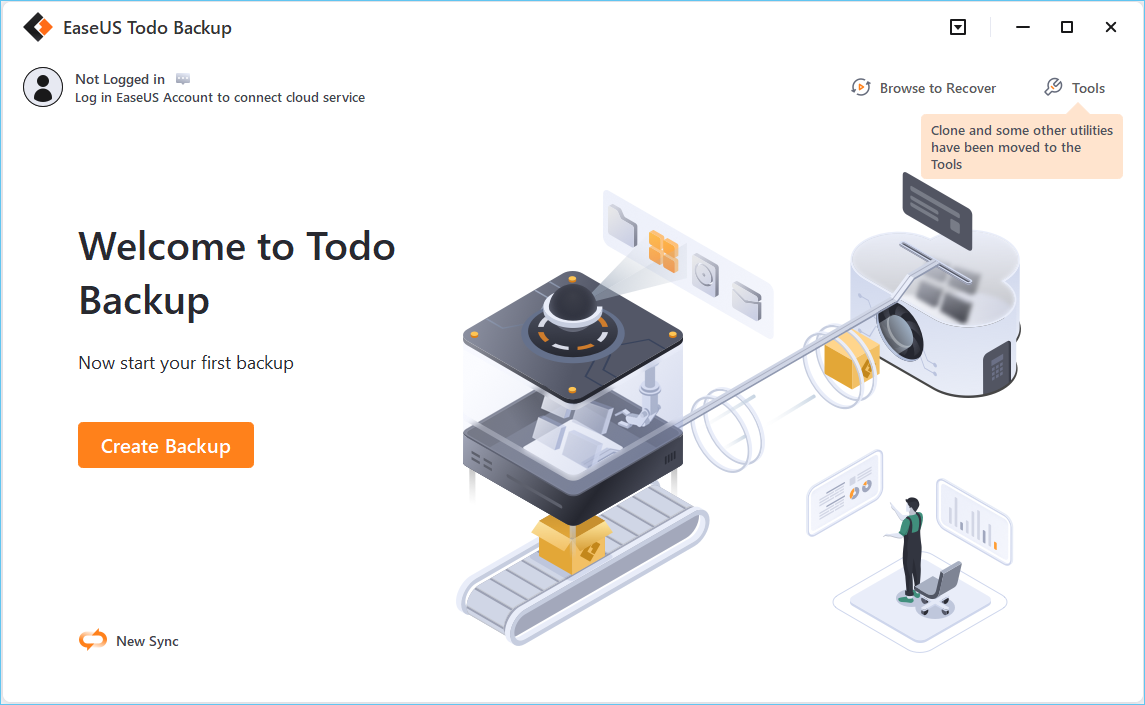 Step 2. To back up your Windows operating system, click "OS" to begin the backup task.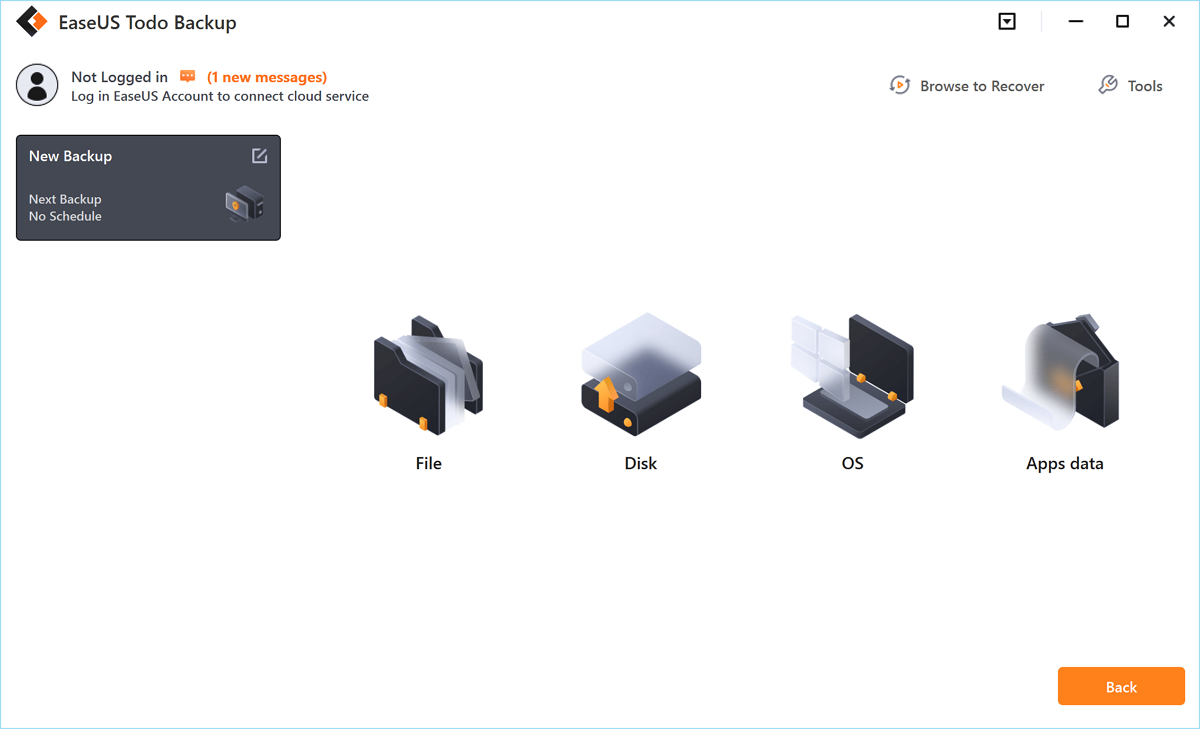 Step 3. Your Windows operating system information and all system related files and partitions will be automatically selected so you don't need to do any manual selection at this step. Next, you'll need to choose a location to save the system image backup by clicking the illustrated area.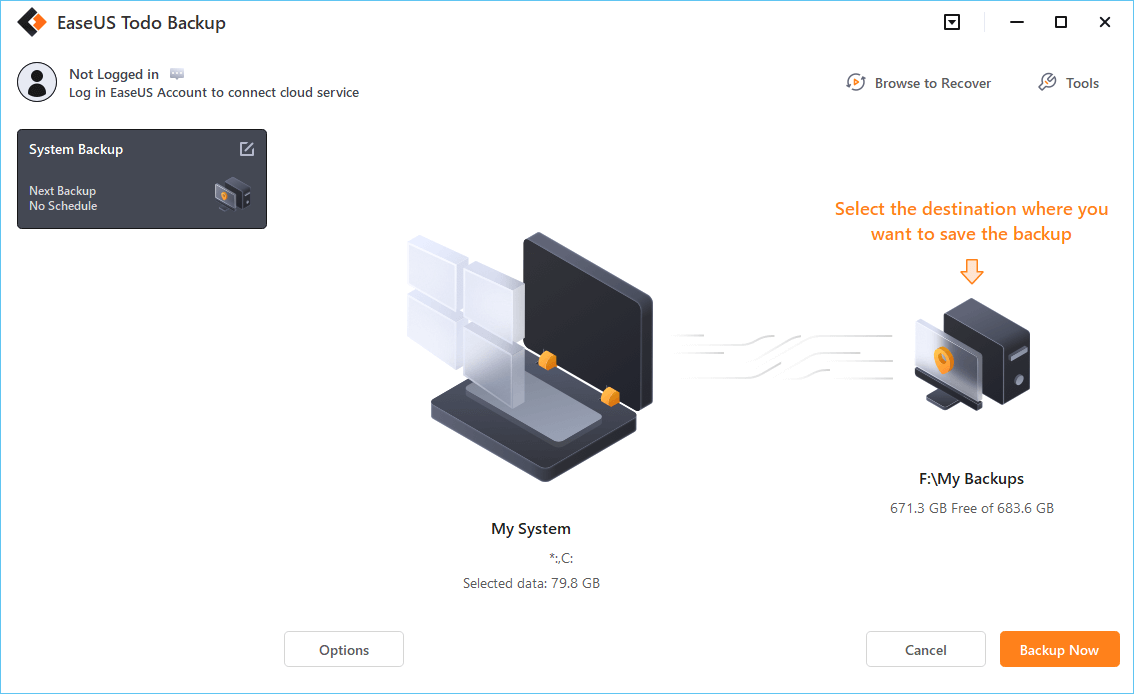 Step 4. The backup location can be another local drive on your computer, an external hard drive, network, cloud or NAS. Generally, we recommend you use an external physical drive or cloud to preserve the system backup files.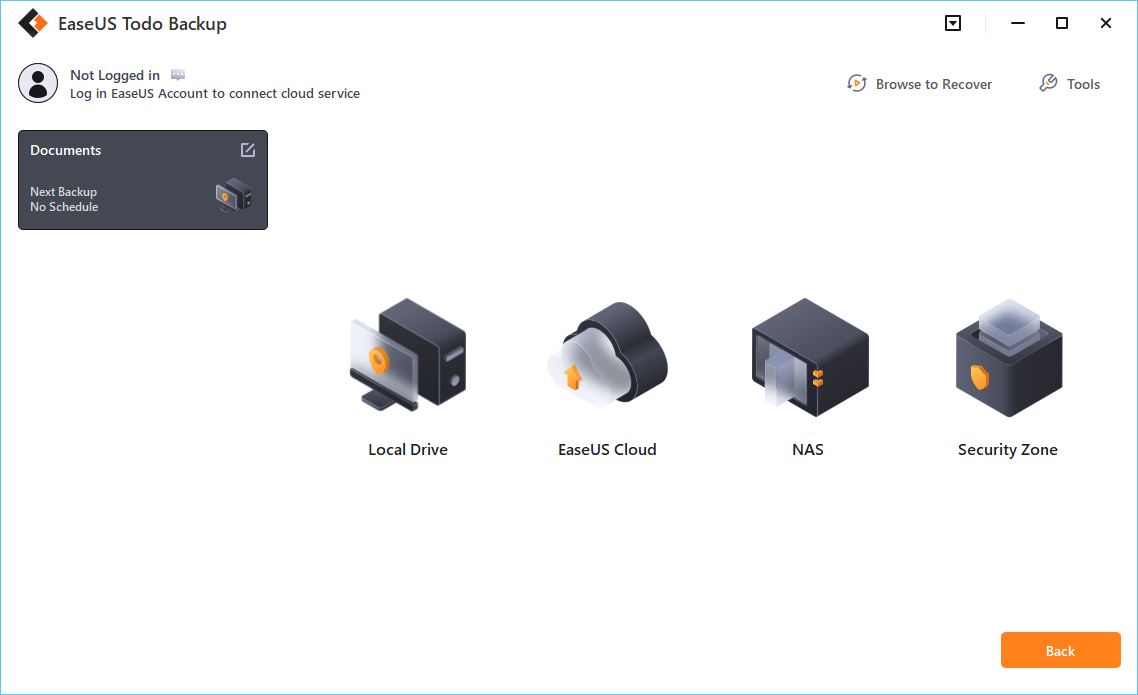 Step 5. Customiztion settings like enabling an automatic backup schedule in daily, weekly, monthly, or upon an event, and making a differential and incremental backup are available in the Options button if you're interested. Click "Backup Now", and the Windows system backup process will begin. The completed backup task will display on the left side in a card style.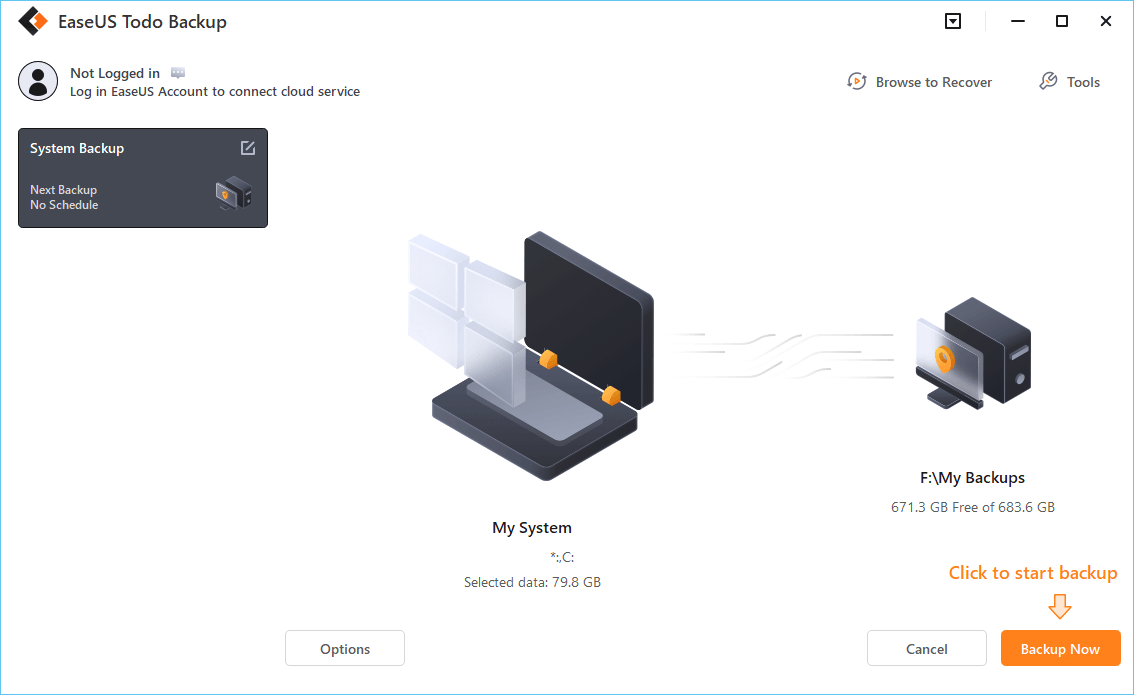 Part 3. Install Windows 10/8/7 on multiple computers at one time
So now it's the last step, how can you deploy or install the Windows system into other PCs at one time? To realize the goal, you'll need a specialized system deploy management tool. Here, we recommend you try EaseUS Deploy Manager, which allows you to place the Windows operating system on several computers with a few simple clicks. Follow the below steps to install Windows 10/8/7 on computers now.
Step 1. Deploy/Install OS (Windows 10/8/7) to multiple computers by creating computer/machine groups.
Launch EaseUS Deploy Manager and choose "Create group" and name the new group.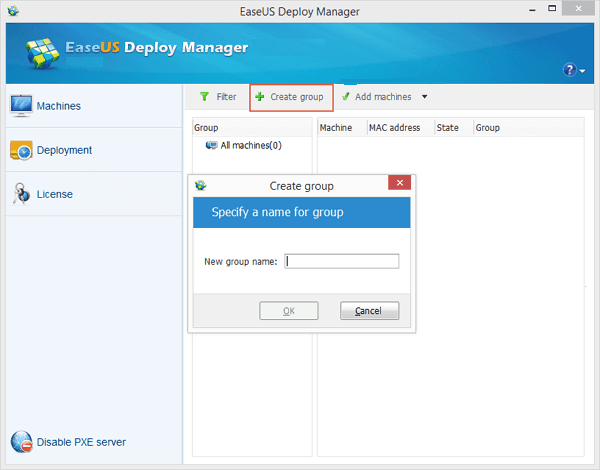 Or you can directly add computers by clicking "Add machines" > "choose "to add computers "From file" or "By Mac address". 
By Mac address: you can directly input the computer's Mac address, Alias name into the group so to add machine for system deploying/installing.
From file: this allows you to directly import a file into the software to add computers. The TXT file contains the computers' information including Mac address and Alias with Space or Tab 
Step 2. Create a system deployment task for installing OS on multiple PCs.
Click "Create" and then enter a task name and select the machines that you've added in step 1. And click "Next".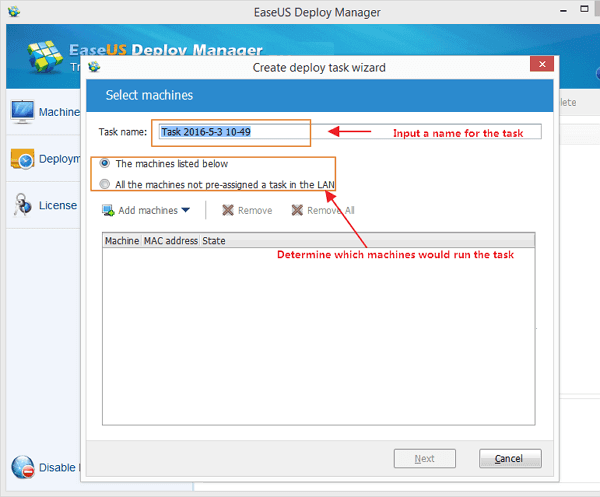 Step 3. Execute to deploy/install Windows OS on target computers.
Choose the created task and click "Run" to execute the deployment task. When the task is complete, you'll successfully install OS on all involved computers then. All you need is to be patient while the software is executing the task.
 Notice:

Remember to enter licenses for the computers that you need to install OS on. The license shall be equal to the number of computers that you need to deploy and manage.
Conclusion
EaseUS Deploy Manager can also help you update computer systems at the same time without any limits. It aims to simplify the IT administration routine and improve work efficiency. With the help of such an efficient system deployment solution, you are able to intelligently create an exact copy of your system as a master machine, including machine-specific configurations, deploy the image, and install Windows systems to a mass of live machines.
In a word, it is ideal for rapid bare-metal deployments to a large number of PCs or servers, and it ensures that changes deployed into a target system environment are executed in a structure. No need to manually install Windows on every machine.
FAQ on Install Windows 10/8/7 on Multiple Computers
Can I use the same Windows 10 product key on multiple computers?
No, you can't. The Windows 10 product key is only valid for one computer. If you try to use it on another computer, it won't work. Each computer has its own unique product key.
Can I have Windows 10 and 7 on the same computer?
Yes, you can have both Windows 10 and Windows 7 installed on the same computer. However, you'll need to install them on separate hard drives. Otherwise, they'll interfere with each other and cause problems.
Was this page helpful? Your supoport is truly important to us!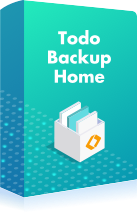 EaseUS Todo Backup
EaseUS Todo Backup is a dependable and professional data backup solution capable of backing up files, folders, drives, APP data and creating a system image. It also makes it easy to clone HDD/SSD, transfer the system to different hardware, and create bootable WinPE bootable disks.
Updated by

"I hope my articles can help solve your technical problems. If you are interested in other articles, you can check the articles at the bottom of this page, and you can also check my Facebook to get additional help."…

Read full bio

Written by

Jean is recognized as one of the most professional writers in EaseUS. She has kept improving her writing skills over the past 10 years and helped millions of her readers solve their tech problems on PC, Mac, and iOS devices. …

Read full bio