Question on OneDrive antivirus exclusions:
Hi, I observed that the files in my OneDrive are always flagged as viruses by the antivirus software. Meanwhile, I have had some of these files for long, and I'm sure they are clean. Does anyone have an idea to set the antivirus to exclude scanning the OneDrive files?
While it is not generally recommended, you might want to exclude some folders, files, or websites from being read during your Antivirus scan. A common problem that computer users face is OneDrive antivirus exclusions, and that is because antivirus software sometimes classifies the OneDrive files as malicious.
However, it is essential to be 100% sure that the concerned files, folders, or websites are not infected. Always use a trusted antivirus tool to check before making assumptions.
Easily back up your files, disk, and partition with a few clicks
Provide flexible Cloud storage, find backups anywhere
Get your system copied to an SSD/HDD, or create a portable Windows USB drive (Paid function)
How to Exclude OneDrive from Antivirus?
You might want to learn about OneDrive antivirus exclusions if it prevents you from downloading selected files and folders. The error message usually looks like this: "We detected that this file contains a virus that could harm your computer and stopped the download."
That can be annoying, especially when confident that the concerned files are clean. How then do you exclude OneDrive from Antivirus?
Different antiviruses exist, like Bitdefender Antivirus Plus, Norton360 With LifeLock, Malwarebytes, McAfee Antivirus Plus, etc. The steps to set scanning exclusions are similar. Here, we use the Bitdefender as our case study.
Step 1. Launch the antivirus protection software, and locate Protection from the navigation menu. Note that this might be slightly different for other antivirus tools.  
Step 2. The Protection Features window opens. Check for Antivirus and click Open.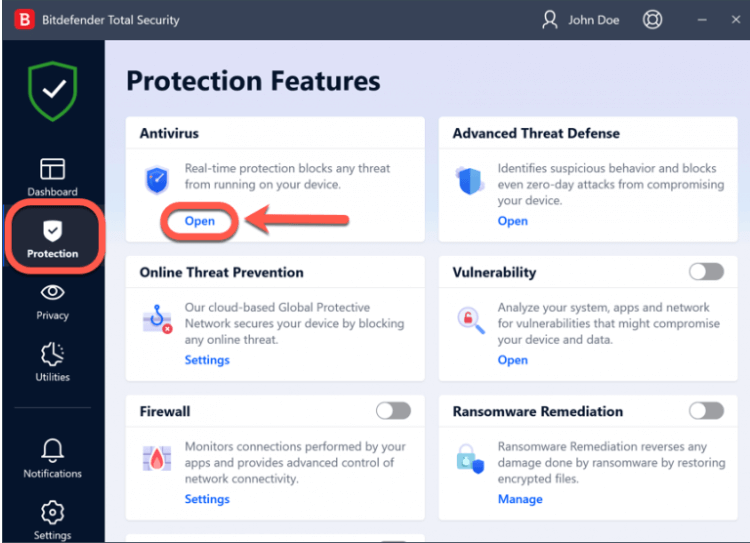 Step 3. Select Settings under the new Antivirus window, and click on the Manage exceptions tab on the right-hand side of the display.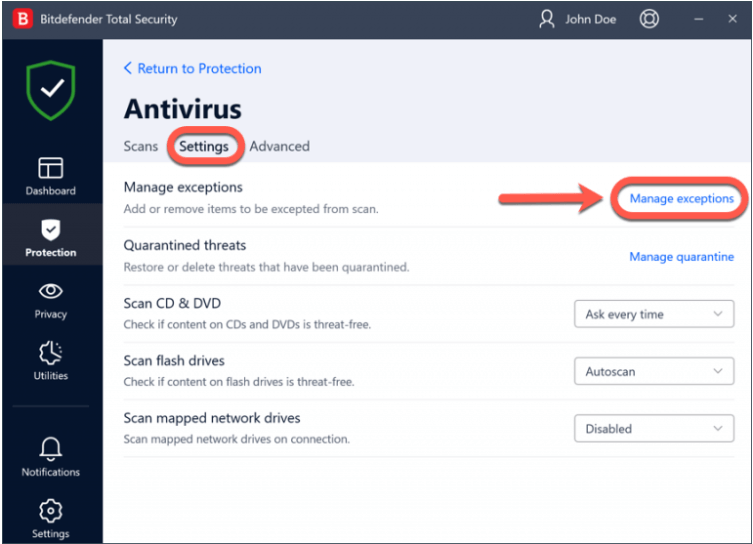 Step 4. From the next page, click on +Add an Exception.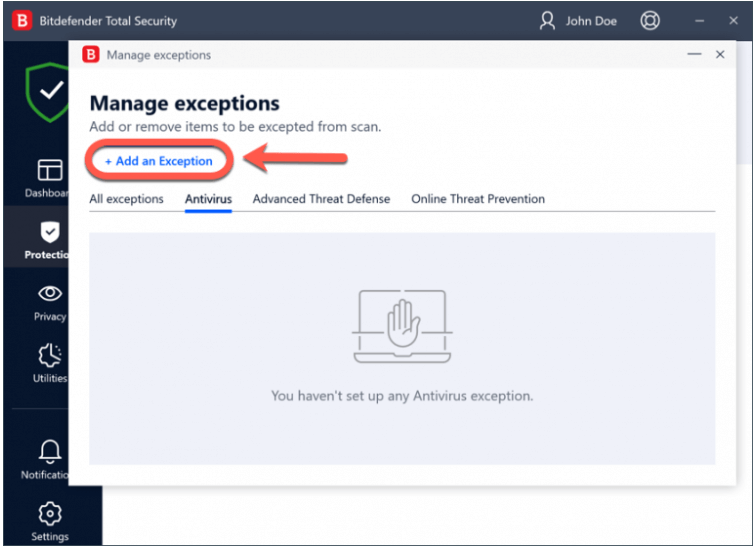 Step 5. Enter the correct path of the OneDrive folder to activate the OneDrive antivirus exclusions. You can also choose to browse manually for the location of the OneDrive folder and select OK after identifying the correct location of the OneDrive folder.
Step 6. An Exception options window is displayed. You should see a switch in front of the Antivirus tab. Turn it on and click Save to confirm the OneDrive antivirus exclusions.

Stop OneDrive Backup in Windows 11
If you don't want to back up content with OneDrive and want to disable it once for all, this article describes in detail how to stop OneDrive Backup in Windows 11.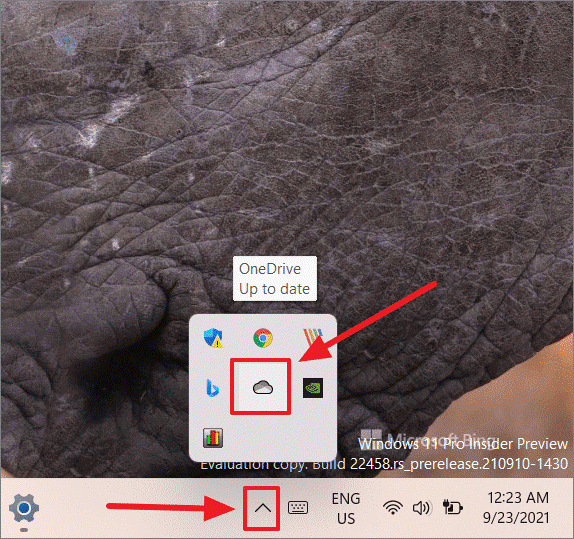 People Also Ask
1. How do I disable OneDrive antivirus?
The OneDrive antivirus cannot be disabled. That is to ensure all documents stored in OneDrive are safe. However, you can disable the Windows Defender Antivirus. Simply select Start > Settings > Update & Security > Windows Security > Virus & threat protection > Virus & threat protection settings. Also, remember to switch off Real-time protection.
2. How do I make folders excluded from antivirus?
Depending on the antivirus software, open the Settings window, and check for the Manage Exceptions or Scan exclusion tabs. The specific name varies for different antivirus tools. Follow the next prompts to add or remove exceptions. To add, follow the path for the file/folder location. Select the file/folder and press OK. Save the changes made.
3. What are antivirus exclusions?
The "Antivirus exclusions" is a list of folder/file/applications pathways that have been excluded from the scan results display. The implication is that the Antivirus software skips those files/folders during a scan. However, it means there is a risk that such files cause serious harm to the system if infected. We encourage users to be certain about the file status before OneDrive antivirus exclusions.
4. Can a virus get into OneDrive?
Yes, it is possible when you save affected files on the OneDrive folder. You have to upload an affected document to OneDrive before other files are at risk. Otherwise, your OneDrive is secure.
Conclusion
This guide perfectly summarizes the fundamentals you need to carry out OneDrive antivirus exclusions. The steps are easy, but you must first be sure that the files to be excluded are 100% safe. All it takes is one infected file to affect other clean documents.
Are you sure the error message suspecting your files is false? You can follow the steps above to exclude OneDrive from the antivirus scan. We used the Bitdefender antivirus here. Try the process out with your antivirus software and share the results.
Updated by Gemma
Gemma is member of EaseUS team and has been committed to creating valuable content in fields about file recovery, partition management, and data backup etc for many years. She loves to help users solve various types of computer related issues.
Taking everything into consideration, we can say that EaseUS Todo Backup Home can offer you a little extra sense of security with a set of advanced tools. The interface provides quick adaptation, every process guiding you all the way through so you don't get stuck or further damage your system rather than keeping it safe.

 Read More

EaseUS Todo Backup Free lets you create backups of your important files or your entire computer through its streamlined interface. Just choose the backup type you'd like to get started, and let the program do the reset.

 Read More

EaseUS includes all the features I expect from backup software like versioning, incremental backups, and scheduling. For more advanced users, EaseUS allows you to install a pre-boot environment onto your hard drive so you can use it to restore files without burning a CD or putting it on an external USB drive.

 Read More

EaseUS Todo Backup
Smart backup tool for your files and entire computer in Windows 10/8/7.
Install Windows on Multiple Computers at Once? No Problem!
Learn how to install Windows 11/10/7 and special programs/software on a batch of computers. Use 10 minutes to do the 10 hours work without making a single mistake!
Get Free Solution!