Data is a critical asset for a small business. If a hard drive suddenly goes bad without additional backup, it will cause incalculable damage to the business. So it is a necessity for a small business to backup its vital data. And NAS is an outstanding choice for businesses. If you don't know what NAS is and how to choose NAS, this article will solve all your worries and help you choose the best NAS for small business backup.
What Is a NAS for Small Business Backup?
Network-attached storage (NAS) is a file-level (as opposed to block-level storage) computer data storage server connected to a computer network providing data access to a heterogeneous group of clients. – by 
Wikipedia
So NAS refers to Network Attached Storage. NAS can be attached to a computer, which means that users can access their data over the network after it is stored on the NAS. A NAS system requires a NAS device, which is built similarly to a small computer and consists mainly of the following components:
Hardware: One or more hard drives are required for data storage.
Software: To access the data, an operating system and processor are necessary.
Protocol: Data can be shared on the network only with the help of a transfer protocol.
Network: It requires a router or other distributor to allow the network storage to be connected to the network.
After understanding what NAS is, it's time to see what NAS can bring to small business backup.
Are NAS Drives Good for Small Business Backup?
NAS is the perfect choice for small business backup. Without professionals, NAS can store data securely and reliably and provide daily access. In addition, NAS can be extremely efficient and can provide small businesses with the following benefits:
Store data on another device to prevent data loss.
Backup data on NAS to give double data protection.
Manage data from different computers through the network.
Share data with others through the internet.
Enable employees to achieve timely assistance.
Expand more storage space on the computer.
In conclusion, using NAS to backup data can be a great convenience for small businesses to improve efficiency. And employees can work anytime and anywhere. Next, we will talk about what to consider when choosing a NAS.
Chat with Our Experts!
Click here to contact our experts for a free evaluation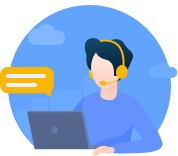 Start a live chat with an EaseUS Expert to tailor an enterprise backup solution specific to your requirements. We are here to assist you with the following as well:
Commence a free trial
Obtain a quotation
Arrange a free demonstration
Factors to Consider When Choosing NAS for Small Business Backup
The most basic function of NAS devices is to store data. But there are better network connectors to meet more needs of people, such as using a media center for movie watching. And there are many NAS devices available on the market, so before choosing NAS for small business backup, we need to consider the following factors:
Storage capacity: The capacity should depend on the content you want to store on the NAS hard drive.
Trusted brands: A trustworthy brand will be better at R&D strength, after-sales service, and warranty.
Performance: The speed of operation and its endurance will determine how long the NAS will be used.
Usage: Some will offer additional mail servers or web servers.
There also exist other software and hardware factors to consider when choosing a NAS. These depend on your habits and which one you prefer to use. Next, there will include five recommendations for NAS for small business backup.
Best NAS for Small Business Backup 2022
There are five best NAS systems for small business backup: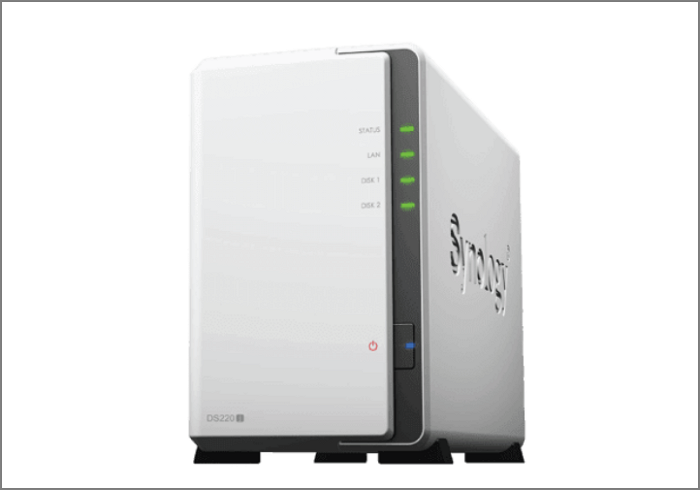 Synology is the best overall device of all NAS options. It can quickly support applications for a variety of uses. Delivering up to 32 TB of storage and 112 megabits per second (MBps) of encrypted read and write. Here are the pros and cons of Synology:
Synology DiskStation DS220j
Pros
Full protection with military-grade encryption technology.
Doesn't consume much power: only 12w
Cons
Increased risk of plastic tread wear on the screws.
Only two of the 12 cameras can be connected for free.
Price
$549.99(4GB)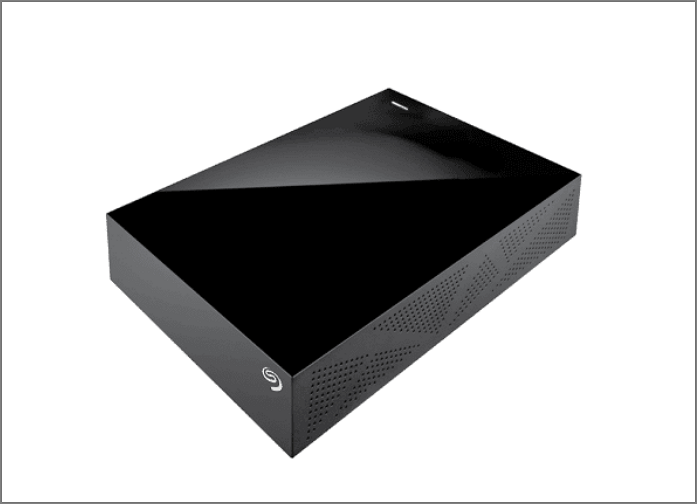 Seagate's security is best. Seagate NAS can store data and allow remote access to 16 TB of data. In addition, when sharing files, administrators can control security levels and access rights. Here are the pros and cons of Seagate:
Seagate Desktop 8TB External Hard Drive
Pros
Simple setup, and most systems can recognize the drive.
Writing speed is fast for most purposes, and it runs quietly.
Cons
It is used for file storage, not streaming.
The transfer speed is a little slow.
Price
$261.98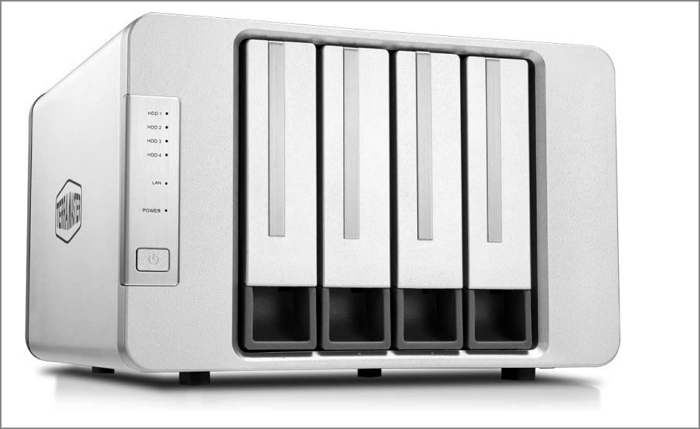 TerraMaster is sufficient to meet basic needs. This kind of NAS is the most budgeted device. It can hold up to 72TB of raw internal storage, with a maximum individual drive capacity of 18TB. Here are the pros and cons of TerraMaster:
TerraMaster F4-210
Pros
It is easy to understand the operating system.
The base RAM is better.
Cons
It may be a little noisy when using the drive.
There is no unified cloud backup application.
Price
$450.78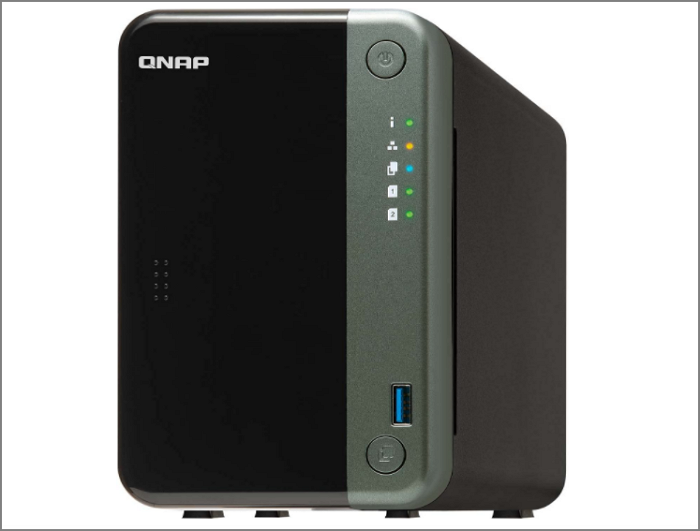 Because of the QNAP's hardware specifications, upgradeable options, and its extensive support for cloud storage solutions, this is the best choice for backup functions. QNAP supports up to 30+ different cloud backup services. Here are the pros and cons of QNAP:
QNAP TS-253D
Pros
It has a large number of cloud and local backups.
It has Dual 2.5GbE ports.
Cons
Some settings and options are ambiguous.
For media software, the performance is poor.
Price
$514-$802(4GB)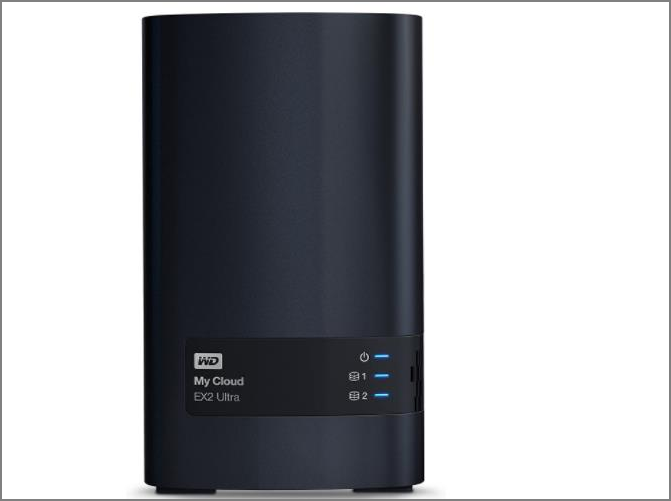 Western Digital has a very large selection of NAS devices to choose from. With a maximum capacity of 36TB and a price tag of under $200, this device adds significant value to your network. Here are the pros and cons of WD My Cloud EX2 Ultra:
WD My Cloud EX2 Ultra
Pros
The price is affordable.
It can stream video with no glitches.
Cons
The functions are limited.
There is no HDMI port.
Price
From $304- $2599
Five NAS devices have been introduced above, and each has advantages and disadvantages, so your company can choose according to the needs:
If you want to buy the cheapest one, WD My Cloud EX2 Ultra and TerraMaster F4-210 are suitable for you.
If you want to buy a NAS mainly for backup, you can choose QNAP TS-253D.
Seagate Desktop 8TB External Hard Drive is best for your data security.
Synology DiskStation DS220j is the best overall device.
Once you know your needs, you can make a selection of NAS devices. The next will show how to backup the computer to NAS.
How to Backup to a NAS Device?
Using professional software to backup the computer to NAS is a very convenient operation. EaseUS Todo Backup Enterprise could be the best choice for backing up. It can:
Control all backups from different computers.
Backup automatically weekly or monthly.
Keep the backed-up data encrypted.
Support local and offsite backups.
Support system clone, hard drive clone, and partition clone.
Backup multiple SQL databases.
Using EaseUS Todo Backup Enterprise to backup the NAS is the best choice. And all kinds of devices are available. It is also easy to operate. Here is the step-by-step guide.
Step 1. Open EaseUS Todo Backup Enterprise. Then click "New Task" to set a new backup.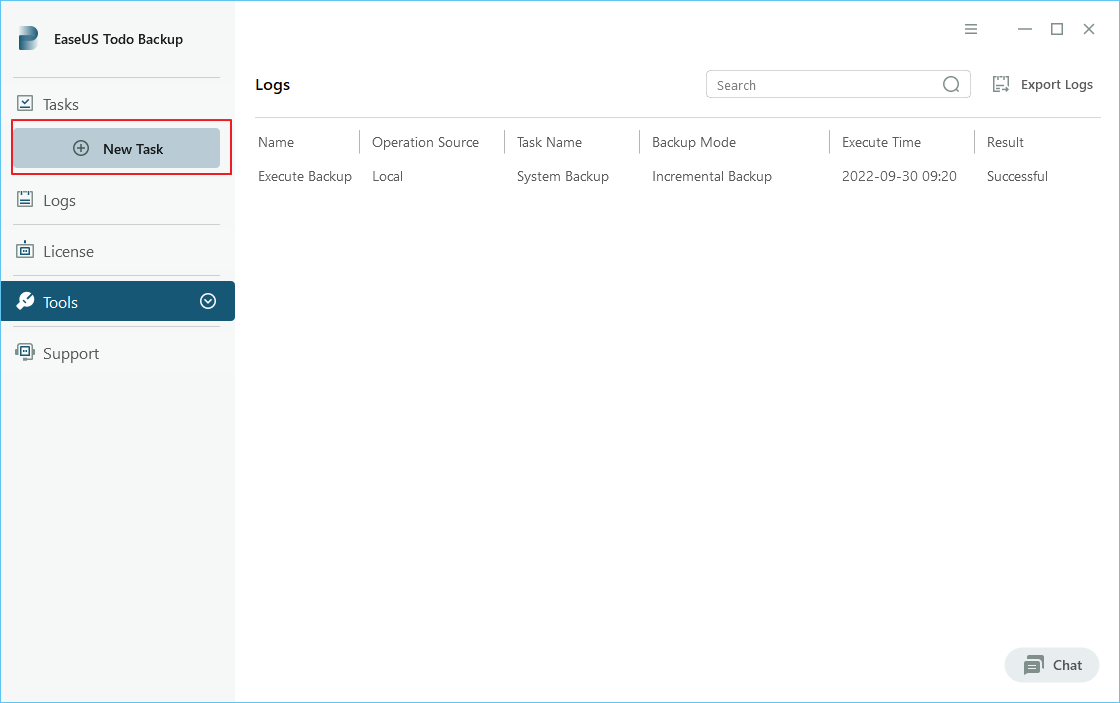 Step 2. Choose "File" as the target among the options at the top. Then select the specific files you want to back up.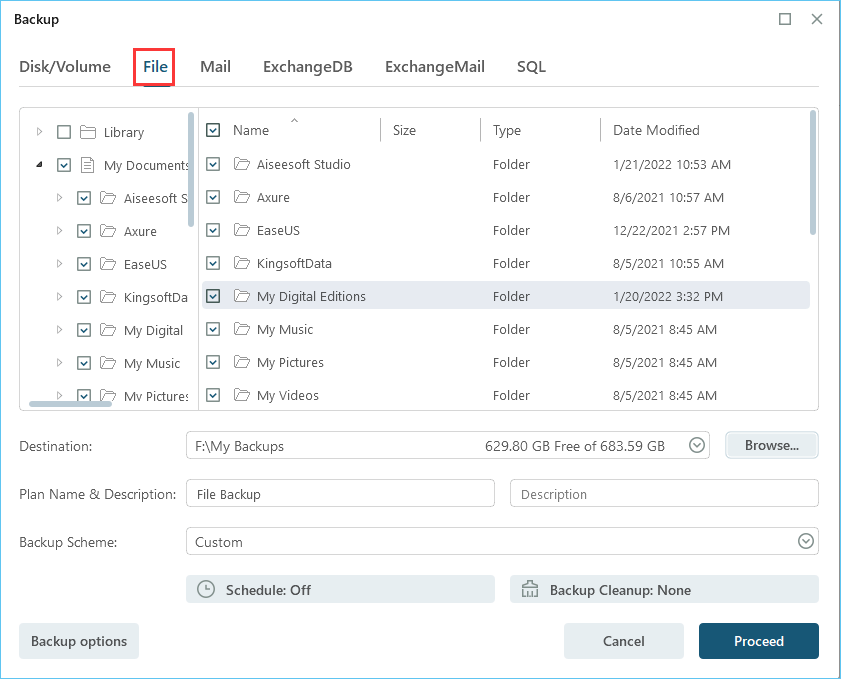 Step 3. Then click "Browser" to choose the destination where you want to put the backup.
Step 4. You can customize your backup scheme by clicking "Schedule: Off". Here you can see "Schedule", "Backup cleanup" and "Adcanced Settings". Click "New" under the "Schedule" catalog.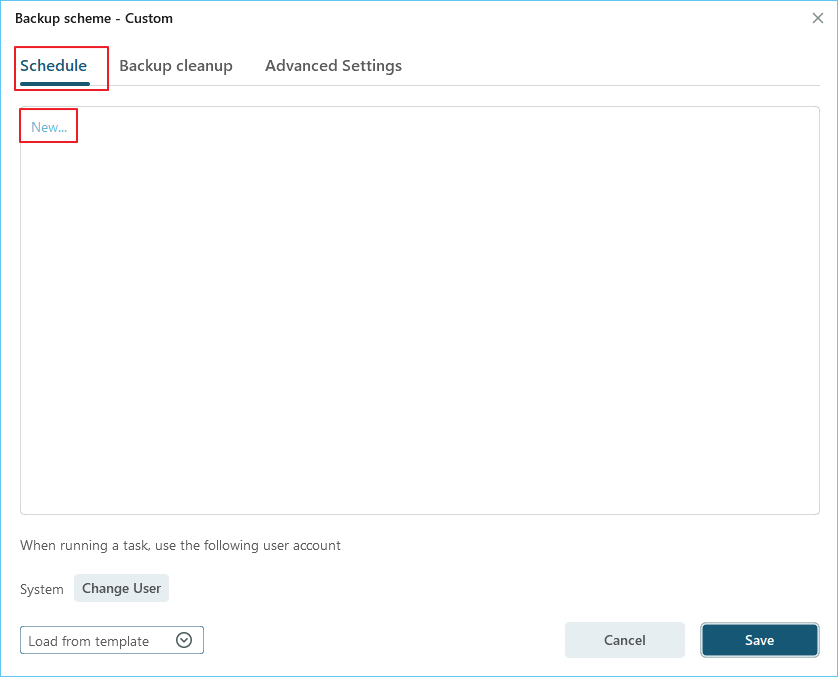 Then set the backup frequency based on your needs.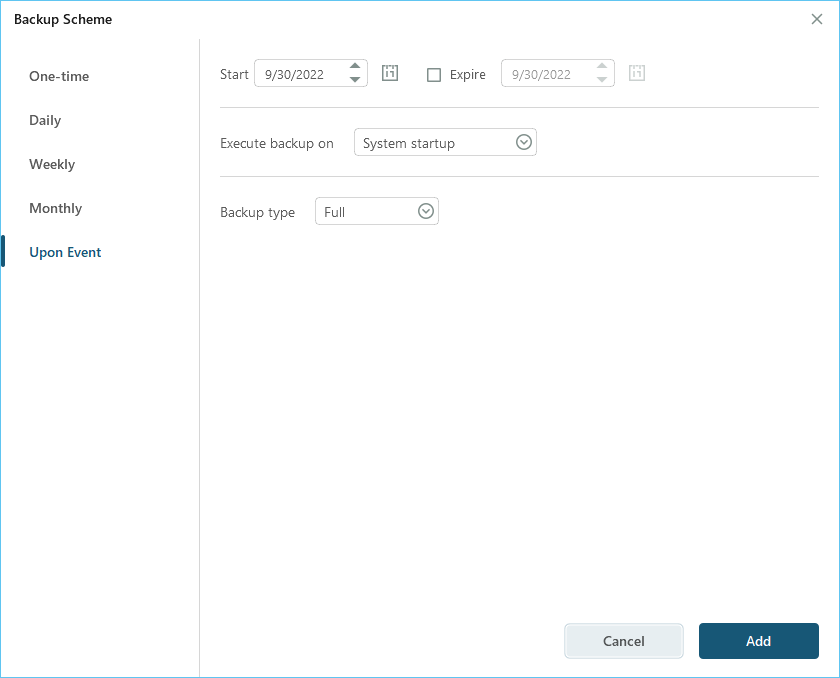 Or, you can choose the "Smart backup" under the Backup Scheme, which will monitor the selected file changes and backup sutomatically.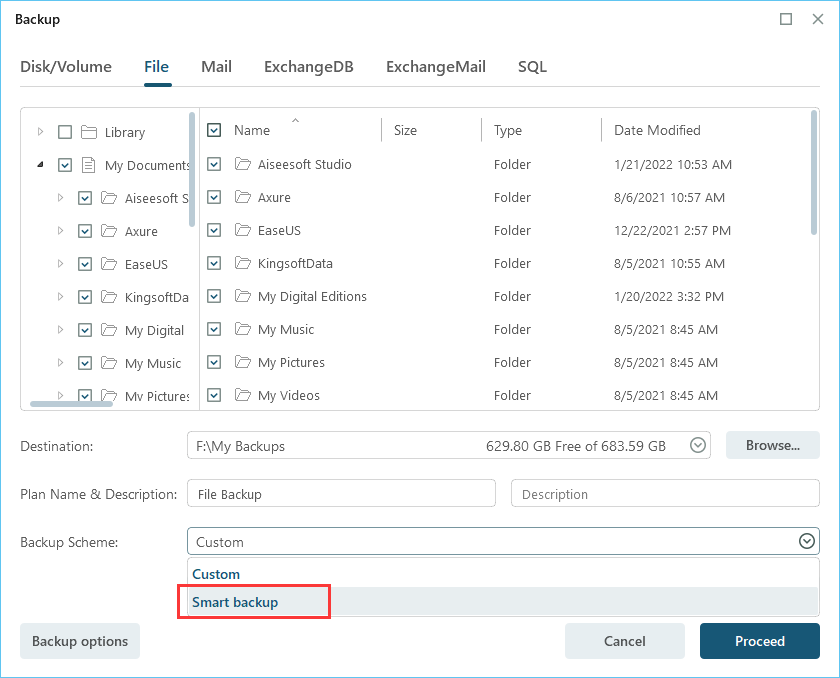 Step 5. Click "Backup options" on the bottom-left corner of the interface.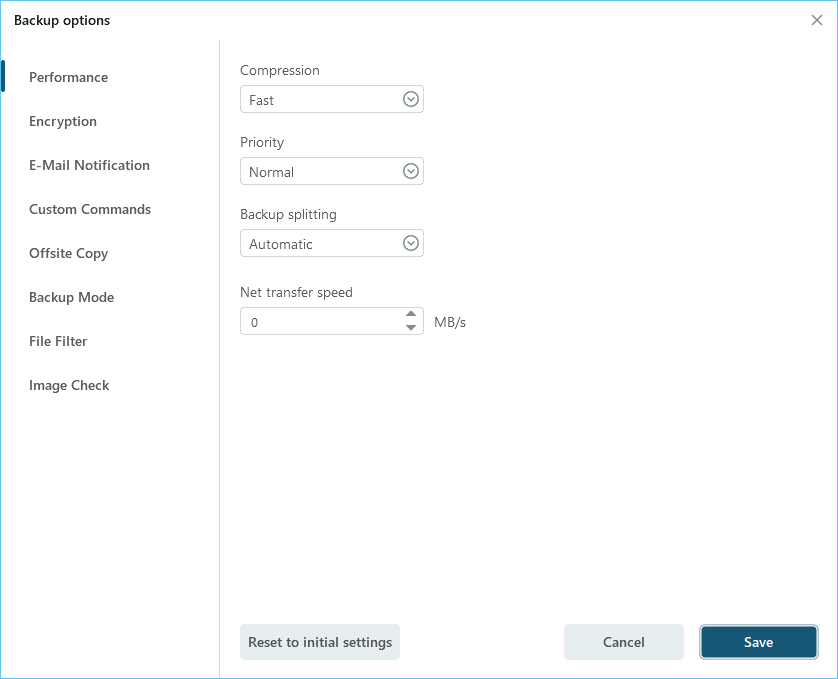 You can change the performance, encryption, e-mail notification, and other options here according to your preferences. When finish, click "Save" to return to the main interface. 
Step 6. When you finish all settings, click "Proceed" to start backing up files.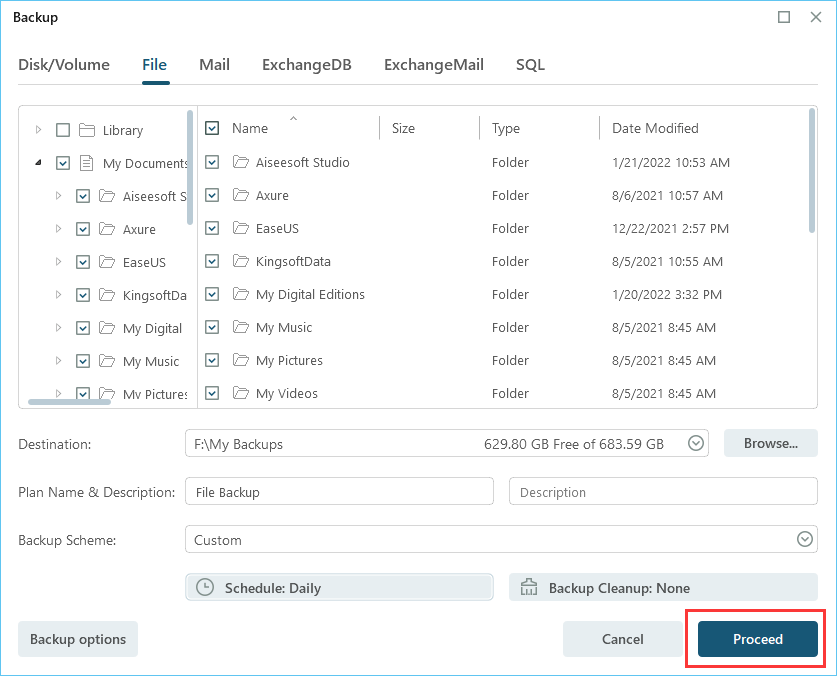 Conclusion
Data security is very important to businesses. This article recommends the five best NAS devices for small business backup. And there is always one that is suitable for you. For rapid data backup and recovery of NAS, EaseUS Todo Backup Enterprise is a reliable choice, and you can have a try!
FQAs about Best NAS for Small Business Backup
After learning about s the best NAS device recommendations, here are some frequently asked questions, so let's summarize some of them:
1. Can you use a NAS as a backup?
Of course, you can use a NAS to backup your files. You can use professional backup software, such as EaseUS Todo Backup Enterprise. But if you want to back up important data, NAS should not be the only one to store it. To keep your data safe, you should back up your data to multiple locations.
2. Is NAS good for business?
NAS is a very good choice for businesses. Because of its large capacity, it is easy to store data. And it runs through the network access, which facilitates the work cooperation of employees. As a result, NAS can ensure the efficient operation of work.
3. How much does a good NAS cost?
It depends on which NAS devices you choose. The price is usually between 500 dollars and 2,000 dollars. There are also cheaper devices, but they lack some of the functions.
Was this page helpful? Your supoport is truly important to us!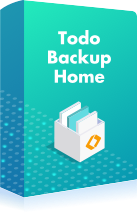 EaseUS Todo Backup
EaseUS Todo Backup is a dependable and professional data backup solution capable of backing up files, folders, drives, APP data and creating a system image. It also makes it easy to clone HDD/SSD, transfer the system to different hardware, and create bootable WinPE bootable disks.
Updated by

"I hope my articles can help solve your technical problems. If you are interested in other articles, you can check the articles at the bottom of this page, and you can also check my Facebook to get additional help."…

Read full bio

Written by

Cici is the junior editor of the writing team of EaseUS. She accepted the systematic training on computers at EaseUS for over one year. Now, she wrote a lot of professional articles to help people resolve the issues of hard drive corruption, computer boot errors, and disk partition problems.…

Read full bio