Windows 11 is now available to every user who would like to do an automatic upgrade from Windows 10. Still, we heard that quit a few people do not want Windows 11 update in their Windows 10 computers. Despite Windows 11 has been proved to be more innovative and productive, there are still reasons for "I don't want Windows 11!" after comparing Windows 11 and Windows 10.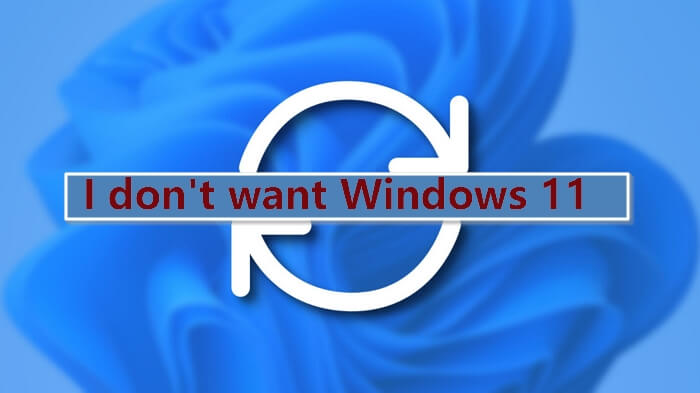 What should you do if you don't want any Windows 11 update in your Windows 10 computer? There are three reacting ways according to three different situations:
Workable Solutions
Step-by-step Troubleshooting
1. Disable/block automatic Windows 11 update

Stop Windows 11 update permanently
Pause Windows 11 update for 7~35 days...Full steps

2. Go back to Windows 10 after Windows 11 upgrade
Go back to Windows 11 update in 10 days
Return to Windows 10 at any time...Full steps
* EaseUS system backup and recovery software is always on the top recommendation list for one of the Windows 11 upgrade essentials. It's a critical step to make a backup for disaster recovery.
1. I don't want Windows 11 but frequently receive automatic updates
Are you constantly interrupted by the Windows update message telling you that there is an update available to install by giving you options to A.) Update and restart now B.) Remind me later C.) Schedule install at a later time.?
This is the automatic update notification pushed by Microsoft to every personal PC. If you're firm enough to stay away from Windows 11 for good without updating, it's high time for you customized your own Windows updating preferences.
Methods to Stop Windows 11 update permanently:
Do you prefer a one-click solution to disable the Windows automatic update feature? If so, get the versatile toolkit - EaseUS CleanGenius to help you. With it, you can disable/enable Windows Update, repair hard drives, remove/enable write-protection, and more within seconds.
To disable Windows Update:
Step 1. DOWNLOAD EaseUS CleanGenius for free and install it on your computer.
Step 2. Launch EaseUS CleanGenius and go to "Optimization".
Step 3. The tool will detect the status of the Windows Update service automatically. If Windows Update is currently enabled, click the switch to stop the service.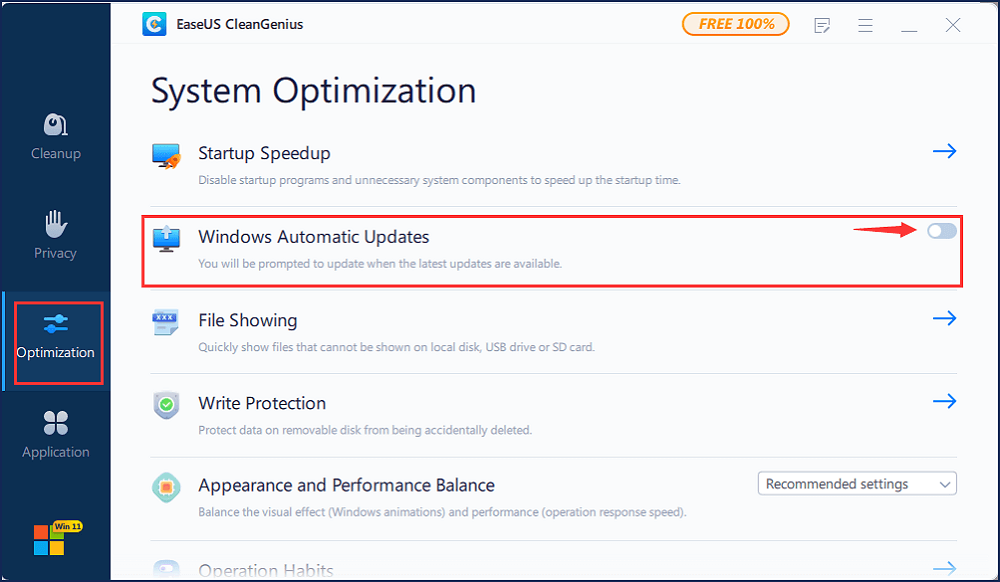 Step 4. If you want to check whether you have disabled the service automatically, go to "Start" > type "Services" > right-click "Services" and choose "Run as administrator".
Step 5. In the list of services, find and right-click "Windows Update" > "Properties". In the "Service status" section, you should see the service has been stopped.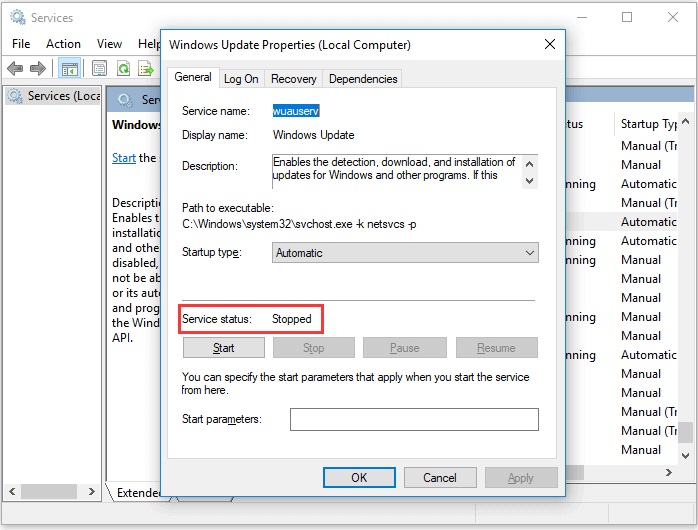 Methods to Stop Windows 11 update temporarily (1~5 weeks):
Windows 11 offers you the choice of when and how to get the latest updates. By this way, you can choose to temporarily pause an update from being downloaded and installed. Note: Using this method, you can pause the updates for up to 35 days.
Step 1. Select Start > Settings > Windows Update > Pause updates for 7 days.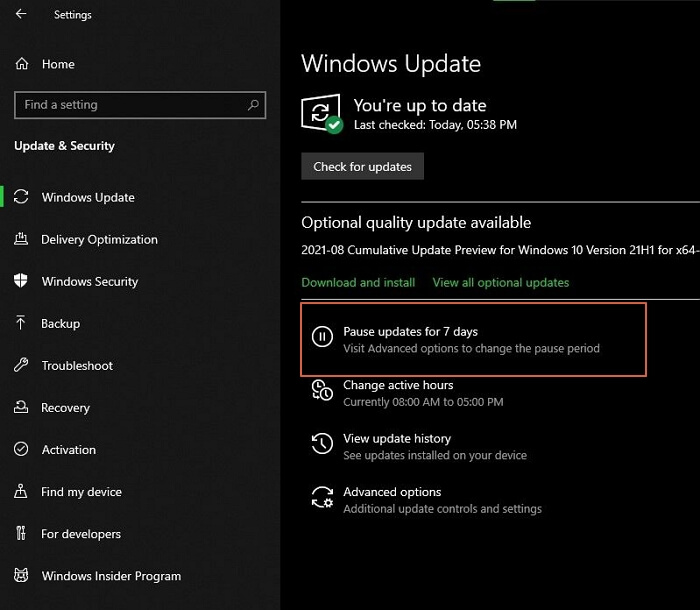 Step2. Select the amount of time you'd like to pause for in Advanced options. Note: After the pause limit is reached, you'll need to install the latest updates before you can pause updates again.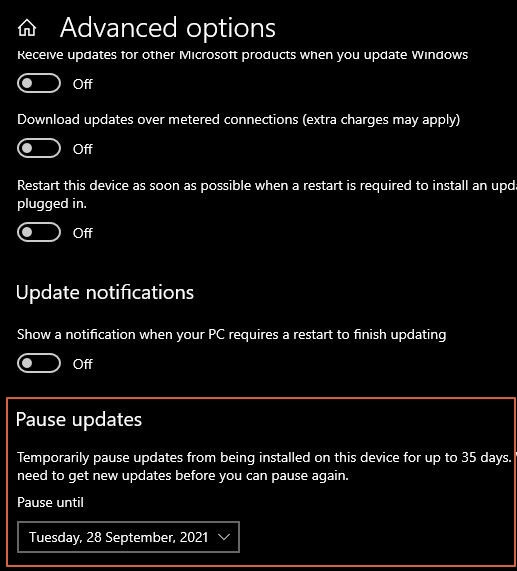 2. I don't want Windows 11 after I upgraded from Windows 10
The general method to remove a recent Windows update from a PC is to go back to an earlier system state. Microsoft has a 10-day time limit to do that, if your experience with Windows 11 is awful, take the time and get hurry to rollback.
Full steps to roll back to Windows 10 within 10 days:
Step 1. Press Windows + I to open Settings in Windows 11.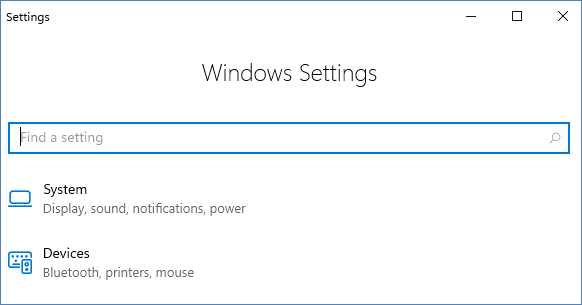 Step 2. Go to System > Recovery. Under the Recovery Options below Reset PC, click Go back.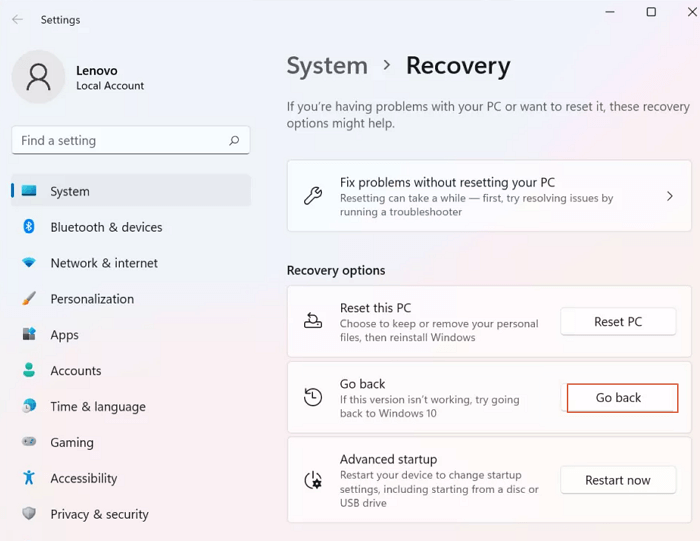 Step 3. Next are several feedback questions for you to skip, including "Why are you going back" "Check for updates?" "What you need to know" "Don't get locked out". If you've made up your mind to uninstall the current Windows 11 OS, click each Next button fast.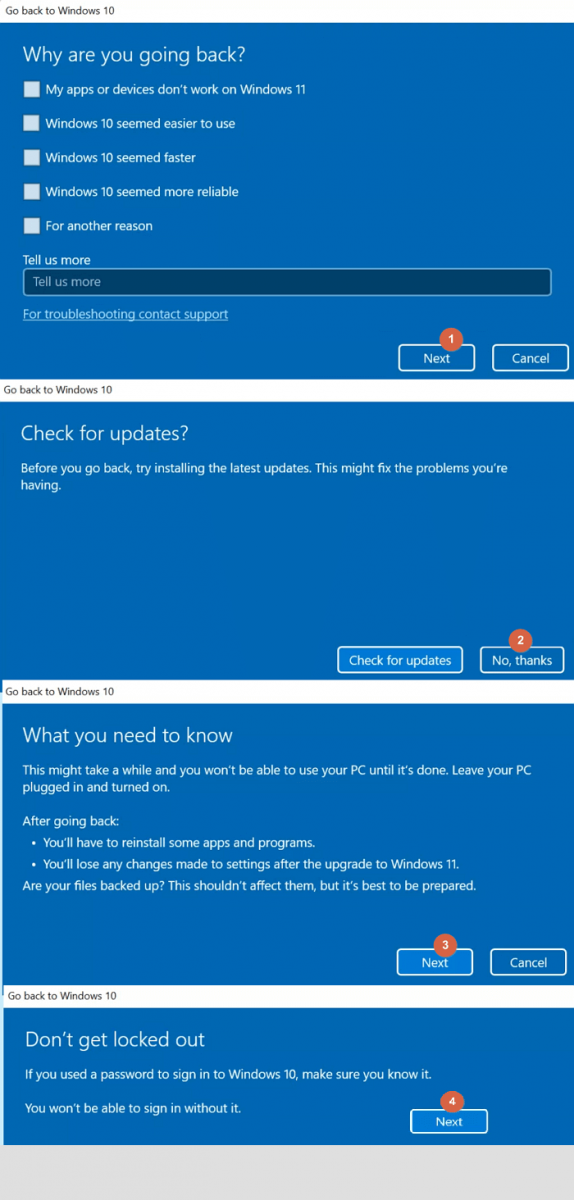 Step 4. Going back to an earlier build is to click "Go back to an earlier build" while going back to Windows 10 is click "Go back to Windows 10".
Step 5. At then the system will restart to uninstall Windows 11 and revert back to a previous Windows 11 build or Windows 10.
Full steps to downgrade Windows 11 to Windows 10 at any time:
If you created a Windows 10 system backup image, you should know what this system image can help you. One noticeable advantage of a system image is that if a hard drive crashes or the computer stops working, you can easily restore everything back the way it was, with no need to reinstall Windows and applications. And, the other great idea to create a system backup is relevant to the topic here, we can use the system backup to uninstall an unwanted Windows 11 operating system.
Download EaseUS Windows backup software on your PC. Here's an overall guide to create a Windows 10 backup image with EaseUS Todo Backup.
In case you feel disappointed with Windows 11 after upgrade, by performing the system recovery can restore the Windows 10 backup image to your computer. After rebooting, everything changed back to Windows 10.
*Try to boot the computer with the EaseUS Todo Backup emergency disk to accomplish system recovery on a non-bootable machine..
Step 1. Click Browse to Recover to luanch EaseUS Todo Backup.
Step 2. Navigate to the backup location, and then select the system backup file you need. (The backup file created by EaseUS Todo Backup is a pbd file.)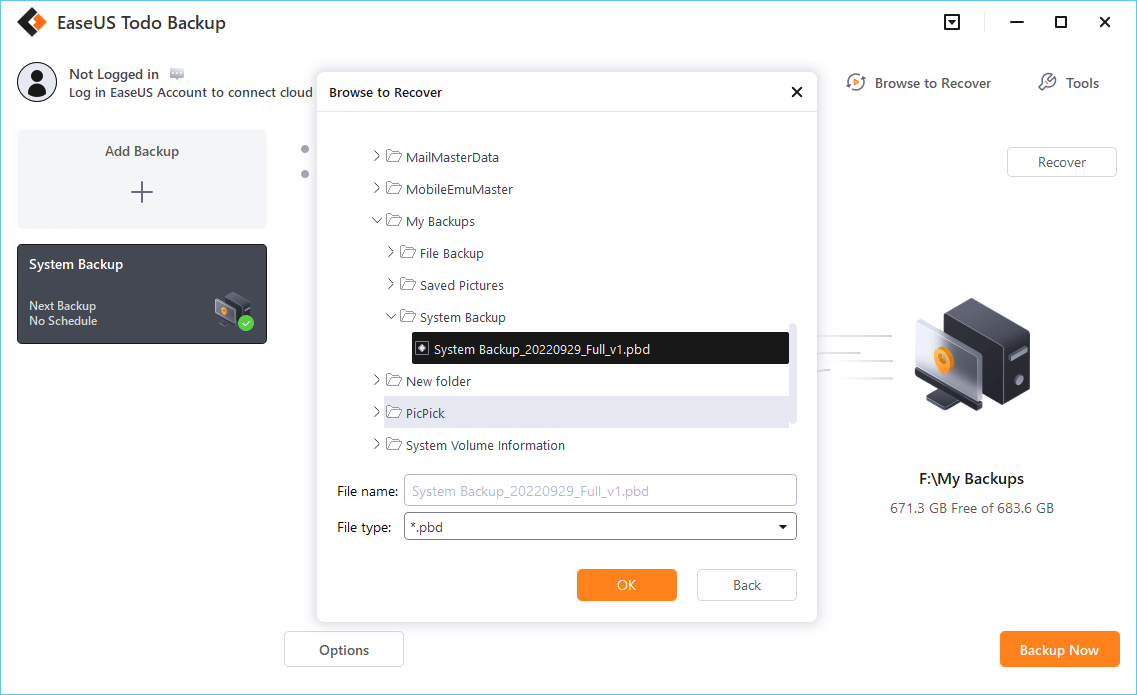 Step 3. Select a recovery disk. Verify that the partition styles on the source and recovery disks are same.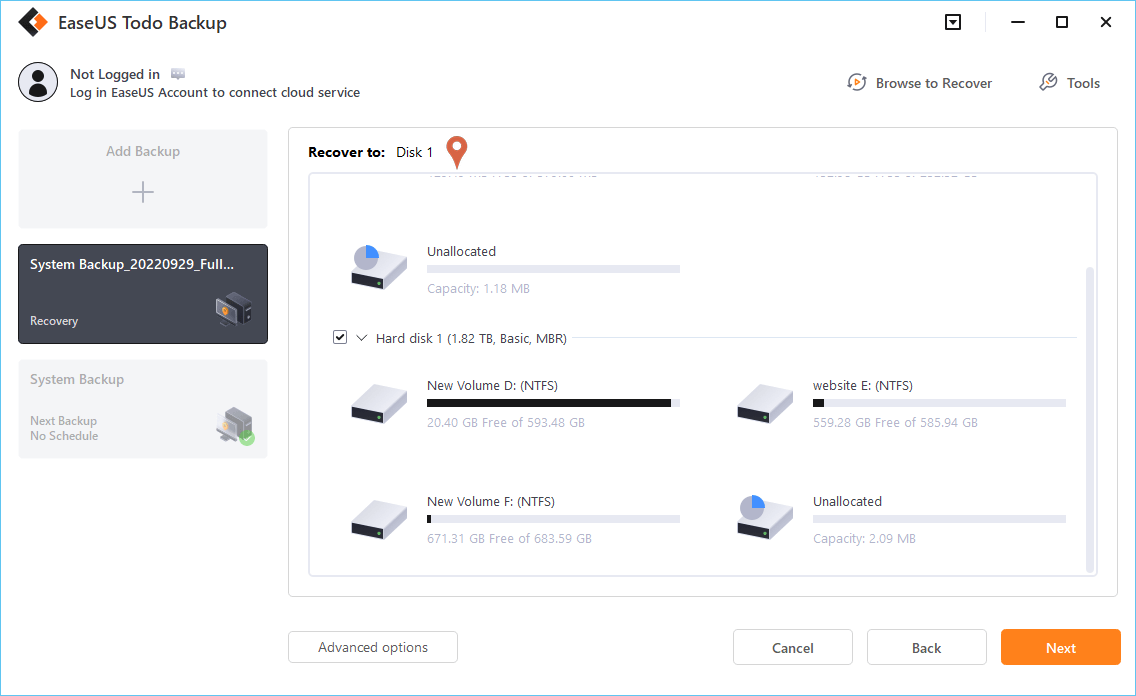 Step 4. You may change the disk layout to suit your requirements. Then, to begin system backup recovery, select Proceed.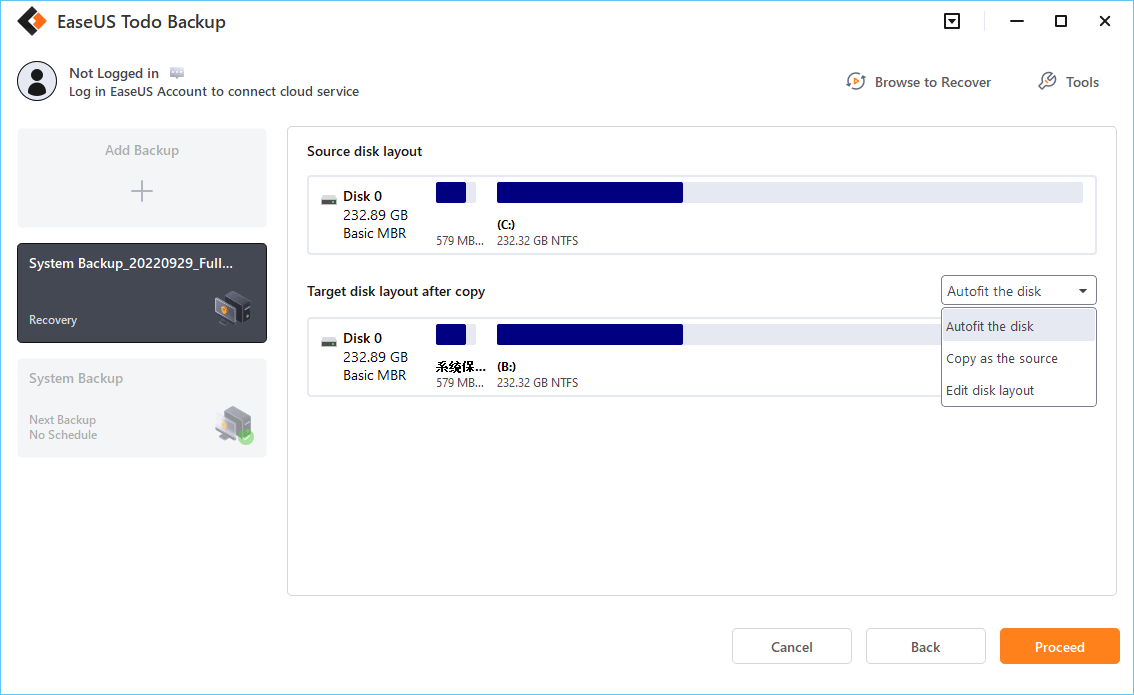 Closing Words
"I don't want Windows 11" is a far concerned problem because Microsoft seems to push users to upgrade. In this guide, we try to help the group of users who feel reluctant to get the new update by turning off the automatic update service from a short period of time to permanently.
While for those regretted to upgrade to Windows 11, it's through a system recovery method to roll back to a previous Windows 10 system state.

Jean has been writing tech articles since she was graduated from university. She has been part of the EaseUS team for over 5 years. Her special focuses are data recovery, disk partitioning, data space optimization, data backup and Mac OS. By the way, she's an aviation fan!
Taking everything into consideration, we can say that EaseUS Todo Backup Home can offer you a little extra sense of security with a set of advanced tools. The interface provides quick adaptation, every process guiding you all the way through so you don't get stuck or further damage your system rather than keeping it safe.

 Read More

EaseUS Todo Backup Free lets you create backups of your important files or your entire computer through its streamlined interface. Just choose the backup type you'd like to get started, and let the program do the reset.

 Read More

EaseUS includes all the features I expect from backup software like versioning, incremental backups, and scheduling. For more advanced users, EaseUS allows you to install a pre-boot environment onto your hard drive so you can use it to restore files without burning a CD or putting it on an external USB drive.

 Read More

EaseUS Todo Backup
Smart backup tool for your files and entire computer in Windows 10/8/7.
Install Windows on Multiple Computers at Once? No Problem!
Learn how to install Windows 11/10/7 and special programs/software on a batch of computers. Use 10 minutes to do the 10 hours work without making a single mistake!
Get Free Solution!