8 Solutions for Google Photos Not Backing Up Issue
Updated by
Jean
on May 07, 2022
| Workable Solutions | Step-by-step Troubleshooting |
| --- | --- |
| Fix 1. Check Backup Status | Open the Google Photos app; Click on your profile photo from the...Full steps |
| Fix 2. Check Backup Settings | Go to your Google Photos app.Log into your Google account...Full steps |
| Fix 3. Check Google Drive Storage | To check your Google Drive space, go to Settings > Back up & sync...Full steps |
| Fix 4. Check Photo Limitations | Google Photos is a powerful cloud storage solution, but it has a few...Full steps |
| Fix 5. Restart/Reconnect Account/Reinstall | Open the Google Photos app; Click on your profile photo from the...Full steps |
Google Photos is a popular photo-sharing and storage service for users to back up photos to the cloud. Since 2015, the software is helping people store, view, and edit photos using AI-powered assistance. Plus, you can get up to 100 GB of storage for only $1.99 per month with Google Photos. Overall, it is a great tool to store your photos. But many users have complained that Google Photos is not backing up content on their devices properly. 
Google Photos not backing up is a very common glitch, which is caused due to several reasons, such as:
The photos format or size is wrong
Outdated version of Google Photos app
Too much cache and data accumulation 
Not having enough storage space in your Google account 
Temporary Google Photos technical glitches 
Slow network speed and so much more
The reason behind your Google Photos not working could be anything - poor internet connection, insufficient storage space, or something else. But fortunately, it is easy to fix the Google Photos not working on every device. Just scroll down to know how to fix Google Photos backup issues. 
How to Fix Google Photos Not Backing Up (8 Easy Fixes)
If you have sufficient space left on your Google Drive and your app says, Backup is on: Getting ready to back up, but nothing is happening. Then, before panicking, try following easy Google Photos not backing up solutions:
Fix 1. Check Backup Status
One of the first ways to fix Google Photos not backing up is checking the backup status on the app. If you have recently updated the app or changed some settings, there's a chance that the Backup photos option is turned off on your app. So, let's first check backup status on your Google Photos app before moving ahead: 
Step 1. Open the Google Photos app. 
Step 2. Click on your profile photo from the upper right corner and select the Manage your Google Account option to see your backup status.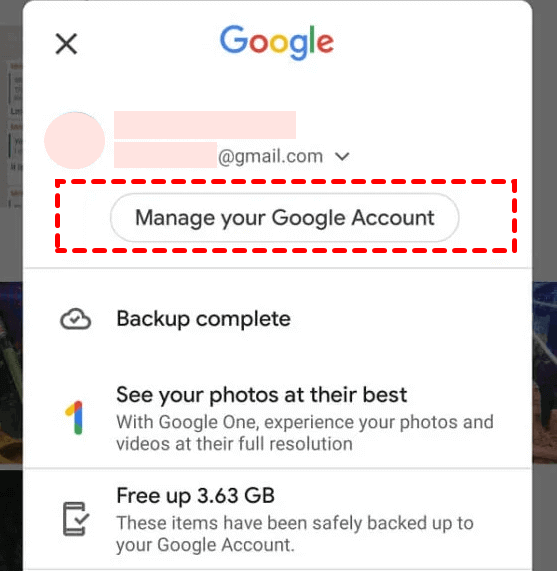 Step 3. Now, you will see the following messages on your screen, and you can fix them accordingly:
Waiting for connection/Waiting for Wi-Fi - reconnect to your internet connection.
A photo or video was skipped - photos larger than 75 MB or 100 megapixels can't be stored on Google Photos. So, here either you have to reduce your photo size or skip it as Google Photos recommends. 
Backup and sync is off - if the auto-sync feature is turned off, you have to turn it on to back up your photos.
Backing up photos/Backup complete - this message means that your photos are currently uploading or have been backed up successfully.
Fix 2. Check Backup Settings
Once you check your Google Photos backup status, the next, you can check your backup settings. Sometimes you have selected certain network settings or upload size limits that can cause Google Photos not backing up for you. To check that: 
Step 1. Go to your Google Photos app. 
Step 2. Log into your Google account. 
Step 3. Tap on the Menu > Settings > Back up & sync, and you will notice the following options: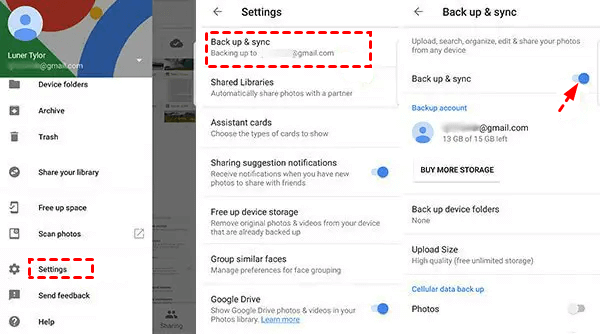 Account - ensure you have selected the same account you are viewing in your Google Photos app. 
Upload size -you can change your photos and videos storage size here. 
"Back up photos" or "Photos back up using cellular data" - make changes if you want to backup your photos using a mobile network or just Wi-Fi. 
 "Back up videos" or "Videos back up using cellular data" - you can select the preferred network for videos backing up.
Fix 3. Check Google Drive Storage Space
Google Photos offered unlimited free storage space till 2022. But now, you need to switch to paid plans to backup your photos on Google Photos. Further, if you don't have sufficient free space on your Google Drive account, you can't back up your new photos. Therefore, you have to check your Google Drive storage space and clear cache to create room for more photos. 
To check your Google Drive space, go to Settings > Back up & sync > Backup Account. 
On Android: you can clear cache as - tap on the Settings > Apps > Photos > Storage >CLEAR DATA and CLEAR CACHE.
On iOS: go to Settings > General > iPhone Storage > Google Photos > Delete App.
After that, go to the App Store and reinstall the Google Photos application on your phone.
Fix 4. Check Google Photo Limitations
Google Photos is a powerful cloud storage solution, but it has a few limitations. As we have already discussed, photos exceeding 75 MB or 100 megapixels will not backup on Google Photos. Also, videos beyond 10 GB won't sync with Google Photos. 
So, if you have to backup large media files, Google Photos can't do that for you. Unless you can reduce media size, Google Photos is of no use for you. 
Fix 5. Restart/Reconnect Account/Reinstall
If you have to back up important files on Google Photos, you can restart or factory reset your account. The factory reset is only recommended if you don't have anything important on your Google Photos. Otherwise, just restart or reinstall your Google Photos account. To do so:
Log out of your Google Photos app and again log in using your username and password. 
Also, you can delete the Google Photos app on your device and reinstall it from the app store. 
If nothing works, you can think about hard resetting your account that can delete all your data stored in Google Photos.
Fix 6. Manually Upload Photos/Videos
If auto-sync isn't working on your Google Photos app, you can manually select the photos or videos from your computer and upload them to the app. This might take a while. But this way, you can fix Google Photos limitations or any other backup issue side by side and seamlessly backup your photos on the cloud.
Fix 7. Switch to "Over Wi-Fi or Use Mobile Network"
Also, you can tweak the backup network preferences and select Wi-Fi or cellular data. This solution is useful if you have poor or unstable network speed.
To change the network preference, go to Menu > Settings > Back up & sync > "Back up photos" or "Photos back up using cellular data." 
If you are switching to Wi-Fi networks, make sure it is not selected as a hotspot. Also, turn off restrict background use of data on specific Wi-Fi networks. 
Fix 8. Keep Sufficient Power
In many devices, automatic backup and sync get turned off when the battery power is low. So, try to recharge your device or turn off low-power mode to backup photos on your Google Photos account.
Back-Up Computer Data to Cloud - EaseUS Todo Backup 
Google Photos might face backing up issues here and there, but it can perfectly backup your data on your Android or iOS phones. However, the real problem occurs when you have to back up your computer data. 
Since computer data is hefty and contains more important system files; thus, it is essential to backup computer data on the cloud. Additionally, cloud storage space enables you to scale up your database and provide protection against physical damage. 
Therefore, the best way to backup computer data is using EaseUS Todo Backup - a tool that is designed for users to backup data and clone partitions and OS. Foremost, the software offers 1 TB storage space on a yearly subscription to store computer data in the cloud. You can also choose to store data on third-party cloud services such as Google Drive, OneDrive, Dropbox.
EaseUS Todo Backup also offers numerous great backup features, including: 
Backup scheduling with a few simple clicks 
Recovers data instantly when disaster strikes
Clone OS, partitions, and disks to another computer without data loss.
Four powerful backup modes — full, incremental, differential, and scheduled backups
Real-time backup reporting and so much more. 
You can backup your computer data with EaseUS Todo Backup software as:
Step 1. To start backup, click the Select backup contents.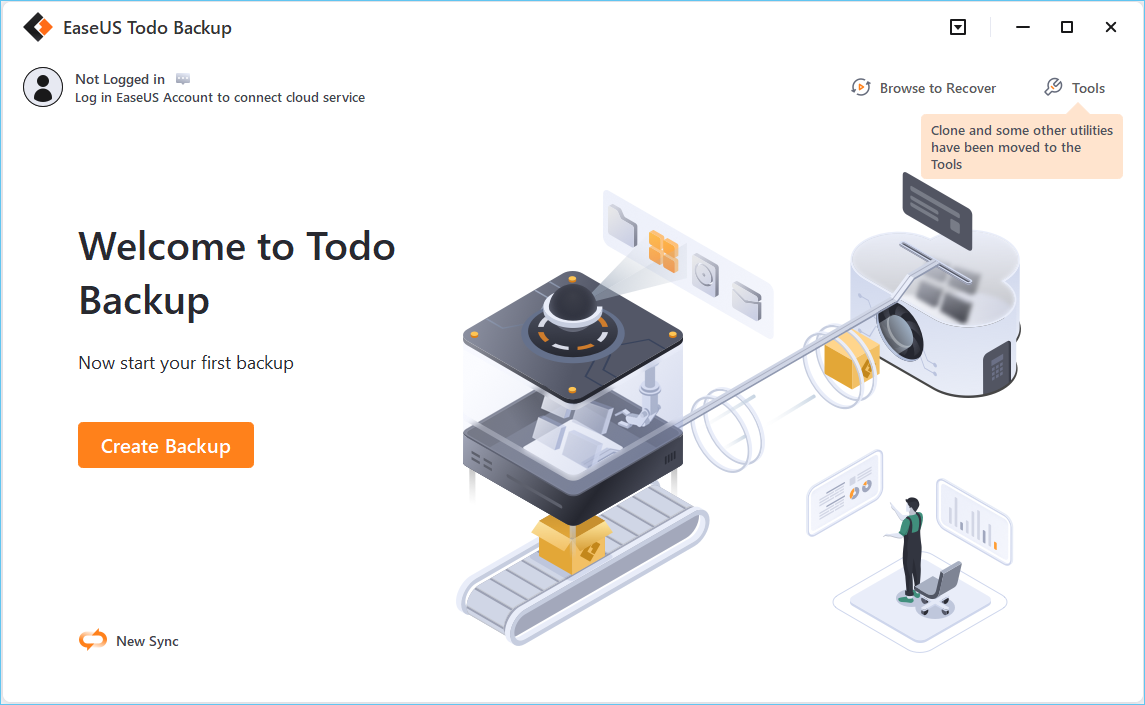 Step 2. There are four data backup categories: File, Disk, OS, and Mail.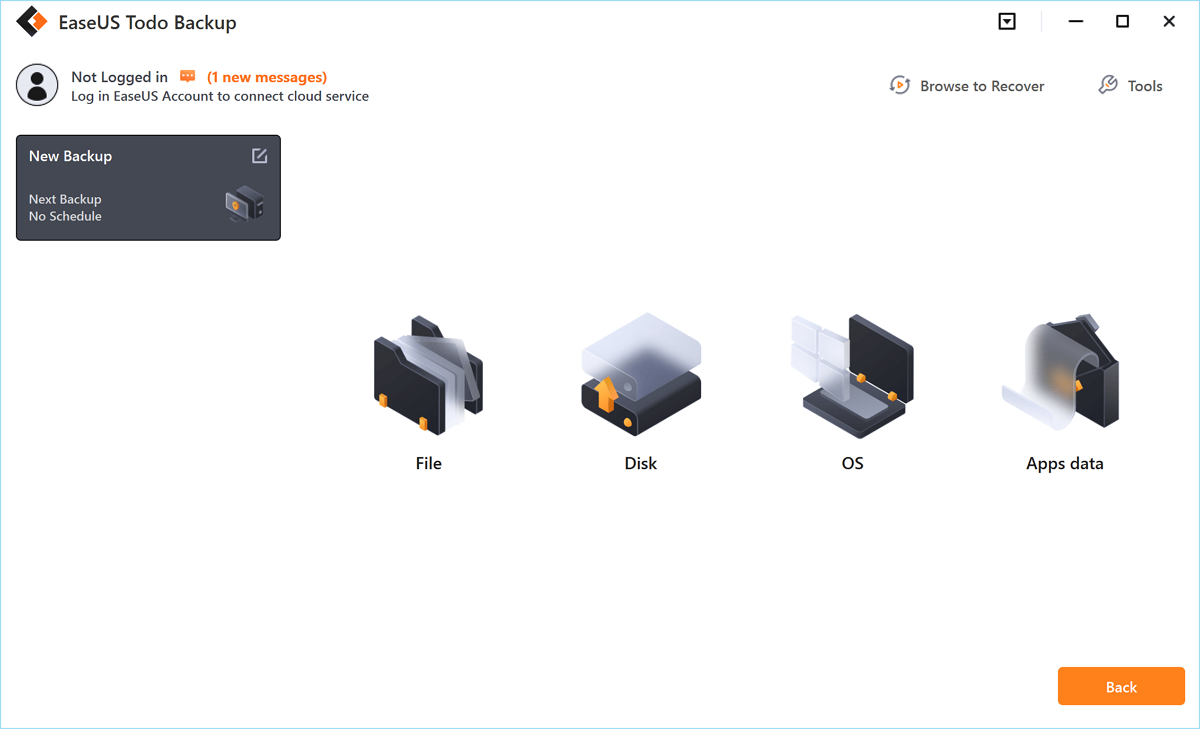 Step 3. On the left-hand side, you'll see a list of local and network files. Selecting the files to be backed up by expanding the directory.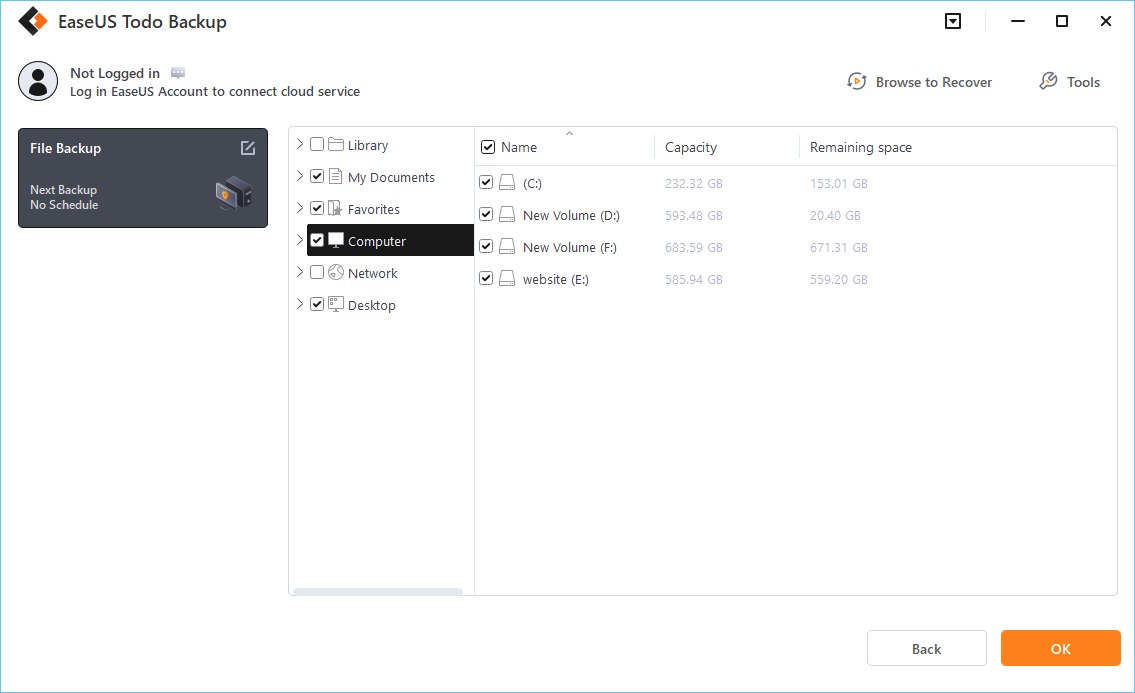 Step 4. Follow the instructions on the screen and pick the location where you wish to store the backup.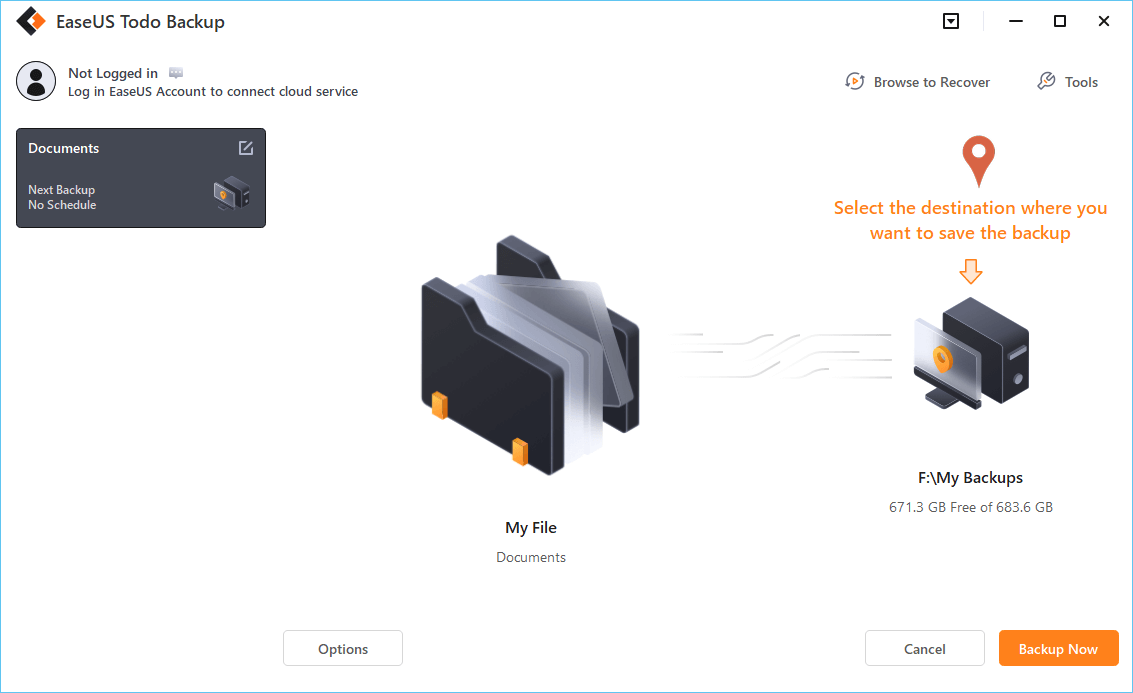 In Backup Options, click Options to encrypt the backup with a password, specify the backup schedule, and choose whether or not to start the backup at a certain event in Backup Scheme. There are a variety of customizable features available for you to explore, and you may tailor the backup operation to meet your specific requirements.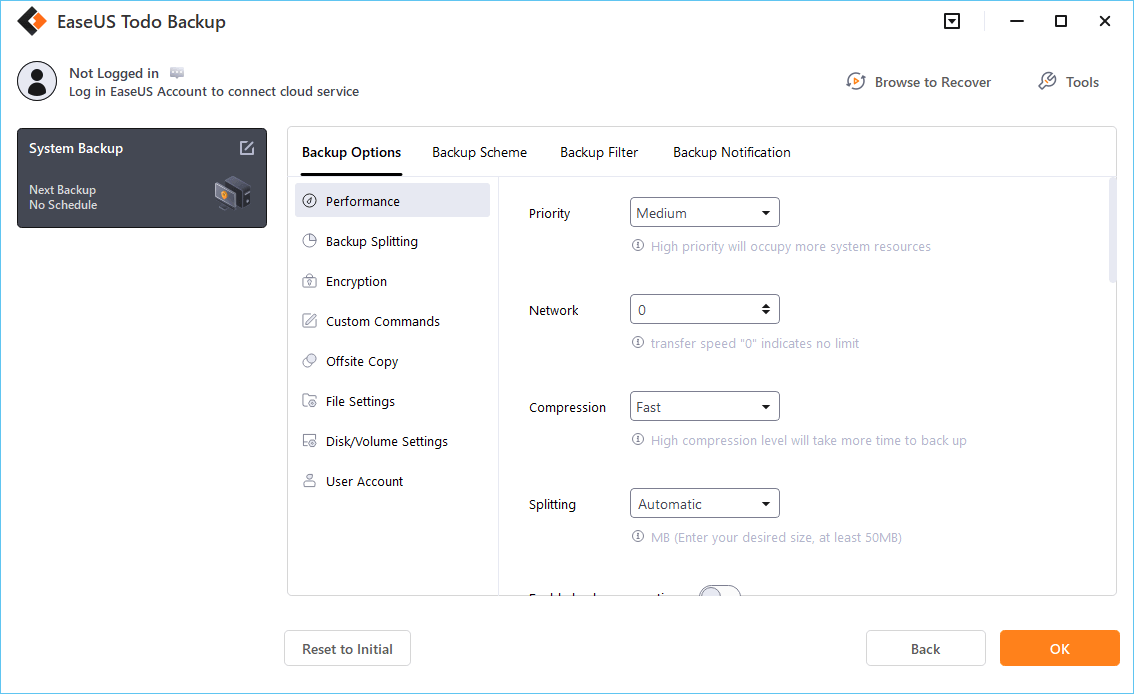 Step 5. Backups can be stored on a local disk, in EaseUS's cloud service, or on a network attached storage device (NAS).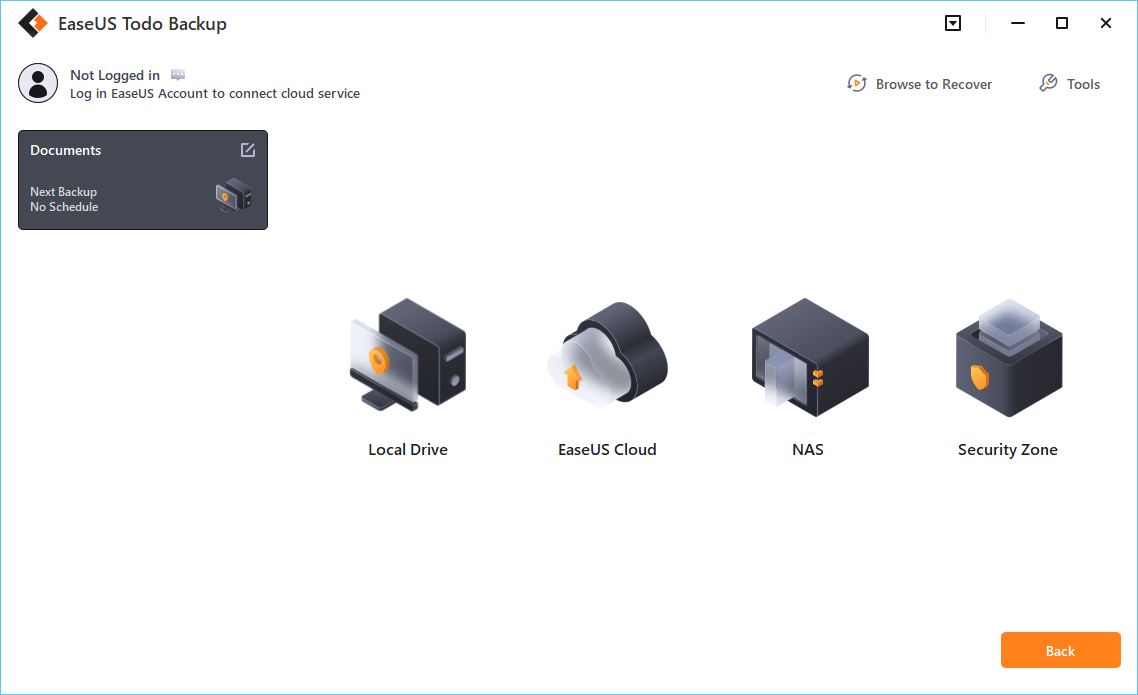 Step 6. EaseUS Todo Backup allows customers to back up data to a third-party cloud drive or the company's own cloud storage.
If you wish to back up your data to a third-party cloud drive, select Local Drive, scroll down to add Cloud Device and enter your account information.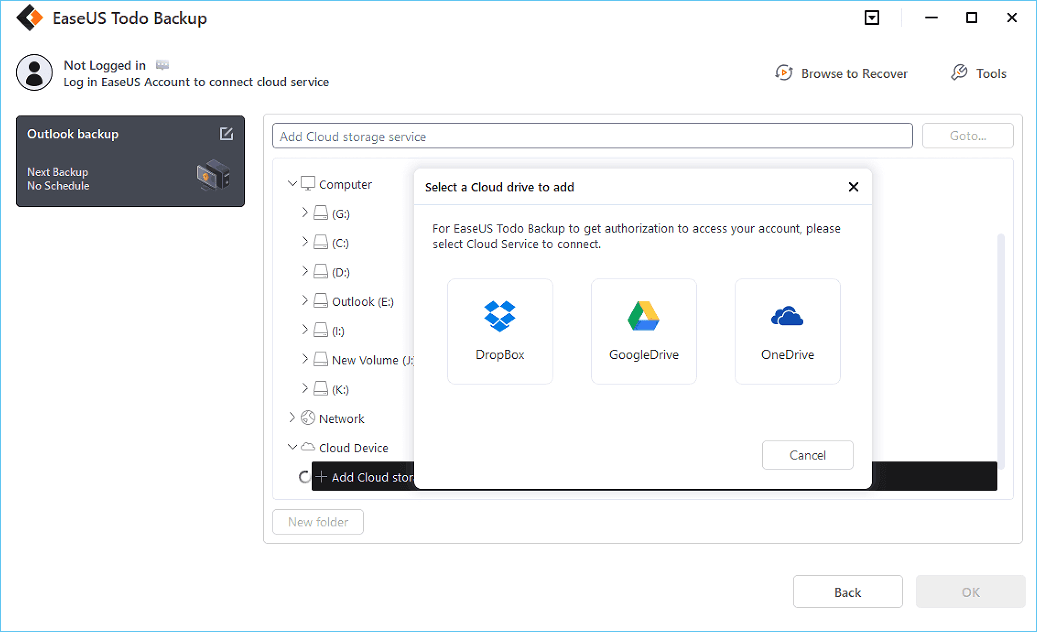 You may also use EaseUS's own cloud storage service. Click EaseUS Cloud, create an account using your EaseUS Account, then log in to your account.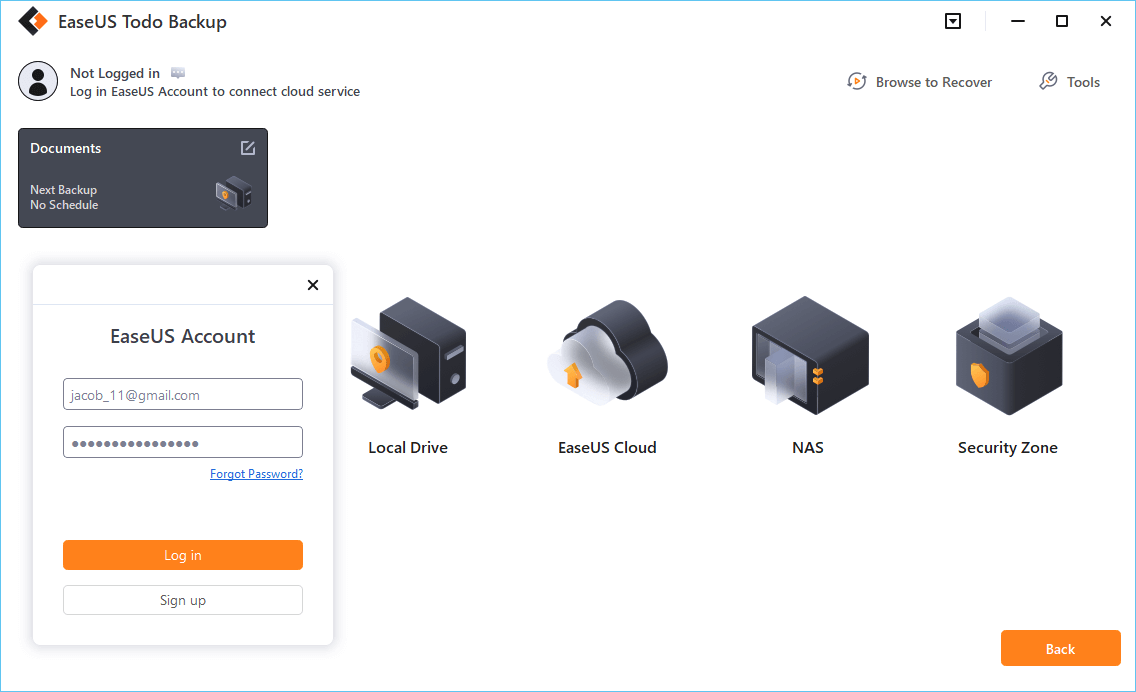 Step 7. To begin a backup, choose Backup Now. It will appear in the shape of a card on the left-hand panel when the backup process has been successfully finished. To handle the backup job in more detail, right-click on it.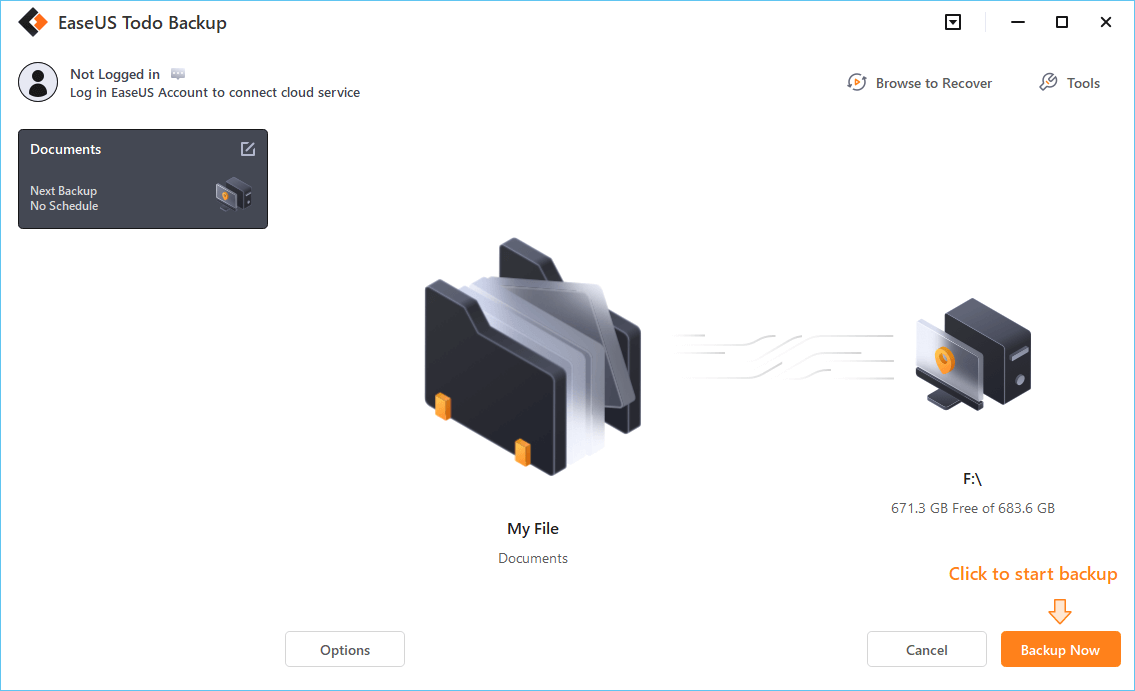 Conclusion 
Cloud storage is highly essential in today's digital world. Whether it's your mobile phone photos or computer data, cloud storage can safely store all your data and make it easily accessible for you. 
For mobile devices, Google Photos is a perfect solution to backup your photos. And if you face Google Photos not backing up the problem, easy 8 solutions are already discussed, so cloud backup your photos hassle freely. 
Similarly, you have free EaseUS Todo Backup software at your disposal to auto backup your heavy computer data. So, without any ado, let's back up your photos and other vital data on the cloud now.

Author Jean has been writing tech articles since she was graduated from university. She has been part of the EaseUS team for over 5 years. Her special focuses are data recovery, disk partitioning, data space optimization, data backup and Mac OS. By the way, she's an aviation fan!
Gemma is member of EaseUS team and has been committed to creating valuable content in fields about file recovery, partition management, and data backup etc for many years. She loves to help users solve various types of computer related issues.
Taking everything into consideration, we can say that EaseUS Todo Backup Home can offer you a little extra sense of security with a set of advanced tools. The interface provides quick adaptation, every process guiding you all the way through so you don't get stuck or further damage your system rather than keeping it safe.

 Read More

EaseUS Todo Backup Free lets you create backups of your important files or your entire computer through its streamlined interface. Just choose the backup type you'd like to get started, and let the program do the reset.

 Read More

EaseUS includes all the features I expect from backup software like versioning, incremental backups, and scheduling. For more advanced users, EaseUS allows you to install a pre-boot environment onto your hard drive so you can use it to restore files without burning a CD or putting it on an external USB drive.

 Read More

EaseUS Todo Backup
Smart backup tool for your files and entire computer in Windows 10/8/7.
Install Windows on Multiple Computers at Once? No Problem!
Learn how to install Windows 11/10/7 and special programs/software on a batch of computers. Use 10 minutes to do the 10 hours work without making a single mistake!
Get Free Solution!