Microsoft OneDrive is the best example of a cloud storage solution tailored to individuals' and businesses' needs. However, the dreaded Error Code 0x8004de40 message can be a massive letdown in using OneDrive.  
Imagine signing into your OneDrive account on the desktop, and you want to upload the presentation file for work. You have invested a lot of time and effort in creating the presentation and witnessed the Error Code 0x8004de40 message. It means you cannot connect to OneDrive. What could be the problem? The following post helps you find the answer with an outline of the potential reasons for OneDrive Error Code 0x8004de40 and the recommended solutions.
What Causes OneDrive Error Code 0x8004de40
The most commonly assumed reason for Error Code 0x8004de40 is internet connectivity. On the other hand, you can have many other culprits, such as third-party antivirus software. And most of the time OneDrive is always flagged as a virus by the antivirus software. You can take some methods to exclude OneDrive from the antivirus software scan. However, you must know the possible reasons for the error code to implement basic troubleshooting. The first part of solving a problem is to understand the reasons behind it.
Internet Connectivity: An unstable internet connection is the most obvious factor responsible for Error Code 0x8004de40. In addition, specific configurations of internet settings can also result in such error codes. Internet security protocols are crucial for secure information transfer across the computer network. Inappropriate configuration of the internet security protocols can also result in the error code.
No Microsoft Updates:  Have you missed the latest Microsoft updates? Without the necessary updates, OneDrive can face difficulties connecting with recently updated Microsoft servers. 
Improper Installation: Another notable reason for the OneDrive Error Code 0x8004de40 is the improper installation of the OneDrive. Installation failures can result in corrupted files and folders, which affects the working of OneDrive, leading to error code.
How to Fix OneDrive Error Code 0x8004de40
The connectivity problem is the primary reason behind the Error Code 0x8004de40, and you don't have to panic when you see it. Why? You can follow a few simple methods for solving the connectivity error. Here are six interesting ways to fix the most annoying error code in OneDrive. 
Method 1. Check Your Internet Connection
Microsoft states that the OneDrive app shows the Error Code 0x8004de40 when it cannot connect to the cloud. You should check the internet connection by using simple steps such as.
Step 1. Check whether the Ethernet cable has been plugged in correctly. If you have a wireless internet connection, ensure it is working properly. You can also try restarting the router. 
Step 2. Open a few web pages on the browser on your desktop. If the pages load successfully, you can verify that your internet connection is stable.
Method 2. Change the Internet Properties 
The OneDrive client could not work on computers when you have disabled TLS 1.0 encryption protocols. Here are the simple steps for enabling TLS 1.0 and higher security protocols in your internet settings.
Step 1. Press "Windows Key + R" to open Run. Enter inetcpl. cpl and click on OK to open the "Internet Properties" window.
Step 2. Open the advanced tab in the "Internet Properties" window.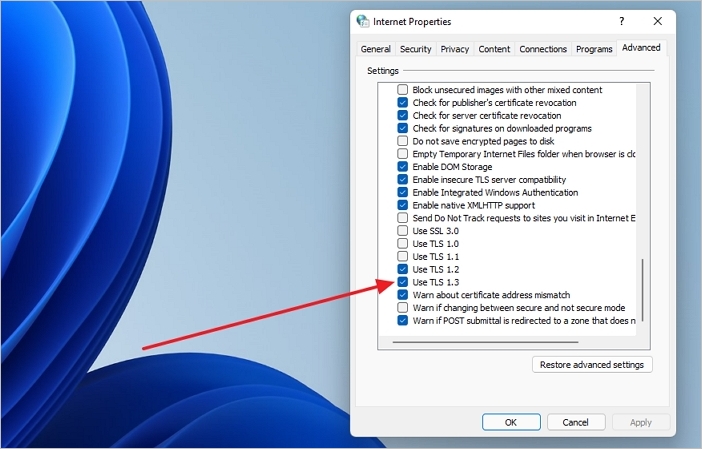 Step 3. Scroll down in the "Settings" section, find the options for TLS 1.0, TLS 1.1, and TLS 1.2 and check on the boxes. 
Step 4. Select "Apply" and click "OK" to save the changes. 
Now, you can restart the computer and check for the error.
Method 3. Disable the Proxy Settings 
Another promising solution for Error Code 0x8004de40 in OneDrive is to disable the proxy settings. Antivirus software can sometimes block OneDrive from connecting to the cloud. You can disable the proxy settings by using the following steps.
Step 1. Use "Windows Key + R" for an opening run and enter inetcpl. cpl in the command bar.
Step 2. Click on the "Connections" tab and select the "LAN Settings" option. 
Step 3. Choose the automatically detect settings option. You must also ensure you unmark the box to use a proxy server for your LAN.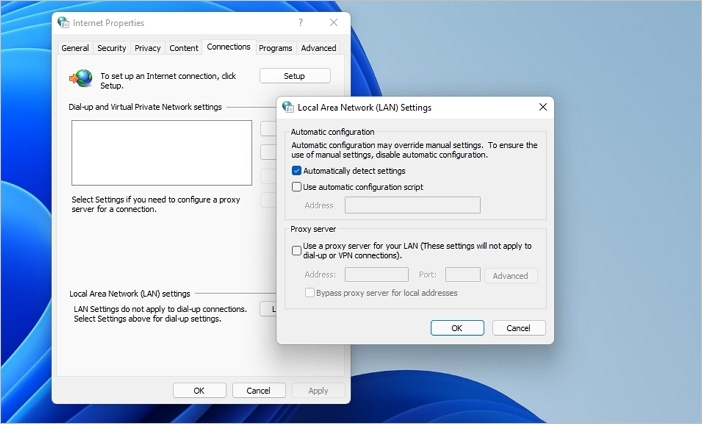 Step 4. Select "Apply" and then click on "OK" for the changes. 
Method 4. Reset Windows Socket (Winsock) 
You can also try resetting Winsock or the Windows Socket. It is one of the proven solutions for situations when some of your apps cannot connect to the internet. 
Step 1. Enter cmd in the main menu search bar to open the "Command Prompt". Make sure you choose the "Run as Administrator" option.
Step 2. Type the netsh winsock reset catalog command and click on Enter.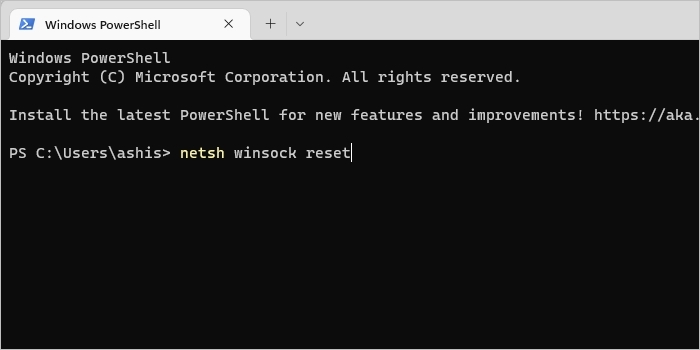 Step 3. After successfully executing the command, you must close the command prompt and restart your computer.
Method 5. Reinstall or Reset OneDrive
You can opt for a reset of OneDrive to solve the Error Code 0x8004de40. It is a quick method for avoiding a complete uninstallation and installation cycle. A simple reset can help in clearing the connectivity issue with easy steps as follows,
Step 1. Open Run by entering "Windows Key + R".
Step 2. Type and execute the following command in the "Run" prompt
"%localappdata%\\Microsoft\\OneDrive\\onedrive.exe/reset" 
The simple command would reset the OneDrive app on your computer.
Step 3. Use the command "%localappdata%\\Microsoft\\OneDrive\\onedrive.exe" in the run prompt to launch OneDrive after resetting. You may have to sign in again.
Switch to Another Tool - EaseUS Todo Backup
EaseUS Todo Backup is one of the most powerful tools to back up your precious data in disks, operating systems, files, and partitions. The tool's features enable powerful backup to the cloud, local drives, NAS, and networks.
On top of it, EaseUS Todo is a better alternative to OneDrive, with options for recovering backup anywhere you want. The backup tool will help you with disaster recovery situations when the system fails in the event of hardware corruption or a system crash. EaseUS Todo Backup offers right-click recovery, system image recovery, and bootable recovery options. 
The EaseUS Todo Backup tool offers the advantage of the following features as an improvement over OneDrive.+
Easeus Todo Backup Key Features:
Free 250 GB Cloud Storage: The most prominent feature or advantage with EaseUS Todo Backup is the facility of free 250GB cloud storage for every user. Free cloud storage could help access backups without any time and geography limits.
Improved Backup Efficiency: Users can choose incremental or differential backups according to the performance of previous full backups to ensure better backup efficiency. EaseUS Todo Backup provides a shorter backup time by backing up modified data only.
Security with Password Protection: The encryption for backup files on EaseUS Todo is another essential feature of the backup tool. It helps in maintaining your data as confidential with a simple password.
Multiple Options for Backup Storage: Another notable feature of EaseUS Todo is the facility for storing your backup files on a network drive, external hard drive, or a cloud drive. Therefore, you don't have to worry about keeping your backup files for the best chances of recovery.
Here, we will provide you with the full steps to backup your important files using EaseUS Todo Backup. You can follow the instructions to finish it.
Step 1. Select Backup Contents
On the main window, click the big question mark button to select backup contents. You can choose to back up individual files, entire disk or partition, operating system and mails.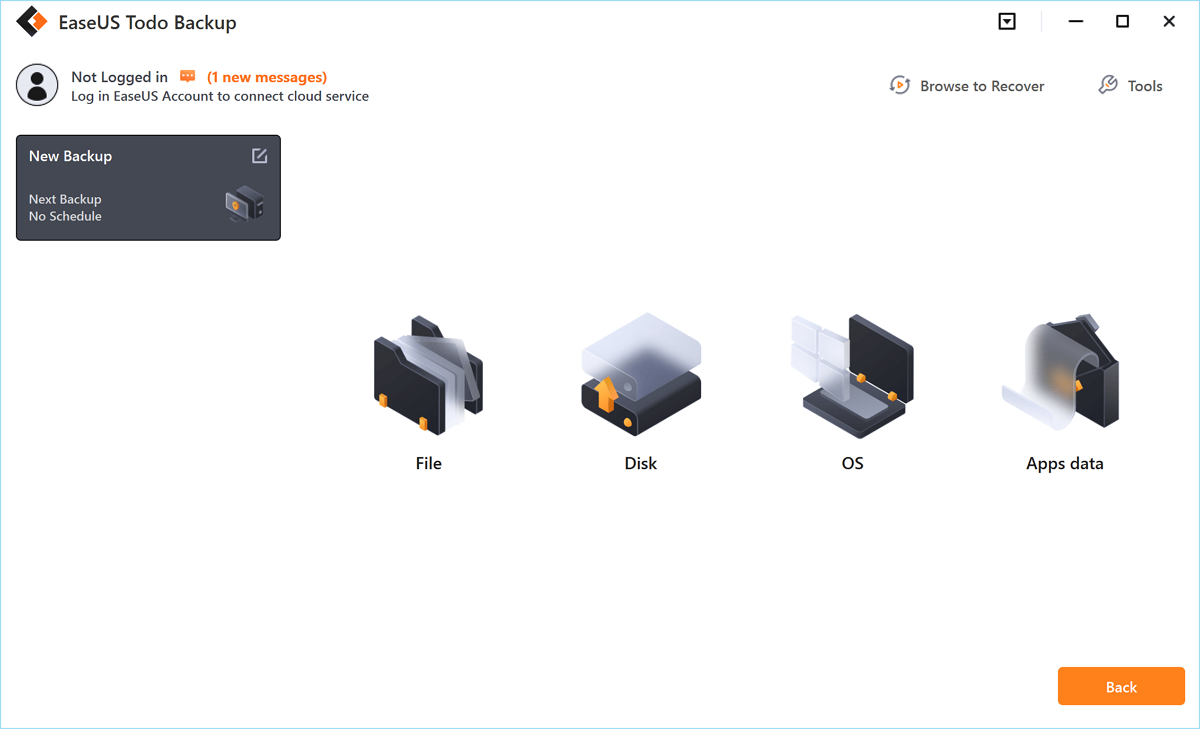 Step 2. Select Security Zone as Backup Destination
While selecting backup destination, you can see the Security Zone option. Click Security Zone and use it as a backup destination.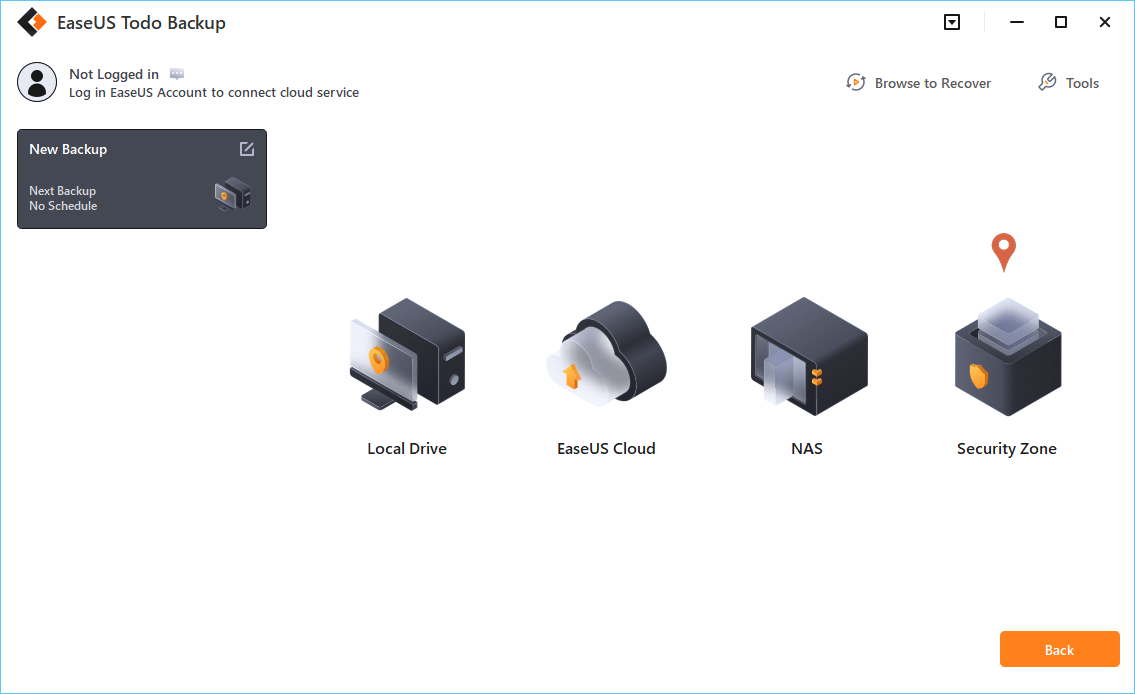 However, if you're first to use the Security Zone function, EaseUS Todo Backup will guide you to create one. Click "Create Security Zone".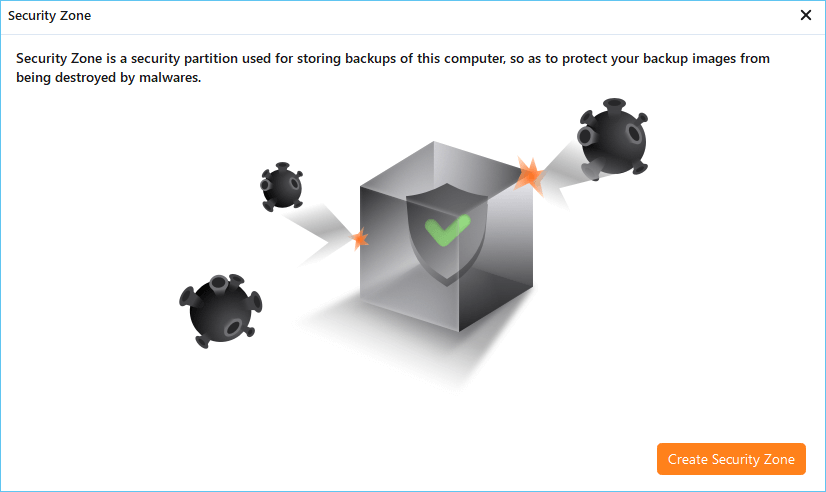 Choose a partition with enough free space for your backups and then click "Continue".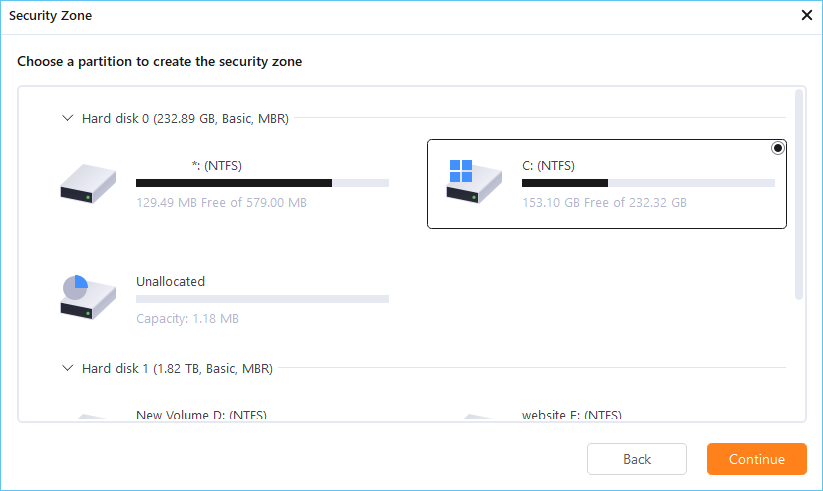 You can adjust the partition size for the security zone. Click "Create" to get it done.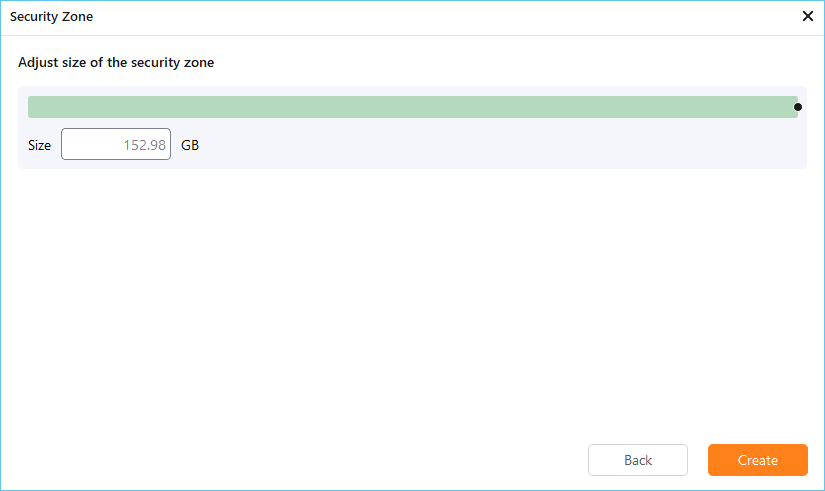 Step 3. Execute the backup task
Click "Backup Now" to start the backup process. Your backups of OS, files, drives and mails in the security zone will be fully protected from being seen or destroyed by virus, ransomeware and trojan. 
Conclusion
The overview of different methods for resolving the Error Code 0x8004de40 message in OneDrive shows some promising solutions. For example, checking your internet connection, resetting the OneDrive app, disabling the proxy settings, and resetting Winsock are some credible solutions for the error.
However, users can also look for alternatives like EaseUS Todo Backup, a powerful backup tool with various features. Learn more about the cloud backup and storage tool and safeguard your precious data right now.   
Updated by Gemma
Gemma is member of EaseUS team and has been committed to creating valuable content in fields about file recovery, partition management, and data backup etc for many years. She loves to help users solve various types of computer related issues.
Taking everything into consideration, we can say that EaseUS Todo Backup Home can offer you a little extra sense of security with a set of advanced tools. The interface provides quick adaptation, every process guiding you all the way through so you don't get stuck or further damage your system rather than keeping it safe.

 Read More

EaseUS Todo Backup Free lets you create backups of your important files or your entire computer through its streamlined interface. Just choose the backup type you'd like to get started, and let the program do the reset.

 Read More

EaseUS includes all the features I expect from backup software like versioning, incremental backups, and scheduling. For more advanced users, EaseUS allows you to install a pre-boot environment onto your hard drive so you can use it to restore files without burning a CD or putting it on an external USB drive.

 Read More

EaseUS Todo Backup
Smart backup tool for your files and entire computer in Windows 10/8/7.
Install Windows on Multiple Computers at Once? No Problem!
Learn how to install Windows 11/10/7 and special programs/software on a batch of computers. Use 10 minutes to do the 10 hours work without making a single mistake!
Get Free Solution!