Overview of EaseUS Todo Backup
EaseUS Todo Backup is a data protection software that integrates backup, restore, and cloning functions. It was first released in 2009 and has more than 10 years of experience in the field of data protection. It also provides diversified data protection services for individuals and businesses. In the field of personal data protection, users have two choices: EaseUS Todo Backup Free and EaseUS Todo Backup Home. Here we will compare the features of the two versions, tell you which important features are charged, and help you evaluate whether it is worth paying for the charged features.
EaseUS Todo Backup Free
- What's included in the free version?
EaseUS Todo Backup Free supports users to perform basic backup and restore operations and provides three backup modes: full backup, differential backup, and incremental backup. Users can flexibly choose different backup modes according to their own needs to achieve the goal of reducing backup space and reducing the risk of data loss.
As a file-level backup utility, EaseUS Todo Backup Free supports the creation of backups from a single file to an entire disk or partition, taking into account different levels of backup needs. Restoring the backup file is also very simple. Find the created backup image and select the path to restoring the files you need.
- What Does the Review Site Say about EaseUS Todo Backup Free?
Some software review websites will regularly test and comment on common backup software. A section of Lifewire's review of EaseUS Todo Backup Free is quoted here, and it can also be used as a reference when you choose backup software.
"The restore feature may very well be our favorite thing about EaseUS Todo Backup. Similar backup programs require you to view a backup from within the program, but being able to mount a backup like it's an actual drive in Windows makes it extremely easy and natural to browse through.
We appreciate that a system partition backup is included with EaseUS Todo Backup. The fact that you can run it on a schedule makes it just that much more beneficial.
Securing a backup should be a feature in any good backup program, and EaseUS Todo Backup supports this."
EaseUS Todo Backup Home
- What's included in the home version?
Compared with the free version, EaseUS Todo Backup Home adds a clone function in addition to the backup and restore functions. It supports users to clone partitions, disks, and systems. If you don't like the way to create a backup image, you can also clone a partition/disk or your system to an external hard drive as a backup. Other common scenarios for using the cloning function also include upgrading the hard disk from HDD to SSD, and system migration.
In terms of backup, EaseUS Todo Backup Home also adds many additional features. For example, the Home version supports users to back up files to cloud drive, supports users to back up Outlook emails, and supports the creation of WinPE bootable disks.
At the same time, the Home version gives users more backup options. You can set to trigger the backup start after a certain event occurs, or you can set to filter out some useless large files, such as the recycle bin or Windows.old file. In general, the Home version gives users more space to customize the backup task.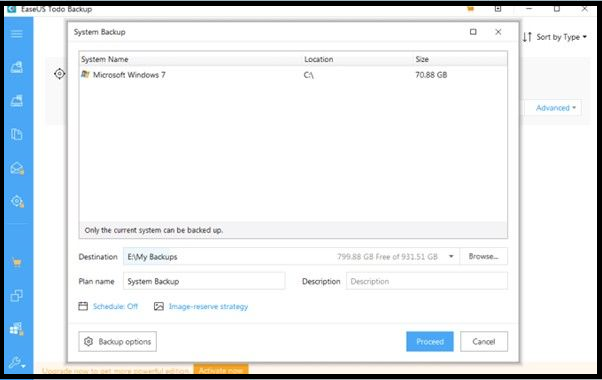 - What Does the Review Site Say about EaseUS Todo Backup Home?
Here is an excerpt from Capterra's review of EaseUS Todo Backup Home. The comments on Capterra are mainly from real users, you can refer to the opinions of other users to decide whether to choose this software.
"EaseUS Todo Backup is pretty user friendly software. It works with Windows 10 pretty seamlessly and provides the user with all the basic backup functionality that you would expect but also allows the user to get more specific as to the type of backup that is to be done. The user can specify how often and when the backups will take place as well as what physical location the backups are stored at. The best options that I found to be the most useful are around the system clone which does exactly as the name infers and the partition backup on one of the partitions which are driven particularly hard on my PC. Ontop of the specific backup functionality mentioned is also the tools the software provides. You can mount/dismount drives, wipe data, enable pre-operating systems, keep logs, refresh disks and check your disk images."
EaseUS Todo Backup Free vs Home
Below are the highlight features of EaseUS Todo Backup Free and Home, these features could be the decisive factor when you decide whether to pay for this software.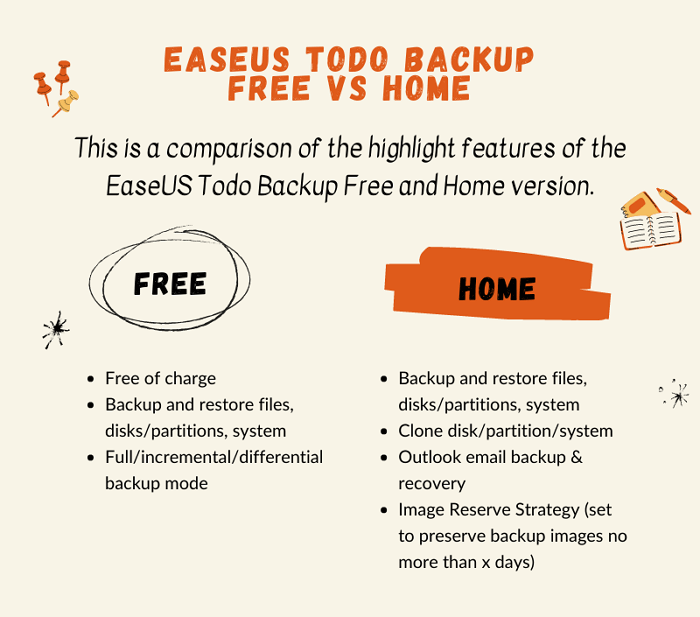 Updated by Gemma
Gemma is member of EaseUS team and has been committed to creating valuable content in fields about file recovery, partition management, and data backup etc for many years. She loves to help users solve various types of computer related issues.
Taking everything into consideration, we can say that EaseUS Todo Backup Home can offer you a little extra sense of security with a set of advanced tools. The interface provides quick adaptation, every process guiding you all the way through so you don't get stuck or further damage your system rather than keeping it safe.

 Read More

EaseUS Todo Backup Free lets you create backups of your important files or your entire computer through its streamlined interface. Just choose the backup type you'd like to get started, and let the program do the reset.

 Read More

EaseUS includes all the features I expect from backup software like versioning, incremental backups, and scheduling. For more advanced users, EaseUS allows you to install a pre-boot environment onto your hard drive so you can use it to restore files without burning a CD or putting it on an external USB drive.

 Read More

EaseUS Todo Backup
Smart backup tool for your files and entire computer in Windows 10/8/7.
Install Windows on Multiple Computers at Once? No Problem!
Learn how to install Windows 11/10/7 and special programs/software on a batch of computers. Use 10 minutes to do the 10 hours work without making a single mistake!
Get Free Solution!