PAGE CONTENT:
1. Make Sure Your Processor is 64-Bit Capable
2. Back Up Important Files Before Windows 10 64-Bit Upgrade
3. Upgrade to Windows 10 64-Bit
Microsoft gives you the 32-bit version of Windows 10 if you upgrade from the 32-bit version of Windows 7 or 8.1. But you can switch to the 64-bit version, which means on computers with at least 4GB of RAM, you'll be able to run more application simultaneously. Other applications like Google Chrome will be able to handle more opened tabs, and you will be able to run more memory-intensive applications, such as AutoCAD, Photoshop, and video editing programs, etc.
However, during the period of changing to 64 bit, most people complain that important files like pictures, word and excel files get lost. Follow the three steps below to change Windows from 32 bit to 64 bit without losing data!
1. Make Sure Your Processor is 64-Bit Capable
Here we only provide the easiest way for you to check your system type:
Open the "Start menu".
Search for "System Information".
Press "Enter".
Look for "System Type".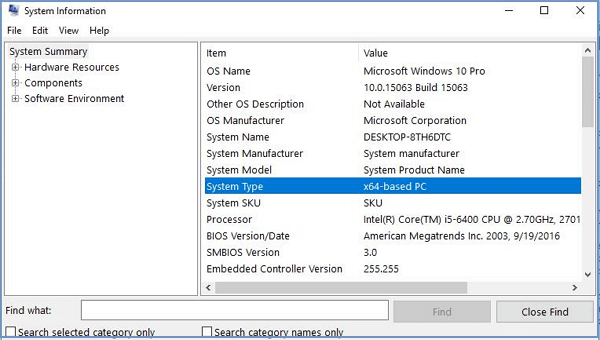 If you see x64-based PC, then your computer is capable of running a 64-bit version of Windows. If you see x86-based PC, then you can't install another architecture of the operating system.
2. Back Up Important Files Before Windows 10 64-Bit Upgrade
To avoid data loss, you must backup important files, or if you want to backup all the data on your computer, you'd better make a full backup of your PC. To quickly and effectively finish this job, we need a free backup program to help us.
Step 1: Open EaseUS Todo Backup and select "File Backup".
You may have a large amount of vital data to be protected as time goes on, such as documents, pictures, music, and videos, etc. It is always a good habit to have a backup on regular basis. File Backup is one of the best choices for you to get over unexpected data loss.
Step 2: Select the files that you want to back up.
If you just want to back up one or some specific file types from one folder, the option at top right corner can help you exclude the others files.
Step 3: Select a destination to save your backup file.
You'd better create the backup file in some other storage media or in some other drive. If not, there may be a risk of the backup file getting corrupted or destroyed.
Step 4: Click "Proceed" to execute your operation.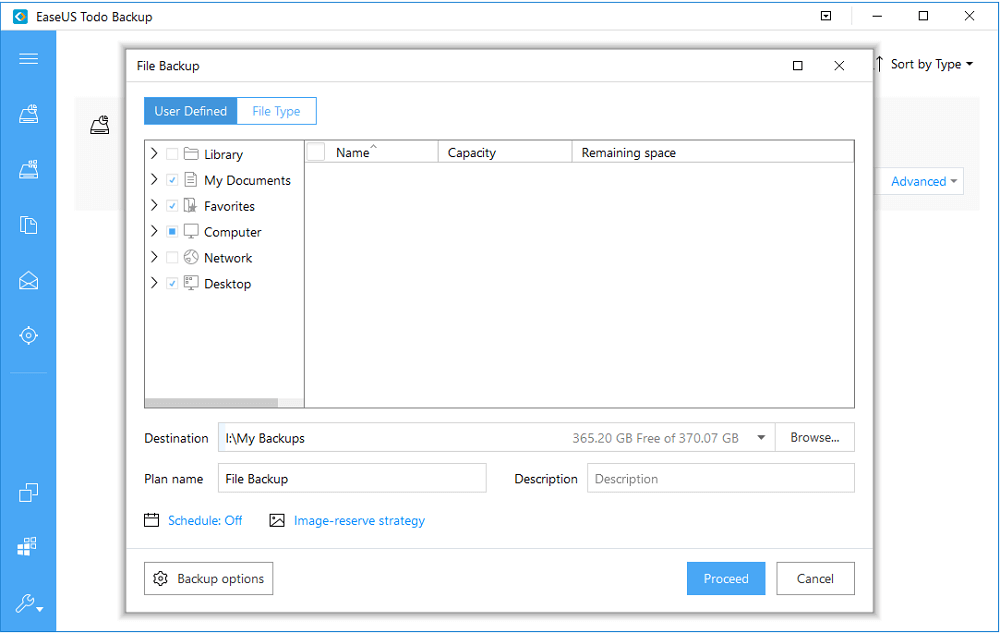  Notice:

If you want to keep all the apps or programs, it is a good idea to move/transfer programs to an external hard drive with the help of EaseUS Todo PCTrans. This PC transfer software moves data, applications, and account from one computer to another in Windows 10/8.1/8/7/Vista/XP. You can directly run programs from the external device without any difficulty. If you don't have an external hard drive, you can also use a USB with enough free space.
3. Upgrade to Windows 10 64-Bit
You'll need to perform a clean install to get to the 64-bit version of Windows 10 from the 32-bit one, for there's no direct upgrade path.
First, be sure to check that your current 32-bit version of Windows 10 is activated under Settings > Update & security > Activation.
1. Download the Windows 10 media creation tool from Microsoft official site. If you're using the 32-bit version of Windows 10 at the moment, you'll have to download and run the 32-bit tool.
2. Connect a USB drive with at least 4GB of available space. Visit Microsoft's Windows 10 download page. Click the Download tool now button and save the Media Creation Tool on your desktop.
3. Double-click the MediaCrationTool.exe file. Read the license terms and click "Accept". Select the Create installation media for another PC option. Click Next.
4. Uncheck the Use the recommended options for this PC option. Make sure to select your language, edition, and, more importantly, the architecture, which in this case is 64-bit (x64). Click Next.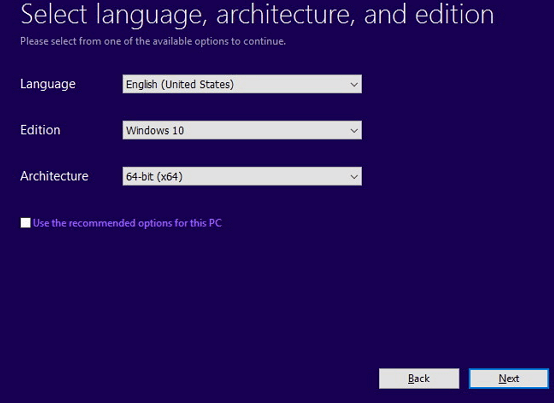 5. Select the USB flash drive option. Click Next.
6. Select the removable drive from the list. Click Next.
7. Once the installation media is created, close the Media Creation Tool.
8. Restart your computer and boot from the installation media( press f2 when you restart > select boot > boot from USB).
9. Install the 64-bit Windows 10, selecting "Custom install" and overwriting your current version of Windows.
Tips: When you're asked to insert a product key, skip the process and continue. You'll have to skip two of these prompts in total. After you reach the desktop, Windows 10 will automatically check in with Microsoft and activate itself. You'll now be running the 64-bit edition of Windows on your PC.