Upgrade 32 Bit to 64 Bit in Windows 10 Without Losing Data
Updated by
Gemma
on Nov 29, 2021
| Quick Navigation | Detailed Steps |
| --- | --- |
| 1. Check if the Processor is 64-bit capable | Open the "Start menu", Search for "System Information"...Full steps |
| 2. Backup files before upgrade | Download EaseUS Todo Backup and follow the steps to back up...Full steps |
| 3. Upgrade to Windows 10 64-bit | Create the Windows installation media...Full steps |
Microsoft gives you the 32-bit version of Windows 10 if you upgrade from the 32-bit version of Windows 7 or 8.1. But you can switch to the 64-bit version. Why upgrade windows 10 32 bit to 64 bit? 
The reason is that the 32-bit version is limited to 4GB of RAM, which is a small amount. Especially when these days PCs usually have 8GB or more. If you upgrade your computer to 64 bit, you'll be able to run more applications simultaneously. Other applications like Google Chrome will be able to handle more open tabs, and you will be able to run more memory-intensive applications, such as AutoCAD, Photoshop, and video editing programs, etc.
However, during the period of changing to 64 bit, most people complain that their files got lost. Follow the three steps below to change Windows from 32 bit to 64 bit without losing data!
1. Make Sure 64-Bit is Compatible with Your Processor
You can only install the Windows 64-bit on compatible hardware, that is to say, you have to make sure if your computer has a 64-bit processor. Here we only provide the easiest way for you to check your system type:
Open the "Start menu".
Search for "System Information".
Press "Enter".
Look for "System Type".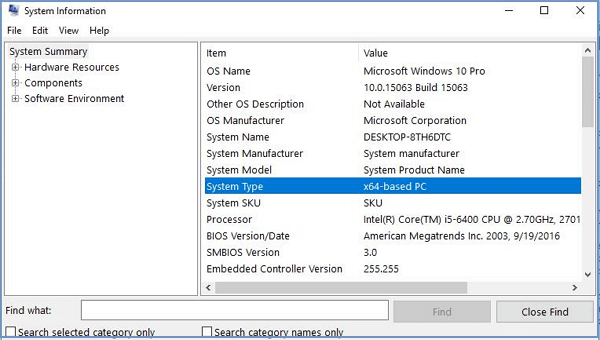 Then, you will see one of the following system types:
1. 64-bit operating system, x64-based processor: Your CPU supports 64-bit and you have already installed the 64-bit version of Windows 10. So you don't need to upgrade.
2. 32-bit operating system, x64-based processor: Your CPU supports 64-bit, but you have installed the 32-bit version of Windows.
3. 32-bit operating system, x86-based processor: Your CPU supports 32-bit and you have installed the 32-bit version of Windows.
If you see the second type, then your computer can run a 64-bit version of Windows. If you see the third one, it means you can't install another architecture of the operating system because your CPU doesn't support it.
2. Back Up Important Files Before Windows 10 64-Bit Upgrade
To avoid data loss, you'd better make a full backup of your PC. While making a full backup of the computer can be time-consuming, we recommend you try a data backup utility - EaseUS Todo Backup, to finish this job quickly and effectively. This software enables you to make a full backup of your computer in one click. It also helps you make backup schedules. 
Download EaseUS Todo Backup and quickly make a backup of your important files.
Step 1. For the first time you use EaseUS Todo Backup to back up files, click Create backup on the home screen and then mouse click the big question mark to select backup contents.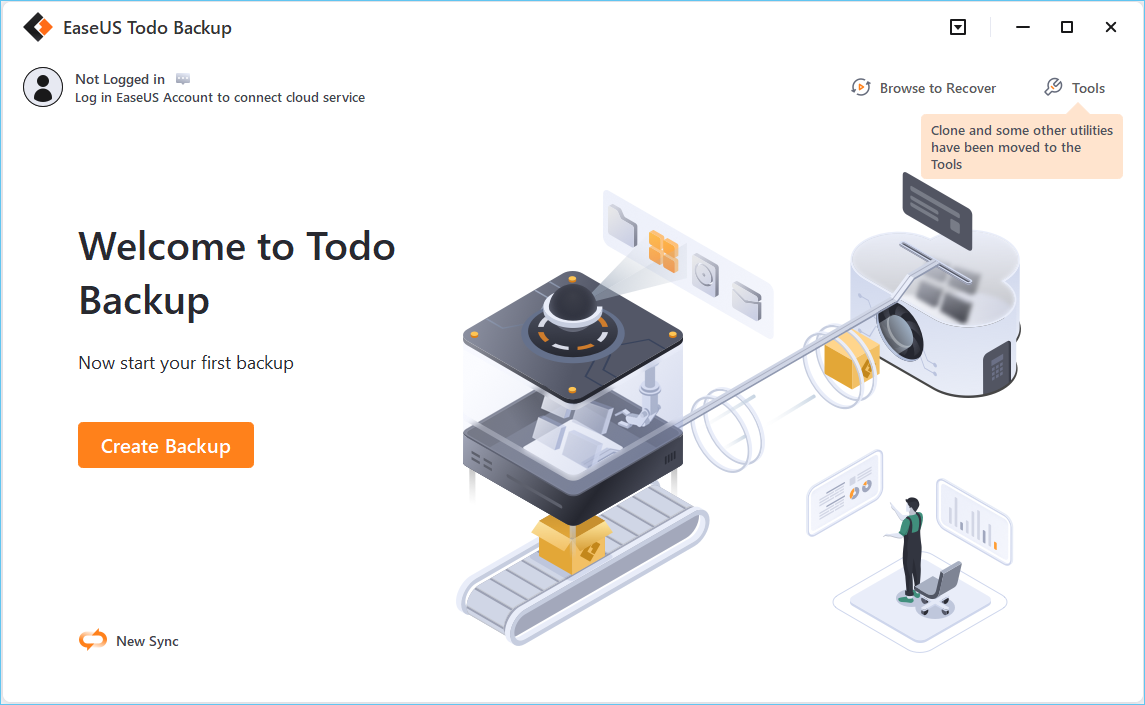 Step 2. Since you're going to back up files and folders on your computer, go on with the "File" backup mode, where you can select pictures, videos, documents and all other types of files to back up.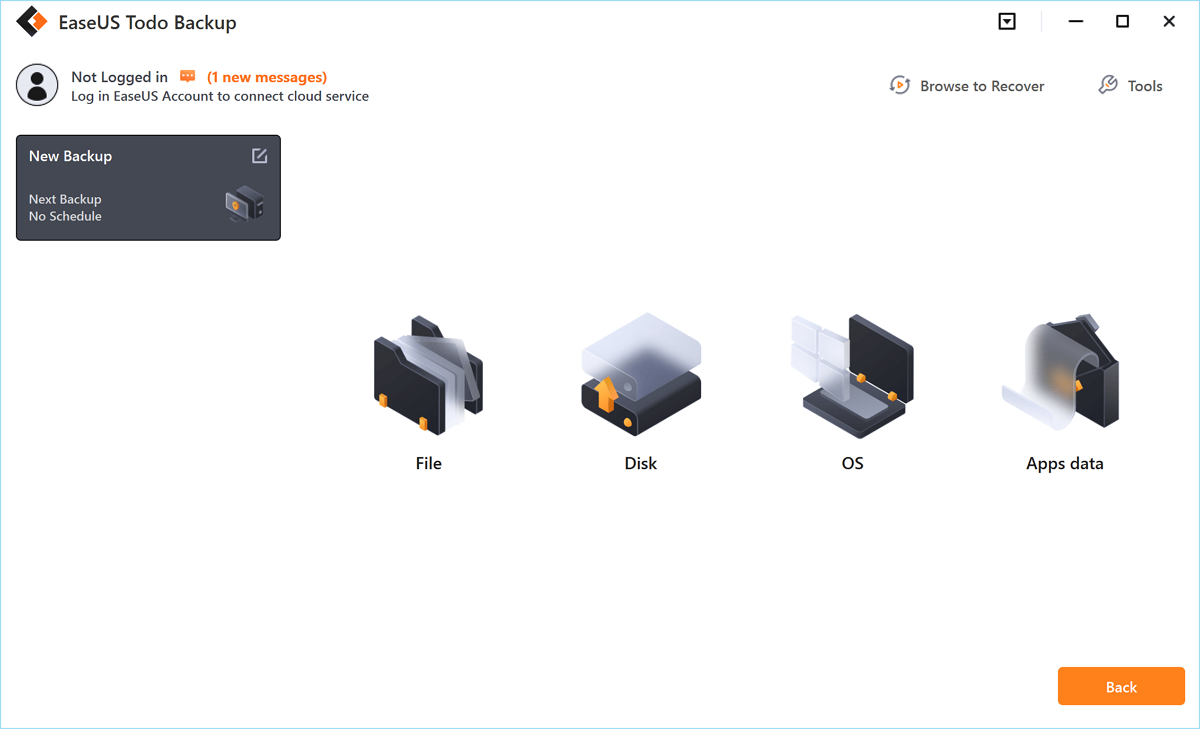 Step 3. Follow the paths to locate the files, folders or directories you want to back up, select them all and click "OK".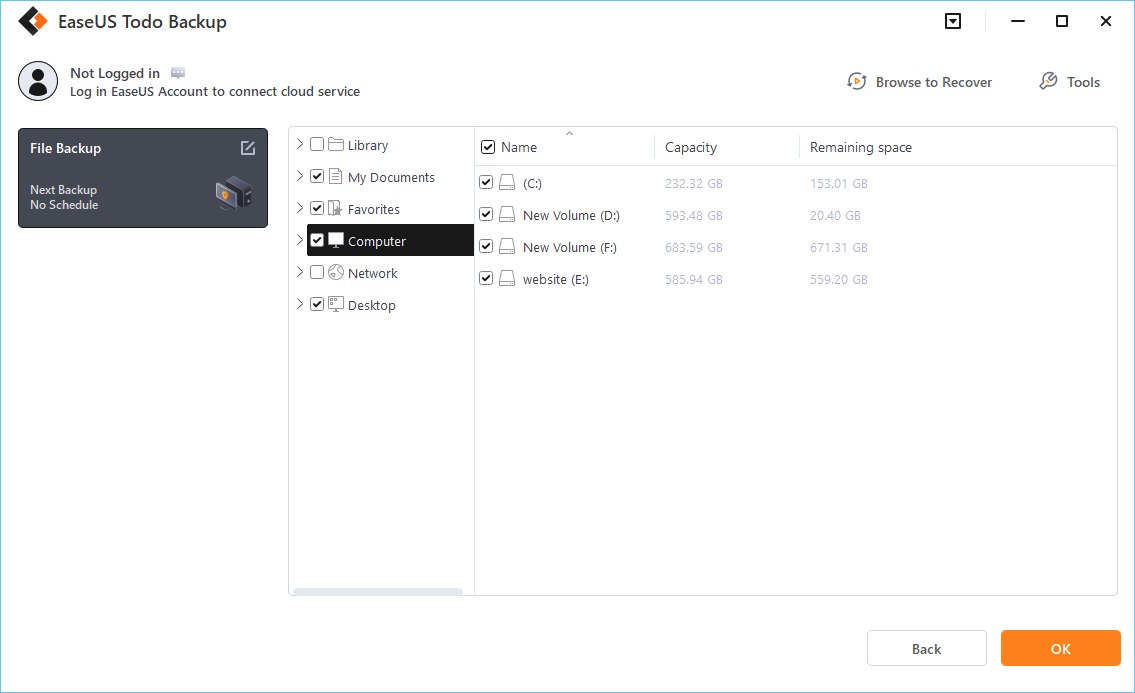 Step 4. Now you need to select a backup location to save and retain the backup.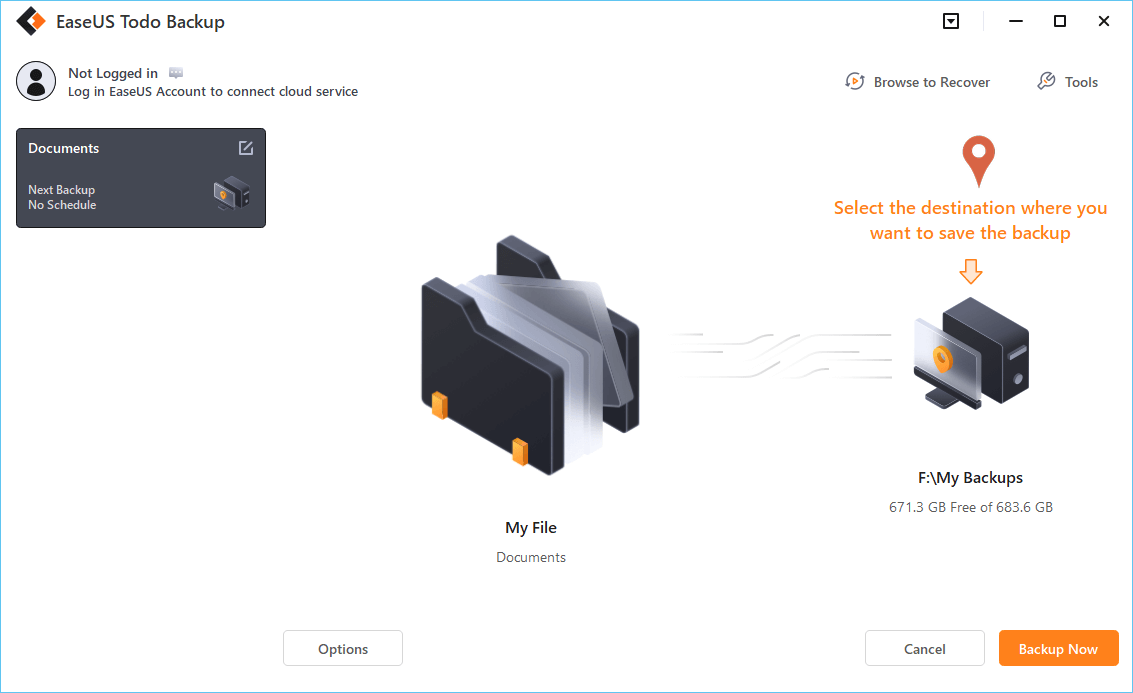 Step 5. EaseUS Todo Backup allows users to save the backup files to every device that is handy for you, like a local hard drive, external USB drive, SD card, network drive, or a NAS drive, plus a cloud drive of the EaseUS brand. We personally recommend users to choose the cloud drive prior to a physical drive to save important backups due to the greater accessibility, flexibility and safety.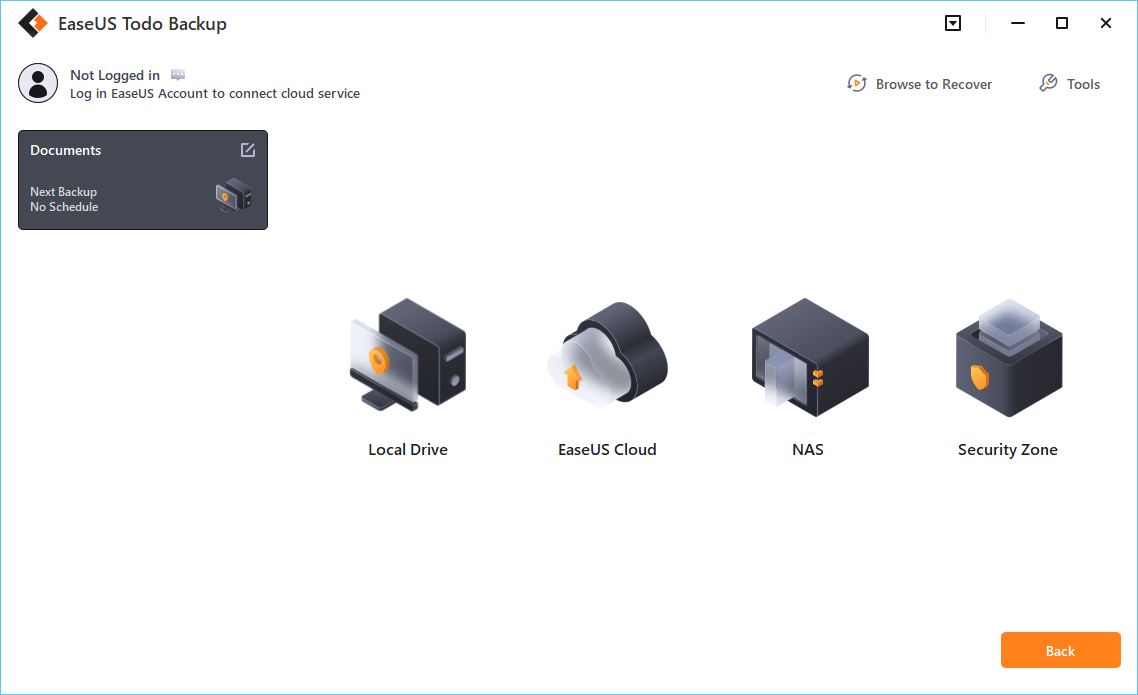 To be able to access to EaseUS cloud, all you need is an email registration and login.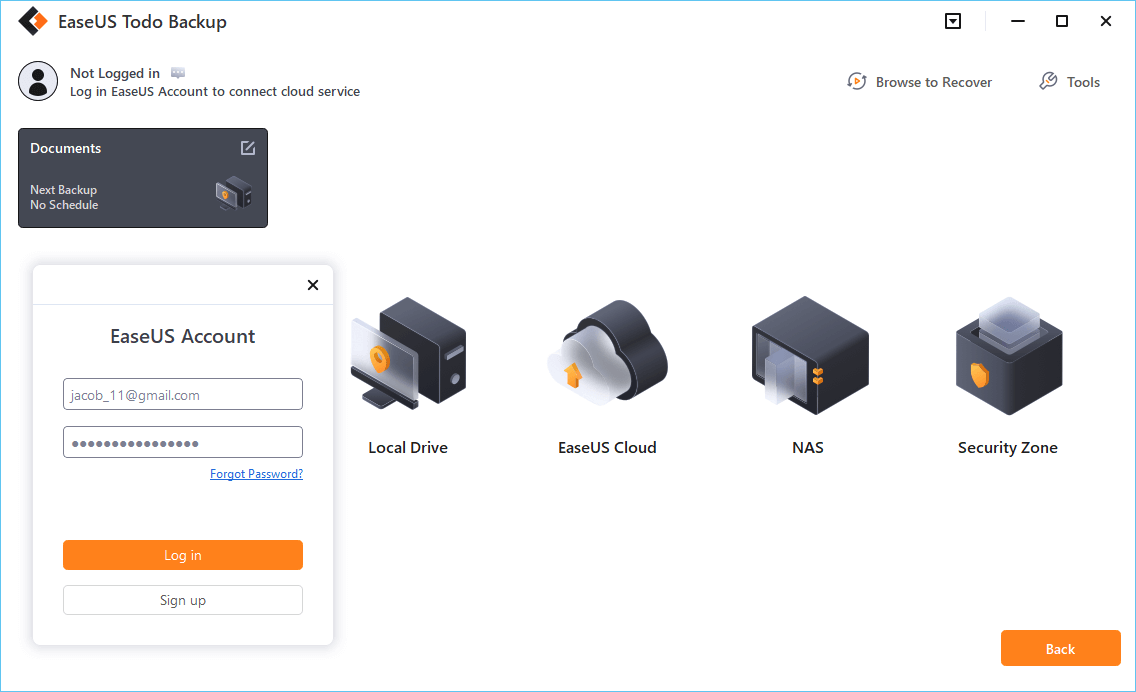 Step 6. If you're interested in an automatic and intelligent backup schedule for the next file backup task, go on with the "Options" setting. There you can encrypt a confidential file backup, compress the backup image size, or customize a backup scheme to tell the software in what time to start the next backup. 
Customize an advanced and automatic backup task here: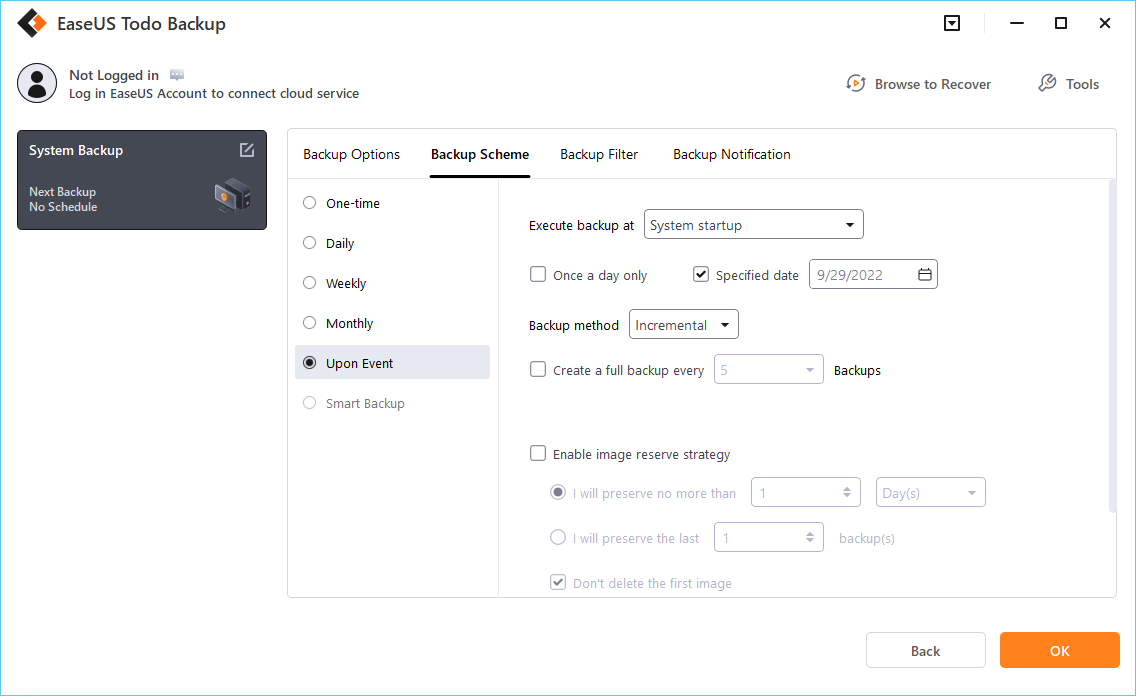 Step 7. Click "Backup Now" to start the file backup process. Your completed backup files are visible on the left area in a card style.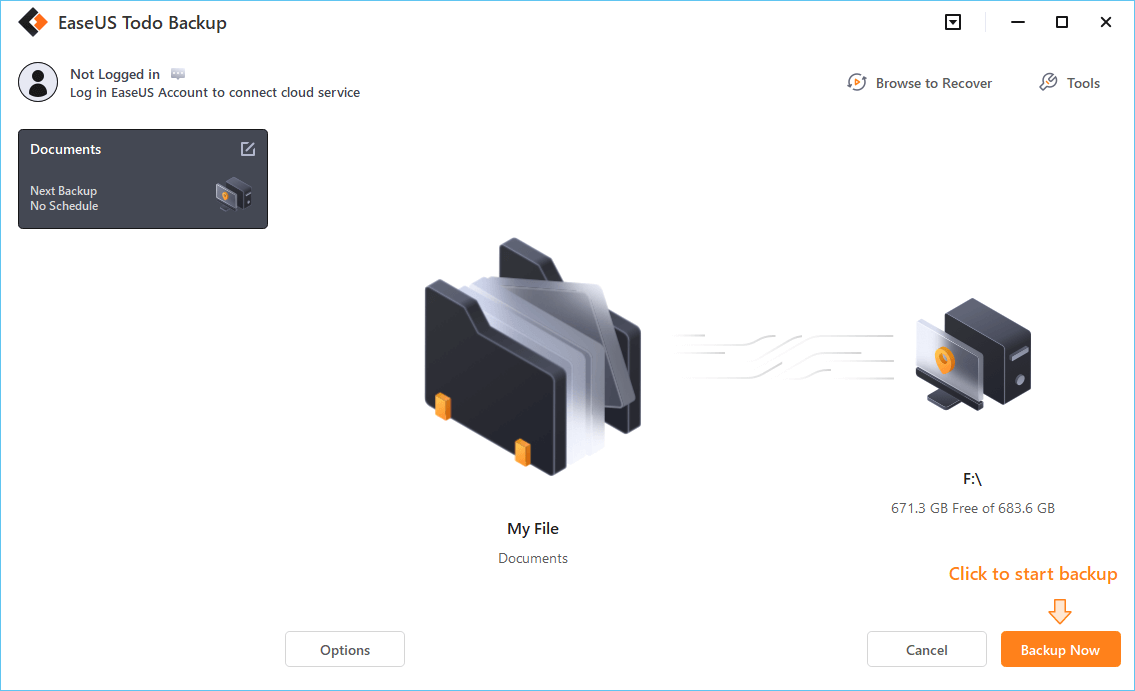  Notice:

If you want to keep all the apps or programs, it is a good idea to move/transfer programs to an external hard drive with EaseUS Todo PCTrans. This PC transfer software moves data, applications, and accounts from one computer to another in Windows 10/8.1/8/7/Vista/XP. You can directly run programs from the external device without any difficulty. If you don't have an external hard drive, you can also use a USB with enough free space.
3. Upgrade Windows 10 32 bit to 64 bit
You'll need to perform a clean install to get to the 64-bit version of Windows 10 from the 32-bit one, for there's no direct upgrade path.
First, be sure to check that your current 32-bit version of Windows 10 is activated under Settings > Update & security > Activation.
Step 1. Create the installation media
1. Go to Microsoft's Windows 10 download page. Click the Download tool now button and save the Media Creation Tool on your desktop.
2. Connect a USB drive with at least 4GB of available space.
3. Double-click the MediaCrationTool.exe file.
4. Click the "Accept" to agree on the terms.
5. Select the Create installation media (USB flash drive, DVD, or ISO file) for another PC option. Click Next.
6. Uncheck the "Use the recommended options for this PC" option.
7. Make sure to select your language, edition, and, more importantly, the architecture, which in this case is 64-bit (x64). Click Next.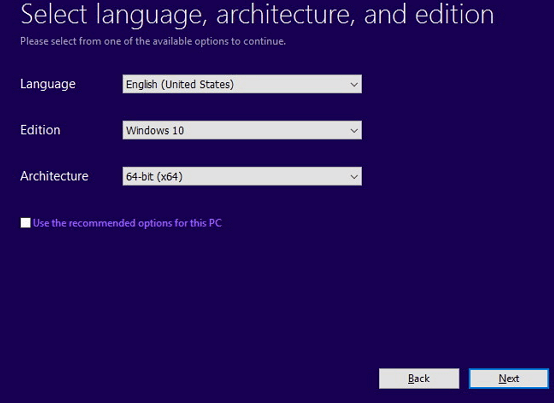 8. Select the USB flash drive option. Click Next.
9. Select the removable drive from the list. Click Next.
Step 2. Windows 10 32 bit to 64-bit install 
1. Restart your computer and boot from the installation media ( press f2 when you restart > select boot > boot from USB).
2. On "Windows Setup," click the Next button.
3. Click "Install Now", and click the "I don't have a product key" link to continue.
4. Select the edition of Windows 10 (if applicable). This selection must match the edition of the license activates.
5. Accept the license terms and continue.
6. Click the Custom: Install Windows only (Advanced) option.
7. Select and delete system partitions - usually: Drive 0 Partition 1 and Drive 0 Partition 2.
8. Click Next and follow the instructions to install Windows 10.
When you finished the installation, Windows 10 will automatically check in with Microsoft and activate itself. You'll now be running the 64-bit edition of Windows on your PC. And you need to continue with the on-screen directions to finish the out-of-box experience (OOBE) to create a new account, set your preferences, and choose your preferred privacy settings.
Gemma is member of EaseUS team and has been committed to creating valuable content in fields about file recovery, partition management, and data backup etc for many years. She loves to help users solve various types of computer related issues.

Brithny is a technology enthusiast, aiming to make readers' tech life easy and enjoyable. She loves exploring new technologies and writing technical how-to tips. On her spare time, she loves sharing things about her favorite singer - Taylor Swift on her Facebook or Twitter.
Taking everything into consideration, we can say that EaseUS Todo Backup Home can offer you a little extra sense of security with a set of advanced tools. The interface provides quick adaptation, every process guiding you all the way through so you don't get stuck or further damage your system rather than keeping it safe.

 Read More

EaseUS Todo Backup Free lets you create backups of your important files or your entire computer through its streamlined interface. Just choose the backup type you'd like to get started, and let the program do the reset.

 Read More

EaseUS includes all the features I expect from backup software like versioning, incremental backups, and scheduling. For more advanced users, EaseUS allows you to install a pre-boot environment onto your hard drive so you can use it to restore files without burning a CD or putting it on an external USB drive.

 Read More

EaseUS Todo Backup
Smart backup tool for your files and entire computer in Windows 10/8/7.
Install Windows on Multiple Computers at Once? No Problem!
Learn how to install Windows 11/10/7 and special programs/software on a batch of computers. Use 10 minutes to do the 10 hours work without making a single mistake!
Get Free Solution!