What is Snapshot
For a computer system, a snapshot is an "image" that can represent the state of the system at a characteristic point in time. When you want to restore the system, your snapshot will be used to restore the system to the state it was in when the snapshot was taken, thus protecting the computer from data corruption or hardware failure.
How Do Snapshots Work?
When the snapshot is created, the underlying system will create a differential disk that is bounded to the original virtual hard disk. This method can ensure that all data written in the future is directed to the differential disk, thus keeping the contents of the original virtual hard disk unchanged.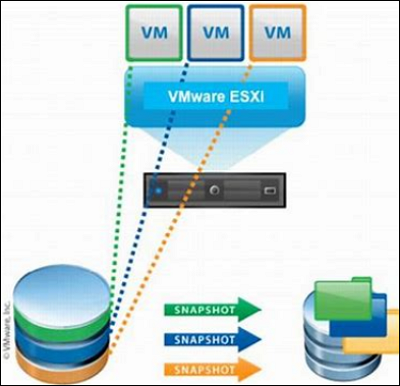 As the file system continues to run, multiple snapshots are created at different points in time and provide multiple branches for the file system. Because of this, snapshots can help restore recently modified data or restore the system state.
What is Snapshot Backup
Snapshot backup can also be referred to as image backup, it is a type of backup copy. It does not store data but plays its role by defining the location and mode of data storage.
When Do People Need Snapshot Backup?
In the process of using the computer, you will inevitably encounter many kinds of situations that require snapshot backup. For example, the system cannot be started; virus intrusion causes system error; inadvertent deletion of important documents. Snapshot backup can ensure that your system or files are successfully restored to the state before the failure, so it is necessary to have snapshot backups.
Best 5 Snapshot Backup Software 
Typically, the snapshot is created using disk or system imaging. However, most backup software can also take snapshot backups and help system image recovery or system restore in a more efficient and convenient way.
Here are 5 of the best snapshot backup software in the market, and this post lists their respective details. Read on and find the software that suits you most!
EaseUS Todo Backup Enterprise [Most Recommended]
EaseUS Todo Backup Enterprise is our most recommended snapshot backup software. It makes it easy to create an automatic backup schedule that includes an entire system, an entire drive or partition, or even a single file.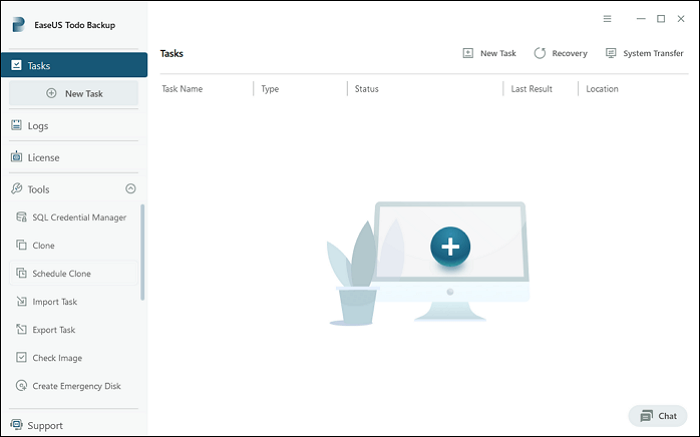 The backup solution provided by it is simple, efficient, and powerful, and can protect businesses of all sizes and servers with full, incremental and differential backups. At the same time, EaseUS Todo Backup Enterprise is a user-friendly software that can help you quickly create snapshot backups with just a few clicks.
Supported system:
Windows 11/10/8/7
Main features:
Disadvantage:
Need to log in with email
Here are the simple steps for you to know how EaseUS Todo Backup Enterprise backup the system.
MSP360 Managed Backup
MSP360 Managed Backup is a powerful snapshot backup software, which can easily back up or restore your data. It can restore server images to VMware, Hyper-V, and cloud-based virtual machines. This means that if you use this backup solution, you can start and run your server immediately in the event of a crash. However, it should be noted that MSP360 does not provide cloud storage, but allows you to store data in the cloud solution you choose.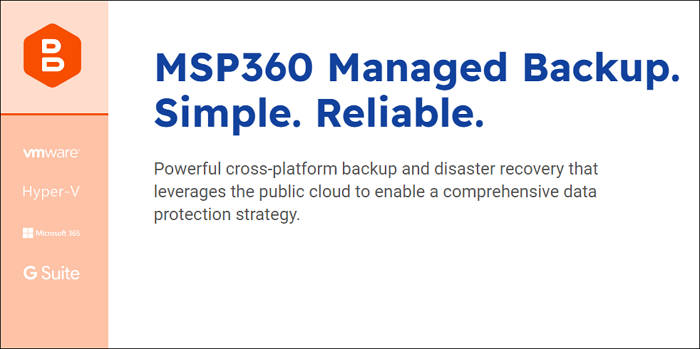 Supported system:
Windows, Linux, macOS
Main features:
offers 65 storage destinations(Amazon S3, OneDrive, and so on)
Supports item-level restore from the image backup
Covers almost all mixed storage scenarios
Disadvantage: 
The lack of phone support
Paragon Backup & Recovery Business
Paragon Backup&Recovery Business has a good reputation and long history in the field of data backup and recovery and provides a good solution for users seeking simple snapshot Backup methods. It supports users to set backup schedules and has an extremely intuitive operation interface, which is suitable for most small and midsize companies.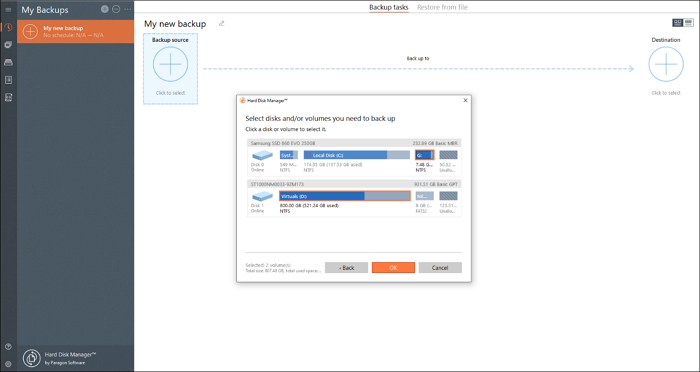 Supported system:
Windows 11/10/8/7
Main features:
Has the ability to rebuild entire disks and partitions
Can automatically create a bootable environment
Supports many advanced backup options
Disadvantage:
No continuous options for folders
Acronis Cyber Protect
Acronis Cyber Protect is one of the famous backup software. It provides a fully functional backup solution with high security. It can increase the protection of private encryption keys, monitor your data for abnormal file modifications, and help you prevent the intrusion of ransomware.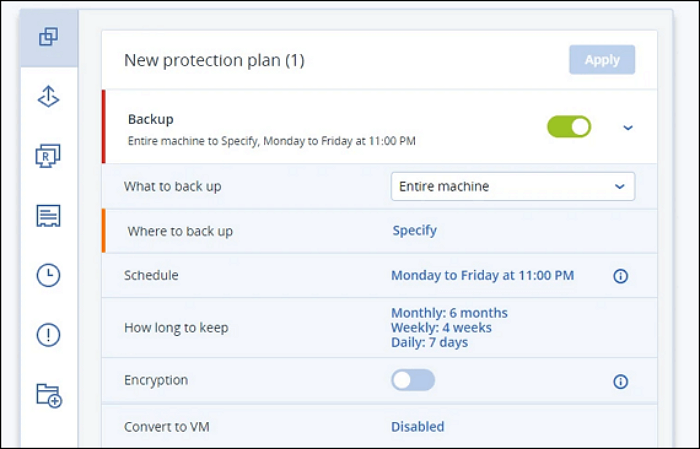 Supported system:
Windows, macOS
Main features:
Provide anti-ransomware software technology
Supports Facebook and Instagram backup
Has a unique data protection map
Disadvantage:
High Price
Backblaze
Backblaze is one of the top brands in the cloud backup field. It is most praised for providing unlimited backup storage space and ease of operation. Backblaze's backup method is simple and direct, which is more suitable for novice operations. However, more advanced users may not be able to find more control flow snapshot backup methods in Backblaze.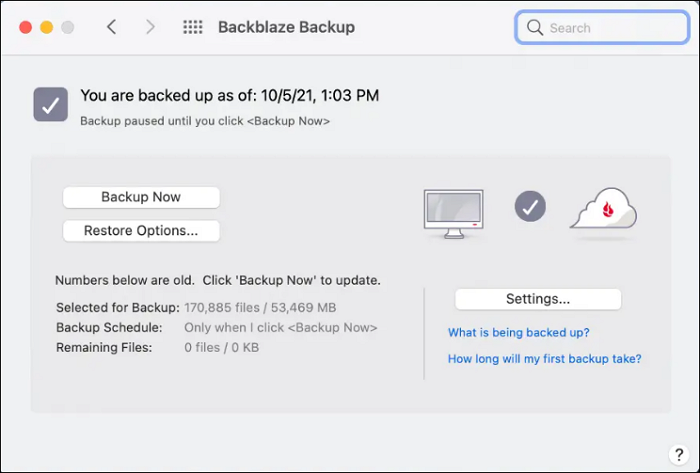 Supported system:
Windows 11/10/8/7, macOS
Main features:
Unlimited storage space
Provides private encryption keys and two-factor authentication
Suitable for beginners
Disadvantage:
Licenses are for just one PC
Conclusion
For computers, snapshot backup can not only maintain data security but also help users restore system status. This article introduces you to the five best snapshot backup software, among which EaseUS Todo Backup Enterprise is outstanding. You can use this software to easily and quickly complete all backup plans without being attacked by viruses or blackmail software.
FAQs
Is snapshot backup a full backup?
No, it is not.  Snapshot backup only provides system state data at a certain point in time. At the same time, the snapshot itself is not a backup, it is only an important part of the system backup process. So snapshot backup is not a full backup.
What are the types of snapshots?
Snapshots have 4 types.
Copy-on-write: Include metadata describing data blocks that have changed since the creation.
Redirect-on-write: When creating a new block, write the snapshot once.
Continuous data protection: Snapshot created in actual time. The snapshot of the original copy is updated with each change.
Mirror/clone/replication: Clone/mirror is the same copy of the storage unit, while replication is a form that can protect data.

Jean has been writing tech articles since she was graduated from university. She has been part of the EaseUS team for over 5 years. Her special focuses are data recovery, disk partitioning, data space optimization, data backup and Mac OS. By the way, she's an aviation fan!
Taking everything into consideration, we can say that EaseUS Todo Backup Home can offer you a little extra sense of security with a set of advanced tools. The interface provides quick adaptation, every process guiding you all the way through so you don't get stuck or further damage your system rather than keeping it safe.

 Read More

EaseUS Todo Backup Free lets you create backups of your important files or your entire computer through its streamlined interface. Just choose the backup type you'd like to get started, and let the program do the reset.

 Read More

EaseUS includes all the features I expect from backup software like versioning, incremental backups, and scheduling. For more advanced users, EaseUS allows you to install a pre-boot environment onto your hard drive so you can use it to restore files without burning a CD or putting it on an external USB drive.

 Read More

EaseUS Todo Backup
Smart backup tool for your files and entire computer in Windows 10/8/7.
Install Windows on Multiple Computers at Once? No Problem!
Learn how to install Windows 11/10/7 and special programs/software on a batch of computers. Use 10 minutes to do the 10 hours work without making a single mistake!
Get Free Solution!