Summary
The solutions are divided into two parts, one is for external hard drive itself not opening with errors, and the other is files are not opening. Data recovery goes first when you cannot open a hard drive. To retrieve files from an inaccessible HDD, external HDD, USB flash drive or a memory card, EaseUS Data Recovery Wizard is what you're going to use.
Part 1. Cannot Open External Hard Drive
Usually, even an external hard drive is correctly connected to a computer system, and well recognized. It cannot open.
We collected the most frequently occurred errors that would go with the not opening issue and tested out corresponding solutions. The common errors are:
The disk in drive X: is not formatted. Do you want to format it now?
You need to format the disk in drive X: before you can use it.
The drive X: is not accessible. Access is denied.
Drive X: is not accessible. The file or directory is corrupted and unreadable.
Drive X: show as xxGB RAW in Disk Management, cannot open it as normal.
Besides those prompt errors, some reasons for a connected hard disk cannot open issue are vaguely known to us, like virus infection or system configuration, and you need to try many approaches to examine, presume and finally work it out.
Take one more step before proceeding with the troubleshooting. Do you have important data waiting for recovery? To retrieve files from an inaccessible HDD, external HDD, USB flash drive or a memory card, EaseUS Data Recovery Wizard is what you're going to use.
How to Recover Data When External Hard Drive Can't Open
Whenever you're facing an inaccessible, unreadable or not opening hard disk drive, data recovery is the priority thing. You can evaluate the EaseUS hard disk data recovery software's capability, speed, and efficiency by installing its demo version placed on the page before purchase.
Step 1. Choose the external hard drive
Since you're going to recover data from the external hard drive, run EaseUS Data Recovery Wizard and under the External Devices tab, choose the exact drive where you lost data. Click Scan.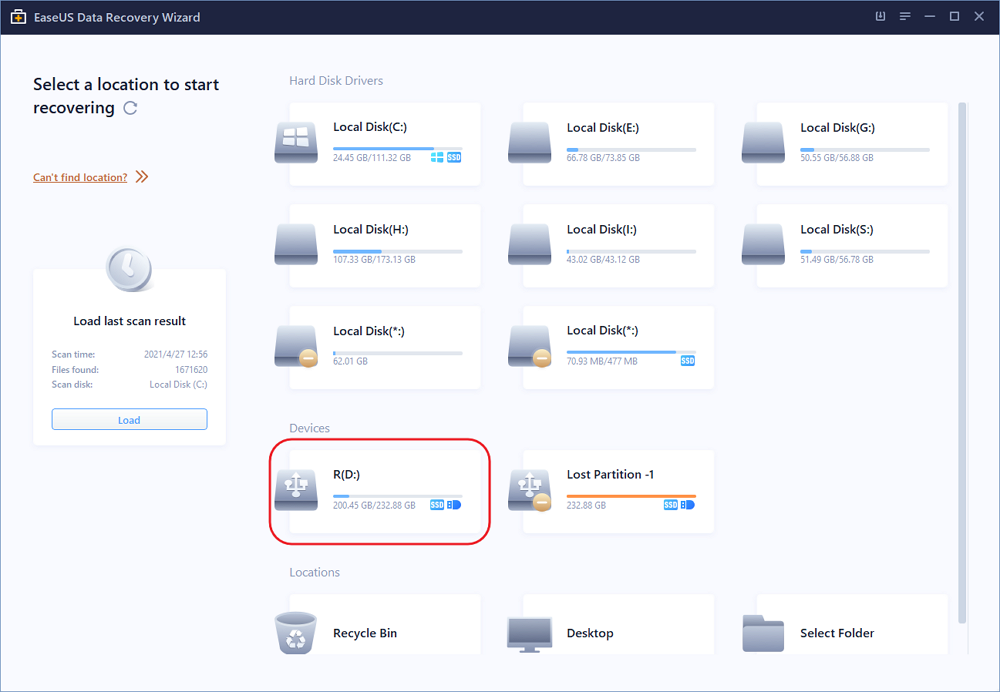 Step 2. Scan for lost data
The software will start immediately to scan all over the selected drive for all lost data. During the scan, you could see more and more data showing up in the results.
Step 3. Preview and recover data
After the scan is over, check the scan results for the desired data. You can preview the file by double-clicking on it. Click Recover and choose another location to save the recovered data.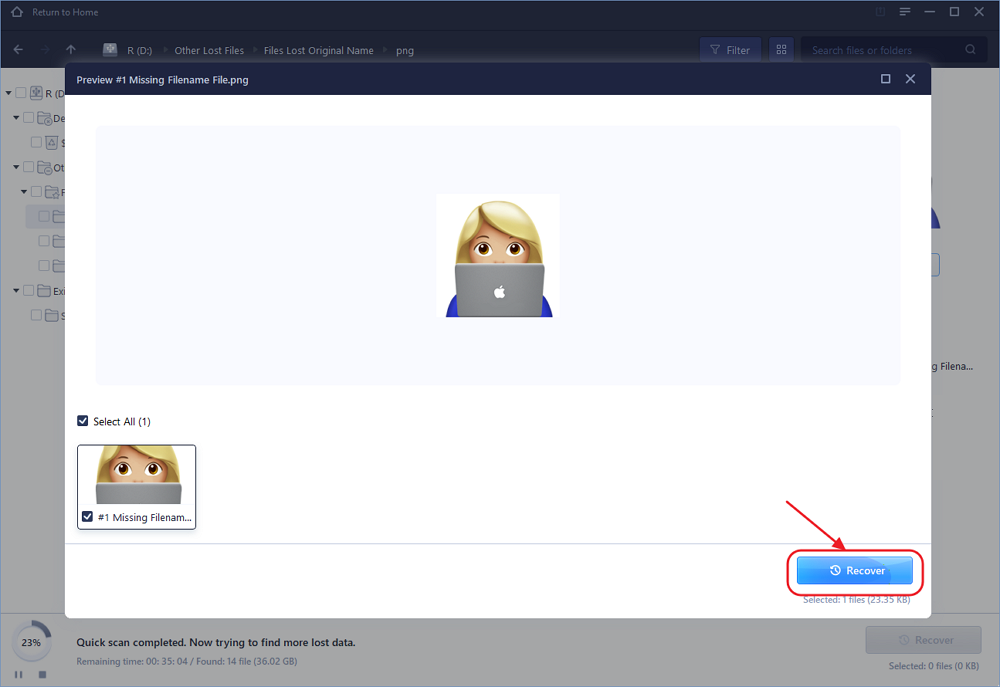 Fix 1. Format the external hard drive
After retrieving your data, you can directly format the external hard disk, which is corrupted very likely, when you cannot open it in Windows. It will save you all the time and effort of trying a list of other possible solutions offered online.
You can format a hard drive using cmd, disk management and third-party hard drive formatting software. To avoid a software installation, we take Windows Disk Management as an example here.
Step 1. Press Windows + R keys to bring up the Run box, type diskmgmt.msc and hit Enter.
Step 2. In Windows Disk Management, you can check the current status of the external drive. If it's shown as RAW or unallocated, right-click on the drive and choose Format...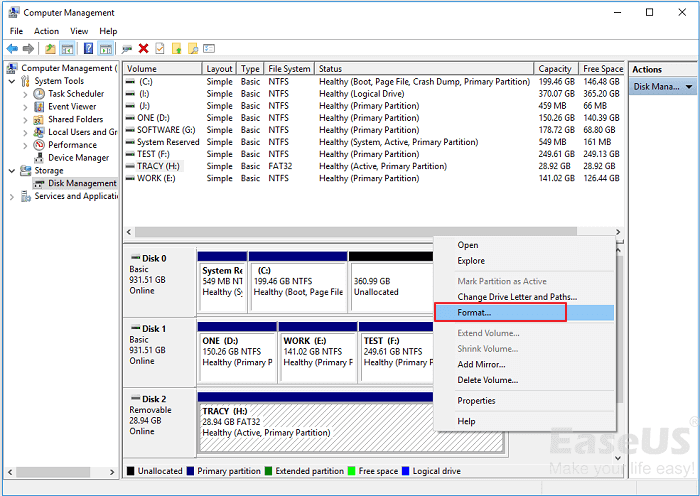 Step 3. Choose a file system like NTFS and click OK.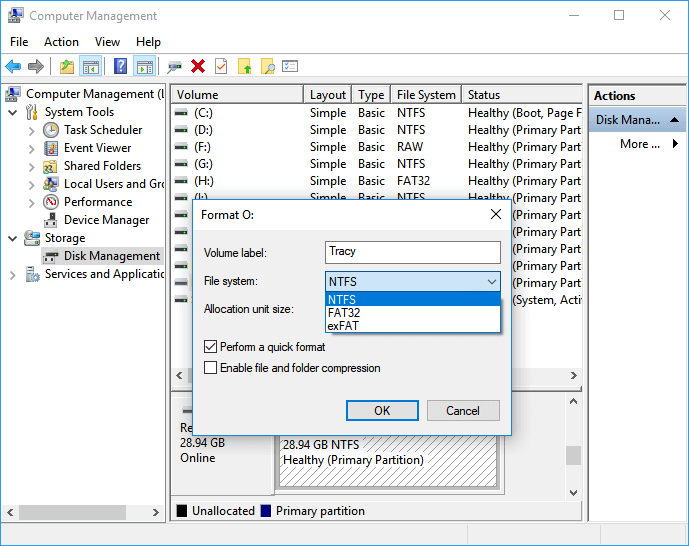 For a better understanding, this method is helpful in all of the following three cases:
Case 1. The External Hard Drive Won't Open and Cannot Run chkdsk
"My 500 GB external hard drive appears on my computer but won't open when I tried to access it. Then I tried chkdsk to check for errors, but it didn't work. Is there any fix?"
Case 2. The External Hard Drive Detected but Won't Read or Show up in My Computer
"My 80GB USB Hard Drive recently stopped showing up in the 'My Computer' folder for an unknown reason, how do I open it and access my data?"
Case 3. Can't Open My External Hard Disk, It's Saying to Format It
"I can't open my external hard drive. It says I have to format it. In the computer, it just shows Local Disk K, but there is no storage reading."
Fix 2. Fix I/O Error on the linked page
When your hard drive is recognized but cannot be opened due to the disk not being accessible with "The request could not be performed because of an I/O device error" message, it can be fixed by running CHKDSK or changing the transfer mode for the drive in IDE Channel Properties.
For a detailed guide, please refer to how to fix I/O device error on an external hard drive.

Fix 3. Request Admin privileges
If you don't have Admin privileges of accessing to your external hard drive, it won't open and usually shows this error message "Drive is not accessible. Access is denied". To fix the issue, you take ownership to get the permissions. To do it:
Step 1. Right-click on the inaccessible hard drive, select Properties.
Step 2. Go to the Security tab, switch to Advanced, then click the Edit button. On the Owner tab, modify the ownership of the specified account.
Part 2. Cannot Open Files on External Hard Drive
If we discuss further the topic of not being able to open an external hard drive, you will find that the problem becoming more serious. In fact, the other group says that they can open the disk drive as normal, but the files and folders there.
In such a case, you cannot directly use the data recovery software as we introduced in the beginning, it's not guaranteed with success. Good luck, when we have worked on files not opening issue before, and I'm going to post the links here for reference.
Case 1. Open the external hard drive and try to open a folder, saying 'this folder is empty'

Case 2. Try to open a file in Windows but warnings showing up as 'The system cannot find the file specified'.
100% of people found this article helpful.
Frequently Asked Questions
1. Why choose EaseUS Data Recovery Wizard?

"EaseUS Data Recovery Wizard is the best we've seen. It's far from perfect, partly because today's advanced disk technology makes data-recovery more difficult than it was with the simpler technology of the past, but it's fast and efficient..." —PCMag

"The first thing you'll notice about EaseUS Data Recovery Wizard Pro is that its interface is very clear and uncluttered, with only a small collection of self-explanatory controls. You won't find lots of extra options hidden in a system of hidden menus, either; what you see really is what you get." —techradar

"Recover lost files, even after deleting a partition or formatting your drive." —Macworld
2. Why cannot I recover 2GB data for free?

It is recommended to check the version installed is Free or Trial because they are different versions.

Trial has data preview function but cannot save any files, while the Free version enables to recover 2 GB files. The default free space is 500 MB and you may share the product on social media to get another 1.5 GB.
3. Why cannot the recovered files be opened?

A file is saved as 2 parts on the storage device: directory info (which is comprised by file name, time stamp and size info, etc.) and data content.

If the files with original file names and folder structures cannot be opened, one possible reason is the corrupted directory info. There is still a chance to recover the data content with the RAW Recovery method in our software.
4. Why isn't it suggested to recover the files back to the original drive?

The storage structure of the lost files would be altered or damaged by any changes on the drive. If you save the recovered files back to the same drive, the original data structures and data content would be corrupted or overwritten, which causes permanent data loss. So you should prepare another disk to save the files.
5. How can I check whether my data is recoverable or not before purchase?

The Free version helps you save 2GB files to better verify the recovery quality of our product before purchase.
6. How long does it take to scan the drive?

It strongly depends on the capacity of your hard drive and the performance of your computer. As reference,most drive recoveries can be completed in around 10 to 12 hours for a 1-TB healthy hard drive in general conditions.
About Data Recovery Wizard
It's super easy to recover 250+ types of files after deletion, disk formatting and virus infection. Click the links and compare the difference of each version.