
Table of Contents

About the Author

Reviews and Awards

Best Data Recovery Software for 2021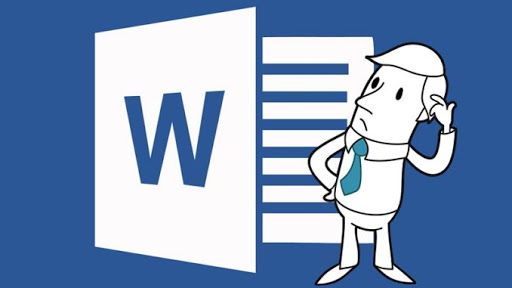 Corruption issues in Microsoft Word is not strange at all. Compared with lost Word file recovery, which some professional file recovery software can do it well, repairing a file that is corrupted asks for more patience and skills. The more severely the file gets damaged, the harder the file content can be restored. In spite of that, for a corrupted Word .doc/.docx file, there are still some fixable ways available. To help you fully understand how to recover severely corrupted Word file in Windows 10/8.1/8/7 with confidence, we devide the event in two scenarios following by corresponding solutions:
Scenarios
Step-by-step Troubleshooting
The Corupted Word Does Not Open
Fix 1. Open the file in Draft mode...Full steps
Fix 2. Open with "Recover Text from Any File"...Full steps
Fix 3. Open the file in a new document...Full steps
Able to Open but Data Corrupt
Fix 4. Use the Open and Repair Word Tool...Full steps
Fix 5. Copy content to a new document...Full steps
Fix 6. Start Word from default settings...Full steps
Fix 7. Adopt the document view...Full steps
What Makes A Word Document Corrupt - Badly?
Anytime when you cannot open a file normally, you should suspect a file corruption. In addtion, even you can open the file but data shows weried character or the file turns blank, it indicates that the file data has been partially or completely damaged. How did you note the file problem? Have you ever done the following things before the event? If yes, that's probably the reason.
Abrupt Power failure or system shutdown while editing, downloading or transferring the file
Change the Word file format too frequently from one format to the other
Read/write the Word file on a hard drive with too many bad sectors
The computer has been infected by malware and viruses
The Microsoft Word application crashed or froze

6 Ways to Fix Word Not Responding
Usually, when Microsoft Word crashes or freezes, it throws a frustrating error message "Microsoft word not responding" or " Microsoft Word has stopped working".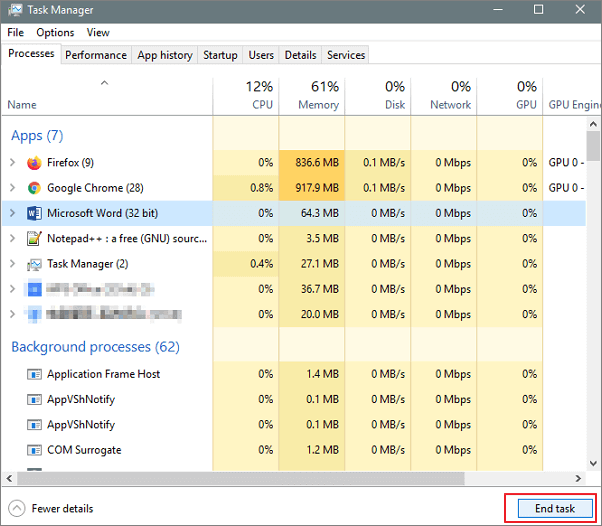 How to Manually Repair Severely Corrupted Word with 7 Simple Tricks
There is not a ganruanteed way to 100% protect a computer file from being lost or ruined unless making a real-time backup. When you happen to receive an error reporting the file in Word has been corrupted or stopping you from opening it normally, to increase the chance of recovery, you should stop all the work at hand right now and take correct actions to repair the corruption without a delay.
Scenario #1. The Word File Does Not Open from the start
The error followed by a Word file you cannot open at the moment is usually about "The file is corrupt and cannot be opened". To fix this kind of not opening issue, the given four solutions are usually helpful.
Fix 1. Open the file in Draft mode
Open Word and navigate to View and then Draft
Select File > Options > Advanced
First find the section called Show document content, check the box in front of Use draft font in Draft and Outline views and Show picture placeholders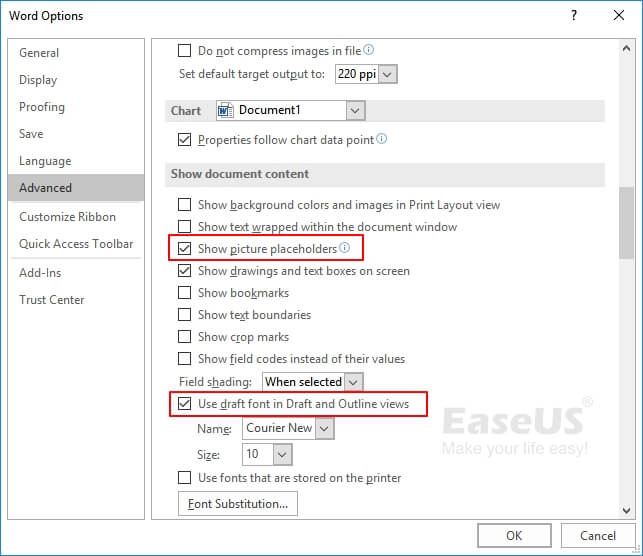 Go on scrolling dow to the section of General, uncheck  the options of Update automatic links at open and select OK and then close Word.
Restart Word and select the damaged document to open
Fix 2. Open the file with "Recover Text from Any File"
 Tip

Do not use the double click method to open the file because this will still prevent you from opening it correctly in Word. Instead, use the open feature in Word like this.
Open Word and and go to File > Open > Browse
Select the problematic Word document by navigating to its file location and select Recover Text from Any File (*.*) from the dropdown menu
Click Open
Fix 3. Insert the file in a new document
This method takes two procedures of [1] create a new Word file [2] Insert the damaged document content into the new doucment. 
Select the File Menu, and then select New
Select Blank document, and then select Create
On the Insert tab, select Insert Object, and then select Text From File
In the Insert File dialog box, locate and then select the damaged document. Then, select Insert.
Scenario #2. Able to Open the Word File but Data Corrupt
The other case is that you can open the file in a normal way in Word, but stop by some unspecified errors. The content may consist of unreadable charaters and the formatting and layout are in a mass. You must use different methods to tackle this kind of issue.
Fix 4. Use the Open and Repair Word Tool
In Word, select File on the Ribbon, and then select Open
In the Open dialog box, click once to highlight your Word document
Select the arrow on the Open button, and then select Open and Repair
Fix 5. Copy content except the last paragragh to a new document
* Keep in mind one critical step: If your document contains section breaks, copy only the text between the sections breaks. Do not copy the section breaks.
In Word, select File and then select New
Select Blank document, and then select Create
Next, select File and then select Open
Select the damaged document, and then select Open
Copy the contents of document, and then paste the contents into the new document
Fix 6. Start Word from default settings
Run Word using the default settings can exclude the factors of some add-in and NOrmal.dotm template issues that cause your Word file from constantly corrupting.
Close all the Word documents on your PC
Press Windows+R keys to open Run
Type winword.exe /a and click OK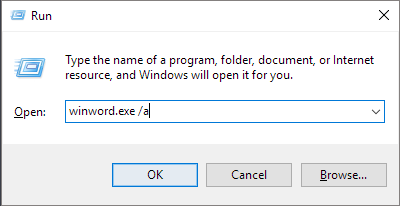 Once Word opens up, go to File and click on Open
Browse to the damaged Word file and click on Open
Fix 7. Adopt the document view to remove damaged data
In the event of the pages of a doucment are truncated, it may help remove the damaged content by switching the document view. First of all, open the corurpted Word file and scroll down page by page to check which page number (try to write it down on a notebook) has damaged content that is causing the document to be truncated. Then, switch views to remove the damaged content as follows.
On the View tab in the Document Views group, select Web Layout or Draft view
​​​​​​​

Scroll to view the content that was displayed before the document appeared to be truncated
Select and delete the next paragraph, table, or object in the file
On the View tab in the Document Views group, select Print Layout. If the document continues to appear to be truncated, continue to switch views and delete content until the document no longer appears truncated in Print Layout view
Save the document
Having more issues not mentioned on this page? Check the links for further help.
How to Fix A Word File Won't Open After Recovery
After reading through the article, you can easily find answers to how to recover severely corrupted Word file that can open or cannot open in Word 2003 ~ Word 2019 and Word included with Microsoft 365. All the given methods are based on manual operations and Microsoft support without using third-party Word repair tools. If you wish to repair Word documents that won't open after performing a recovery, use EaseUS Data Recovery Wizard on your PC. It works pramarily as a dependable Word file recovery utility, additionally, with the ability to repair the corrupted Word documents that cannot open or seemingly broken after recovery.
Step 1. Select a Location to Start Finding Crashed Word Files
Launch EaseUS Data Recovery Wizard, and then scan the missing or damaged word files.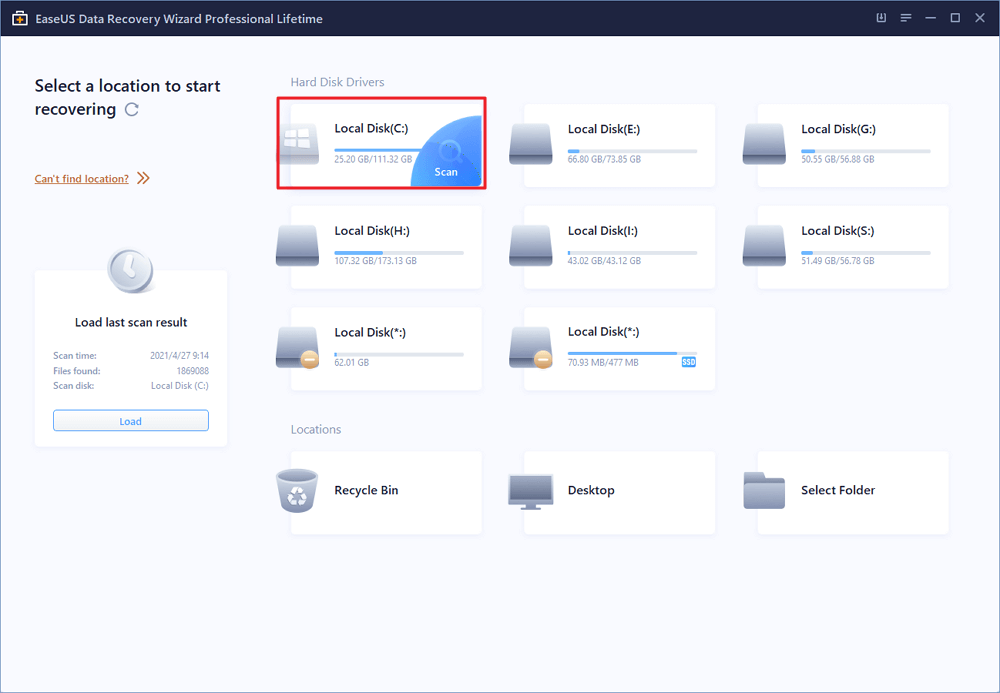 Step 2.  Scan for Lost and Damaged Word Documents
You can use "Filter" to find the damaged word files quickly.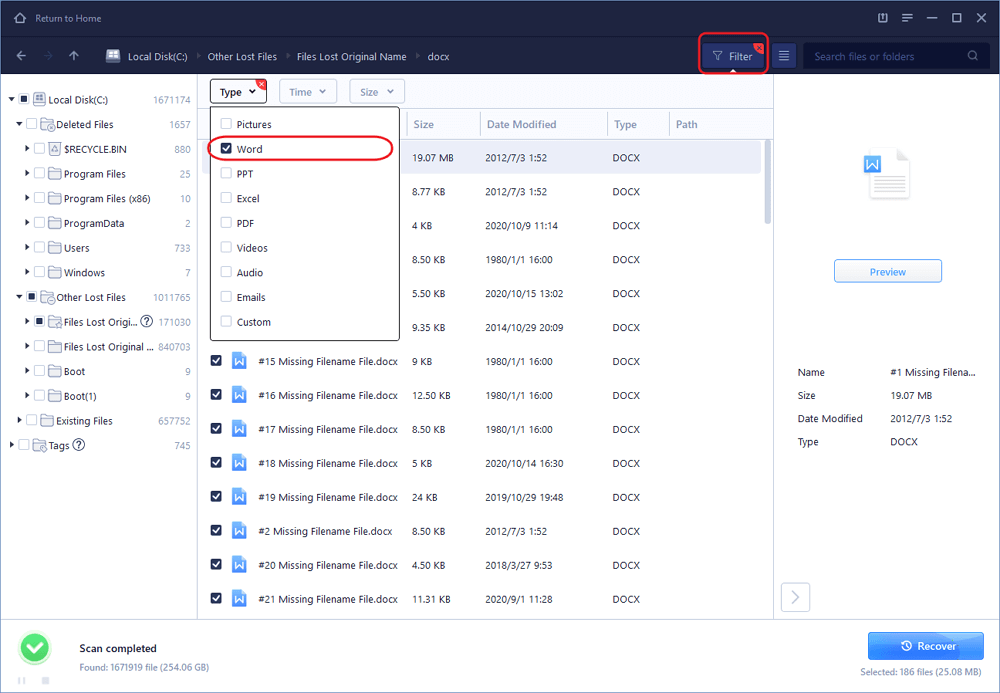 Step 3.  Repair and Recover Word Files to a Secure Location
Choose the word file and click "Preview."  This program will automatically repair corrupted and damaged files. Click "Recover" to save the repaired word files to a safe location. (Please note: DO NOT save the files back onto the same hard drive partition or external device where you lost the data from)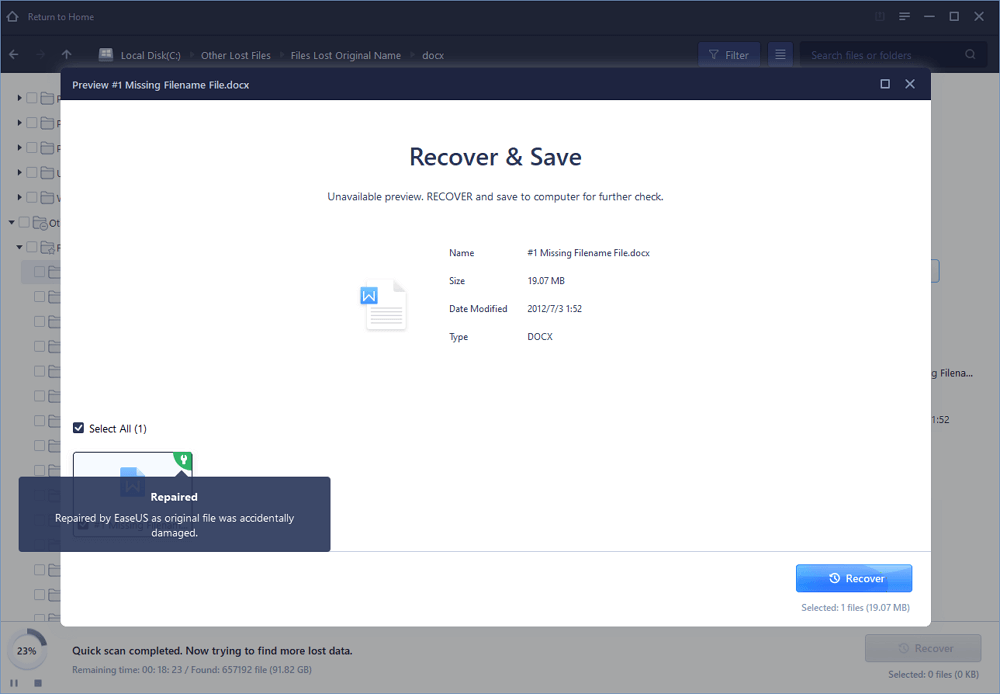 Author Jean has been writing tech articles since she was graduated from university. She has been part of the EaseUS team for over 5 years. Her special focuses are data recovery, disk partitioning, data space optimization, data backup and Mac OS. By the way, she's an aviation fan!
EaseUS Data Recovery Wizard is a powerful system recovery software, designed to enable you to recover files you've deleted accidentally, potentially lost to malware or an entire hard drive partition.

 Read More

EaseUS Data Recovery Wizard is the best we have seen. It's far from perfect, partly because today's advanced disk technology makes data-recovery more difficult than it was with the simpler technology of the past.

 Read More

EaseUS Data Recovery Wizard Pro has a reputation as one of the best data recovery software programs on the market. It comes with a selection of advanced features, including partition recovery, formatted drive restoration, and corrupted file repair.

 Read More