Can't delete files! Deleted files keep coming back after deletion, restart or refresh
"Hi, I'm using Windows 10. I did an update recently if it's the trigger for the problem I'm going to state. Since yesterday, when I delete some of my files they insist on reappearing, typically audio files and images. This happens right after I refresh or restart the computer. I tried to empty the recycle bin after the delete, even format a partition, all failed. Files and folders I deleted keep coming back in Windows 10. How to solve the problem?"
How frustrating! Getting rid of something you don't want on a computer could have been easy and effortless, simply by pressing a Delete button, or permanently delete a file by pressing Shift + Delete keys. Why can't you just delete files or folders as you wish in Windows 10, 8 or 7? When such an irritating issue occurs again and again, what did you do to make deleted files disappear forever?
Stay away from troubleshooting methods that caused unexpected data loss
Usually, when files are stubbornly returning after deletion by all means, the most heard suggestion is to format hard disk partition where problem shows up. This formatting behavior could work only when hard drive corruption leads to the error.
Even though, do not attempt to try formatting so easily. All data files will be erased during the process. If you've tried the method and failed, unfortunately, lost all data and demanded a recovery, download EaseUS hard drive recovery software to recover formatted hard drive within 3 steps.
Step 1_ Select the hard drive you've formatted in order to fix the trouble that deleted files keep coming back, and click Scan.
Step 2_ Run quick scan and deep scan to find all lost data files.
Step 3_ Select files you lost by formatting the disk and click Recover.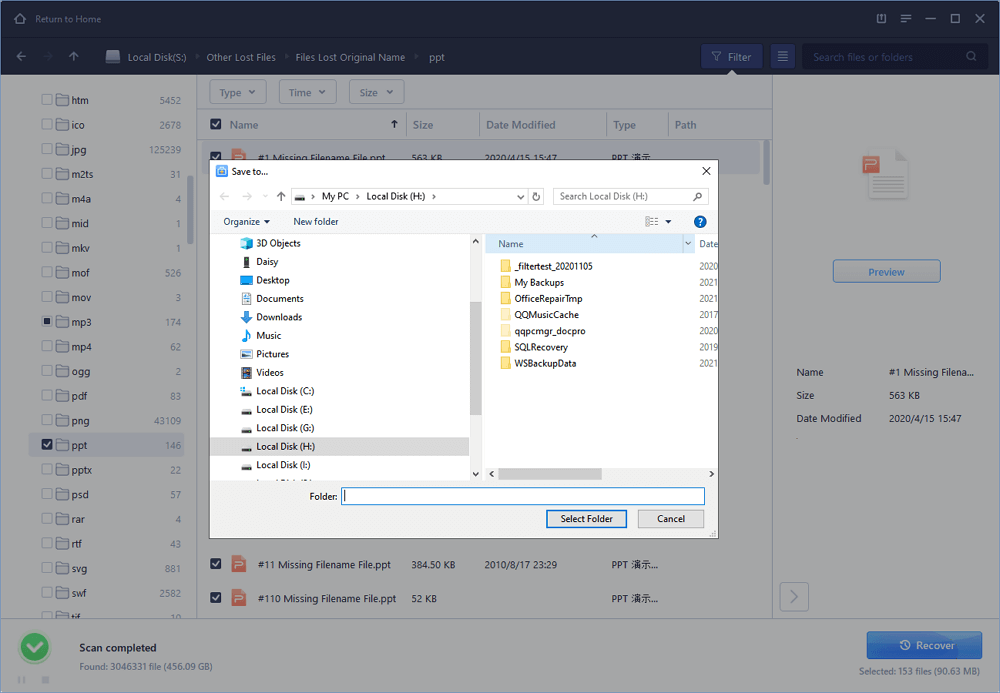 Real causes & solutions for deleted files and folders keep coming back in Windows 10/8/7
Let's go deeper and analyze the trouble specifically. We find some clues that may cause the deletion trouble in Windows 10, and hope that your case is the same.
# 1. Files or folders from recycle bin keep coming back after emptied
If you're seeing deleted files and folders in Windows recycle bin are keep coming back after a refresh, it's most likely that something went wrong with the recycle bin application. To stop deleted files from reappearing after emptied recycle bin, you need to fix corrupted recycle bin in Windows 10 by using command prompt.
Step 1_ Run Command Prompt as an administrator in Windows 10.
Step 2_ Type the command rd /s /q C:\$Recycle.bin and press enter.
Step 3_ Type exit to close the Command Prompt window.
# 2. Files or folders from anywhere keep coming back after deletion
Do you currently use cloud syncing service? If yes, take it easy, the problem is there. No matter you're using Windows 10 cloud storage or a third-party cloud syncing app, they're probably Sharpshell that controls the context menu.
You don't need to know the exact impact from the Sharpshell necessarily. Just uninstall the cloud storage or turn off the syncing service, the deletion function will return to normal without the files and folders reappearing.