Overview of the empty issue
Reason of this issue
Three solutions to solve the problem
Overviewthe folder shows empty but it has size
"How strange! The folder shows empty but the files are there. I transferred all of my pictures the other day from my Canon camera to PC and kept them in a folder on drive D. Today I click on the folder but nothing is there! I am sure that ALL files were successfully transferred, but I just lost them due to unknown reasons. Bad thing is that I didn't keep a copy on my camera storage. So how can I recover files when the folder wrongly shows empty?"
Are you seeing an empty folder that should have contained files in it? The folder shows empty as the picture.
But you know, the folder has size.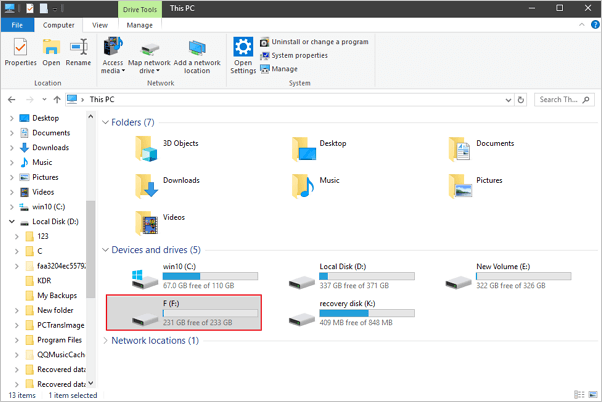 Imagine this. You've created a folder to store some specific files, whether they're downloaded apps, photos, documents or video files, and one day when you try to go and open the folder to view the contents inside, it does not there, nor does it allow you to move it to another storage location. There's nothing worse when you hover over the mouse cursor on the folder, and it shows you that this folder is empty! What a major stress!!!
Reasonwhy would a folder shows empty even it keeps files there
Most of the case for files/folders not showing up though they still exist suggests a hidden attribute. For example, you have hidden these items, you cannot see the files. As a result, the folder looks empty, but it has size. Just as the above pictures show, the F drive has 2GB files, but you see an empty folder.
Perhaps file corruption that prevents from correct viewing. And, such bad results are usually caused by virus, or improper removable of an external hard drive, USB flash drive or memory card. If your external devices get corrupted or its access is denied, please fix the corrupted USB, SD card or external hard drive first, then follow the three solutions below to get data back in time.
Solutionssolve a folder empty issue and recover its missing files
You basically have three options to solve the problem for when you encounter a folder that shows its empty but files are sure to be in it for Windows 10, 8 and 7, including, show hidden files from Windows Explorer, the command prompt line and third-party data recovery software.
1. Show hidden/lost files in an empty folder in File Explorer
Microsoft gives a detailed guide to help on how to display hidden files in all its Windows' versions, including Windows 10, 8.1 and 7. Despite a small difference in performing this action for each version, the final path is basically the same and that would be to find the folder option inside the File Explorer. For example, in Windows 10, you can unhide all files with these two steps.
In the search box on the taskbar, type folder, and then select Show hidden files and folders from the search results.
Under Advanced settings, select Show hid files, folders, and drives, and then select OK.
2. Show missing files in an empty folder from command prompt
A high-level way to see hidden files as well as the most efficient. The troubleshooting steps are the same for each Windows version. Let's carefully learn how to start.
Step 1. Open the command prompt as an administrator, by pressing Windows + R keys together and inputting cmd in the search box.
Step 2. Make certain on which drive the folder shows empty, for example, drive G, then type the command attrib -h -r -s /s /d g:\*.* and press enter.

3. Recover hidden files in an empty folder with data recovery software
The last but the most prevalent way to view and show lost/missing files is with a third-party data recovery software. For example, EaseUS file recovery software is free yet very professional in retrieving all kinds of data files that were deleted, hidden or disappeared for no reason. It requires no computer skills, what's more, the recovery procedure is effortless. Just follow the steps below and find your lost files.
Step 1. Select the location
Open the file recovery software and find the storage partition or location. If you can't find the partition, click the refresh option.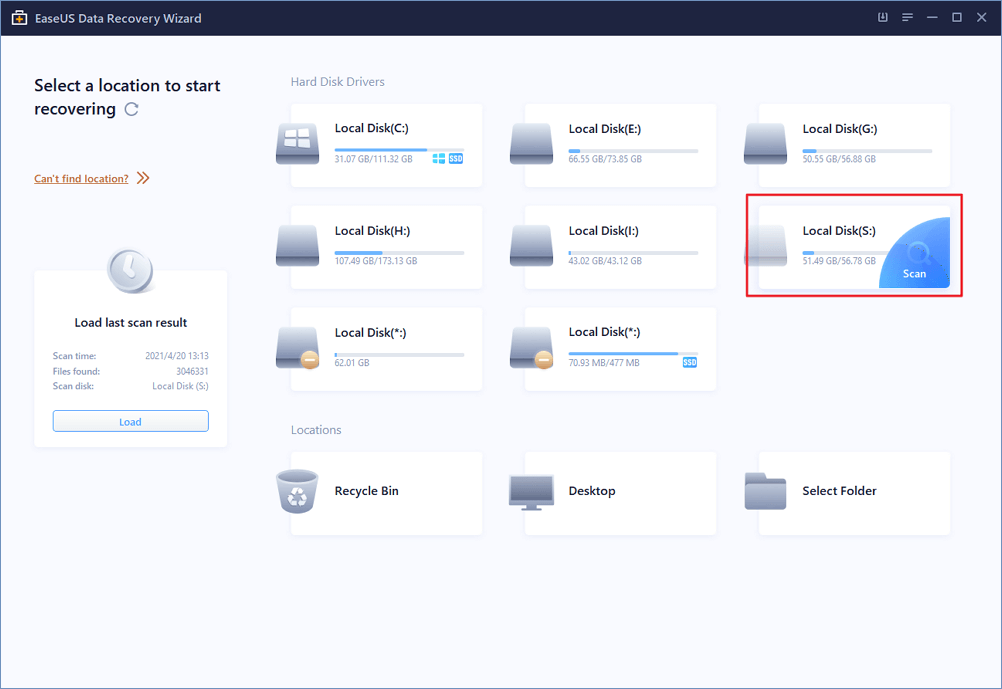 Step 2. Scan the hidden files
After you have selected the location, click the "Scan" option to start the scanning process.
This process may take a little time, please be as patient as possible.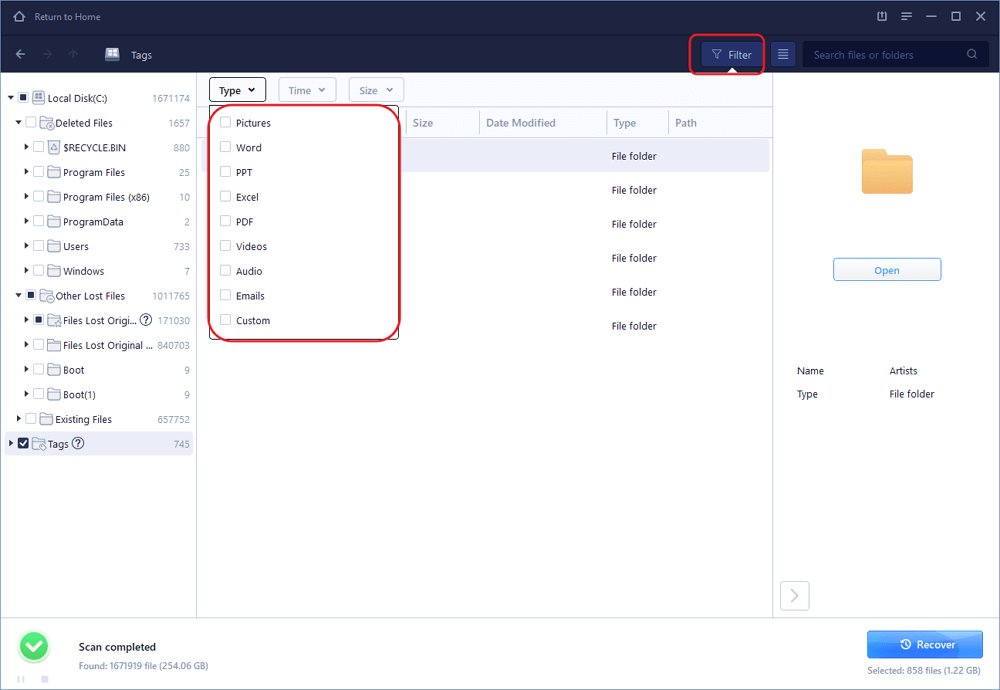 Step 3. Show the hidden files
As long as the scanning process ends, you are able to see all of the hidden files and existing files on that partition. Select the wanted files and click the "Recover" button to show the hidden files. Select another location to save the recovered files.
If you find it hard to get the wanted files, click the "Filter" option or the "Search" option to help you.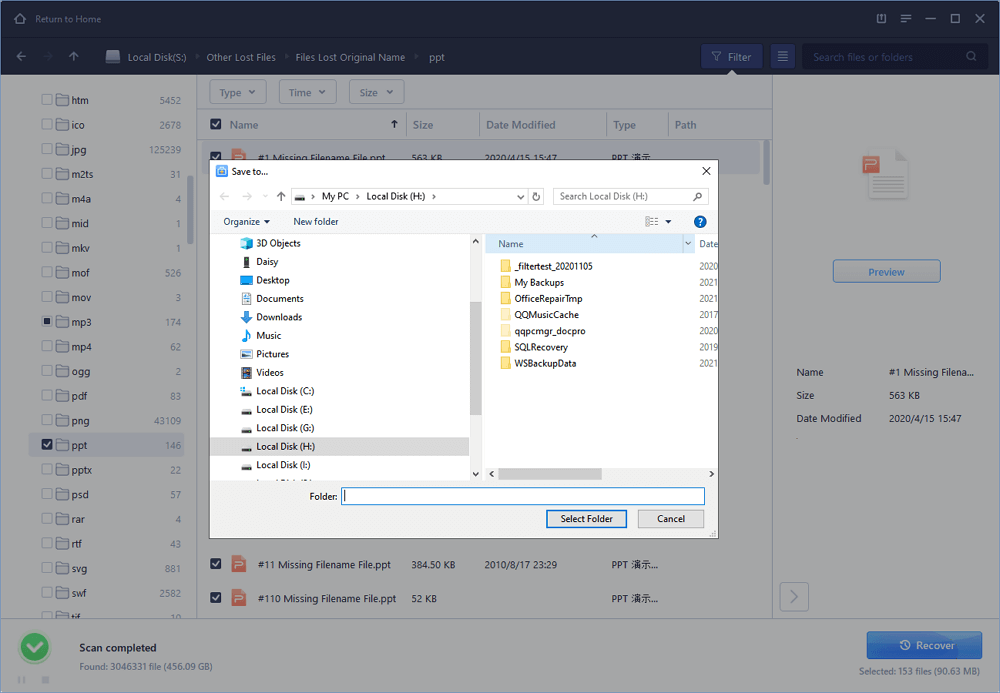 In conclusion, don't easily give up when a folder that should have contained files shows up empty. By applying the above quick fix methods, you can certainly retrieve all of your missing folder contents.