Here are the effective solutions to fix files not showing up issue. 
| Workable Solutions | Step-by-step Troubleshooting |
| --- | --- |
| Fix 1. Use file recovery software | Use EaseUS file recovery software to restore hidden or deleted files. Download EaseUS data recovery software > choose a location to scan > preview and recover...Full steps |
| Fix 2. Show hidden files with File Explorer Options | You can make the files show up in the folder in File Explorer. Click on "Start" > type folder options in Search, choose File Explorer Options > click View...Full steps |
| Fix 3. Show extracted files in CMD | If the extracted files now showing up, you can solve the problem by using CMD. Click on "Start" > type cmd in Search > type: attrib -h -r -s /s /d e:*.*...Full steps |
| Fix 4. Use another zip tool | If your extracted files still don't show up after you've tried all the solutions, you can use a different compression tool, such as WinZip, WinRAR, 7-Zip...Full steps |
Issue: Files Not Showing Up in Folder Windows 10
Case 1: Files Not Showing in the Folder Windows 10 
"When I connect my USB drive to PC and try to open a folder for data transfer, I couldn't see any files. I'm quite sure that I have stored some important working documents there. It seems that something goes wrong and makes the files not showing in the folder. Is there any way to find and retrieve my data back?"
Case 2: Extracted Files Not Showing Up
"I am attempting to write a command that calls 7-zip from the command line. My command is: 7z x z:\dev\archive.7z. Anytime I run this command in the command prompt, it acts like it's working, but when I navigate to the folder after the fact, the extracted files aren't there, although they are there if I run 7-zip from the contextual menu. Is there something I'm missing here?" - A user problem from stackoverflow.com
As you can see from the two situations above, the issue of files not showing up in a folder usually happens in two cases: folder not showing files in Windows File Explorer and extracted files not showing up. And sometimes, you may also get an error message that says "This folder is empty". If you are also a victim encountering these two problems and can't see files in a folder on a hard disk, USB drive, or other memory storage devices, you can use the following three EaseUS Data Recovery Wizard solutions to find a way out. 
Note: Here, if you encounter a "folder won't open" issue and are prevented from accessing your data, refer to how to fix File Explorer won't open in Windows 10 to get a solution. 
What Are My Files Not Showing Up 
Many factors can cause files not showing in the folder or Windows Explorer not showing extracted files. The most possible reason is your files are hidden. Other factors might be some malware or virus attacking your disk and hiding or even deleting your files so that you won't see them in the folder. Some users also report that problems with compression tools can also cause your files to not be displayed.
Whatever the cause might be, try the solutions below to fix files not showing up issue. 
Fix 1. Using File Recovery Software to Find Files Not Showing Up 
To avoid data overwriting or more file loss during solving the problem, the safest way to restore missing files or extracted files is by applying a file recovery tool. EaseUS EaseUS Data Recovery Wizard is reliable and competent to retrieve hidden, deleted, formatted, and corrupted files in any complex situation. 
EaseUS data recovery software does well in recovering files from emptied Recycle Bin, formatted or damaged hard drive, USB, Pen drive, and SD card. What's more, this tool is also good at repairing corrupted videos, photos, and documents. 
Step 1. Launch EaseUS file recovery software on your Windows computer. Choose the exact location where you lost the files and click the "Scan" button.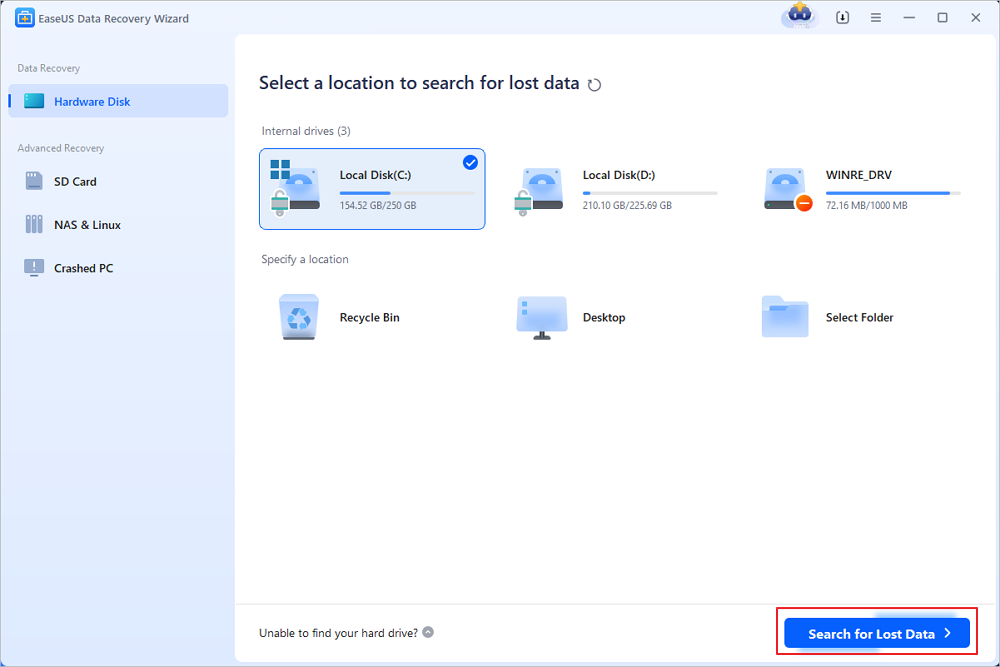 Step 2. The software will immediately start scanning the drive, and the deleted files will be displayed soon. If you find the files you need during the scan, you can stop the scan. In order to find the target file quickly, you can use the file format filter.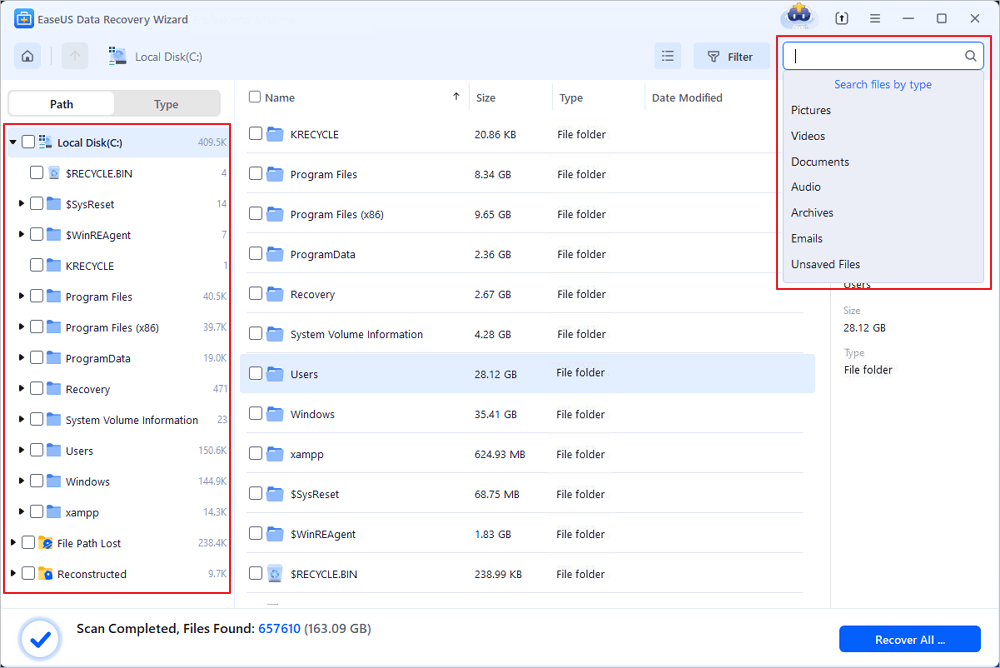 Step 3. Select files, such as Word, Excel, PDF, photos, videos, or emails and click the "Recover" button. You can browse for a different location to keep the recovered files.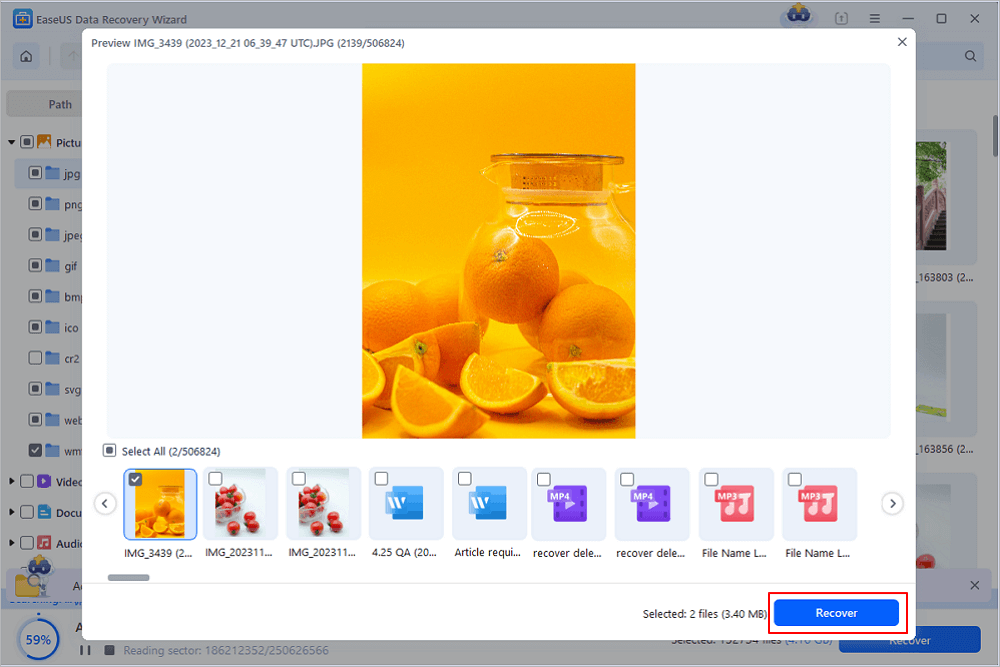 Fix 2. Show Hidden Files to Fix Files Not Showing in Folder Windows 10
If you don't want to use a third-party program to get back lost files, try to make files show up by using the unhide feature in Windows. 
Step 1. Click on "Start". In the search box, type folder options, and press Enter. 
Step 2. In the File Explorer Options window, click on the "View" tab. 
Step 3. Check the option "Show hidden files, folders or drives". Also, uncheck "Hide protected operating system files" and "Hide extensions for known file types".
Step 4. Click the "OK" button to save all the changes.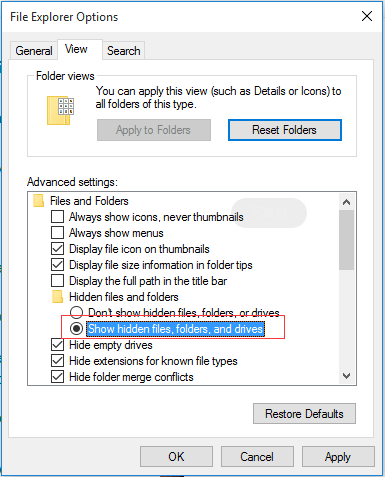 Most time, these steps will help you unhide missing folders/files that were hidden due to the human operation or virus attack. So, open the folder to check if your files are showing up. If this solution does not help, try the next way.
Fix 3. Using CMD to Show Files or Extracted Files
Step 1. Click on "Start". In the search box, type cmd.
Step 2. Right-click the Command Prompt and choose "Run as administrator".
Step 3. Type attrib -h -r -s /s /d e:*.* and hit Enter.  (Replace e: with the drive letter of your device where want to show files).

The command will quickly find and recover your hidden files or folders. When it is finished, refresh and check your external hard disk or USB drive, you will find that files not showing in folder issue is fixed, and all your files are there. 
Fix 4. Use Another Zip Tool
If your extracted files still don't show up after trying the above methods, you can switch to another compression tool, such as WinZip, WinRAR, 7-Zip, Zip Archiver, etc.
Concluding Words
Hope this article can help you resolve files not showing up issue and get back your data efficiently. To recover deleted or lost files, you can use EaseUS file recovery software. It not only supports data recovery but also fixes corrupted photos, videos, Word, Excel, PDF, and other files. 
If your files are hidden and not showing up in a folder, you can display hidden files by using File Explorer Options and CMD. To fix extracted files not showing up problem, try to use another zip tool to troubleshoot. 

Cedric Grantham is one of the senior editors of EaseUS who lives and works in Chengdu, China. He mainly writes articles about data recovery tutorials on PC and Mac and how-to tips for partition management. He always keeps an eye on new releases and loves various electronic products.

Roxanne is one of the main contributors to EaseUS and has created multiple posts on digital devices like PCs, Mobile phones, tablets, Mac, etc. She loves to share ideas with people of the same interest.