When you search for how to repair corrupted Word documents online in your browser, you'll get dozens of pages of search results. So, which online Word document repair tool should you choose? What are the selection criteria? In this post, you will learn how to choose and how to use an online Word file repair service. Besides, a famous data recovery and repair tool is recommended to help repair corrupted Word documents on Windows 10/8/7.
Repair Word Document Online Tool Selection Criteria
Here are some of the critical aspects of choosing a repair Word document online tool:
Feature and performance: Every online Word document repair tool has different features. A common issue with some of them is that the Word file online repair tools support limited file versions. Many tools that are not maintained and updated do not support the latest version of Word. This is quite inconvenient. Besides, most of the online Word file repair tools do not support password-protected files. You need to carefully read the feature description at first.  
Security: Because online Word repair tools exist in the form of pages, they face data security risks. You need to confirm that the page is safe and will not cause a virus infection.
Privacy: The document you need to fix must contain important information. You need to pay attention to information leakage when uploading these documents. It is best to choose an online tool that clearly explains the protection of user privacy. For example, some online Word repair tool clearly states that the uploaded document will be deleted from their database in 2 hours.
Price: Each tool charges differently. You need to consider functions to choose a tool with the best cost performance. You'd better understand the charging strategy and even the refund method.  
3 Top Online Word Document Repair Tools
There are several stable and reliable online Word repair tools that can be used to fix corrupted Word documents.
1. Word Recovery Toolbox (https://word.recoverytoolbox.com/)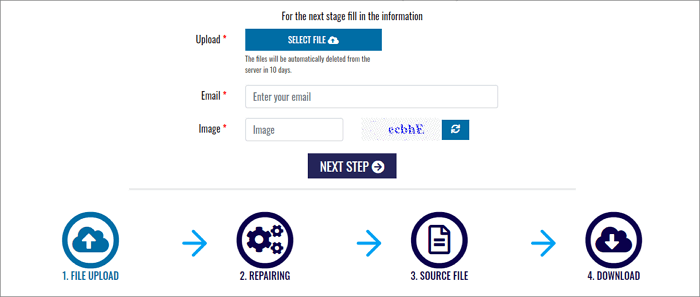 This is an excellent Word file repair online tool that offers easy solutions to recover any corrupted or damaged word file. The Word texts recovered from damaged Word or Rich Text documents are saved to a new file with a *.docx extension. It supports the latest file format supported by MS Word.
To repair corrupted Word documents online with this tool, just visit the site, upload the damaged file, and then specify a valid email address where you will receive the repaired document. After the recovery, you can download the Word file for reuse.
2. OnlineFile. Repair (https://onlinefile.repair/rtf)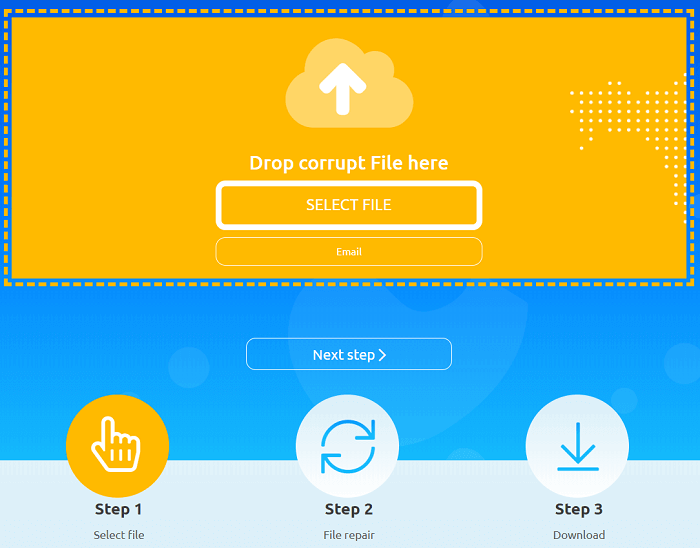 This is a comprehensive online file repair tool that not just fixes word documents but also repairs many other file types, such as PDF files, AutoCAD files, Photoshop files, PowerPoint files, Excel files, and more.
It can repair corrupted Word document online after a virus attack, hard drive formatting, or a system crash. It is compatible with Word 95/98/2000/2003/2007/2010 and newer ones. This Word file repair online service supports recovery of text from Rich Text documents (*.rtf files). 
3. Online OffficeRecovery (https://online.officerecovery.com/word/)
OfficeRecovery for Word Online repairs corrupted Word documents in .doc, .docx, .docm, and .rtf types. The supported Word versions are 2010, 2007, 2003, 2002, 2000, 97, 95, 6.0 and Word for Mac.

This online Word repair tool provides free recovery and purchase recovery. You can estimate the demo file to select the product version. What's more, you can order a review by their experienced technical team.
How to Repair Corrupted Word File with Online Word Repair Tool
Although there are many online Word repair tools to choose from, their recovery steps are the same, that is uploading a file, waiting for file repair and downloading the fixed Word document.
Here, we take OnlineFile. Repair as an example to show how to fix corrupted Word documents online.
Step 1. Select the corrupted Word .doc/.docx file. Type email address to receive repaired Word file.

Step 2. Wait for the repair process to complete.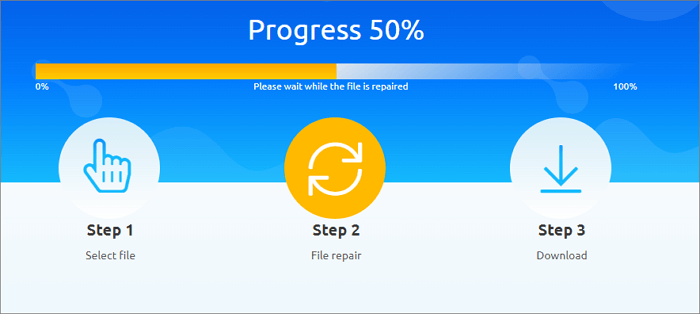 Step 3. Preview the fixed document and finish the payment.

User experience: Online Word repair tools provide users with a lot of conveniences. At the same time, their shortcomings are also obvious, such as:
The privacy of file data cannot be guaranteed.
The repair speed is not stable.
The cost is expensive. Most online repair tools are charged by quantity, e.g., $10 for a document.
Considering these factors, if you don't want to repair Word documents online, you can also choose a safer desktop file repair software.
How to Repair Corrupted Word (Docx and Doc) with File Repair Software
To repair corrupted Word, Excel, PDF, or ppt files on Windows and Mac computers, you have a great choice - using EaseUS Data Recovery Wizard.
In addition to powerful file repair functions, this software also has additional file repair features. All your damaged files will be automatically repaired when the files are restored.
Repair corrupted files photos from multiple storage media
Fix corrupted PDF, Word, Excel, and PPT documents
Easily Restore corrupted word documents with simple steps.
Here are the steps to use Stellar file repair software to repair corrupted Word documents offline.
Step 1. Launch EaseUS Data Recovery Wizard, and then scan disk with corrupted documents. This software enables you to fix damaged Word, Excel, PPT, and PDF files in same steps.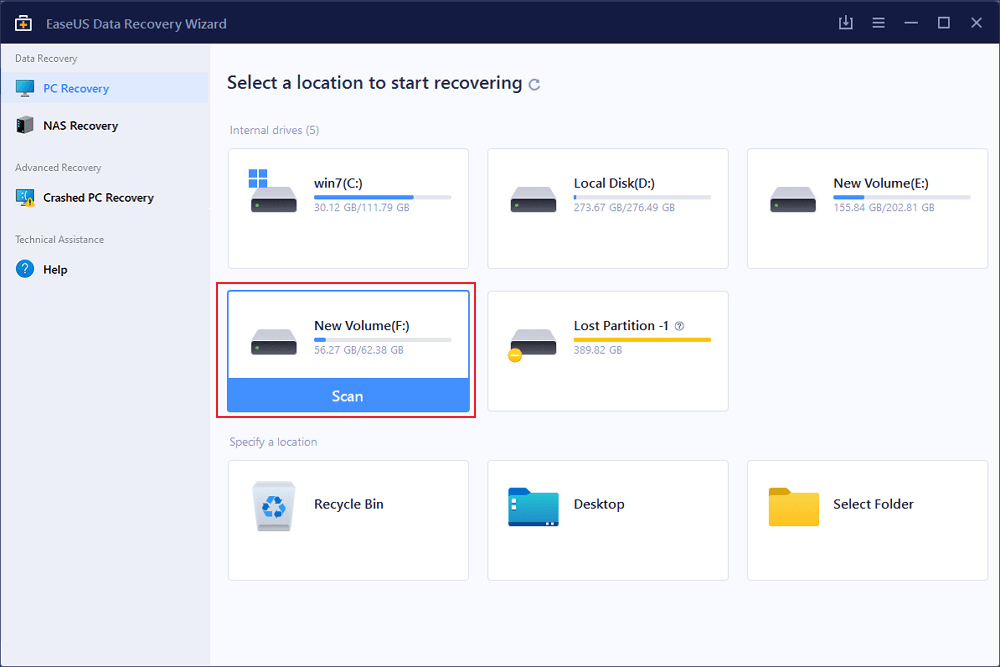 Step 2. EaseUS data recovery and repair tool will scan for all lost and corrupted files. You can find the target files by file type or type the file name in the search box. 
Step 3. EaseUS Data Recovery Wizard can repair your damaged documents automatically. After file preview, you can click "Recover" to save the repaired Word, Excel, and PDF document files to a safe location.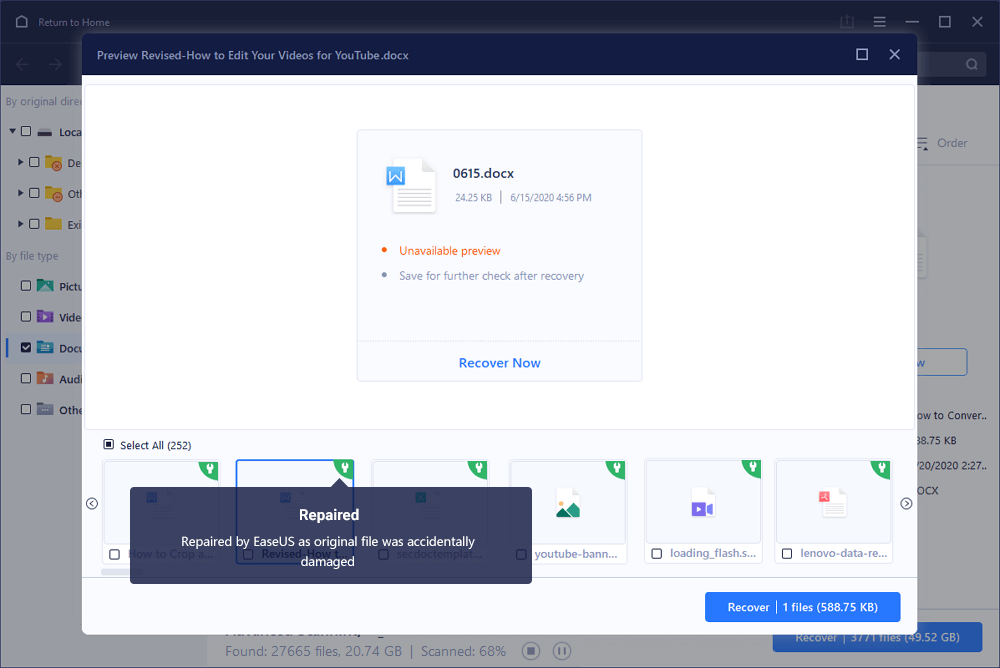 To Sum Up
This is how to easily repair corrupted with online and desktop tools. If you'd like to fix a broken Word document with an online Word repair service, make sure you choose a product that you trust. For fixing damaged Word documents with a desktop file repair program, try Stellar MS file repair software. It can repair common file types with ease.

Cedric Grantham is one of the senior editors of EaseUS who lives and works in Chengdu, China. He mainly writes articles about data recovery tutorials on PC and Mac and how-to tips for partition management. He always keeps an eye on new releases and likes various electronic products.