This page's solutions for Microsoft Office Word has stopped working and Word file recovery is applicable to most Office apps, such as Excel, PowerPoint, etc.
Microsoft Word has stopped working 2003, 2007, 2010, 2013, 2016
It can be said that everyone knows how to use the Microsoft Word application pretty well, especially for advanced students and white-collar workers. Even if you're a Word master, it's frequent to freak out when running into trouble! For example, a common issue happens to most of us when Microsoft Office Word just stops working.
Usually, when confronting the "stopped working" error, you have two available options to undertake as the error message shows up, either you check online for a solution or you close the program.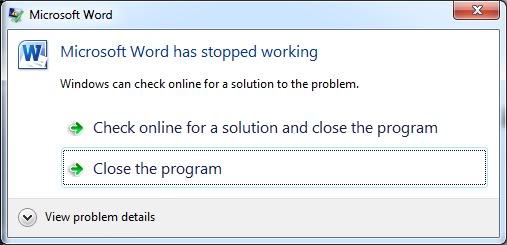 You may be interested in another Microsoft Word issue: when a file error has occurred.
Why has Microsoft Word stopped working?
Many reasons can cause Word from malfunctioning, including your current Word edition that isn't compatible with your current operating system, Word is out of date, driver or add-in issues. You can no longer open the Word file without doing some smart troubleshooting. So, let's learn a few tips to get rid of the error immediately!
How to fix Microsoft Word that's stopped working in Windows 10/8/7?
Once Word suddenly stops working, try to first install the latest updates and disable add-ins. If this doesn't help! Move on to the advanced troubleshooting methods below.
Solution 1 - automatically repair Word 2003/2007/2010/2013/2016
In Windows 10, 8 or 7, open Control Panel, click Programs and Features and click on Microsoft Office;
On the window, click Repair and then Continue.
You can choose Online Repair and Quick Repair. Let the repair finish and restart your computer.
Solution 2 - delete Normal.dot file
Open My Computer or This PC, and in the search box, input Normal.dot and search. Only find and delete the Normal.dot file in the path C:\Users\Administrator\AppData\Roaming\Microsoft\Templates.
How to recover Word after Microsoft Word has stopped working?
Losing a Word file is the most unexpected thing that can happen to you when Microsoft Office Word just stops working out of the blue!. Is it still possible to recover unsaved Word documents?
As you may know, Microsoft Office automatically saves a Word file when you're editing, and these temporarily saved files are located in an AutoRecover folder. If such is the case that you closed a Word file without saving it, simply recover the lost Word document there.
Or, if this is not successful, take a chance to start Word recovery with a third-party file recovery software. EaseUS Data Recovery Wizard Free allows users to recover 2GB of lost or deleted Word files at no cost to you. So what are you waiting for? Download the software and follow the guide to recover Word after Microsoft Word has stopped working.
Select a location where the Word file lost and click Scan.
Run a quick scan and deep scan to find all existing and lost data files.
Click Document to filter the Word files. Select the target file and click Recover.