"Last night, when I was planning to continue with my paper for the final semester of my sophomore year, I could not find it anywhere. Then I remembered that the day before yesterday I deleted some useless files and documents from the hard disk for releasing more space and speeding up my PC. And I emptied the recycle bin immediately. Is there any way to get my lost files back?"
Top Questions about Hard Disk Data Recovery
You must have many questions about hard disk data recovery and here on this page, we'll list some top questions that may have concerned you for a long time in the following paragraphs.
Question 1. Why Is That Hard Disk Data Can Be Recovered?
Hard disk data recovery is possible with the data remanence feature, which means that some data continues to exist on the hard disk drive even after it has been deleted. Data remanence is beneficial to hard disk data recovery companies, as they can use this feature to find back your data.
But, with a powerful data recovery tool, it would be easy and simple to get deleted back from your drive by yourself. In most cases, data recovery software can recover lost data after deletion or other reasons.
Question 2. How Much Does It Cost to Recover Hard Drive Data?
Do you think that data recovery will cost a lot?
In fact, the average hard drive recovery cost in 2018 is from zero to thousands of dollars. In such an information era with advanced technology, restoration of deleted or lost hard drive data has become so approachable.
In terms of the eventual cost of retrieving every bit of valuable data from a hard drive, you're strongly suggested to stay up to date with 'the latest came out hard drive recovery cost 2018' so that you can spend the least amount of money on recovering your disk data. Getting the best price on either data recovery service or online data recovery software to recover data from inaccessible, dead, damaged or corrupted hard disk.
Question 3. What Is the Best Hard Disk Data Recovery Software 2018?
Speaking of hard disk data recovery software, you can Google it online, getting overwhelmed result of various tools provided by different producers. So how to effortlessly and quickly search a suitable one for your case becomes the next question.
And here is a list for you to check and quickly decide which tool to choose among the searching result:
Is it fully compatible with your current system?
Is it easy to use for hard disk recovery?
Is it cheap? And does it have a complete refund policy? (This matters a lot, of course.)
Is it easy to approach the tech support team, receiving immediately online tech support?
How is the recovery quality? Is it easy to restore lost data from complex situations?
RECOMMEND: EaseUS Hard Disk Data Recovery Software Is Worth for You to Try
EaseUS Data Recovery Wizard restores lost files, regardless of whether they were deleted accidentally or became inaccessible due to a crashed hard drive, hardware failure or virus infection. If you are having hard drive problems, it's important to find a safe and reliable data recovery tool so as to avoid further damage.
This software fully supports these hard disk drive for retrieving all your data back:
Supported hard disk: Internal hard drive - HDD/SSD, External hard drive, Hybrid Hard Drive (SSDH), USB flash drive, SD card, CF Card, etc.
Supported hard disk brands: Seagate, SanDisk, Kingstone, Western Digital, Toshiba, Buffalo, LaCie, Samsung, Adata, G-Tech, etc.
So how get this hard drive recovery software? You can directly get the trial version of EaseUS hard drive recovery software with unlimited data recovery capacity here by simply clicking the download button in the below now:
How to Recover Data from Hard Drive?
When you download EaseUS Data Recovery Wizard and install it on a Windows PC or Mac, it will automatically list all hard drives that are connected to the computer for you to select for data recovery once you run this program.
And here is a further thing that you should notice:
The current EaseUS Data Recovery Wizard that you download on this page is a trial version, and you can either choose to activate it right now or after the scanning process.
The trial version supports you to scan and restore unlimited data and files after the activation with a serial key. If you don't want to pay for the key right now, you can follow the tutorial steps below and decide whether you want to activate it for the data recovery.
If you want to smooth recovery process, you can click the activation button below to purchase a serial key right now. And don't worry about your money. Your money is safe with our refund policy if this tool doesn't work for resolving your problem.
How to start hard drive recovery with EaseUS hard drive recovery software:
Step 1. Choose a location to scan.
Make sure that all hard drives were correctly connected and recognized by the software. Refresh an external hard disk if necessary.
From which drive was data lost? Choose the relevant hard drive partition by left-clicking on it.
Click the Scan button.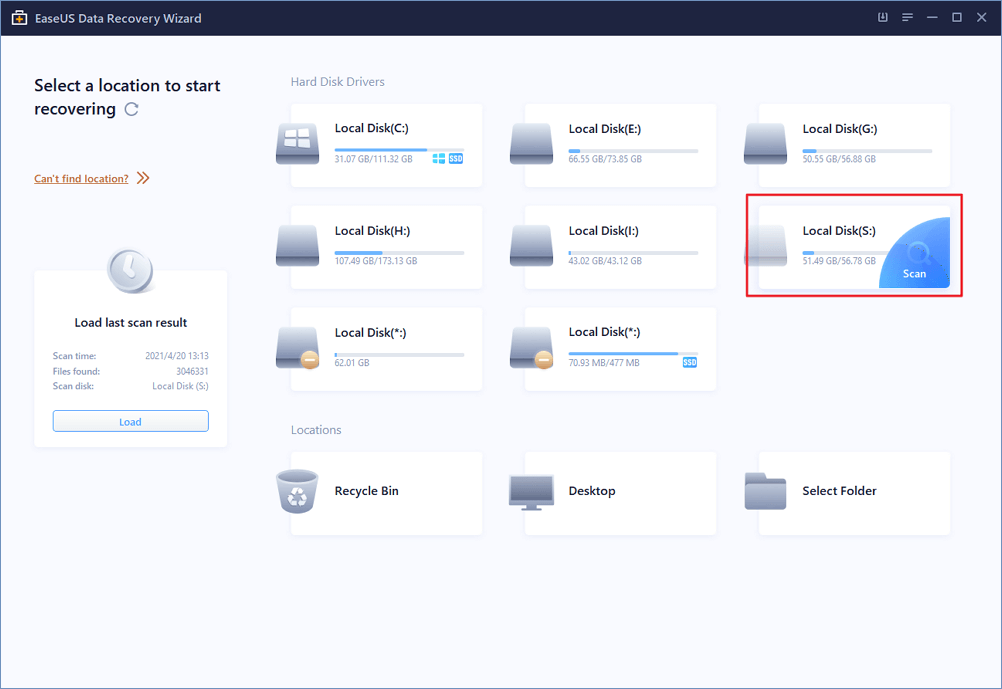 Step 2. Wait for the scanning results.
It takes a while for EaseUS Data Recovery Wizard to complete the scan, all depending on how much disk space is used on the selected hard drive.
As you see, the "Deleted files" result would come our first, later it's all lost data result.
You can try to recover lost data as soon as it shows up even though the scanning process has not finished yet.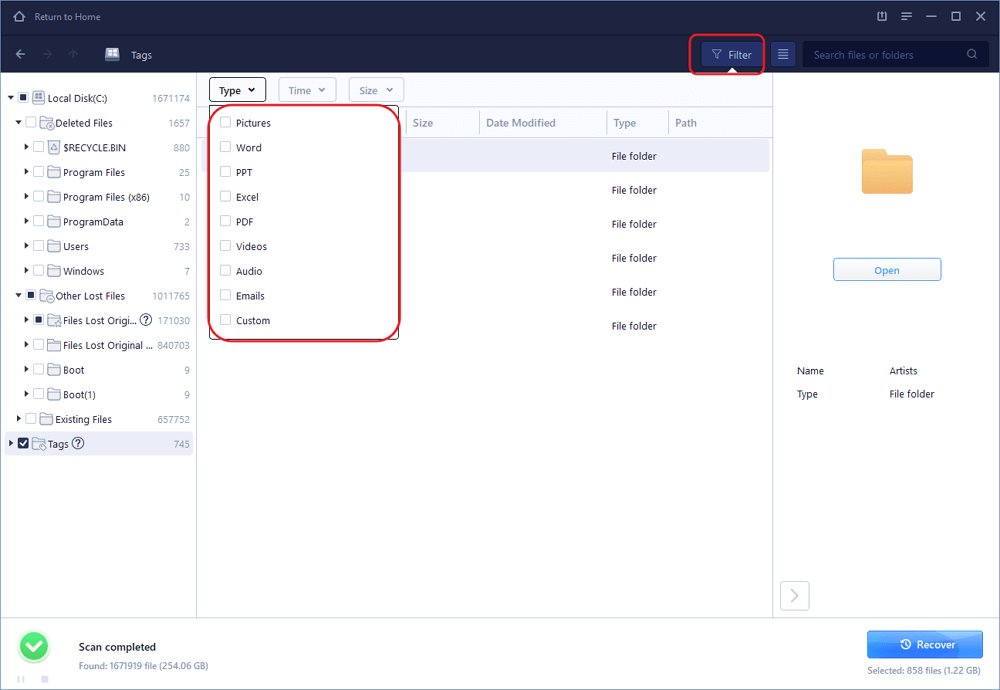 Step 3. Filter the result and recover data.
There are multiple ways for you to find the target files. Anyway, choose the quickest method.
Lost Partition Files: more lost data are going to be found on your selected partition and put in this section if it was formatted or deleted in early time.
Extra Files: a deep-scan result for raw files even though the file names and file paths have been lost.
Filter: extremely useful when you're looking for a specific type of files such as pictures, documents, music, videos, etc.
Select files and click the Recover button. (You can always choose to preview files before purchasing a license code for a full hard drive data recovery. )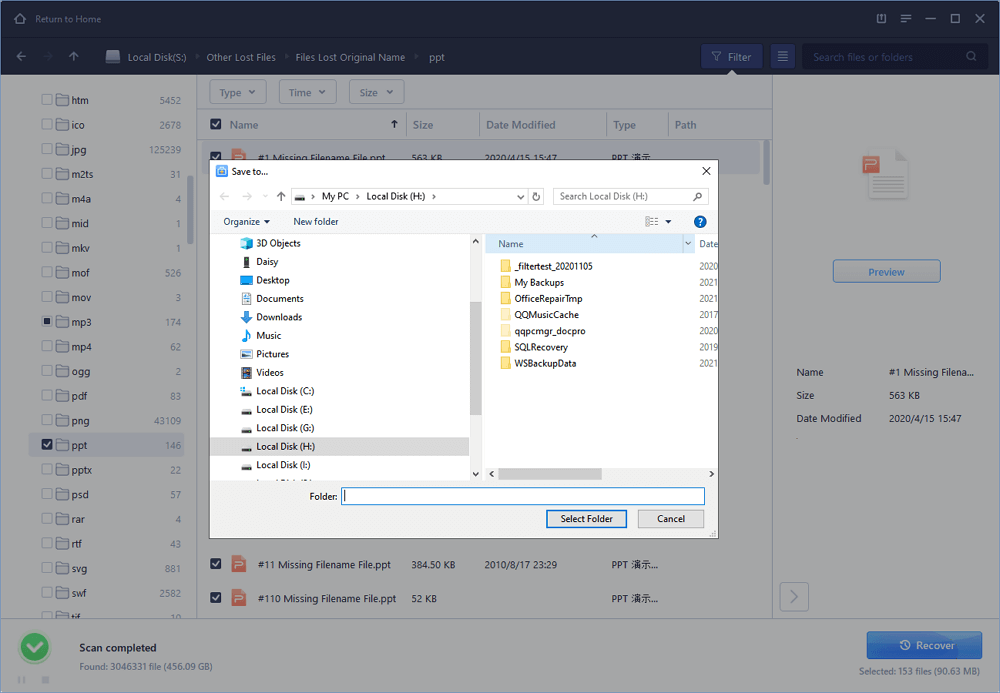 Tutorial video guides you to restore hard drive
If you still can't understand how it works, you can follow the video to recover data from hard drive with EaseUS Data Recovery Wizard.