"I need to transfer some applications such as Adobe CS6, Microsoft Office, and iTunes from my current XP to my new Windows7 PC. How can I do this easily? I know I can move data with a USB drive to another PC, but what about large programs? If I just use the USB, will they be able to run on the new PC?"
Getting a new computer means that you need to personalize all settings as same as the old one. As many people complained, it is annoying to re-install these large size programs on a new computer. You may wonder, "can I transfer programs from my old computer to my new one?"
In this article, we recommend three ways to transfer programs from one computer to another.
Transfer Programs to New Computer via the Data Transfer Software
As displayed in the above situation, the hardest part of changing to a new computer or upgrading to a new system is having to install our software on a new PC. Microsoft released Windows Easy Transfer, which can help us migrate data like settings, music, photos, video, email, but it doesn't support installed application migration. EaseUS Todo PCTrans Pro is an easy-to-use PC migration software that can transfer an unlimited number of applications, files, and user settings from one computer to another.
1. Transferring Programs from One Computer to Another via "PC to PC"
Step 1. Launch EaseUS Todo PCTrans on your source and target computers, connect both PCs via the internet.
1. At the "PC to PC" section, click "PC to PC" to continue.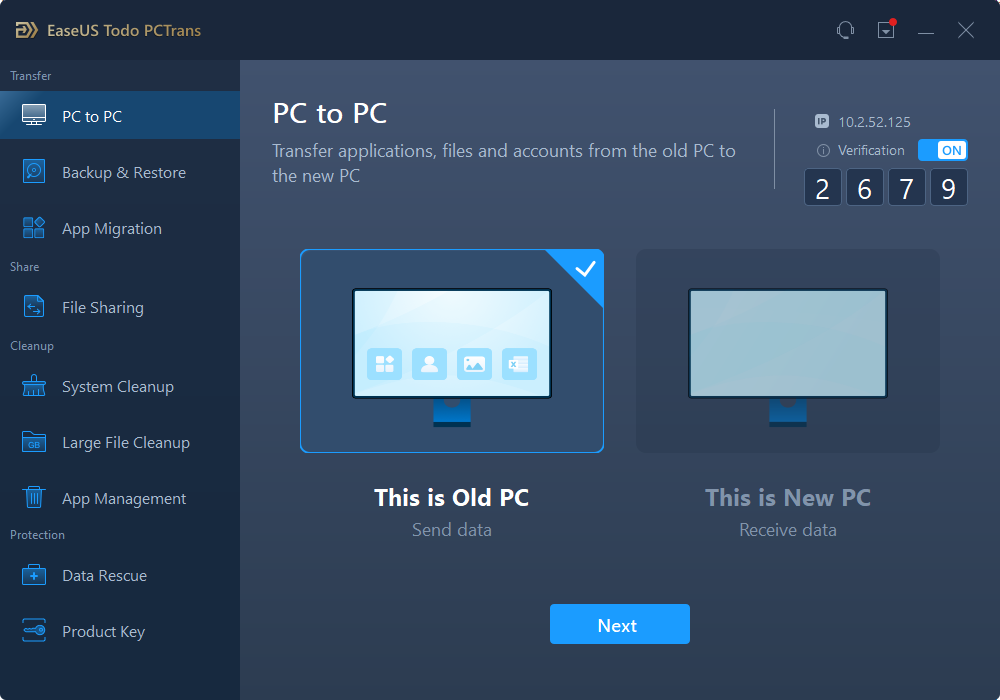 2. Select your target computer via its device name, then enter its account password or verification code and select the transfer direction. Then click "Connect" to continue.
You can check the verification code on the right top of "PC to PC" mainscreen on the target computer.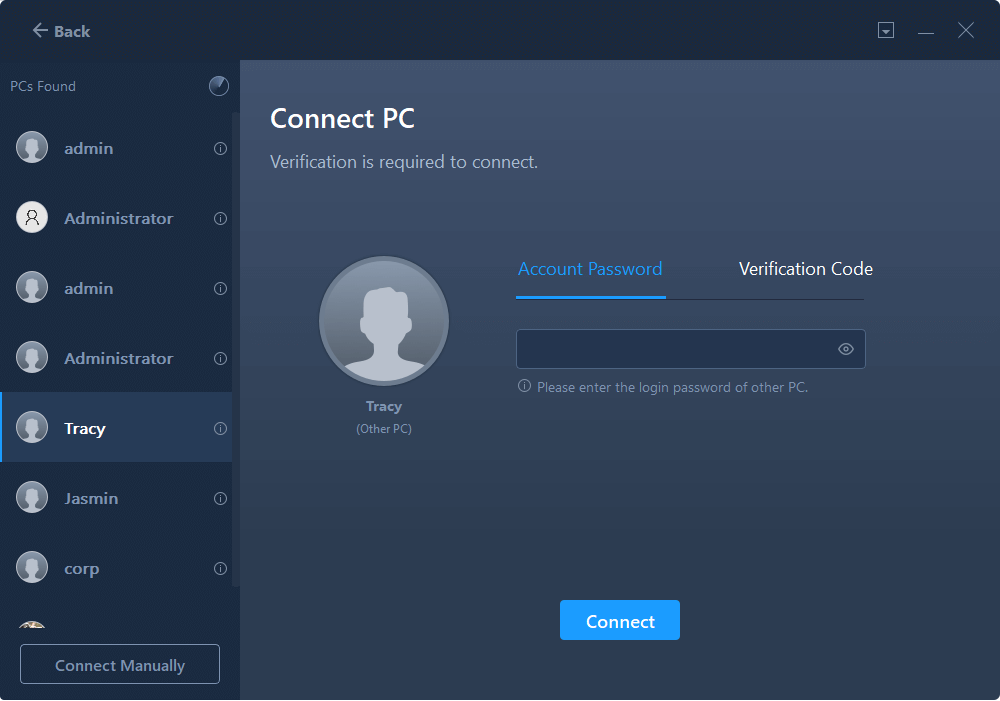 Step 2. Select the categories Applications, Files, and Accounts to transfer via the internet.
If you want to transfer data selectively, click "Edit" under each category, and choose the specific items.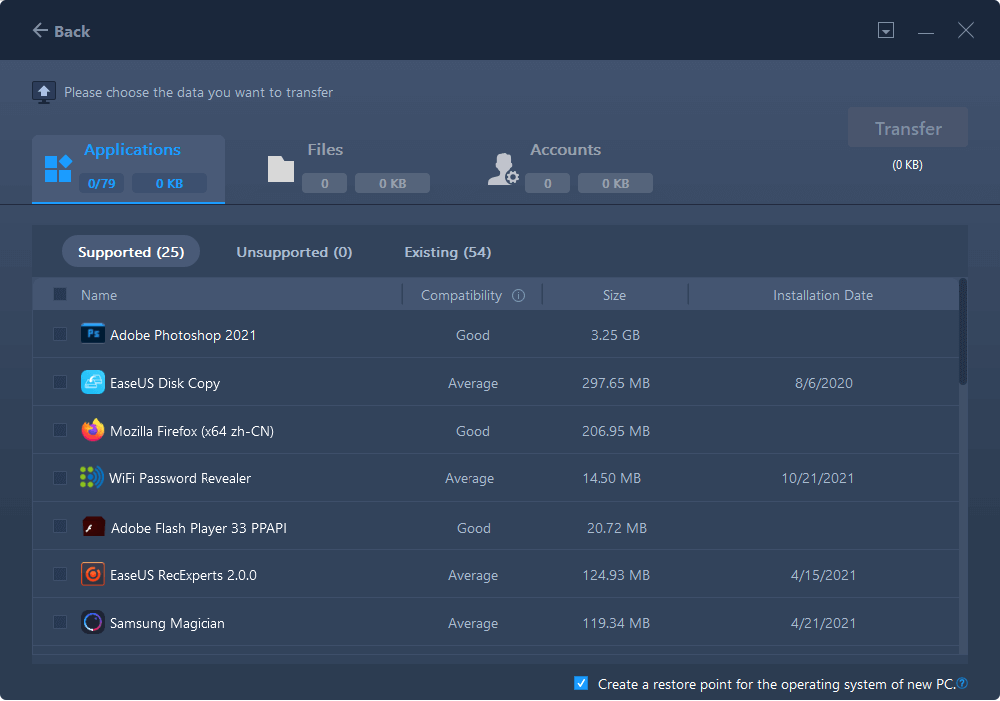 Step 3. Click "Transfer" to start transferring your apps/files/accounts from one computer to another computer via the Internet.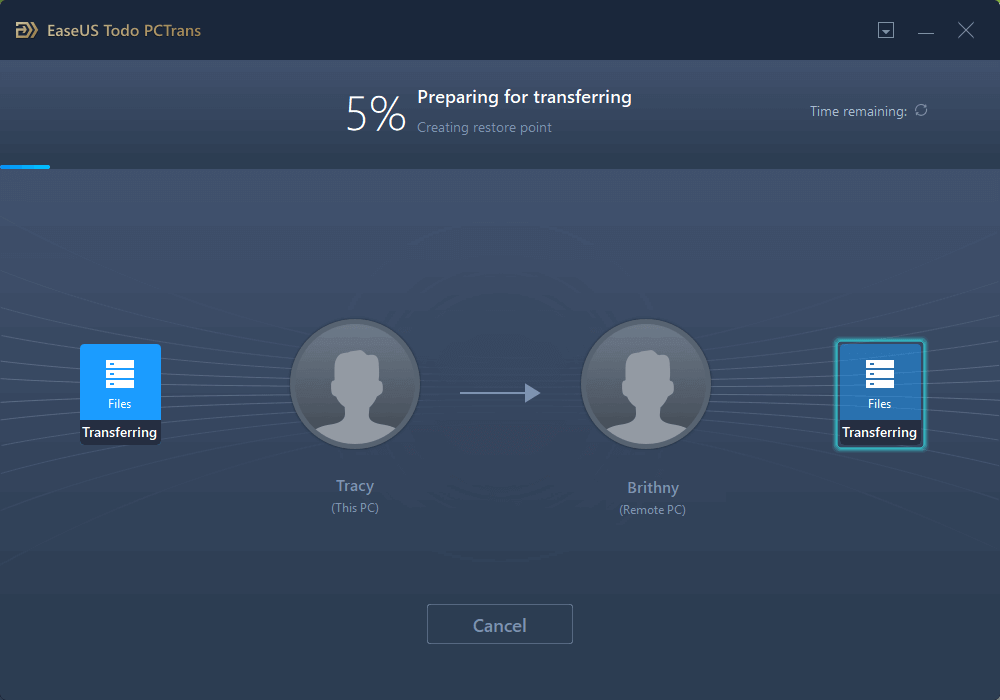 2. Moving Programs to the Computer via "Backup & Restore"
If you have an external hard drive, it is time to use it for transferring software from one computer to another. This method still needs to download EaseUS Todo PCTrans.
The Backup & Restore function is available in move programs to the external hard drive.
Steps:
Download EaseUS Todo PCTrans on two computers.
On old PC: Select Backup & Restore > Data Backup > choose to backup your programs on the external hard drive.
On New PC: Connect external hard drive on the new PC > Select Data Restore > Choose a backup file > Click Restore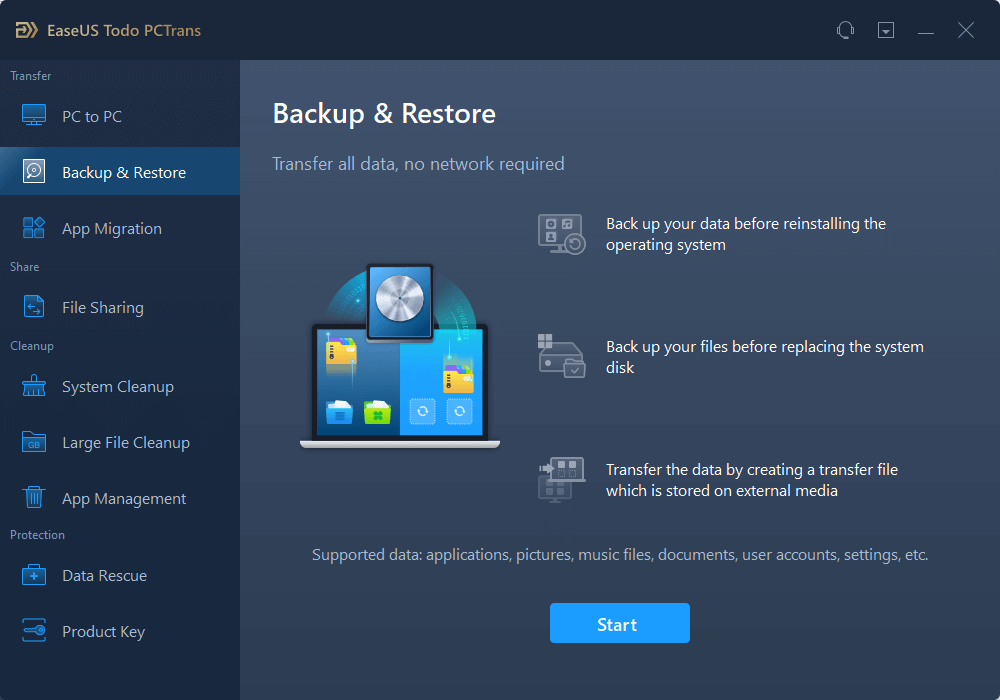 Read also:
How to Transfer Programs to New Computer by Manual Way
First, I will say that this is a much more complicated way to transfer a program from one computer to another. It is certainly a solution, though, if you have enough time. The methods we are talking about in this part require online transfer and physical devices. And the size of the transfer programs depends on your devices. 
1. Moving programs to the computer via Cloud Storage (OneDrive)
Step 1. Upload files to OneDrive.
Open the OneDrive app, click "Upload" to add your file.
Step 2. Download program files on the new PC.
On the new PC, run your OneDrive app and select "Download" to download your files.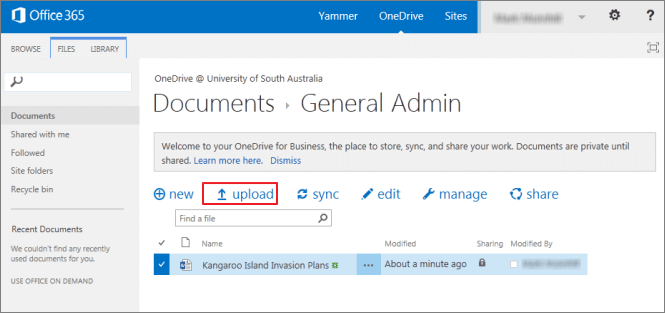 2. Moving Files to New Computer by File History
If you've backed up your files to an external hard drive with File History, you are able to restore these files on your new PC.
Step 1. Connect your external hard drive to the new computer.
Step 2. Type "Control Panel" in the search box, open it > Click "File History" > Select "Restore Personal Files".
Step 3. Choose your wanted file and click the green button.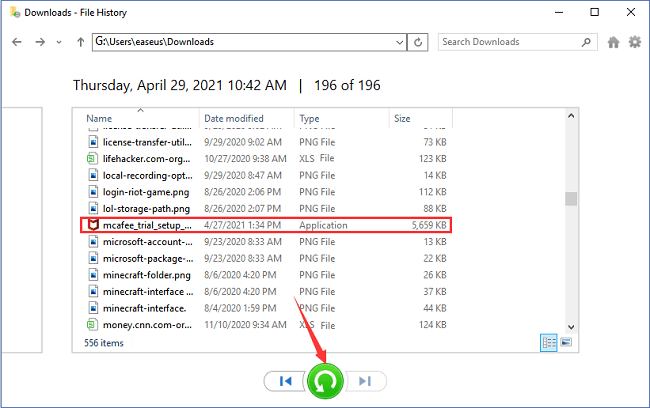 Extra Tip - How to Back Up Files to External Hard Drive
Steps: Open "Control Panel" > Click "File History" > Choose "Select drive" from the left side > Select your storage device
3. Crossover cable
Another physical device is a crossover cable. You can use the crossover cable to transfer software from one computer to another.
 Notice:

The crossover cable is not equal to straight through cable. Please make sure you get the right cable.
Steps:
1. Control Panel > Network and Internet > Network and Sharing center > Change Adapter Settings.
2. Select the appropriate connection (Ethernet) > Right-click on the connection > select properties.
3. Choose Internet protocol version 4 under the network window > select properties.
4. Set the IP address and subnet masks.
5. Connect the crossover cable to the network ports of the two computers.
6. Right-click the drive you want to share > Properties > Sharing > Advance Sharing > Share this folder > Apply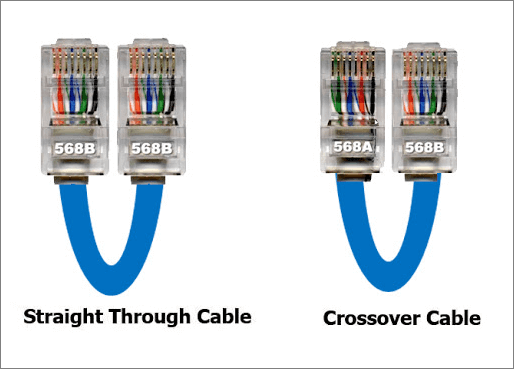 Move Programs from One Computer to Another (Windows to Mac)
You can also transfer programs from Windows to Mac. Apple provides Mac Migration Assistant to help you transfer information to other pc.
Steps:
1. Download the Windows Migration Assistant from Apple > press Enter to open the Migration Assistant in the pc > Continue
2. Start up Migration Assistant on Mac > Migration window > Select From a Windows PC > Continue
3. Choose the source pc > Input an administer name and password.
4. Clock Continue after the same passcode appears.
5. The Migration Assistant on Mac will scan the drives on your PC. When the scan is finished, you can move programs to a new computer.
About the Author
Updated by Tracy King 
Tracy joined in EaseUS in 2013 and has been working with EaseUS content team for over 7 years. Being enthusiastic in computing and technology, she writes tech how-to articles and share technical solutions about Windows & Mac data recovery, file/system backup and recovery, partition management and iOS/Android data recovery.
Daisy is the Senior editor of the writing team for EaseUS. She has been working in EaseUS for over ten years, starting from a technical writer to a team leader of the content group. As a professional author for over 10 years, she writes a lot to help people overcome their tech troubles.
Reviews and Awards
EaseUS Todo PCTrans Free is a useful and and reliable software solution created to serve in computer migration operations, be it from one machine to another or from an earlier version of your OS to a newer one.

 Read More

EaseUS Todo PCTrans is by the folks at EaseUS who make incredible tools that let you manage your backups and recover your dead hard disks. While it is not an official tool, EaseUS has a reputation for being very good with their software and code.

Read More

It offers the ability to move your entire user account from your old computer, meaning everything is quickly migrated. You still get to keep your Windows installation (and the relevant drivers for your new PC), but you also get all your apps, settings, preferences, images, documents and other important data.

 Read More