When it comes to copying files from a computer to an external drive, most of the users copy and paste them directly. While the method doesn't work well when the number of files increases. 
Imagine a process that automatically takes a backup or copies all your files and programs from PC to an external drive. It makes sure you don't miss anything. Now, let's learn how to transfer files from PC to external hard drive efficiently. 
Use PC Data Transfer Software to Transfer Everything from PC to External Hard Drive in 1-Click
Now that you know why it's important to have a proper process in place, it's time to checkout EaseUS Todo PCTrans. It's a professional application that offers several file transfer features. It can transfer files, applications, user account, and settings between PCs or laptops in simple clicks.
So if you are planning to move to a new PC and transfer files to a new computer or simply want to transfer files and application from computer to another using an external hard drive, then here is how you can use the EaseUS Todo PCTrans software.
EaseUS Todo PCTrans Main Functions and Features
Here is the list of features and functions of the software that will help you understand how it works and how you can use it to transfer files.
PC to PC Transfer: When you are switching PC or sharing files between two laptops, this is the method to use. It also works when computers are connected to the same network.
Backup & Restore: This method allows you to take full or partial backup of the current PC. You can also use this to transfer files to a new computer, move files, apps, and more. It allows you to transfer everything from a laptop to an external hard drive.
App Migration: When running out of space, use this method to move applications from one drive to another. This will help you install more apps on the primary drive.
1. How to Transfer All Files from PC to External Hard Drive
Free download EaseUS PC file transfer tool to back up files on PC to the external hard drive. Do note, when you need to restore the file to another PC, you need to use the same software.
Step 1. Create a backup file of the source hard drive
Launch EaseUS Todo PCTrans on your Windows computer. Navigate to the "Backup & Restore" mode and click "Start".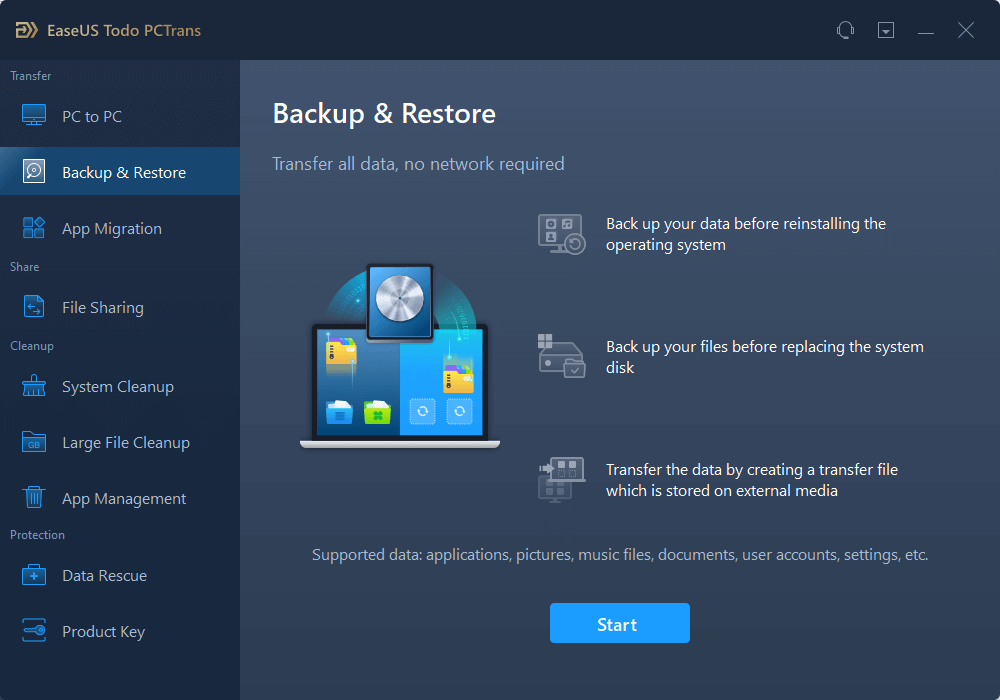 Hover your mouse over "Data Backup", and click "Next". Later, confirm the default settings of the file name and file path, or you can customize the settings on your own.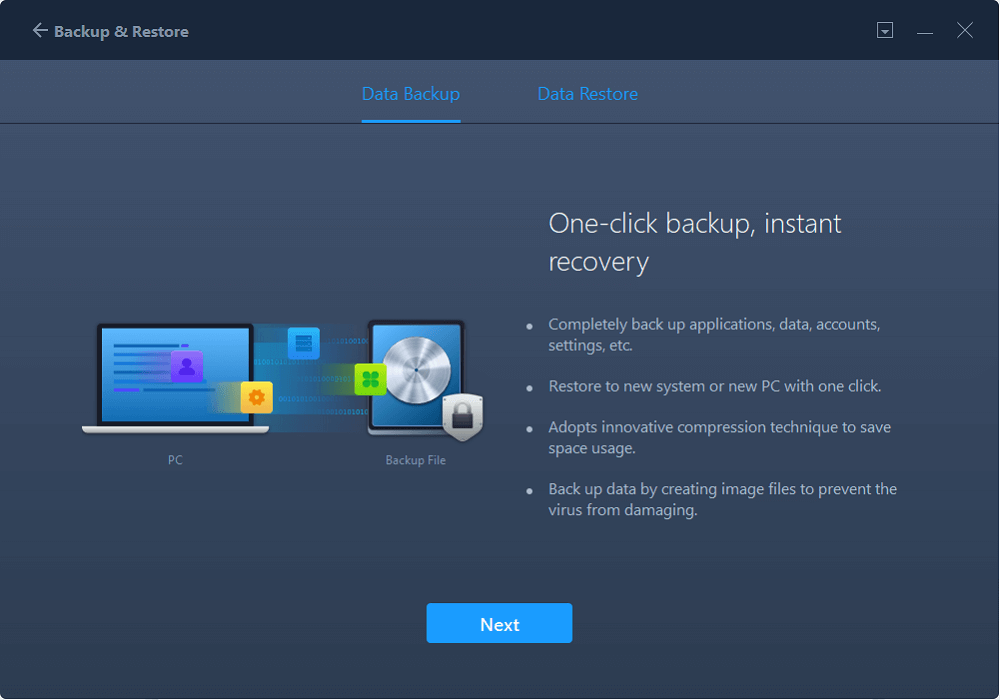 Now select the items you want to transfer to the other hard drive. EaseUS Todo PCTrans allows users to create backup files of multiple file types, including applications, personal data, and user accounts. To transfer files from one drive to another, deselect the "Applications" and "Accounts", hover your mouse over "Files", and click "Edit".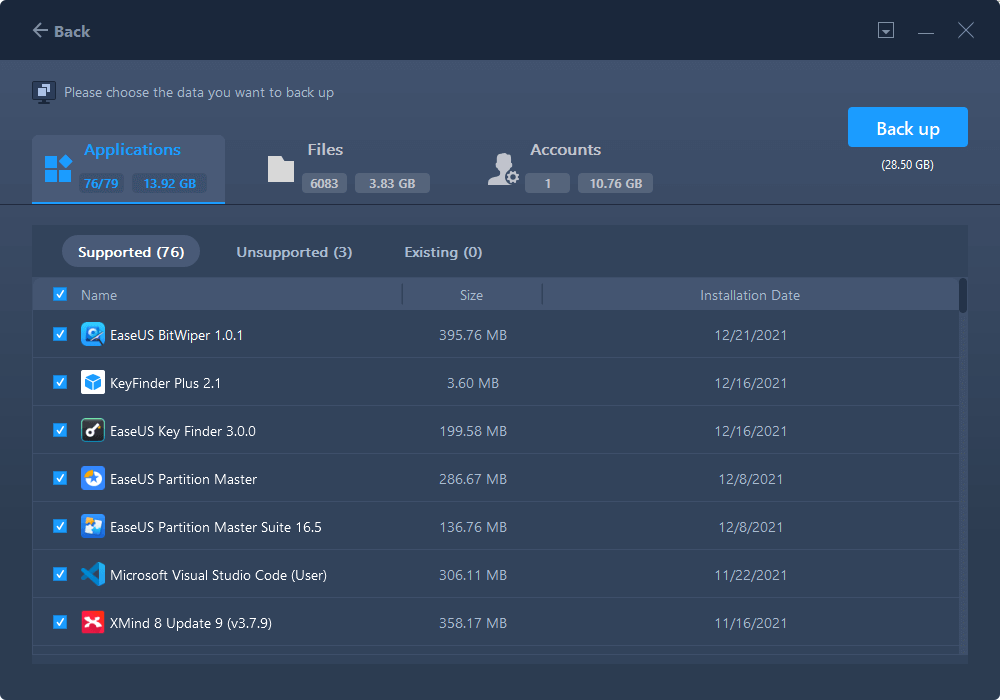 This is where you need to select files on the source drive. Expand the drive so you can selectively choose desired files, after then click "Finish". In the end, click "Backup". Wait for the process completes.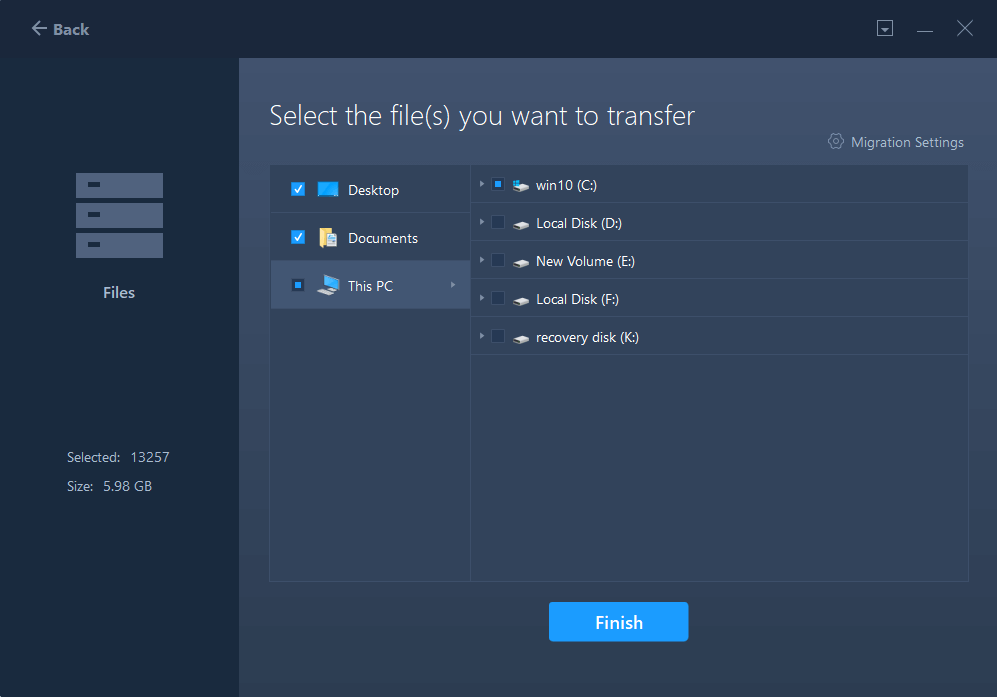 Step 2. Restore the file to the destination drive
Launch EaseUS Todo PCTrans and follow the same way to reach the step of selecting a transfer method. This time choose "Data Restore" and click "Next".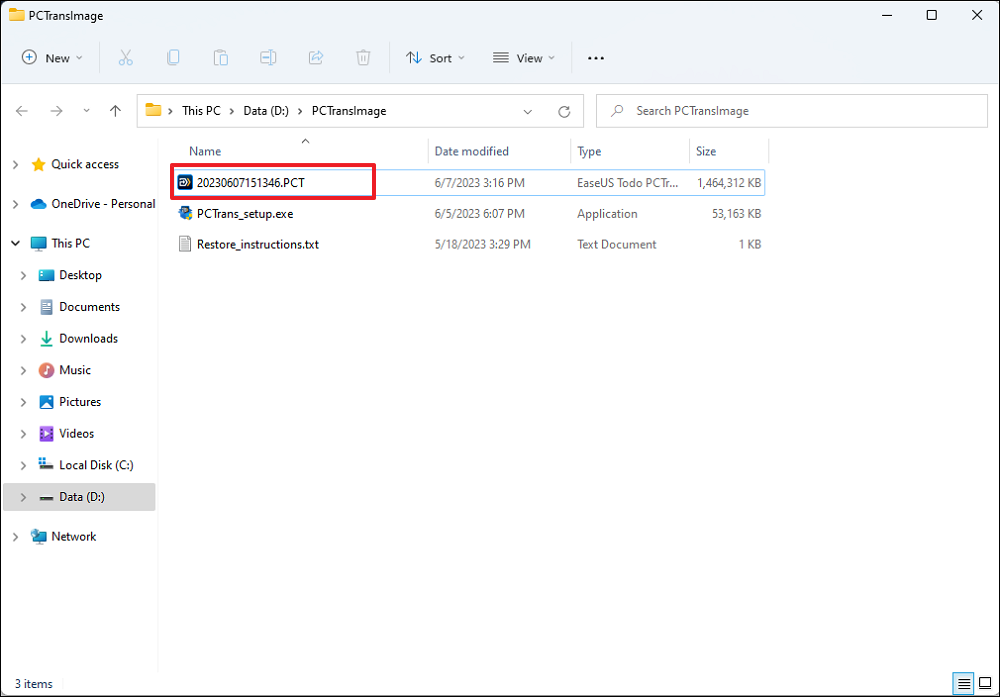 Choose the existing backup file presenting on the interface, or navigate to the exact file path where the backup file is, click "Restore".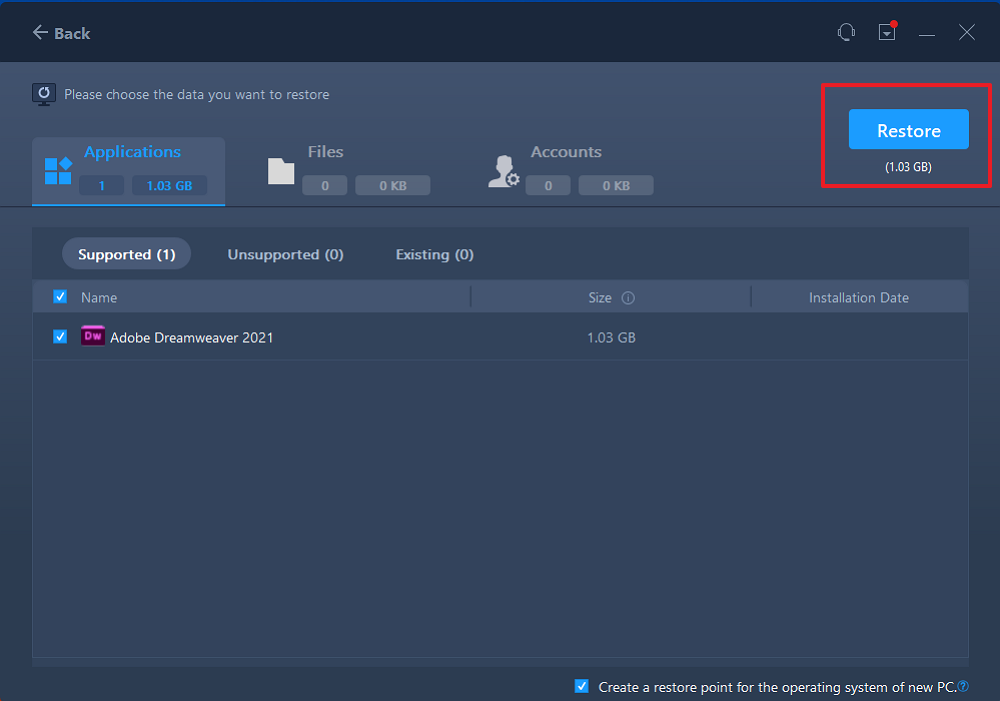 You're back to the "Files", click "Edit" to get in. The backup file is viewable here. You need to click the pencil icon to set the target location, which is the other hard drive, and submit the change. After the basic settings, click "Finish" and finally "Restore". Wait patiently until the transfer process is over.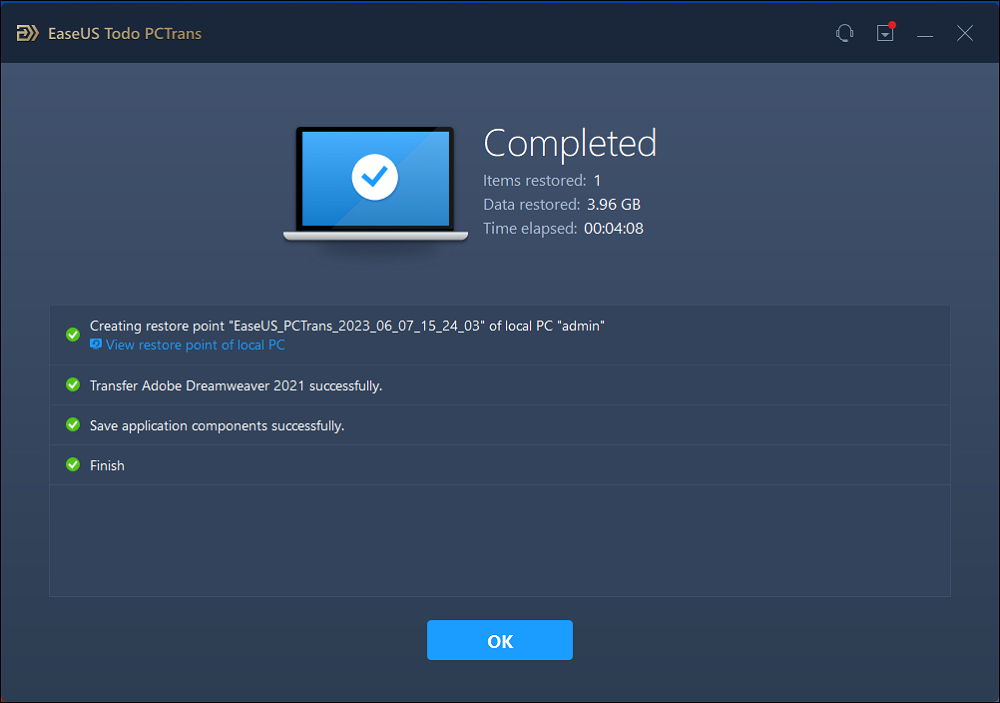 2. How to Migrate Programs from PC to External Hard Drive
Just like how you can transfer files, you can also transfer programs from a PC to External Drive. This comes in handy when you are running out of space on the drive on which the application is installed.
Step 1. Connect your external hard drive to your computer. Open EaseUS Todo PCTrans and select "App Migration > Start".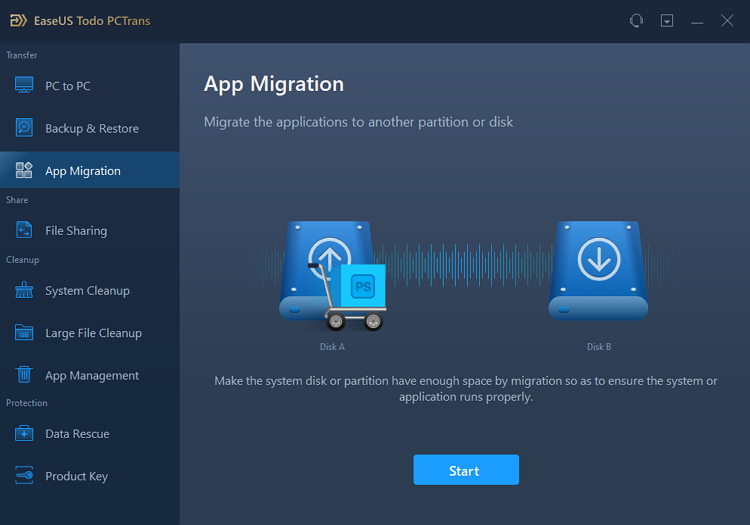 Step 2. Find and choose the applications (marked as "Yes") that you want to transfer. You can select multiple apps. 
Click the triangle icon and select your external hard drive as the destination to store the apps. 
Step 3. Then, click "Transfer" to move your programs to an external hard drive.
Use CMD to Transfer Files from PC to External Hard Drive on Windows 10 
If you do not want to use third-party software, you can use CMD to transfer files from a PC or laptop to an external hard drive. Command Prompt offers an XCOPY utility that can copy the folder, all the content, and any other subfolder. The default copy doesn't copy subfolders, and hence it's not perfect.
Step 1: Use Win + R to open the Command Prompt, and then type CMD followed by pressing the Shift +  Enter keys.
Step 2:  Then on the command prompt, type the following command lines to copy all the files from the C drive to the E drive (E is the drive letter of your external hard drive). 
xcopy  c:\tally  e:\
Step 3: In the above command, you can use options such as  /h /c /k /e /r /y to copy hidden files, empty directories, overwrite options, and more with the following command.
xcopy /h /c /k /e /r /y c:\ e:\
While it works just fine, there can be issues apart from being a cumbersome method to use. If a copy fails, you have a few files in the old location and some in a new location. Also, you cannot automate this process.
Conclusion
Now that you have read the post, you know how to transfer files from a PC to an external hard drive on Windows 10/8/7 using professional software. You have also learned how to transfer files using the copy command.
It is clear that using a command-line method is difficult to use in the long run. Instead, it would be best if you used software like EaseUS Todo PCTrans. It offers file transfer and a method to automate the process of backup, transfer to PC, app migration, and data rescue. Overall it's excellent software for all your need.
About the Author
Updated by Tracy King 
Tracy joined in EaseUS in 2013 and has been working with EaseUS content team for over 7 years. Being enthusiastic in computing and technology, she writes tech how-to articles and share technical solutions about Windows & Mac data recovery, file/system backup and recovery, partition management and iOS/Android data recovery.

Cedric Grantham is one of the senior editors of EaseUS who lives and works in Chengdu, China. He mainly writes articles about data recovery tutorials on PC and Mac and how-to tips for partition management. He always keeps an eye on new releases and likes various electronic products.
Reviews and Awards
EaseUS Todo PCTrans Free is a useful and and reliable software solution created to serve in computer migration operations, be it from one machine to another or from an earlier version of your OS to a newer one.

 Read More

EaseUS Todo PCTrans is by the folks at EaseUS who make incredible tools that let you manage your backups and recover your dead hard disks. While it is not an official tool, EaseUS has a reputation for being very good with their software and code.

Read More

It offers the ability to move your entire user account from your old computer, meaning everything is quickly migrated. You still get to keep your Windows installation (and the relevant drivers for your new PC), but you also get all your apps, settings, preferences, images, documents and other important data.

 Read More