By utilizing a proper method, you can reach the goal of transferring data, files, folders, and applications from PC to PC, from PC to laptop, from PC to a storage media, or even within one computer after doing an in-place operating system upgrade. In early Windows OS versions before Windows 10, there is an inbuilt Windows Easy Transfer Tool which can accomplish the most transfer tasks. Here, on this page, we're going to share some thoughts to transferring everything from two different operating systems, whether it's on a dual-boot computer or between two computers. 
But there are some limitations when you choosing a transfer approach. For example, Windows Easy Transfer is not available in Windows 10, so whenever Windows 10 is involved, you have to give this tool up and go for an alternative Windows 10 easy transfer tool. Besides, it supports to move items in the following.
User accounts
Documents
Music
Pictures and videos
e-mail
Contacts and messages
Internet favorites
Program settings
If it's for the migration of system personalization settings, like background settings and power settings. What's more, application software and Windows programs, it seems that you have to say goodbye to the inbuilt tool forever.
Download EaseUS Todo PCTrans Free
Is there a free and comprehensive file transfer software that can fully replace the role of the Windows easy transfer, meanwhile, make up for its shortcomings? Yes, EaseUS Todo PCTrans Free comes to play. It is free to migrate files and apps from one computer to another in a few minutes.
How to Transfer files between two operating systems with the EaseUS transfer utility? There should be two answers. First, the file transfer happens to the same computer with two operating systems, i.e., a dual boot system. Second, it is for different computers, for example, one is running Windows 7 while the other is running Windows 10.
Next, you will find solutions to both situations below.
There are three modes that facilitate file transfer between different operating systems, including via network connection, via an image file and transfer local applications:
Step 1. Select the transfer mode.
Download and install EaseUS Todo PCTrans on both computers.
Launch EaseUS Todo PCTrans on the PCs and choose "PC to PC". (The "PC to PC" feature transfer files based on the network connection. If your PCs are not on the same LAN, choose "Backup and Restore" instead.)
Ensure your PCs meet the requirements of network-based transfer and click "Continue".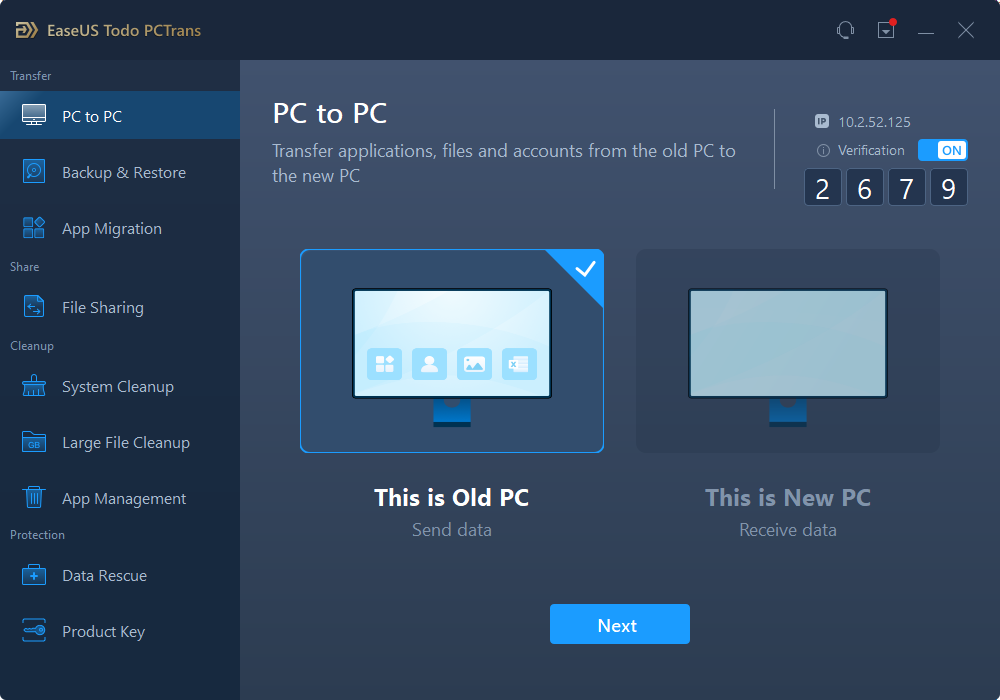 Step 2. Connect the two computers.
Connect to the target PC, then input the account password or verification code of the target PC.
Check the verification code on the right top of the "PC to PC" main screen on the target PC.
Specify the transfer direction and click "Connect".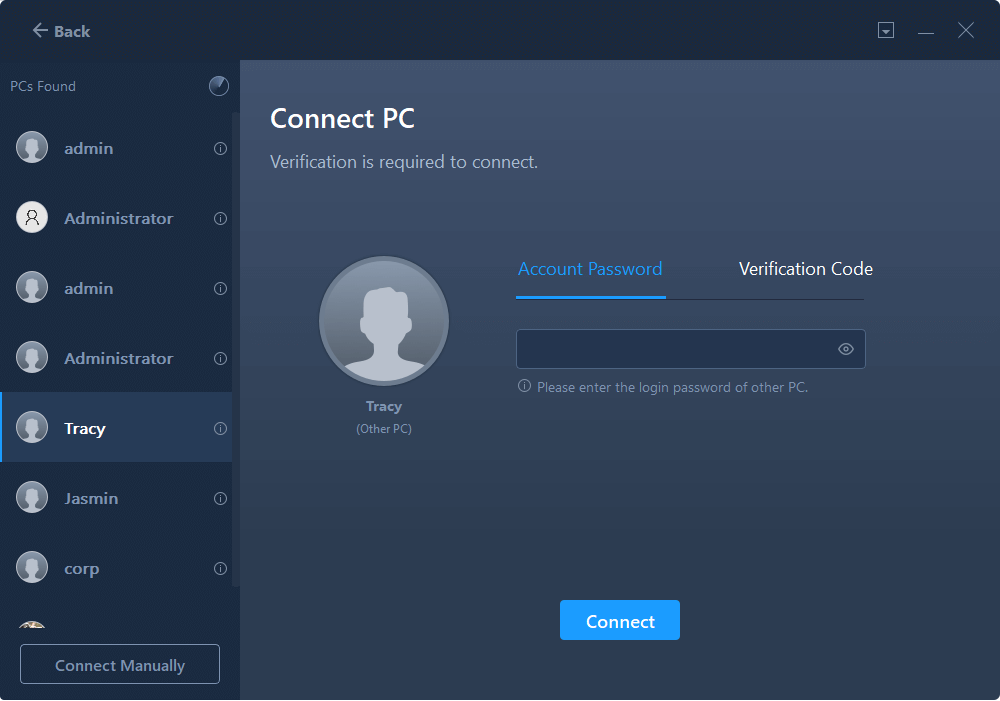 Step 3. Choose the files you want to transfer.
Hover on the "Files" option and click "Edit".
Check the files you want to transfer.
If you want to change the default storage path, click the "Edit" icon.
Afterward, click "Finish".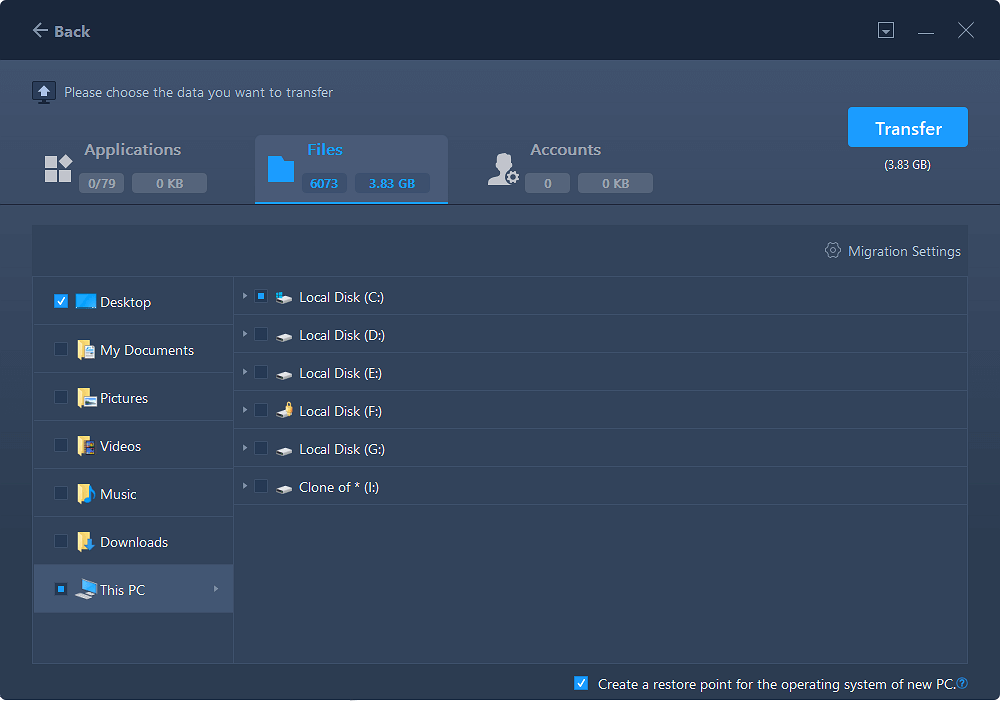 Step 4. Transfer files between two different operating systems.
After selecting the files, click "Transfer" to start the transfer process.
When it has done, click "OK" and you can go to check the files on the target PC.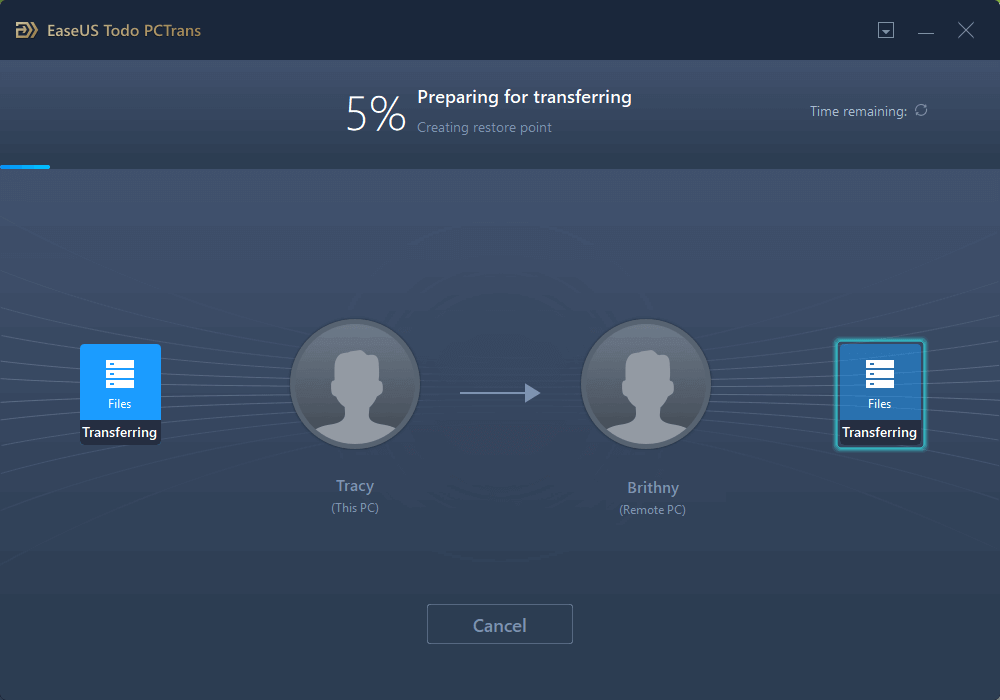 An Important Tip
Neither of the transfer tools mentioned on this page supports data migration from a higher Windows version to a lower one. That is to say, you can't use any of the software to transfer data from Windows 10 to Windows 7/8/XP/Vista or from a 64-bit version of Windows to a 32-bit version of Windows. If this happened to be your unsolved issue, the best way is to use the free backup software. For example, to create a backup of wanted data and then restore.
Also, can the software transfer files across Windows platforms from Windows XP or Vista to Windows 7/8/8.1/10? No problem. Feel free to follow the guide above if you're in such a need.
About the Author
Daisy is the Senior editor of the writing team for EaseUS. She has been working in EaseUS for over ten years, starting from a technical writer to a team leader of the content group. As a professional author for over 10 years, she writes a lot to help people overcome their tech troubles.
Jerry has joined EaseUS as an SEO editor for a few years. As a technical writer at EaseUS, Jerry writes articles about solutions to common computer problems and data security, including file backup, system backup, etc.
Reviews and Awards
EaseUS Todo PCTrans Free is a useful and and reliable software solution created to serve in computer migration operations, be it from one machine to another or from an earlier version of your OS to a newer one.

 Read More

EaseUS Todo PCTrans is by the folks at EaseUS who make incredible tools that let you manage your backups and recover your dead hard disks. While it is not an official tool, EaseUS has a reputation for being very good with their software and code.

Read More

It offers the ability to move your entire user account from your old computer, meaning everything is quickly migrated. You still get to keep your Windows installation (and the relevant drivers for your new PC), but you also get all your apps, settings, preferences, images, documents and other important data.

 Read More