What Happens if We Clean Up C Drive? 
The all-important "C" drive is the core of most computers. It is the drive where the operating system is installed, and all other vital files are stored. But, ipso facto, it is also the drive that runs out of storage space easily because of unending Windows updates, downloaded files, temporary files of applications, and the fact that everything saves in the "C" drive. Thus your PC may run low on free space, have a slow boot-up speed. Apart from this, the file transfer may slow down, the programs may take longer to respond, the applications might fail to launch, and you might be unable to install important Windows updates, and it may also affect your PC's speed and performance. Therefore, it becomes necessary to clean up the "C" drive as it results in the efficient functioning of your computer. Moreover, it helps you keep your PC updated and run smoothly.
How to Clean Up C Drive in Windows 11? 5 Best Tools You Can't Miss
Through this guide, we will discuss how to clean up your "C" drive to recover space and ensure your system runs smoothly. There are many tools available to clean up your "C" drive and free up space in Windows 11 system disk but the most useful tools to clean up "C" drive are:
1. EaseUS Todo PCTrans
2. Disk Cleanup
3. Storage Sense
4. Apps & Features
5. OneDrive
Although different tools are available to free up space in the "C" drive, you will have to delete unwanted files manually in some methods. In some other, the tool will automatically remove unwanted files. For a complete solution, we recommend you try EaseUS Todo PCTrans for help as it has multiple features compared to disk cleanup, storage sense, Apps and Features, and OneDrive. Here is how you can use these tools for cleaning up the "C" drive now.
Tool 1. EaseUS Todo PCTrans 
All-in-One "C" Drive Clean Up Software
EaseUS Todo PCTrans Free offers many features, and you can download this software to clean up C drive for free with ease.
The features of EaseUs Todo PCTrans for cleaning up "C" Drive are:
1. System Cleanup
Over time your system builds up junk that consumes space and wastes your resources. As a result, you run the risk of insufficient disk space and your system slowing down if you often don't clean your computer. To remove the unwanted files, you can use our System Cleanup software.
Our System Cleanup software helps in cleaning junk files from System, Browser, Windows Built-in Applications, and other Apps. Apart from saving your disk space, it also improves your system's performance. Moreover, regularly cleaning up junk files on the system disk makes your PC as good as new. 
Here is the process to use System Cleanup to clean your computer.
Step 1. Open EaseUS Todo PCTrans on your computer. Click "System Cleanup" and click the "Scan" button to go on.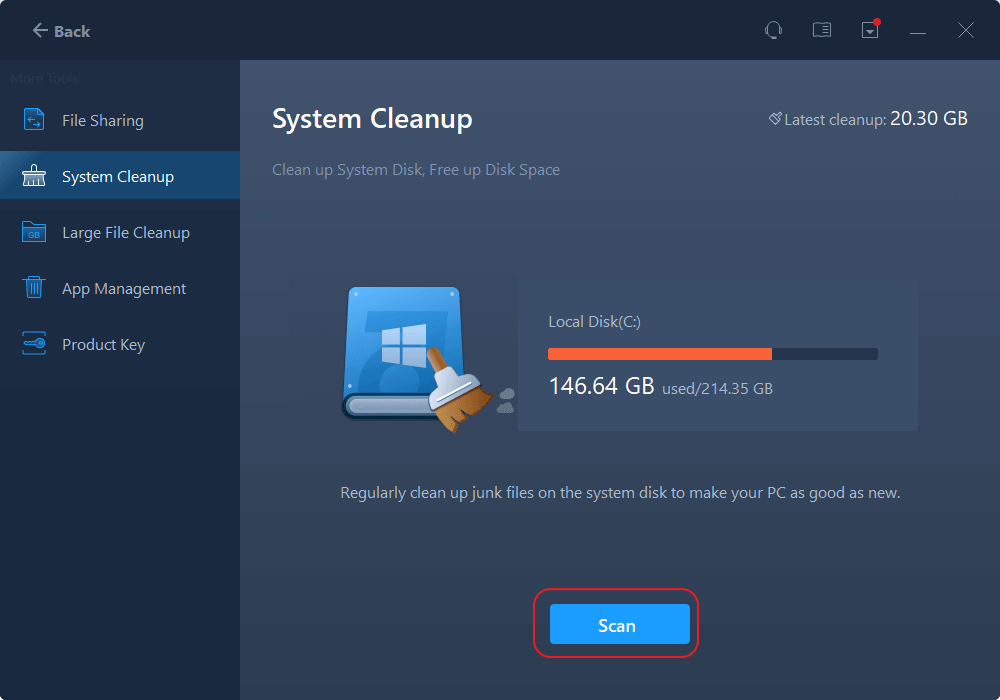 Step 2. When the scan completes, junk files will be listed. Selected the unwanted files. Be careful not to mistakenly delete files that affect the normal operation of your computer or software.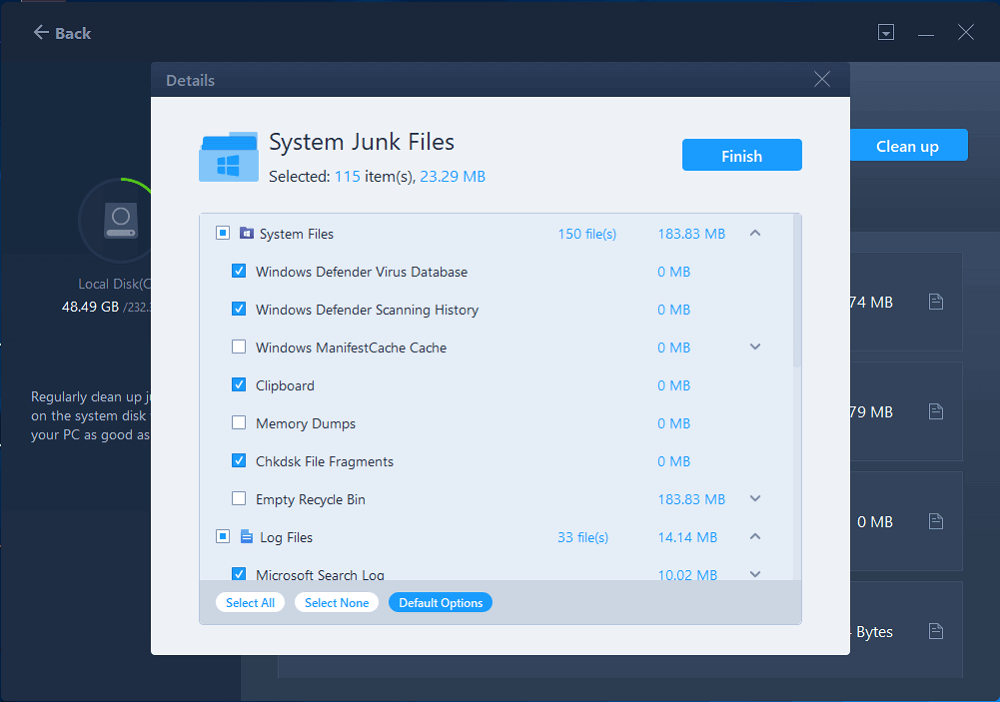 Step 3. Click the "Clean up" button and confirm the cleanup operation. You can regularly use this function to free up disk space.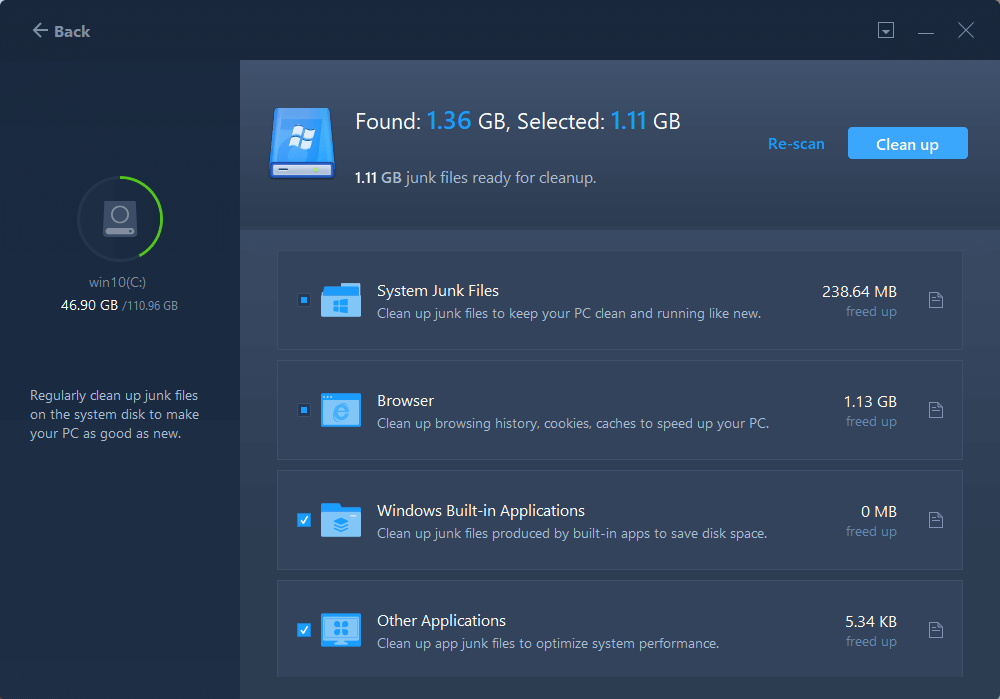 Now your computer is free from all junk files, and you will have more free space on your system. Moreover, cleaning junk files will help speed up downloads, expedite virus scans and improve streaming performance, and, above all will improve your computer's performance. 
2. Large File Cleanup
Often our hard disk drives run out of space, and our system becomes slow. This may be because the files stored on your C Drive are files that you probably don't need or are files that you may need but are very heavy. These files could be log files, temporary files, or installation apps for programs installed on your system. 
So, if your hard drive is running low, it's high time for cleaning off some files. The best way to clean up your hard drive is by locating the largest files on your C Drive. Large File Cleanup software from EaseUs Todo PCTrans makes locating these files and removing them from your hard drive a breeze. 
Large File Cleanup has two folders:
Folder 1: Move and delete large files
Folder 2: Move default folders
Move and Delete Large Files option lets you move or delete the large files from the selected drive(s).
Move Default Folder option lets you migrate personal folders (such as Desktop, Documents, etc.) to another location to save disk space. 
Note: Do not delete files from the installation directory of your programs, or else you may not be able to use the programs. 
3. App Management - Uninstall corrupted or useless apps.
4. App Migration - Transfer C drive installed programs and software to another drive, no boot issue.
More articles about cleanup c drive:
Tool 2. Disk Cleanup 
It is a Windows Built-in Tool to Clean Up C Drive. The Disk Cleanup tool finds and deletes unnecessary files that the operating system no longer requires. The Disk Cleanup app has a simple interface and lets you clear system files that form a significant part of unwanted files on the system.
With the Disk Cleanup tool, you can easily clean up the following files in the "C" drive:
1. Clean up system files
2. Windows Update cleanup
3. Downloaded Program Files
4. Temporary Internet Files
5. Recycle Bin
6. Temporary Files
7. Thumbnail
8. User file history, etc.
Below is the tutorial on how to run the Disk Cleanup app to clean up C drive:
Step 1: Begin by clicking the search icon on the taskbar, type disk cleanup, and select it from the search results.
Step 2: The next step is to select the check box next to the files you want to delete. The app by default selects Downloaded Program Files, Temporary Internet Files, and Thumbnails. If you do not wish to delete those files, then clear those checkboxes.
Step 3: In order to free up more space, you need to select the Clean Up System Files, and the next step is to select the system files you want to delete. The Disk Cleanup app might take a few minutes for calculating the amount of space that can be freed up. 
Step 4: After selecting the files you want to delete, click ok and then select the Delete Files option in the confirmation window to start the cleanup process. 
Note: 
You also have an option in the Disk Cleanup app to Compress Your OS Drive. When you select this option, it compresses the drive on which Windows is installed, allowing you to gain the extra space for installing important updates. Compressing files does not delete the contents of the "C" drive, and you will not have problems in opening and saving files from the compressed device. 
Once you install the updates, you can manually decompress the "C" drive at any time. For this, select File Explorer from the taskbar, next in the left pane, select This PC. Now, right-click or tap and hold the "C" drive and then choose Properties. Now, clear the Compress this Drive to Save Disk Space checkbox, and then select Apply > ok.
Tool 3. Storage Sense 
Disk Usage Checker and Disk Cleanup Tool
Storage Sense is a feature on Windows that automates the disk cleanup tasks. It monitors the storage space on your computer and cleans things up if the storage space is running low. Storage Sense does basic things like cleaning your recycle bin, clearing old files in your downloads folder, and deleting temporary files on your computer. In Windows 11, the Storage Sense tool is directly under "Storage Management". 
 You can use this tool for cleaning up the "C" drive:
1. Delete Temporary Files
2. Automatically clean up recycle bin, and temporary files once enabled
3. Configure OneDrive online only
4. Free up space
Following is the procedure to use Storage Sense:
If Storage Sense is turned on by default, it will run when your storage space is running low, and it will clean unnecessary temporary files. It will also clean the recycle bin, but it will not touch the items in your Download folder and OneDrive unless you set up Storage Sense to do so.
Note: Storage Sense works on the "C" drive only. If you want to clean up space on any other drive, then go to More Storage Settings > View Storage Usage on other Drives.
For turning on Storage Sense, you need to follow the steps below:
Go to Start > Settings > System > Storage
Under Storage Sense, turn on Storage Sense.
For Choosing Your Storage Sense Settings
Follow these instructions to decide how often Storage Sense runs and what it cleans up. The steps are:
Go to Start > Settings > System > Storage
The next step is to select "Configure Storage Sense or Run It Now."
Now select your desired settings which include when Storage Sense runs and how often it cleans files, and more.
Choose When to Run Storage Sense
First, ensure Storage Sense is turned on
Under the head, Run Storage Sense, select how often you want to run Storage Sense when you are online and signed in.
Choose Your Preferences for Deleting Temporary Files
Under Temporary Files, select when files from your Downloads folder or Recycle Bin are deleted.
The files in Recycle Bin will be deleted on the basis of how long they have been there.
The files in the Download folder will be deleted on the basis of how long they have not been opened. The default setting is never to delete files unless you specify.
Check the box before "Delete Temporary Files That My Apps Aren't Using" to clean up files that are not required associated with apps on your computer. 
Manage Locally Available Cloud Content
Cloud files can exist on the local disk as well as online also. By choosing the option, "Content will become online-only if not opened for more than: Choose preferred amount of time", you can decide when you will make inactive files available online only. 
Note: When you choose these settings, files are not deleted permanently and can be made locally available again in case there is free disk space and network connectivity. However, marking any file as "Always keep on this device" gets exempted, and Storage Sense will not manage it.
Tool 4. App & Features 
Another effective way to clean the "C" drive is by utilizing the Windows Built-in app manager. The app and features allow you to uninstall apps that are no longer used by you or apps that you hardly use. With this tool, you can:
1. View App size
2. Uninstall unwanted or big apps
3. Move some installed apps to another location (only some of them)
You can clean up C drive by using Apps & Features in Windows 11. Following are the steps:
The first step is to Open Settings.
Next, click on Apps.
In it, click on Apps & Features.
Choose the "Sort by" filter and select the View By Size to quickly identify the apps and games consuming the most space. 
The next step is to select the item you want to remove.
Now click the uninstall button.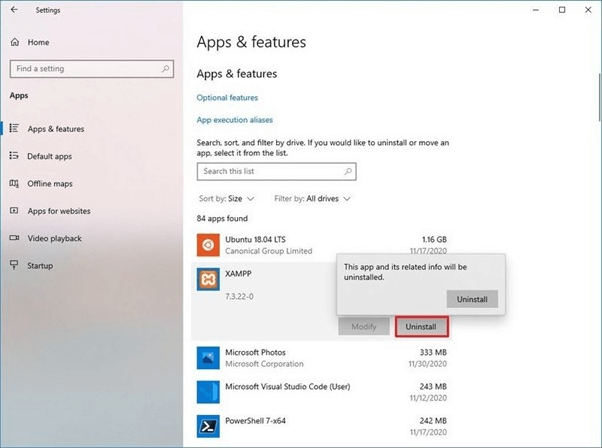 Again, click the uninstall button.
Continue with the on-screen directions.
Once you follow the steps, repeat the same process to remove additional unwanted apps and games from your device. 
Tool 5. OneDrive 
Microsoft OneDrive Files On-Demand feature lets you access all your cloud storage in OneDrive and eliminates the need to download files and use file storage space on Windows 11. The Files On-Demand feature stores only a piece of file information locally and allows you to browse your files without losing local storage. 
OneDrive features:
1. Make OneDrive Files online only
2. Make File Explorer Files online only
Here are the steps to use the OneDrive Files On-Demand feature:
Begin by turning on the Files On-Demand feature in case it has not been turned on by default. 
Now press right-click on the OneDrive cloud icon in the taskbar and select Settings.

In Settings, under "Files On-Demand", enable the feature "Save Space and Download Files as You Use Them" by checking the box.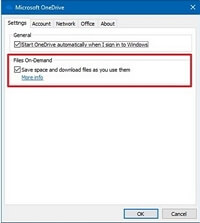 If you want to disable the Files On-Demand feature, then clear the checkbox described in Step-2. Remember, turning off this feature will download files configured to sync with OneDrive. 
Saving Storage Space
In case you don't have space, you can easily make files available online-only even without an internet connection. For this, right-click one or more files and then choose the "Free Up Space" option under "Context Menu". You can still view the files available online-only in File Explorer, but they'll appear with a cloud icon, and you will require an active internet connection to open them.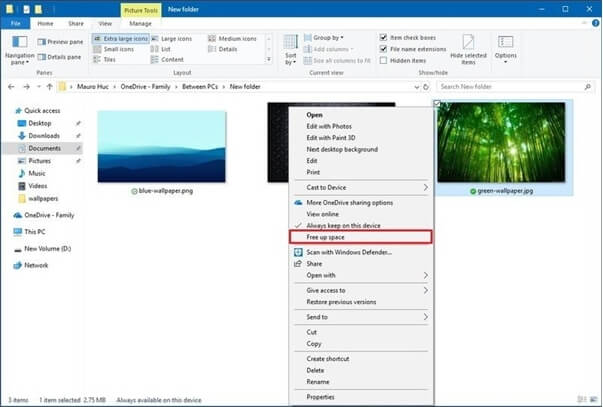 Conclusion
Although there are multiple tools to clean the "C" Drive in Windows 11 but EaseUs Todo PCTrans "All in One C Drive" clean up software offers a most comprehensive way to clean "C" Drive and create storage space. Follow this guide to know the detailed steps to clean the "C" Drive in Windows 11.
About the Author
Updated by Tracy King 
Tracy joined in EaseUS in 2013 and has been working with EaseUS content team for over 7 years. Being enthusiastic in computing and technology, she writes tech how-to articles and share technical solutions about Windows & Mac data recovery, file/system backup and recovery, partition management and iOS/Android data recovery.

Roxanne is one of the main contributors to EaseUS and has created multiple posts on digital devices like PCs, Mobile phones, tablets, Mac, etc. She loves to share ideas with people of the same interest.
Reviews and Awards
EaseUS Todo PCTrans Free is a useful and and reliable software solution created to serve in computer migration operations, be it from one machine to another or from an earlier version of your OS to a newer one.

 Read More

EaseUS Todo PCTrans is by the folks at EaseUS who make incredible tools that let you manage your backups and recover your dead hard disks. While it is not an official tool, EaseUS has a reputation for being very good with their software and code.

Read More

It offers the ability to move your entire user account from your old computer, meaning everything is quickly migrated. You still get to keep your Windows installation (and the relevant drivers for your new PC), but you also get all your apps, settings, preferences, images, documents and other important data.

 Read More