
About the Author
Hot Topics in 2022
[Fixed] There Is No exFAT Format Option in Windows 11/10/8.1/8/7
Q: Is There No Longer exFAT Option Available When Formatting in Windows 11?
"I cannot format the E drive to exFAT in both Windows 11 File Explorer and Windows 11 Disk Management, because there is no exFAT option at all. I've just upgraded Windows 11 from Windows 10. Is it because Windows 11 does not support exFAT format anymore?"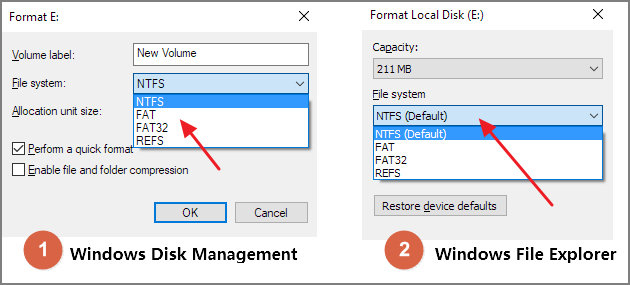 When you didn't see the exFAT format option, the problem is with the drive, not the Windows 11 operating system. In short, it's not Windows 11 that doesn't support exFAT format, but the restriction in the exFAT file system itself.
| Workable Solutions | Step-by-step Troubleshooting |
| --- | --- |
| Change exFAT Drive to FAT32 or NTFS | Step 1. Launch EaseUS Partition Master, right-click the partition you intend to format, select "Format"...Full steps |
| Format a Drive to exFAT | Step 1. Search command in Windows 11, for example. Right-click on the Command Prompt...Full steps |
What's exFAT?
First, exFAT can be used where NTFS is not a feasible solution, but a greater file-size limit than the standard FAT32 file system (i.e. 4 GB) is required. You see, exFAT is a compromise solution for NTFS and FAT32.
Second, exFAT is with great compatibility across different platforms. Both Windows and macOS can read and write on an exFAT drive.
Third, exFAT has been adopted by the SD Association as the default file system for SDXC cards larger than 32 GB. 
We can infer from the above there aspects that exFAT is a file system that is widely used on external devices. That's why you cannot format an internal drive to exFAT using the regular ways in Windows 11 or Windows 10. If there is a flash drive or memory card at hand, you can try to connect it to your computer and format it. You won't be surprised to see that the exFAT option appearing in the options this time.
How to Format a Drive to exFAT in Windows 11 or Windows 10
Windows Command Prompt provide advanced users with an accessible solution to format any drive to exFAT. The next command can apply to the below cases:
Disk formatting is the configuring process that erases all dasta on a storage device. When you're ready to format a drive, make sure that you don't have important data to save, or you've made a copy of any data you concerned!
Guide 1: Change for Format exFAT Drive to FAT32 or NTFS
Each file system has its advantages and disadvantages, and the best decistion to format a drive to whether FAT32 or exFAT or NTFS depends on your purpose of using it. In case you want to format a exFAT external hard drive or USB flash drive to FAT32 or NTFS, we provide you with an additional easy-to-use method.
EaseUS Partition Master is third-party partition manager software that comes with an array of disk formatting options, including formatting any exFAT drive to FAT32, NTFS, EXT2/3/4, which has covered the most popular file systems for a storage drive.
It's quick, easy, and fast to format an exFAT drive with EaseUS Partition Master in Windows 11/10/8.1/8/7. For example, the following guide is for exFAT to FAT32:
Step 1. Launch EaseUS Partition Master, right-click the partition you intend to format and choose "Format".
Step 2. In the new window, enter the Partition label, choose the FAT32/EXT2/EXT3/EXT4 file system, and set the cluster size according to your needs, then click "OK".
Step 3. Then you will see a warning window, click "Yes" in it to continue.
Step 4. Click the "Execute 1 Task(s)" button in the top-left corner to review the changes, then click "Apply" to start formatting the partition to FAT32/EXT2/EXT3/EXT4.
Nevertheless, the most distinguished feature is the conversion from FAT32 to NTFS, which won't erase data or cause a single data loss. None of the Windows File Explorer, Disk Management and Command Prompt can achieve this zero data loss conversion on a storage media.
Guide 2 - how to format a drive to exFAT in Windows 11 using cmd
Step 1. Search command in Windows 11, for example. Right-click on the Command Prompt and select "Run as administrator".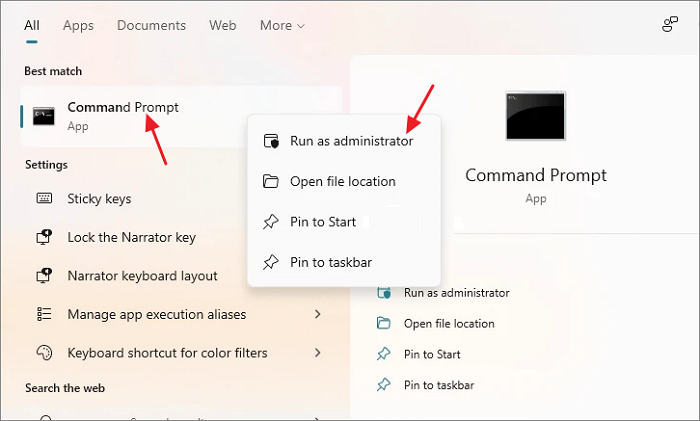 Step 2. On the Command Prompt window, enter the command format e: /fs:exfat and press Enter. (Replace e with your own drive's drive letter)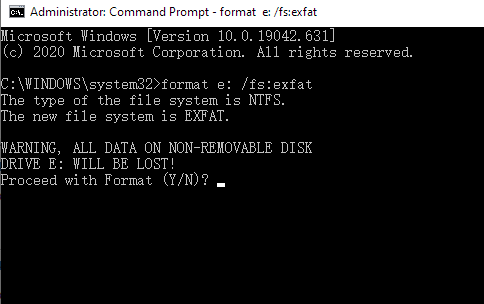 Step 3. Type "Y" to proceed with the format process.
Final Verdict
No exFAT format option in Windows computers is a normal issue faced by most users and the basic reason is that exFAT is a new file system format designed for external storage devices.
When you plan to set an internal disk partition as exFAT, Windows won't show this option for you. To fix this issue, your best shot is to turn to a reliable device formatter like EaseUS Partition Master for help. It enables you to set any desired to file system format to your storage devices in simple clicks.
FAQs About There Is No exFAT Option in Windows 11/10/8/7
If some of you have more questions about this problem or have more doubts about exFAT, follow and find answers here.
​​​1. Is exFAT good format?
Yes, sure. exFAT is a good format with good compatibility with both Windows and Mac computers with faster file transfer speed than older NTFS and FAT32 file system formats. It also has good support for Linux systems.
2. Which is better exFAT or NTFS?
Comparing exFAT and NTFS, you may ask which is better, the answer is not clear, and it highly depends on where and how you would use exFAT and NTFS. Here is our suggestion and answer:
exFAT overwhelms NTFS for better compatibility on more operating systems, including Windows/macOS/Linux.
exFAT also has a faster reading and writing speed than NTFS when using it on external storage devices.
NTFS surpasses exFAT when using it on Windows internal disk partitions with a faster data transfer speed. 
3. What are the disadvantages of exFAT?
exFAT has less compatibility than FAT32.
exFAT is not a built-in file system on Windows computers.
It's only available on external storage devices, Windows or Mac OS doesn't support setting exFAT as an internal disk partition format.
About the Author
Updated by Tracy King 
Tracy joined in EaseUS in 2013 and has been working with EaseUS content team for over 9 years. Being enthusiastic in computing and technology, she writes tech how-to articles and share technical solutions about Windows & Mac data recovery, file/system backup and recovery, partition management, data transfer, Windows update issues, etc.

Jean has been writing tech articles since she was graduated from university. She has been part of the EaseUS team for over 5 years. Her special focuses are data recovery, disk partitioning, data space optimization, data backup and Mac OS. By the way, she's an aviation fan!
Product Reviews
I love that the changes you make with EaseUS Partition Master Free aren't immediately applied to the disks. It makes it way easier to play out what will happen after you've made all the changes. I also think the overall look and feel of EaseUS Partition Master Free makes whatever you're doing with your computer's partitions easy.

 Read More

Partition Master Free can Resize, Move, Merge, Migrate, and Copy disks or partitions; convert to local, change label, defragment, check and explore partition; and much more. A premium upgrade adds free tech support and the ability to resize dynamic volumes.

 Read More

It won't hot image your drives or align them, but since it's coupled with a partition manager, it allows you do perform many tasks at once, instead of just cloning drives. You can move partitions around, resize them, defragment, and more, along with the other tools you'd expect from a cloning tool.

 Read More