Why Do You Need Kingston Format Tool?
Kingston is a popular American brand that develops, manufactures, sells and supports flash memory products and other computer-related memory products. It owns a large number of consumers from all over the world. Kingston flash memory products, such as Secure Digital, Compact Flash, USB Flash Drives, Solid-state drives and various other form factors are the most well-known to us. When we're thinking to buy a storage media, Kingston always comes to the first choice.
But do you know how to use the Kingston as you want? For example, install an SSD drive on a Windows 10 computer; use a microSD card in a digital camera; add a USB drive for PS3 or another game console...Look at what users have asked about using a Kingston product correctly.
Question 1. "I have formatted my Kingston drive to a file system other than FAT32. How do I revert back to FAT32?"
Question 2. "I purchased a new SSD, and need to format SSD to install Windows 10. How do I get started?"
Question 3. "I'm looking for a Kingston format utility, not the one from Kingston provided, as it is only supported on the DTHX30/XX. Do you have any recommendations?"
As you can see, people are in great demands for a Kingston format tool so that they can make use of the storage properly on a specific device. Usually, you'll get a suggestion that when you get a new Kingston memory card or USB Drive, format it before using it the first time.
Free Download Best Kingston Format Utility
Here all your questions about the best free Kingston format utility are happily solved. EaseUS free partition manager is selected as the most favorable option for people who use Kingston storage devices on Windows 10/8/7/XP/Vista computer, music player, game console, digital camera, smartphone and other sets. The format process is very easy with the help of wizard-like Kingston formatting software. Just download and install it on your Windows computer, and make sure that the external Kingston drive has correctly connected to the computer. After it has detected by Windows, now launch EaseUS Partition Master and start to do the format.
Steps to format Kingston drive with EaseUS Partition Master
Step 1. Launch EaseUS Kingston format utility. Right-click the partition you want to format and choose "Format partition" by right-clicking the mouse.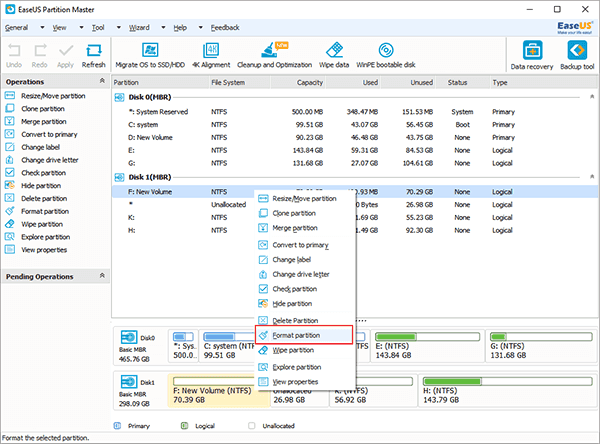 Step 2. Type the label you want in the Partition Label box.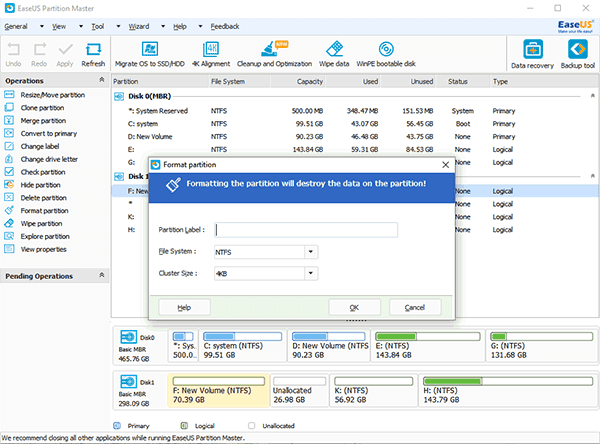 Step 3. Select the file system type to be created from the "File System" drop-down list. (FAT/FAT32, NTFS, EXT2/EXT3). If the partition is larger than 4GB, you can only choose FAT32, NTFS or EXT2/EXT3; and if the partition is smaller than 4GB, you can choose FAT, FAT32, NTFS or EXT2/EXT3.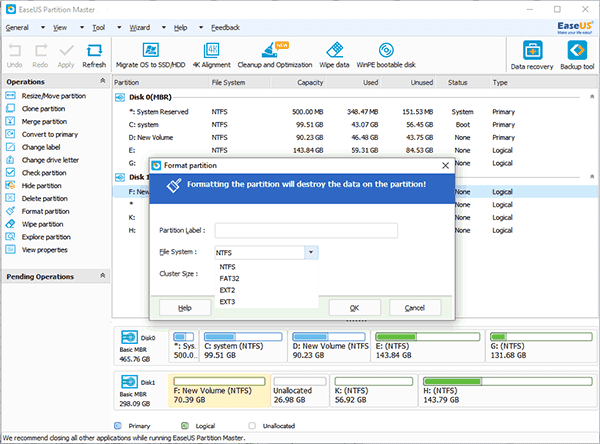 Step 4. Choose the Cluster Size (512 bytes, 1, 2, 4...64KB) from the drop-down list and click "OK" to apply the format operation.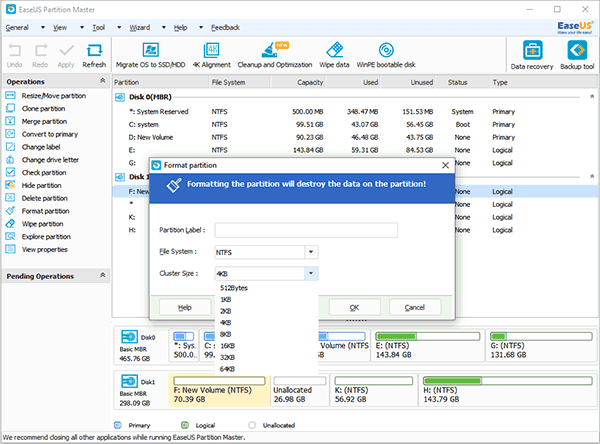 Note: Smaller cluster size makes less wasting of disk space.The smaller cluster size is, the bigger file allocation table (FAT) will be. The bigger the FAT is, the slower the operating system works with the disk.
Step 5. Click "Apply" to confirm all pending operations.